Renewal scam targets L.A. Times subscribers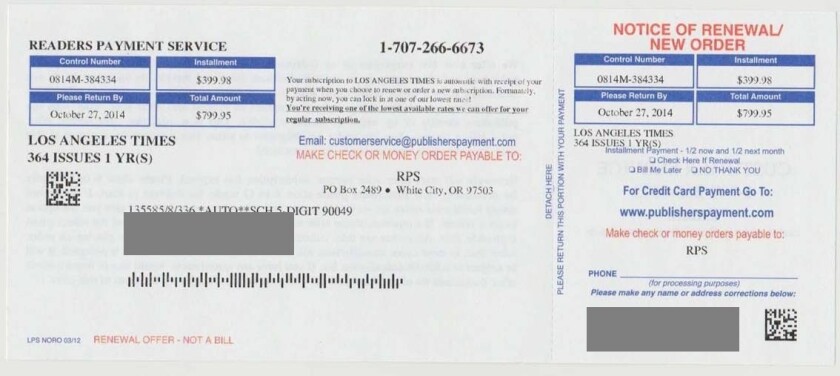 Los Angeles Times subscribers have been receiving what appears to be an annual renewal notice, but at a rate about 40% higher than the actual cost.
An article in Wednesday's LATExtra section said that about 500 subscribers so far have reported receiving the fraudulent mailings.
The notice marked "Notice of renewal/New order" says it is from Readers Payment Service or Publishers Distribution Services and indicates that it is for "364 issues 1 yr(s)" of the Los Angeles Times. It reads:
"Your subscription to LOS ANGELES TIMES is automatic with receipt of your payment when you choose to renew or order a new subscription. Fortunately, by acting now, you can lock in at one of our lowest rates!"
That rate is listed as $799.95 – which is about 40% higher than The Times' published annual subscription rate.
"Pretty sure this is a scam," one subscriber in Los Angeles wrote in an email to The Times, "but if it is not, then we won't be renewing anytime soon."
She included a copy of her notice, which lists a mailing address in White City, Ore. Two other readers who called The Times about the "renewals" said their notices gave a Boulder, Nev., address.
A full-page ad also was published in Wednesday's Section A to alert readers to the unauthorized "renewal notices."
Newspapers around the country have been reporting similar incidents.
Last week, The Arizona Republic in Phoenix reported receiving 60 complaints from subscribers about the notices from Readers Payment Service. On Friday, the Seattle Times published a "fraud warning" about the renewal scheme.
The Republic said that at least a dozen other newspapers, including the Sacramento Bee, Denver Post and Wall Street Journal, have been targeted as well.
Times readers who are concerned about any subscription solicitation they receive may call The Times' Membership Services department, at 1-800-88-TIMES, or may send an email to membershipservices@latimes.com.
More Readers' Rep news on Twitter: @LATreadersrep
---