U.S. schools chief endorses release of teacher data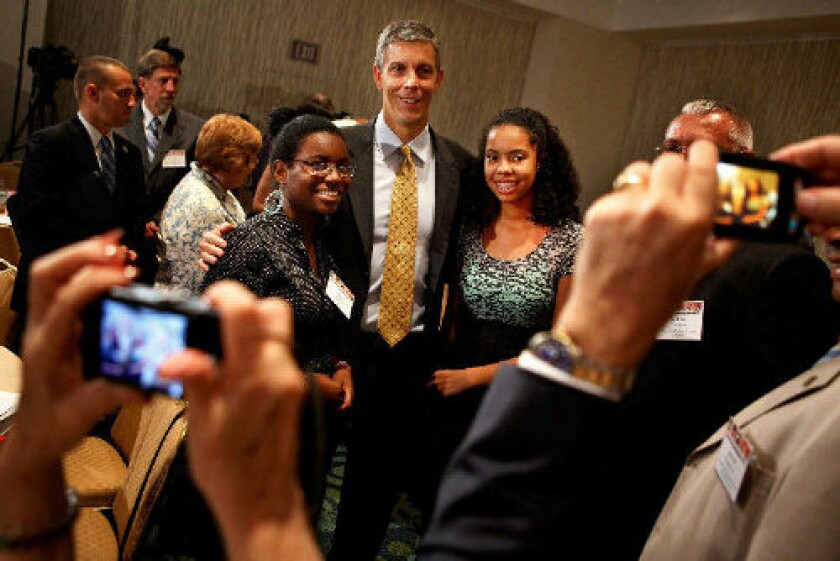 U.S. Secretary of Education Arne Duncan said Monday that parents have a right to know if their children's teachers are effective, endorsing the public release of information about how well individual teachers fare at raising their students' test scores.
"What's there to hide?" Duncan said in an interview one day after The Times published an analysis of teacher effectiveness in the Los Angeles Unified School District, the nation's second-largest school system. "In education, we've been scared to talk about success."
Duncan's comments mark the first time the Obama administration has expressed support for a public airing of information about teacher performance -- a move that is sure to fan the already fierce debate over how to better evaluate teachers.
Spurred by the administration, school districts around the country have moved to adopt "value added" measures, a statistical approach that relies on standardized test scores to measure student learning . Critics, including many teachers unions and some policy experts, say the method is based on flawed tests that don't measure the more intangible benefits of good teaching and lead to a narrow curriculum. In Los Angeles, the teachers union has called public disclosure of the results "dangerous" and "irresponsible."
Duncan said public disclosure of the value-added results would allow school systems to identify teachers who are doing things right.
"We can't do enough to recognize them, reward them, but -- most importantly -- to learn from them," he said.
California Secretary of Education Bonnie Reiss also weighed in Monday, saying that the state will encourage districts to develop and release value-added scores for teachers.
"Publishing this data is not about demonizing teachers," Reiss said. "It's going to create a more market-driven approach to results."
Reiss said the data would give administrators a better idea of which instructors need professional development. It's unclear how quickly a statewide value-added system could be built, but Reiss said districts, especially the larger ones, should be able to move quickly.
"The data is there," Reiss said.
The comments from Reiss, appointed by a Republican governor, and Duncan, appointed by a Democratic president, show how the use of data for teacher accountability has become a bipartisan issue.
The value-added method tracks a student's performance on standardized tests year after year. Because the student's performance is measured against his or her own record, the method adjusts for many of the differences among students that teachers have no control over.
The Times used the approach to analyze seven years of test scores in math and English to estimate the impact individual elementary school teachers had on their students. The analysis found huge disparities among teachers, sometimes just down the hall from one another. Students with the most effective teachers consistently made huge strides in a single year, despite challenges such as poverty or limited English skills.
Researchers have consistently found that within a school, teacher effectiveness is the single most important factor in a child's ability to learn. But across the country, parents have no access to objective information about teacher effectiveness, and many districts have opted to ignore the data.
Later this month, The Times will publish a database of more than 6,000 elementary school teachers ranked by their ability to improve students' scores on standardized tests, marking the first time such information has been released publicly. Already, roughly 700 teachers have requested and received their scores, enabling them to comment before publication.
The article and announcement of a forthcoming database sparked emotional and divided reaction around the country.
"I thought it was disgraceful," said Diane Ravitch, a former federal education official and author of the bestselling book "The Death and Life of the Great American School System: How Testing and Choice Are Undermining Education." "There was a fundamental meanness about [the story] that turned my stomach."
Ravitch opposes the use of standardized test data to fire teachers or close schools. But if used as one measure of a teacher's effectiveness, she said the data could play a role in identifying and helping struggling teachers.
Her concerns were echoed by the teachers union and in some of the hundreds of public comments made by teachers on The Times' website.
"I want to condemn the Times for running this piece at a time when teacher morale is at an all-time low," Helene Solomon, a fifth-grade teacher at Bright Elementary in Exposition Park, wrote in an e-mail to reporters.
The Los Angeles teachers union urged a boycott of the paper to protest the public disclosure of the data, and other labor leaders also objected.
"Publishing the database ... is irresponsible and disrespectful to the hard-working teachers of Los Angeles," David Sanchez, president of the California Teachers Assn., said in a statement.
Duncan, who has been urging teachers unions to embrace the approach, underscored the potential benefits.
"In the 6,000 teachers you studied, you have a minimum of 1,000 amazing teachers that are beating the odds every single day," Duncan said. "This is an extraordinary opportunity to take teaching in L.A. to another level -- to identify those who year after year are getting great results in difficult circumstances."
Like other proponents of value-added, Duncan said that the method should be only one measure of a teacher's success, but that it "can really empower teachers to strengthen their craft and find out who are the great teachers around them."
Michelle Rhee, the outspoken chancellor of District of Columbia Public Schools, said she would also consider making value-added scores available publicly. The district has adopted an evaluation plan that uses value-added scores as one element of performance reviews. Rhee recently fired 26 teachers based largely on their poor value-added scores -- but has not given parents access to the data.
"It would have to be managed in the right way and ... given the right context," she said.
Rhee said releasing the statistics could confuse parents and pose logistical problems for administrators who could be besieged with demands from parents for high-scoring teachers.
But Rhee also said the scores could empower the public to demand change.
"Even though it would certainly cause potential challenges for the district, it's the right sort of pressure we want to see to reform the system," Rhee said.
In a growing number of districts that use value-added as a component of a teacher's evaluation, releasing the data publicly may not be an option, experts and education officials noted.
Terry Grier, superintendent of the Houston Independent School District, has used value-added analysis during previous posts in San Diego, North Carolina and Tennessee. He said that as part of an employee's confidential evaluation, value-added scores are protected under state privacy laws.
But in Los Angeles and other districts that don't use value-added as a part of teachers' evaluations, it could be released and might inspire parents to demand better schools.
"What's more chaotic -- a failing high school or releasing scores?" he asked.
--
jason.felch@latimes.com
jason.song@latimes.com
---
For reporting and exclusive analysis from bureau chief John Myers, get our California Politics newsletter.
You may occasionally receive promotional content from the Los Angeles Times.