El Niño 'is here, and it is huge,' as officials race to prep for winter
El Niño continues to gain strength in the Pacific Ocean, climate experts said, with unusually wet conditions expected to hit California between January and March -- and perhaps into May.
The latest forecast increased the urgency for both government agencies and property owners to prepare for possible flooding.
Local flood control agencies are busy clearing out storm drains, catch basins and other waterways.
Interested in the stories shaping California? Sign up for the free Essential California newsletter >>
In Los Angeles, the California Department of Transportation is increasing its maintenance staff by 25% through the winter months to deal with El Niño. The agency is stockpiling sandbags, readying plows and earth-moving equipment, and pruning trees and brush.
"January and February are just around the corner. If you think you should make preparations, get off the couch and do it now. These storms are imminent," said Bill Patzert, a climatologist for NASA's Jet Propulsion Laboratory in La Canada Flintridge. "El Niño is here. And it is huge.... At this point, we're just waiting for the impacts in California."
The National Weather Service's Climate Prediction Center said El Niño is already strong and mature, and is forecast to continue gaining strength. It is expected to be among the three strongest on record since 1950.
Generally, El Niño doesn't peak in California until January, February and March, Patzert said. That's when Californians should expect "mudslides, heavy rainfall, one storm after another like a conveyor belt."
FULL COVERAGE: Preparing for El Niño
On Nov. 4, sea surface temperatures in a benchmark area of the Pacific Ocean west of Peru hit 5 degrees Fahrenheit above average, outpacing the abnormally warm temperatures seen at this time of year in 1997, which developed into the strongest El Niño on record.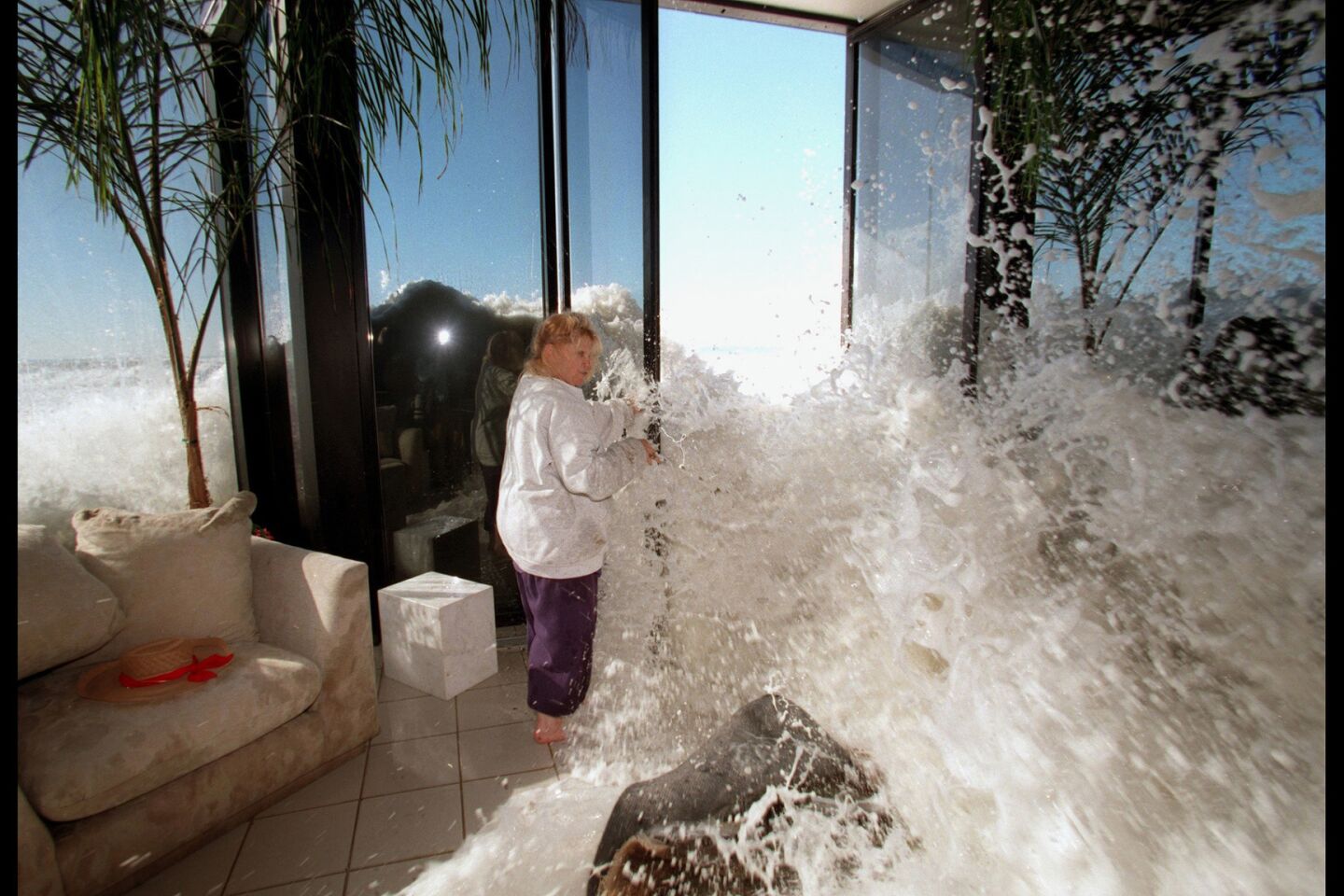 Marilyn Lane tries to shut a door as a wave rushes into her Solimar Beach home during a January 1998 storm.
(Alan Hagman / Los Angeles Times)
Snow forms a backdrop to the Hollywood sign after an El Niño storm in 1998.
(Ken Lubas / Los Angeles Times)
Waves crash into homes along Broad Beach in Malibu .
(Ken Lubas / Los Angeles Times)
The Ventura County Fairgrounds is flooded after an El Niño storm.
(Carlos Chavez / Los Angeles Times)
Wood lines San Buenaventura State Beach as a crew cleans up the debris left behind by the storms that accompaned El Niño earlier in this year.
(Carlos Chavez / Los Angeles Times)
A surfer throws up his arms after catching a double-overhead wave at Cloudbreak, south of the Seal Beach Pier.
(Al Schaben / Los Angeles Times)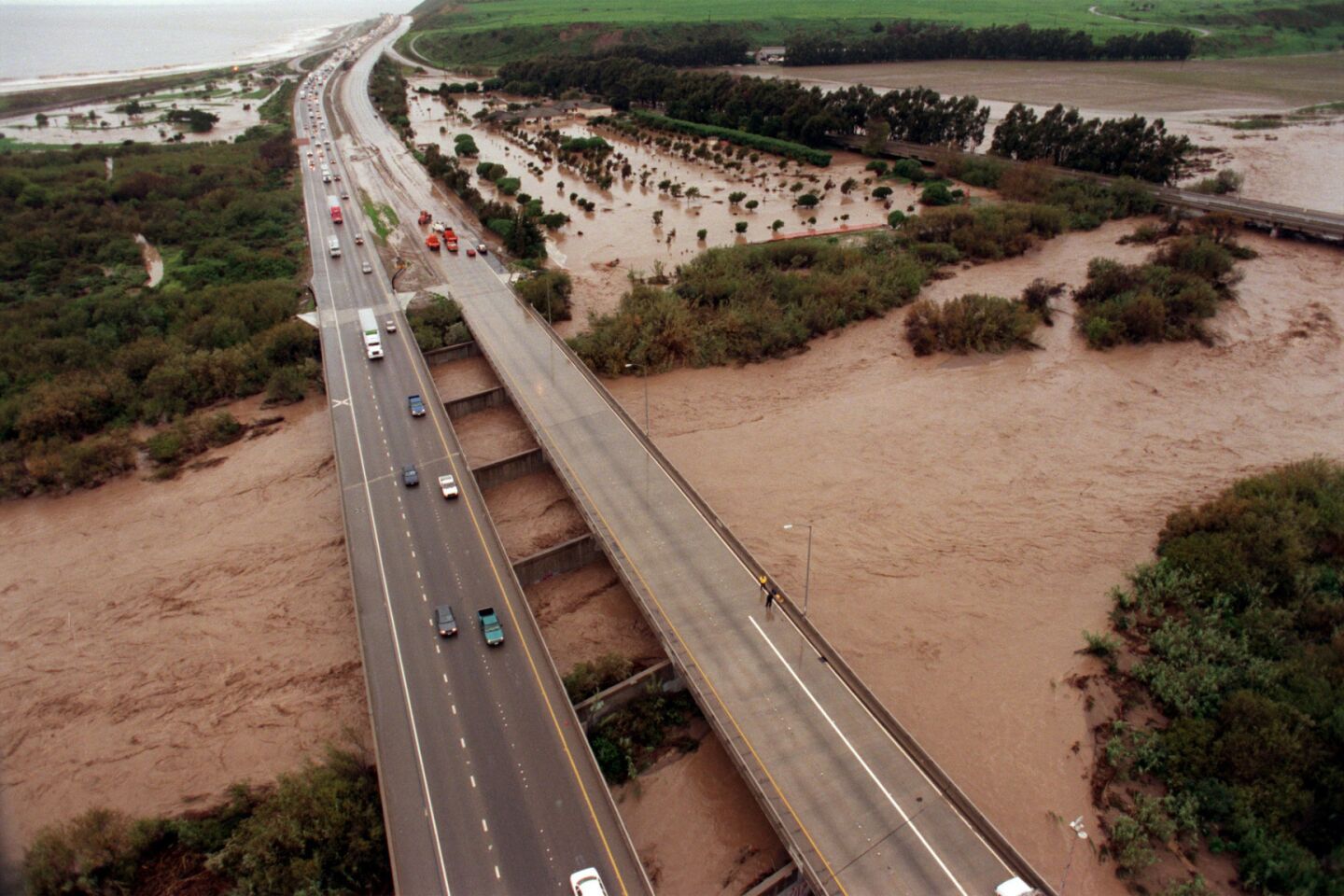 The Ventura River overflowed after heavy rains in 1998, closing the 101 Freeway for several hours.
(Mel Melcon / Los Angeles Times)
An apartment building in Ventura collapsed after heavy rains in 1998.
(Spencer Weiner / Los Angeles Times)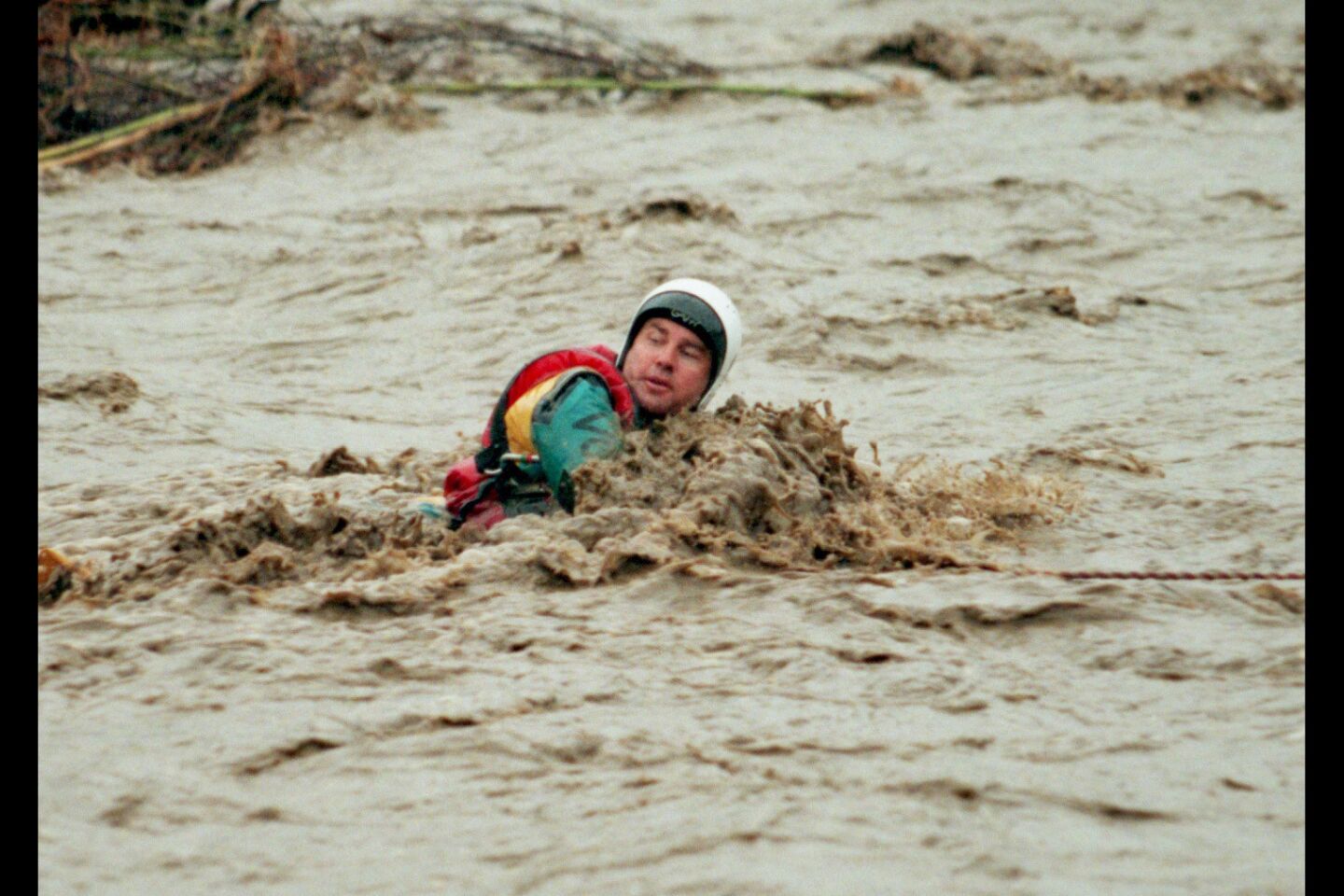 Andy Harvey, a Ventura County sheriff's search and rescue team member, swims to a partially submerged vehicle that washed down the Ventura River during in 1998. The vehicle turned out to be unoccupied.
(Steve Osman / Los Angeles Times)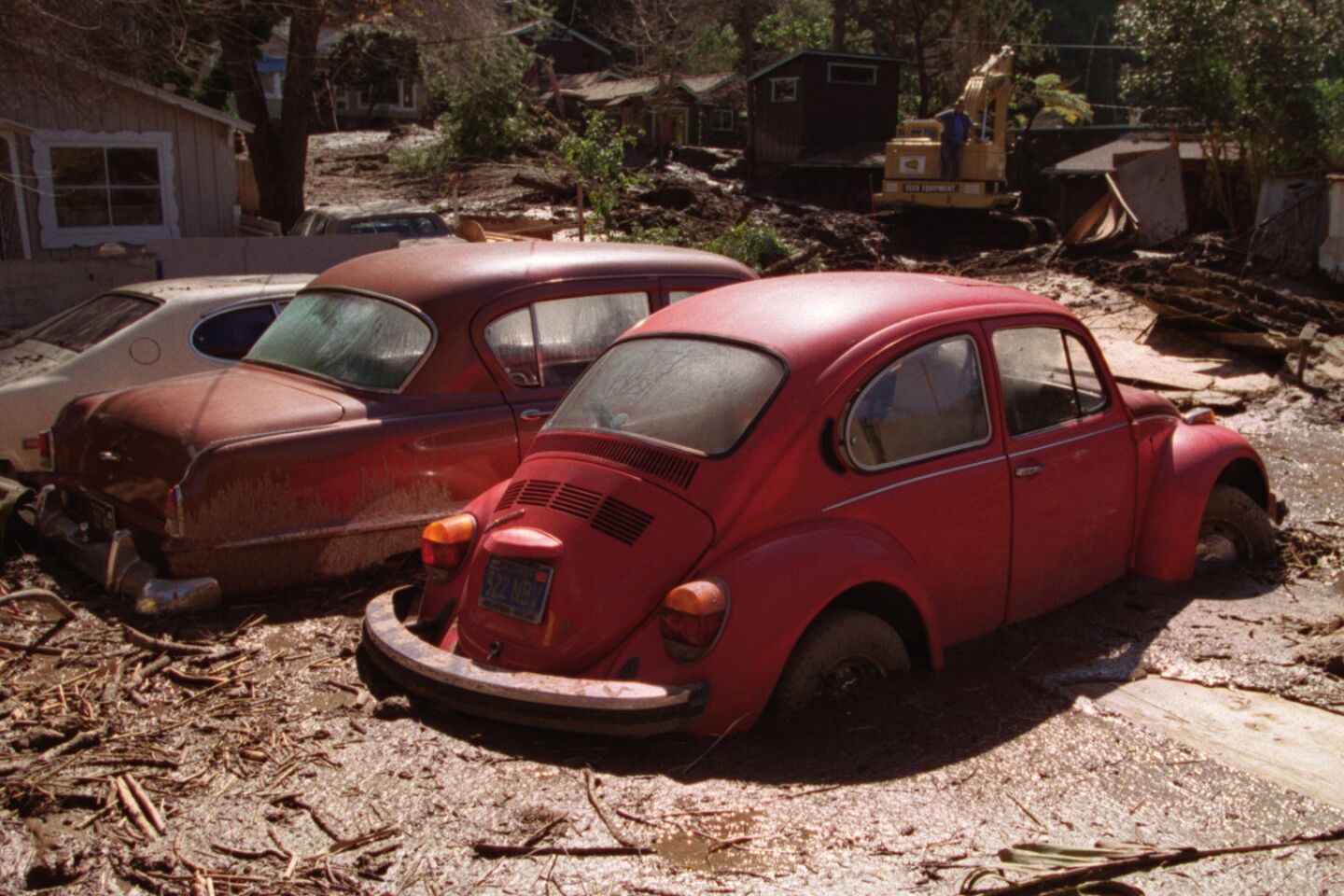 Mudslides after heavy rain destroyed property in Laguna Canyon in 1998.
(Alexander Gallardo / Los Angeles Times)
El Niño has already caused major effects across the world, fueling an active and unusually powerful hurricane season in the eastern Pacific Ocean, including Hurricane Patricia, which hit Mexico last month.
Chile, home to one of the world's driest deserts, is now blooming with flowers from unusually high rainfall. But in other regions, El Niño means drought, which is already being reported in Indonesia and the Philippines. Earlier this week, the United Nations Children's Fund warned that "11 million children are at risk from hunger, disease and lack of water due to El Niño in eastern and southern Africa alone."
On Thursday, the United Nations warned that more than 2 million people in Central America will need food aid due to a drought worsened by El Niño, which has caused significant failure in crop harvests. The storms that usually keep the jungles of southern Mexico and Central America wet shift northward to California and the southern United States during strong El Niño winters.
The Climate Prediction Center has forecast above-average precipitation for much of California between January and March.
Patzert said one of the upsides in the forecast is epic surfing. Past El Niños have brought winters that went down in surfing history, and "it was one great set after another," he said.
"But the other side of epic surf is battered beach communities. That's the flip side of it. The epic surf years also meant that beach communities were battered from Northern to Southern California."
Despite all the talk of El Nino, Gov. Jerry Brown remains cautious.
Brown said Friday that Clifornia's urban areas should prepare to keep conserving water until at least next fall.
In a new executive order, the governor said that if the drought continues through January, mandatory water cuts will remain in effect until October.
Brown's original order, issued in April, was effective only until February.
ron.lin@latimes.com | rosanna.xia@latimes.com
Follow us for the latest news in earthquake safety, El Nino, and the drought: @ronlin and @RosannaXia
ALSO
Cleaning out Big Tujunga Wash: Whose job is it?
As fewer Californians pass the bar, are LSAT scores an early indicator of success?
Steve Lopez: What's wrong with L.A. Unified's leadership? Answer: Just about everything