Third Street Promenade steps successfully into its 25th anniversary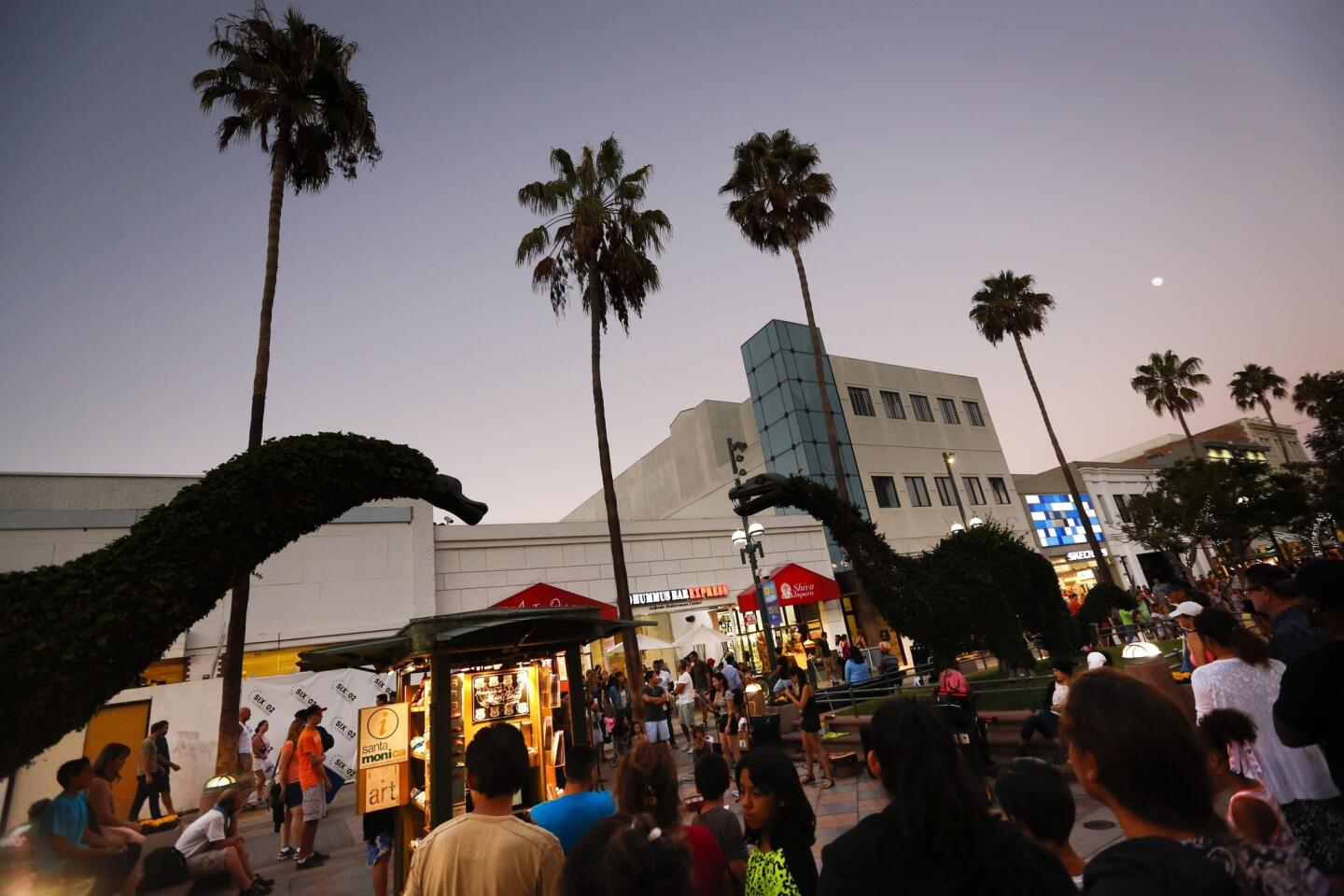 Twin sisters Celina and Carolyn Nguyen, 24, of Santa Ana, perform underneath the dinosaur topiaries on the Third Street Promenade on Saturday, Sept. 6, 2014.
(Patrick T. Fallon / For the Times)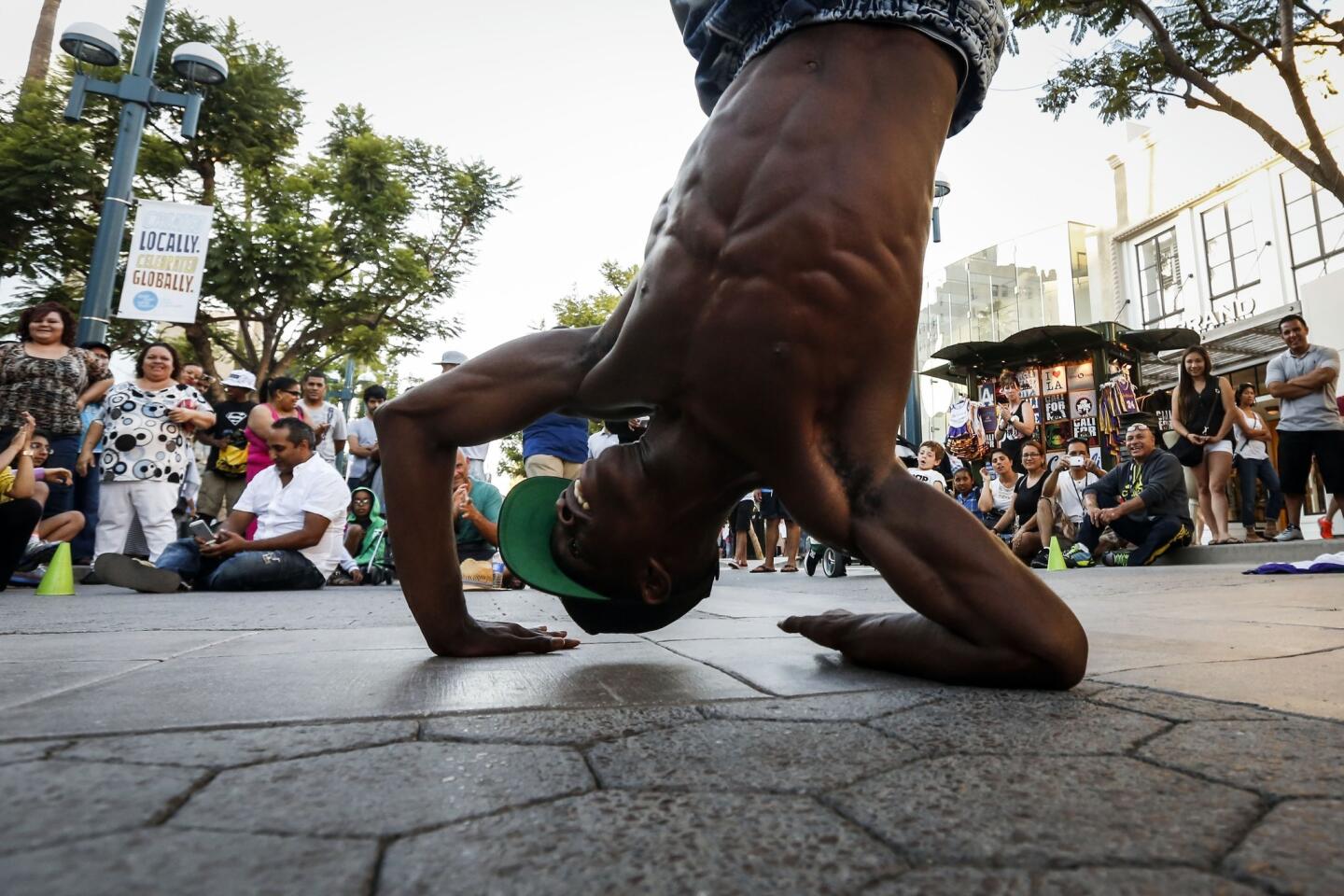 Street performer Jeffrey "Kyd Steez" Boykin dances for an audience at the Third Street Promenade in Santa Monica this month.
(Patrick T. Fallon / For the Times)
A person dressed in a lobster costume during filming for an "untitled dating project" reality TV show interacts with a woman at a restaurant on the Third Street Promenade on Saturday, Sept. 6, 2014.
(Patrick T. Fallon / For the Times)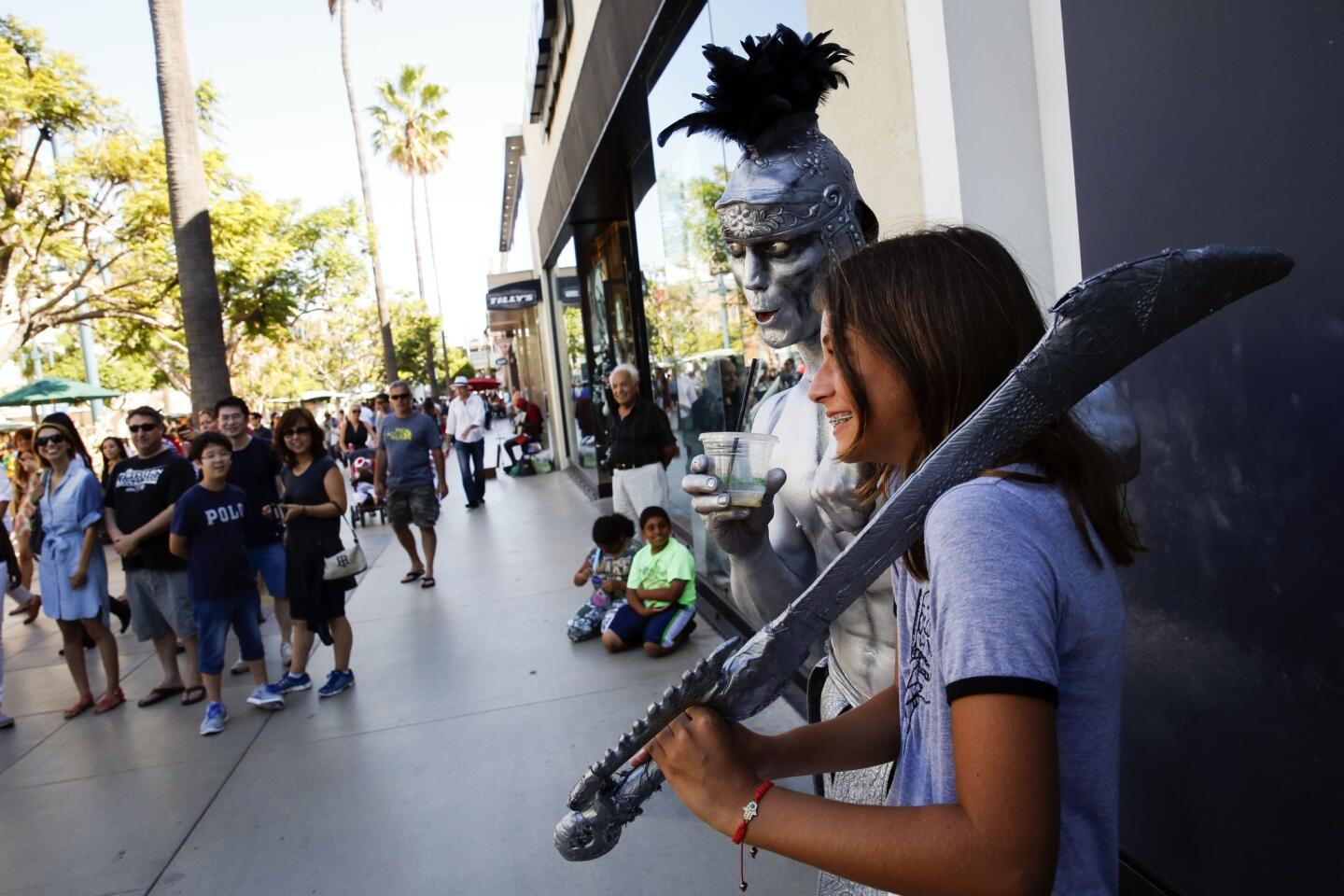 Street performer Duncan Meadows, a 12-year veteran of the promenade, poses for a picture with Emily Berk, 12, of Studio City, as people look on at the Third Street Promenade.
(Patrick T. Fallon / For the Times)
When Barbara Tenzer started leasing out Santa Monica retail space in the mid-1980s, she wondered how a beach town with such agreeable weather and appealing neighborhoods could harbor a downtown blighted by vagrants, dodgy bars and ubiquitous vacant storefronts.
"Why," Tenzer recalled thinking, "is it so deserted and sad and lonely?"
Those descriptors soon became passé, and much of the credit goes to the Third Street Promenade. The three-block-long pedestrian zone, which this month celebrates its 25th anniversary, was initially a ploy to lure locals back to their downtown, but it surprised even its most ardent boosters by eventually drawing millions of visitors a year.
The popularity of the promenade, with its outdoor dining, movie theaters, topiary dinosaurs, buskers, upscale shopping and apartments, helped make Santa Monica and environs a robust hub for high-tech and entertainment companies, with thousands of high-paying jobs.
"The promenade turned Santa Monica into a community with both a beach and a quality urban environment," said Denny Zane, a transit activist who as Santa Monica mayor cut the ribbon on the promenade in 1989.
The anniversary has prompted Zane and others involved in the promenade's creation to ponder this urban planning gamble that paid off spectacularly.
"We had modest goals," said John Jalili, the retired city manager who helped bring the promenade to fruition. "None of us said the efforts we are making now are going to transform this area into a tourism mecca."
There are downsides to the success. Local businesses such as the Midnight Special Bookstore have been squeezed out by rising rents. Traffic congestion is chronic, although downtown boosters say they hope the arrival of the Expo Line light rail in 2016 will help.
Santa Monica was a very different place in 1965, when civic officials first blocked off three north-south blocks of Third Street between Wilshire Boulevard and Broadway, a quick walk from the pier. East-west traffic was allowed to cross Third at intersections with traffic lights. Local businesses covered most of the $703,000 cost of creating a plaza-like environment on what became known as Third Street Mall or Santa Monica Mall.
Santa Monica thus became one of the first cities to copy an idea pioneered by Kalamazoo, Mich., which closed a downtown street to vehicles in 1959. The city also built six downtown parking garages.
But the timing was lousy. Air-conditioned shopping centers were popping up around the country. Civic leaders decided to launch their own. In 1972, the Santa Monica Redevelopment Agency selected a site at the south end of the mall, just off the 10 Freeway.
Developers enlisted a little-known local architect named Frank Gehry, who designed a three-level, 120-store mall with layers of parking.
When it opened in 1980, Santa Monica Place was an enormous success and a planning failure.
"It stole all the customers from the Third Street Mall," said Alexander Garvin, a New York urban planner who has written about the promenade.
The mall had long been in decline. It was dangerous, especially at night, when transients bedded down in doorways and alleys that stank of urine. Faded mom-and-pop shops mingled with Woolworth and J.J. Newberry. Santa Monica Place finished off the street economically.
Desperate to revive it, civic leaders and property owners joined forces with Zane and Herb Katz, councilmen from two ends of the political spectrum — with Zane speaking for the anti-gentrification renters and Katz for moderates more inclined toward growth.
With an eye toward luring evening diners and movie-going fans from Westwood Village, Zane introduced an ordinance prohibiting theaters anywhere but downtown; movie screens on the promenade became a huge draw.`
The city created the Third Street Development Corp. and brought in urban planning and design consultants. They held workshops where the public was invited to write about or sketch ideas for street signage and landscaping.
"Everybody said turning this into a public gathering space was the most important thing," said Woodie Tescher, the urban-planning consultant. Although the idea of an outdoor living room "was pretty ground-shaking at the time," he added, "it has been copied lots of places." The Grove and Universal City Walk aim for that same vibe, minus the salt air.
On Sept. 16, 1989, Zane, Jalili and others, with fanfare and frivolity, cut the ribbon after a $13-million face-lift. The street got a new name: Third Street Promenade.
In a bit of fair-play turnabout, Santa Monica Place underwent a redesign and reopened in 2010 as an open-air mall. It now serves as a complementary southern anchor for the promenade, which, with $471 million in taxable sales last year, handily outperforms the shopping center.
Retailers now pay as much as $30 a square foot per month for space on the promenade, a far cry from when Tenzer had to beg tenants to rent for 50 cents a square foot.
On a recent warm Saturday, the tree-lined promenade churned with activity.
Visitors of all ages, many speaking French, Chinese or German, wandered into flagship stores for Gap, Urban Outfitters, Anthropologie and other chains, and independent shops such as Tony Ayoub's Jewel Shop, which has adapted to the street's iterations for four decades.
Crowds clustered around break-dancing rappers and a silver-painted "centurion" who enticed youngsters to pose with him and his fake swords in return for a dollar or two. Young travelers sporting backpacks brushed past transients, one of whom held a sign seeking contributions for a lung transplant.
"We live in Marina del Rey but love to come down here," said Holly Slatter, 28, who was waiting for her fiance outside the Apple store. "It's beautiful and fun to people-watch."
Sign up for Essential California for news, features and recommendations from the L.A. Times and beyond in your inbox six days a week.
You may occasionally receive promotional content from the Los Angeles Times.