Great Read: A family secret guides the Homeland Security chief as he seeks help from American Muslims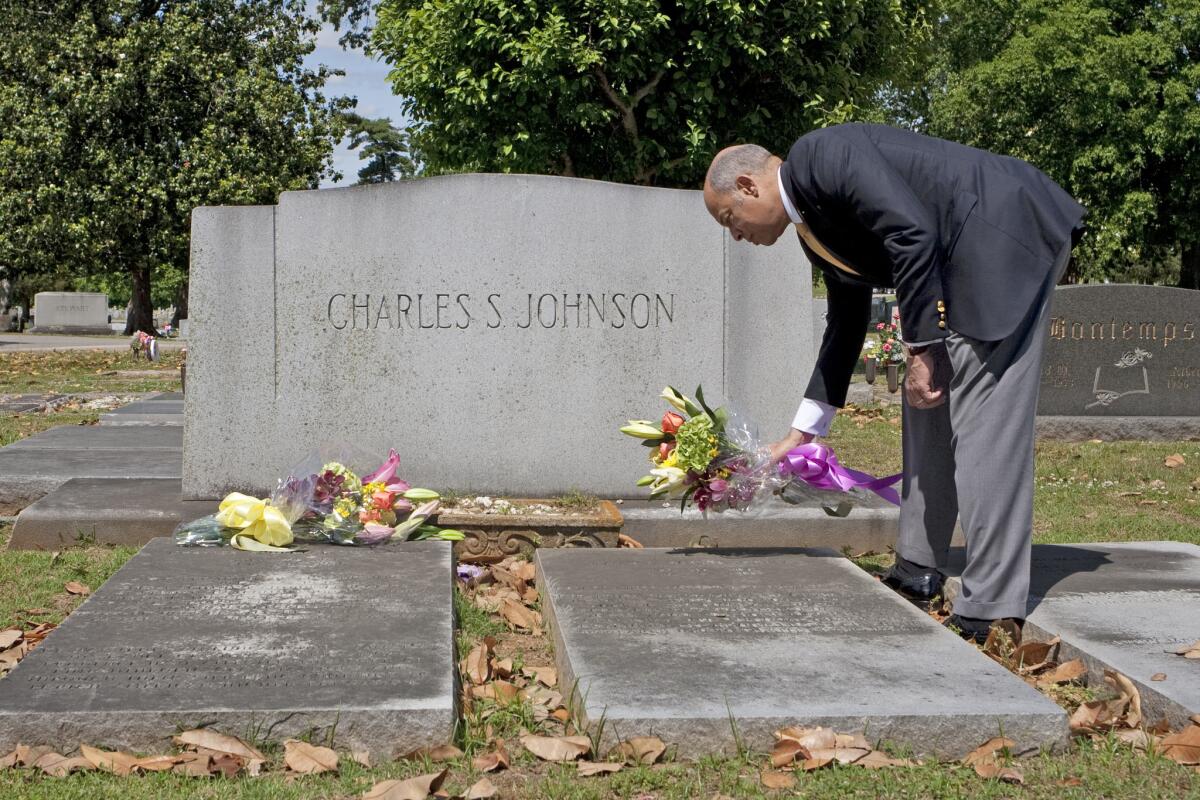 Reporting from NASHVILLE, Tenn. —
Jeh Johnson frowned. Cemetery groundskeepers had cut down a broad magnolia tree that once sheltered his grandfather's grave from the sun. Lichen pockmarked the granite headstone.
"We got to get this stuff off," he said, pointing to the mottled slab. Chiseled on it is the name of Charles S. Johnson, a distinguished sociologist who was president of Fisk University after World War II, when it was a haven for black intellectuals in the Jim Crow-era South.
The secretary of Homeland Security was in Nashville on business. But he asked his security detail to stop at his family plot in Greenwood Cemetery, a nearly all-black burial ground that remains a vestige of the city's color line.
Johnson's department is a key part of U.S. counter-terrorism efforts, and his grandfather has become a powerful personal touchstone for him as he juggles competing demands for national security and personal privacy, for government surveillance and civil liberties.
Johnson's grandfather was a target of the communist witch hunts of the postwar era. In 1949 he was called before the House Un-American Activities Committee, which investigated allegations of disloyalty and subversive activities.
The black college president was asked if he was then or had ever been a member of the Communist Party. He wasn't and he hadn't. The FBI investigated him but found nothing.
The family kept silent for decades about how the humiliations of the Red Scare touched them. Jeh Johnson only learned of his grandfather's tribulation last fall while researching a speech.
"Basically in the late '40s and early '50s, if you were a black intellectual with a PhD, you were also suspected of being a communist," Johnson said.
Basically in the late '40s and early '50s, if you were a black intellectual with a PhD, you were also suspected of being a communist.
— Jeh Johnson
Now Johnson sees uncomfortable parallels to the animus and distrust that many Muslim Americans face for the terrorist actions of a few.
"We always risk a fundamental misunderstanding of who is an individual of suspicion and who should be subject to government surveillance," Johnson said.
The issue is resonant because Donald Trump, the Republican presidential nominee, has made suspicion of Muslims a centerpiece of his campaign.
Trump has not only called for banning all foreign Muslims from entering the United States. After a gunman who pledged loyalty to Islamic State killed 49 people on June 12 in Orlando, Fla., he said that many American Muslims and mosques knowingly protect terrorists.
Court records show that since the terrorist attacks on Sept. 11, 2001, Muslim clerics, family members, friends and others have repeatedly called the FBI to report suspicions, or have agreed to work as informants.
In fact, a member of Orlando gunman Omar Mateen's mosque had told FBI agents the security guard was a fan of jihadist videos. The FBI dropped the case after interviewing Mateen. Two years later, he attacked the Pulse nightclub in Orlando.
Johnson has voiced strong support for police after gunmen killed eight officers and wounded a dozen others this month in Dallas and Baton Rouge. But he also says he understands how a rash of police shootings of unarmed black men in several communities has sparked public outrage.
"I've had my share of unpleasant encounters with law enforcement when I was much younger," he said on CNN this month. But, he added, "incidents of profiling, of excessive force, are not a reflection of the larger law enforcement community.... I think we have to remember that, especially now that tensions are so high."
Johnson travels every few months to meet Muslim leaders around the country, usually in private. He asks them to help authorities identify potential threats in their communities, and he often describes his grandfather's torment to show he understands how innocent people can be harmed when fear, fueled by politics, sweeps the nation.
"This is not an effort to enable us to spy in mosques," Johnson said. "The U.S. government cannot and should not be everywhere, and so it is incumbent on community leaders, neighbors and others to help us in these efforts."
It's a carefully calibrated appeal, and it doesn't always work.
On May 3, Johnson made his pitch to about 30 Muslim clerics and community leaders in a drab conference room in Philadelphia. He sought their help battling extremist calls to violence, asking them to report loved ones and friends who might try to join Islamic State or even launch their own attacks.
Why single out Muslims, a cleric from a mosque in West Philadelphia objected. What about the non-Muslim gunmen who have attacked U.S. schools, churches and movie theaters?
Johnson nodded, and told them that his wife, Susan, had received emails from a neighbor in Montclair, N.J., where they have a house. The neighbor warned that he'd seen a "Muslim-looking person" riding a bicycle on their street.
"My wife responded, 'Thank you very much. That's my son. He's home from college. Thank you for your interest in national security,'" Johnson told them.
The group laughed — but kept pressing.
A woman in a yellow and green headscarf said authorities had visited the home of a local 14-year-old after he searched "Islamic State" on a high school computer. A man said his 4-year-old son, Abdullah, was questioned at an airport checkpoint because the child's name was similar to someone on the terrorist watch list.
"As an African American whose ancestors were the subject of discrimination in law and in fact, I appreciate and understand, I think, the discrimination you face," Johnson said.
As an African American whose ancestors were the subject of discrimination in law and in fact, I appreciate and understand the discrimination you face.
Sometimes Johnson reaches deeper into his family history.
His great-grandfather, Charles H. Johnson, was born into slavery in 1860, was freed three years later with the Emancipation Proclamation, graduated college by 23 and spent 42 years as a Baptist minister in Bristol, Va.
"When you're the Baptist preacher in a black community in southwest Virginia [at that time], very often you were the preacher, you were the therapist, you were the marriage counselor, you were the estate planner, and every once in a while you had to break up a lynching," he said.
Johnson's grandfather grew up in the preacher's house, surrounded by books and Bibles and the threat of mob violence that governed race relations in the post-Reconstruction South.
He would go on to earn a doctorate in sociology and spend his life writing about race in America. During World War I, he served as a volunteer in a segregated infantry unit that battled through France and Belgium.
After the war, he finished his studies at the University of Chicago and survived the 1919 race riots that left 38 people dead. He wrote an influential sociological study of the riots that closely examined race relations in Chicago.
His report helped lay an academic foundation for future integration policies and propelled Johnson to prominence among sociologists and in black intellectual circles.
Working at the National Urban League in New York City in the 1920s, he organized dinners that introduced white publishers and critics to emerging black writers.
One of his events, in March 1924, was attended by Eugene O'Neill, H.L. Mencken, and W.E.B. Du Bois, among others, and is considered by some scholars as the coming-out party of the Harlem Renaissance.
Jeh Johnson's first name honors a tribal chief who helped his grandfather during a visit to Liberia for the League of Nations in 1930. He was investigating a government-sanctioned slave trade.
Johnson, 58, never met his grandfather, who died of a heart attack in 1956 at age 63. A friend at the time blamed his death on the strain from a single decision he made following years of anti-communist badgering.
Charles Johnson had caved to pressure a few months earlier to fire a white mathematics professor and civil rights activist named Lee Lorch, who would not deny being a communist.
Johnson had stood by Lorch for five years. He finally concluded that keeping Lorch on the faculty at Fisk put the university's future in jeopardy.
Jeh Johnson thinks often about his grandfather's choice between bad options, like the dilemmas he sometimes faces in trying to prevent terrorist attacks.
"When you are in a leadership role concerning a very difficult, emotional, polarizing issue, you can rarely occupy a purist position," he said.
"In my grandfather's case he decided he had to do what he thought was right for the school," he said. "So I totally understand that and I can appreciate how stressful it was."
Two days after his visit to Nashville, Johnson got an email from a funeral director he had met at the cemetery.
"Thank you for all you do for me and the country," the message read. Attached were four photos of his grandfather's headstone, freshly cleaned, the blurred letters made clear again.
Follow me on Twitter @ByBrianBennett
ALSO
Billionaire who went bust is out of jail and still owes millions. Many are watching his next move.
Texas, facing a lawsuit, makes it easier for U.S.-born children of immigrants to get birth certificates
Virginia court tosses governor's order restoring voting rights of felons
Sign up for Essential California for news, features and recommendations from the L.A. Times and beyond in your inbox six days a week.
You may occasionally receive promotional content from the Los Angeles Times.