North Korean ruler stands down on threat to Guam, but could change his mind 'if the Yankees persist'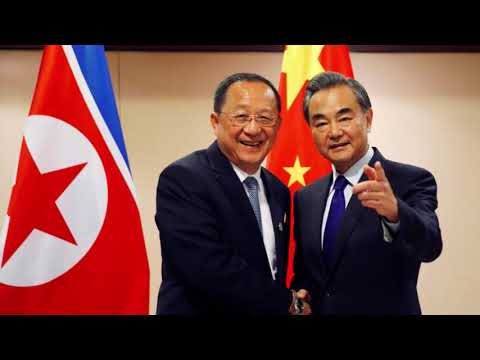 Recent bluster between President Donald Trump and North Korean leader Kim Jong Un seems to have cooled off a bit, but a university professor and a South Korean native now living in Valparaiso said the tension still merits a close watch. (Aug. 15, 20
Reporting from Washington —
North Korea's autocratic ruler has decided not to launch missiles toward Guam, Pyongyang's state media reported Tuesday, easing the immediate threat of an attack on the U.S. territory in the western Pacific.
The North Korean statement said Kim Jong Un could change his mind "if the Yankees persist in their extremely dangerous reckless actions," in which case the country's artillerymen would "wring the windpipes of the Yankees and point daggers at their necks."
The announcement appeared shortly after Defense Secretary James N. Mattis warned that an attack could quickly escalate to war, although it's unclear if the developments were linked.
"If they fire at the United States it could escalate into war very quickly," Mattis told reporters at the Pentagon. "That's called war, if they shoot at us ... You don't shoot at people in this world unless you want to bear the consequences."
Mattis cited a classic Hollywood political satire about nuclear war to say he wasn't drawing red lines or making idle threats to spark a confrontation.
"It's not declaring war — it's not that I'm over here, Dr. Strangelove, doing things like that," he said.
North Korea tested an intercontinental ballistic missile last month for the first time, and U.S. intelligence agencies assess that Pyongyang can build a nuclear warhead small enough to fit atop a long-range missile, although it's not clear if it can target U.S. cities.
The latest missile tests led to a sharp rise in tensions. The United Nations Security Council voted unanimously to add new sanctions on North Korea, and President Trump warned he would unleash "fire and fury" if Pyongyang continued its threats.
In response, North Korea said Kim was reviewing a plan to fire four mid-range missiles over Japan and into international waters at least 20 miles off Guam, where the U.S. military operates several major bases.
Mattis was ambiguous as to how Washington would respond if Pyongyang launched a missile toward Guam as a show of force, and it landed far offshore.
"War is up to the president, and perhaps up to Congress," Mattis said. "The bottom line is we will defend the country from attack."
The U.S. military would be able to determine if a North Korean missile is headed toward Guam "within moments," he said, because of spy satellites, radars and other high-tech sensors that track missile launches.
If necessary, "we'll take it out," Mattis said, suggesting the U.S. military would attempt to shoot it down with antimissile interceptors on land and ships.
Analysts said North Korea's announcement was a clear de-escalation.
"This is coming from Kim Jong Un himself — that's always important," said John Delury, an associate professor of Chinese studies at Seoul's Yonsei University.
"The previous set of Guam announcements were from the military, saying 'We're working on this plan, and we'll give it to the commander in chief.' And now they've given it to the commander in chief, and he said, 'This is awesome, but let's put this on ice, and see what the Americans do next.'"
Delury cautioned cautioned, however, that Kim didn't say he would never use the plan.
"This is a very positive signal, but he's waiting for the Americans to reciprocate," Delury said.
Earlier, Mattis and Secretary of State Rex Tillerson sought to defuse tensions in a Wall Street Journal opinion piece that said the Trump administration did not seek "regime change or accelerated reunification of Korea," issues of special concern to China, which supports Pyongyang.
South Korean President Moon Jae-in has also sought to defuse tensions, vowing to step up diplomatic efforts to denuclearize Pyongyang. "The government will prevent a war at all cost," Moon said Tuesday, according to South Korea's Yonhap news agency. "We must peacefully resolve the North Korean nuclear issue no matter how many ups and downs there are."
Gen. Joseph F. Dunford Jr., chairman of the Joint Chiefs of Staff, arrived late Monday in Beijing to meet with Chinese military leaders. Earlier, he met with Moon at Osan Air Base, a U.S. Air Force base about 40 miles south of Seoul.
Dunford said in Beijing that his goal was to "continue to develop our military-to-military relationships, to mitigate the risk of miscalculation in the region and to have cooperation where those opportunities exist," according to a Pentagon statement.
Times staff writers Hennigan reported from Washington and Kaiman from Beijing.
Twitter: @wjhenn
Twitter @JRKaiman
ALSO:
Climate change is real: Just ask the Pentagon
Trump administration stops disclosing troop deployments in Iraq and Syria
U.S. launches dozens of missiles at Syria in response to chemical weapons attack
---
UPDATES:
8:05 p.m.: This article has been updated with a comment from the South Korean president.
7:45 p.m.: This article has been updated with more details from North Korea's statement and analyst comment.
This article was originally published at 6:35 p.m.
Sign up for Essential California for news, features and recommendations from the L.A. Times and beyond in your inbox six days a week.
You may occasionally receive promotional content from the Los Angeles Times.