7 police officers die in Tijuana attacks
Outside a police station in the Colonia Libertad neighborhood of Tijuana, a boy peers into a police pickup damaged by gunfire. One auxiliary policeman was slain and another wounded in the attack, one of a number across the city the night before by masked gunmen that left a total of seven officers dead, and two wounded. An additional officer was injured in an earlier assault.
(Don Bartletti / Los Angeles Times)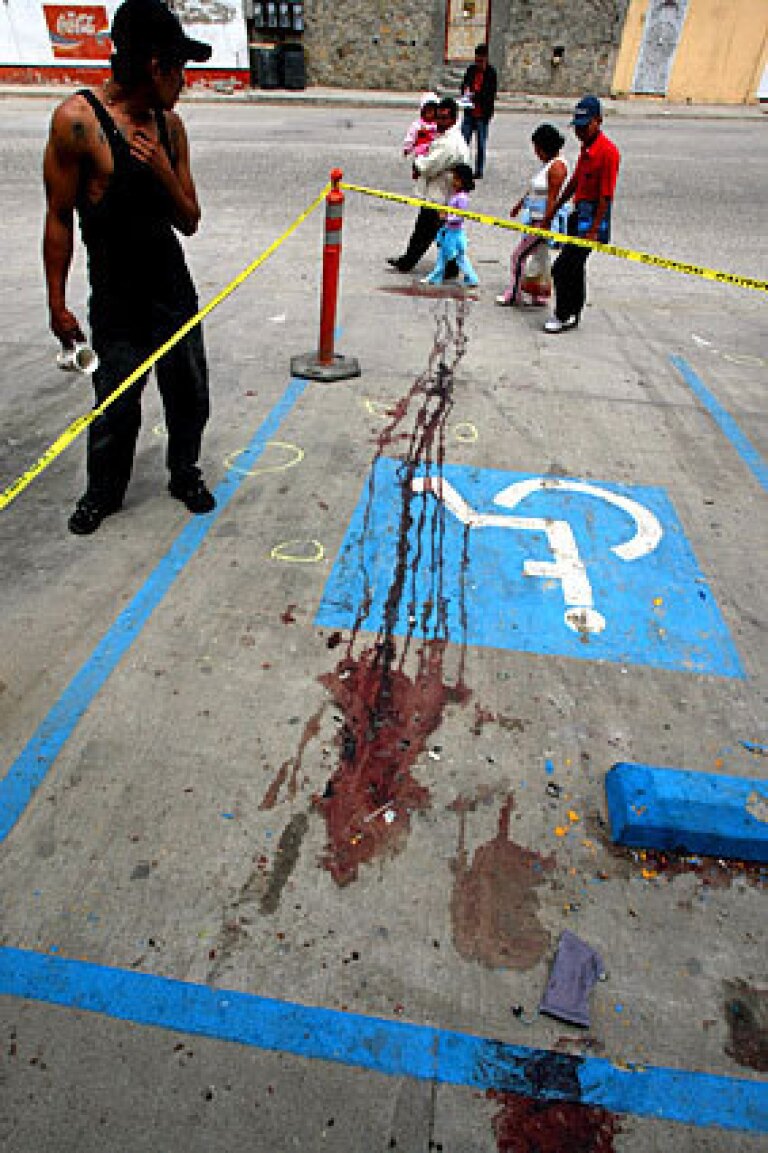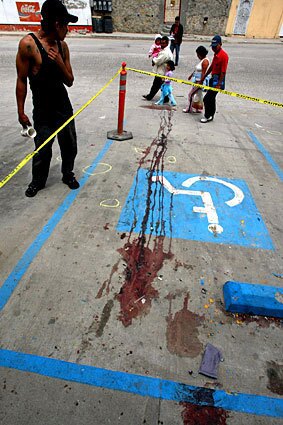 Passersby look at the blood-streaked pavement in front of a convenience store where four Tijuana police officers were slain in a drive-by shooting the night before. Investigators say the coordinated attacks in several locations across the border city took place within an hour.
(Don Bartletti / Los Angeles Times)
A woman who did not want her identity revealed shows a digital camera image of the carnage she witnessed the night before. The four Tijuana police officers killed outside the convenience store were reportedly attacked by heavily armed masked gunmen.
(Don Bartletti / Los Angeles Times)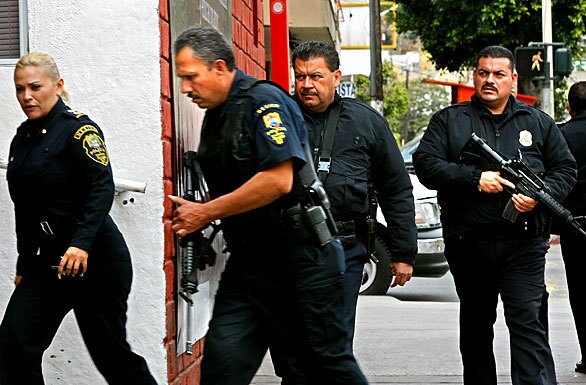 Heavily armed police officers walk into headquarters in downtown Tijuana the morning after seven policemen were slain and two wounded by gunmen in the apparently coordinated attacks across the city around 8 p.m.
(Don Bartletti / Los Angeles Times)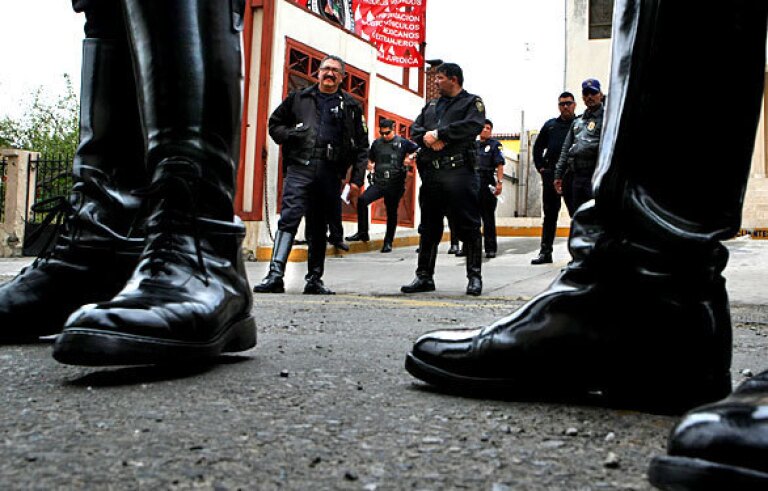 Tijuana motorcycle police officers wait for orders on the sidewalk outside the downtown headquarters after their normal patrols of the city were cancelled. In the wake of the deadly attacks on police, motorcycle patrols were considered too dangerous.
(Don Bartletti / Los Angeles Times)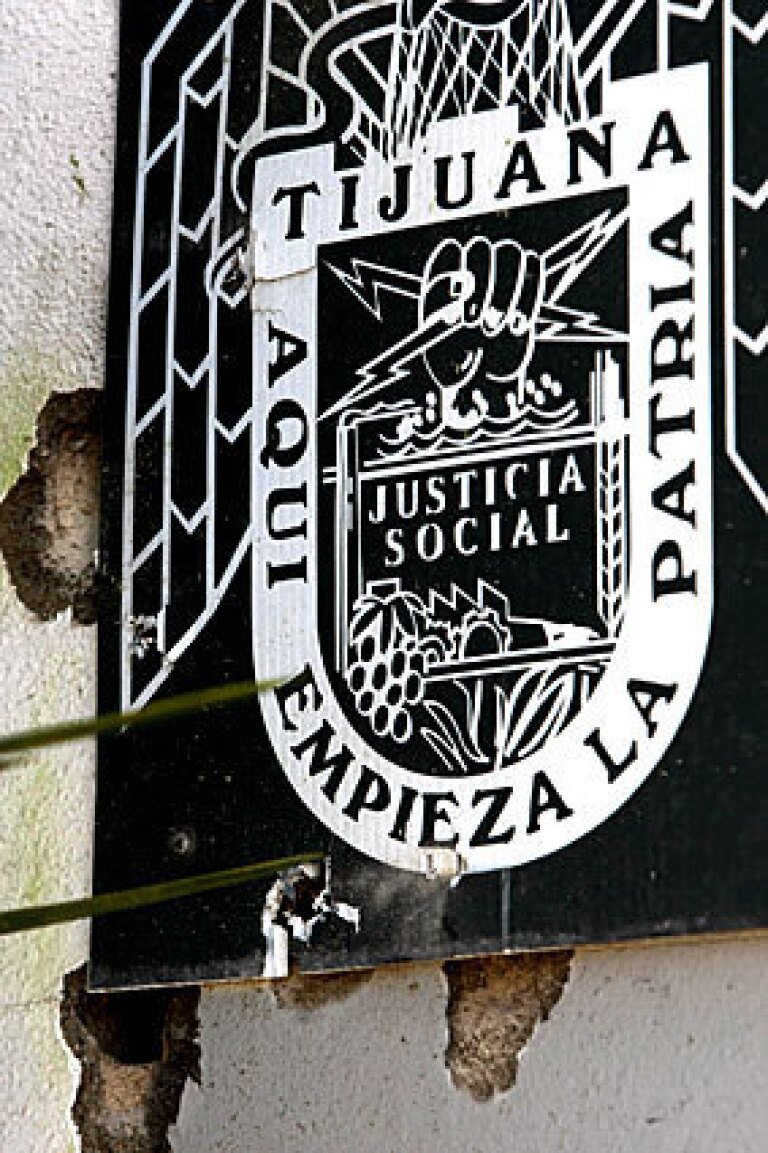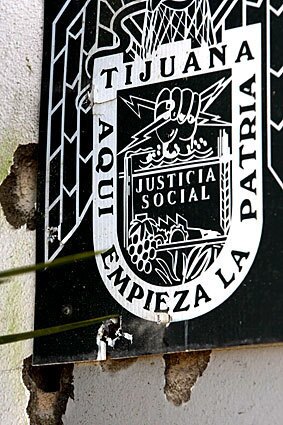 A Tijuana police crest bears numerous bullet holes from an attack the night before that left one auxiliary police officer dead and another wounded in the Colonia Libertad neighborhood. The plaque reads, "Social Justice. Tijuana Patriotism Begins Here."
(Don Bartletti / Los Angeles Times)
Reporting from Tijuana —
Heavily armed gunmen staged a series of surprise attacks against municipal police forces in this tense border city, killing seven and wounding three in brazen assaults that shattered a four-month period of relative calm.
Six police officers and an auxiliary officer died within a 45-minute span late Monday in ambushes at a hillside substation, on busy streets and outside an OXXO mini-mart, where four were killed in a hail of bullets, including one who tried to fight back.
"He took out his gun and tried to fire at them, but they shot him and he fell backward, and his eyes rolled up in his head," said a teenager who witnessed the shooting in the tough Los Arenales neighborhood.
With authorities placing the blame on organized crime gunmen, municipal police Tuesday retreated to substations and headquarters and patrolled mostly in groups or with army escorts. The tension was palpable outside the 8th Street headquarters downtown, where motorcycle cops were being held back from patrol until further notice.
"We've had it," one said. "We're sitting ducks out here."
Municipal police officers across Mexico have become frequent targets of organized crime groups vying to control drug-trafficking routes. More than 500 police officers and soldiers have been killed in Mexico since December 2006.
Monday's attacks resulted in one of the biggest one-day police death tolls in recent memory.
It was too early to tell whether the assaults would re-trigger the drug war between rival gangs in Tijuana that raged last year, claiming about 800 lives. A military-led offensive has brought the capture of several key crime bosses and seemed to strike major blows against rival factions of the Arellano Felix drug cartel, which has long controlled drug trafficking in the border city.
In the first quarter of this year, the number of homicides and kidnappings plunged in Tijuana, but police have remained on edge.
The 2,200-member Tijuana police force has seen its ranks purged of hundreds of officers in the last year, many of them fired for suspected corruption. And 14 have been killed since the beginning of the year.
In key drug-trafficking corridors such as Tijuana, police are typically shot down for running afoul of organized-crime groups, either for trying to do their jobs or for siding with rival gangs. Sometimes, the killings are meant to frighten the already demoralized police.
Tijuana's secretary of public security, Julian Leyzaola, who has lashed out against corrupt cops, said Tuesday that the officers killed Monday appeared to have been targeted as part of an intimidation campaign.
Some of the officers were shot in the back, and the auxiliary officers were unarmed, he said. He called the gunmen "cowardly bandits" who don't show their faces and shoot their victims in the back.
"It's a way of intimidating the police," said Leyzaola at a news conference. "We have feelings of indignation and impotence because we can't strike back in the same way. . . . But we'll regroup and jail these attackers."
Authorities said the attacks, by men firing AK-47 rifles from late model cars and SUVs, were preceded by a spate of threats over police radio frequencies. Such threats are so common, Leyzaola said, that authorities didn't feel a need to take precautionary measures.
The first act of violence against police Monday occurred about 9:15 a.m., when a female officer was wounded, shot in the back while on patrol in her vehicle near the airport. But the frenzy of attacks erupted at 8 p.m. in the ramshackle Los Arenales neighborhood of east Tijuana, where residents say police rarely venture. The four police officers arrived at the mini-mart to take a report of an assault and were ambushed as they left.
Witnesses said two or three cars pulled up and that several masked men opened fire with high-caliber automatic weapons. The officers didn't stand a chance, even though they were wearing bulletproof vests, the witnesses said.
Two were shot in the back and fell near the door. A female officer was struck in the face and died while trying to take cover under a car. The fourth was shot in the neck and died with his gun still in his right hand.
The teenager who witnessed the attack said he placed his sisters on the floor and then peeked outside and saw the last officer go down.
"When the assassins saw him fall, they tore out of there," said the boy, who declined to give his name for safety reasons.
Within minutes, groups of gunmen killed a motorcycle officer on a street in another east Tijuana neighborhood and ambushed a pair of officers in a coastal area, killing one and wounding the other.
At 8:45 p.m. gunmen pulled up outside a police auxiliary substation in Colonia Libertad near downtown and riddled the small, stucco building with high-caliber rounds. Carlos Rios, the substation commander, suffered fatal chest wounds and another officer was wounded.
A neighborhood shopkeeper said Rios was a dedicated auxiliary officer who handled low-level police duties, taking reports and responding to petty crime complaints. Rios visited his store regularly to buy peanuts and Cheetos. He was an honest guy, he said, who always repaid the 300-peso credit line that he gave him.
"Rios was a very nice guy," said the shopkeeper. "Calm, and always ready to help people out."
Outside the police substation Tuesday afternoon, the walls bore the marks of the shooting, with large chunks of stucco gouged out and windows shattered.
A young man arrived to make a report. He banged on the heavy double doors. But nobody answered.
---
Must-read stories from the L.A. Times
Get all the day's most vital news with our Today's Headlines newsletter, sent every weekday morning.
You may occasionally receive promotional content from the Los Angeles Times.