Trump crosses Asia touting a 'free and open Indo-Pacific,' a shift in rhetoric if not actual strategy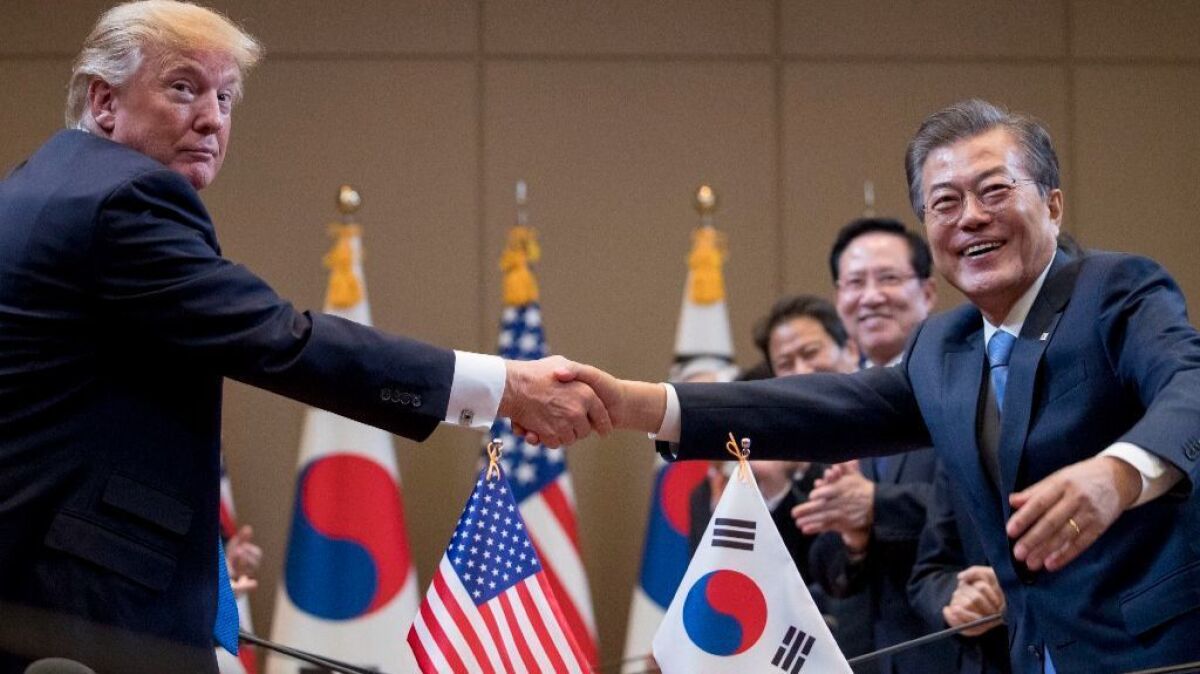 Reporting from Beijing —
As he travels across Asia, President Trump is pushing an ambitious, if still vague, new foreign policy: a "free and open Indo-Pacific" stretching from the West Coast to Japan, down through Southeast Asia to Australia, and west across another ocean to India.
Trump is seeking to link the vast Indo-Pacific — far larger than the familiar Asia-Pacific — in a conscious effort to expand America's traditional strategic interests to include India, the world's most populous democracy, as a counterweight to China, a protectionist totalitarian state, according to a senior administration official accompanying the president in Asia.

For the record:
11:30 a.m. Nov. 9, 2017
An earlier version of this article said President Trump would speak at the Asia Pacific Economic Cooperation summit in Da Nang, Vietnam, on Saturday. He will speak at the summit on Friday.
Over the last month, the head-scratching term has emerged in White House speeches, Cabinet meetings and media briefings, as well as Trump's comments and statements this week in Tokyo, Seoul, Beijing and Da Nang, Vietnam, where he told an Asia-Pacific Economic Cooperation summit audience that the city was in "the very heart of the Indo-Pacific."
Whether the shift in semantics represents a shift in strategy is less clear.
When Trump's national security advisor, H.R. McMaster, previewed the trip in Washington on Nov. 2, he claimed Trump had "placed 43 calls to Indo-Pacific leaders." McMaster then used the term eight more times, including a shout-out to Monday's meeting of the Assn. of Southeast Asian Nations, which does not include India, in the Philippines.
"At the ASEAN 50th birthday party in Manila, the president will discuss how to strengthen partnerships across the Indo-Pacific to further efforts against transnational terrorist organizations," McMaster said.
Secretary of State Rex Tillerson already had set the bar high. Speaking to the nonpartisan Center for Strategic and International Studies in Washington on Oct. 18, he cited the Indo-Pacific 23 separate times, describing economic and foreign policy challenges and concerns for countries on China's periphery.
The term is not entirely new. President Obama and his first secretary of State, Hillary Clinton, both tried it out but preferred Asia-Pacific or the Pacific Rim. Leaders in Japan, India, Australia and elsewhere have used it. The Pentagon has long embraced it. U.S. Pacific Command, based in Hawaii, likes to say it controls the oceans "from Bollywood to Hollywood."
Some foreign policy experts cautioned the White House not to portray the emerging policy as aimed at China.
"Many if not most of the countries of the region would have great trepidation if asked to sign up to an anti-China containment policy," said Daniel Russel, an assistant secretary of State for East Asian and Pacific affairs in the Obama administration. "No one wants to have to choose between the U.S. and China."
Russel also cautioned about the sheer size of the region — more than half the globe — that the policy seeks to pull together. "Trying to embrace all of South Asia and all of East Asia is a pretty formidable undertaking," he said.
Others applauded the president's new way of seeing the geopolitical sphere, one that links democratic and some not-so-democratic allies in common purpose.
"When I hear 'Indo-Pacific,' I hear the world is round and Asia is more than just the East Asia littoral; it is linked and tied to the Indian Ocean" by shipping lanes, air traffic, even cultural overlays, said Dean Cheng, a senior research fellow who specializes in Asia at the Heritage Foundation, a conservative think tank.
Though the U.S. has been a Pacific power since the late 1800s, and the dominant one since World War II, its power projection and military alliances rarely extended across the Indian Ocean to what was historically seen as a separate part of the world. But the White House cites a different history.
"The United States is an Indo-Pacific power," said the senior administration official traveling with Trump. "We've been one since the dawn of our republic. Our security and our prosperity depend on the United States maintaining access for free flow of commerce to this region, because we're a Pacific nation."
Asked if the new policy was aimed at containing China's rise, the official said "certainly not" and instead emphasized the importance of India — which views China as a political rival and potential military threat — to U.S. security and prosperity.
"We have strong and growing ties with India. We talk about an Indo-Pacific in part because that phrase captures the importance of India's rise," the official said.
India, not surprisingly, has embraced that idea. It sees the rhetorical shift as recognition of its growing geopolitical stature and improving ties with Washington.
"It reflects how allies and partners are seeing their region — increasingly linked, with interests and activities crossing the Indian and Pacific Ocean dividing line," said Tanvi Madan, director of the India Project at the Brookings Institution in Washington.
Bolstering the shift is Trump's personal affinity for Indian Prime Minister Narendra Modi and his distaste for Muslim-dominated Pakistan, as well as concern about China's growing military and economic power and Chinese President Xi Jinping's recent rise to Mao Tse-tung -like status.
White House aides said the new policy includes an emphasis on freedom of navigation. That issue is relevant in the regional disputes of the South China Sea, where China has built up islands and shoals into military facilities, and where Washington has irked Beijing for years by sending warships and surveillance planes close offshore.
"China is going to play a larger role in the Indian Ocean … and India is going to play a larger role in the Pacific Ocean. That fact alone is what underlines the 'Indo-Pacific' term," said C. Raja Mohan, director of the Carnegie India think tank in New Delhi. "That trajectory is going to remain the same irrespective of what they call it."
Under Modi, India has sought to project itself as a rising power and found ways to gently challenge Chinese hegemony in the wider Asian region, in particular by forging closer trade and diplomatic relationships to the east, with Japan and Vietnam.
The White House says the new policy also aims to keep the region's economies open to free trade. That goal was complicated by Trump's decision to abandon the Trans-Pacific Partnership, a 12-nation trade pact negotiated by the Obama administration that deliberately excluded China.
Michael J. Green, a national security aide under President George W. Bush, questioned how the White House could call for a free and open Indo-Pacific while pushing "an American-first approach to trade relations." That hinders "the integration of countries into an open and free trading system."
Others cautioned against expecting an Indo-Pacific alignment to go far in containing China, the largest economy in the region by far.
The White House will be disappointed if it thinks "of India as the left arm to Japan's right arm in a democratic pincer movement to contain China," said Christopher K. Johnson, a former China specialist at the CIA now at the Center for Strategic and International Studies in Washington. "I don't think [the Chinese] are breaking a huge sweat about that."
Wilkinson reported from Washington, Bengali from Mumbai and Bennett from Beijing. Times staff writer Noah Bierman in Washington contributed to this report.
---
UPDATES:
Nov. 10, 1:30 p.m.: This article was updated with a Trump comment from a summit in Vietnam.
This article was originally published Nov. 7 at 7:40 a.m.
Must-read stories from the L.A. Times
Get the day's top news with our Today's Headlines newsletter, sent every weekday morning.
You may occasionally receive promotional content from the Los Angeles Times.