Volatile Persian Gulf crisis over Qatar tries, divides Trump administration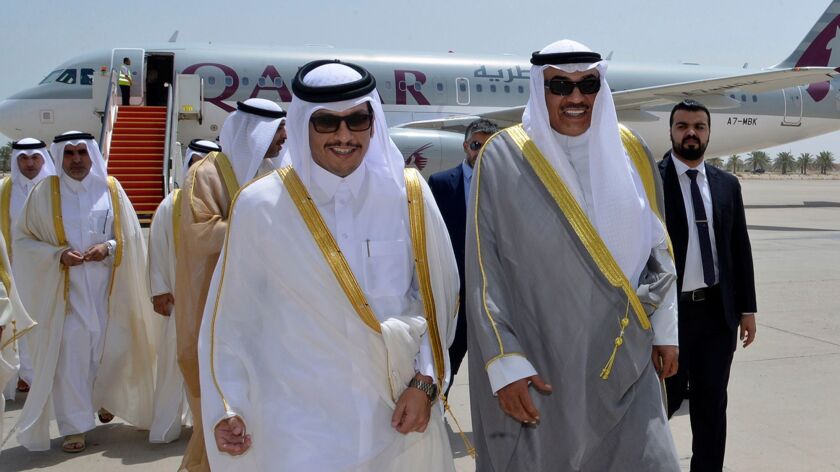 Reporting from WASHINGTON —
America's top diplomat, Rex Tillerson, spent much of last week working on a single issue: how to defuse the potentially explosive crisis in the oil- and gas-rich Persian Gulf after the Trump administration unexpectedly sided with one U.S. ally, Saudi Arabia, against another, Qatar.
Tillerson did not get very far.
It didn't help that his boss, President Trump, undermined him, seemingly at every turn.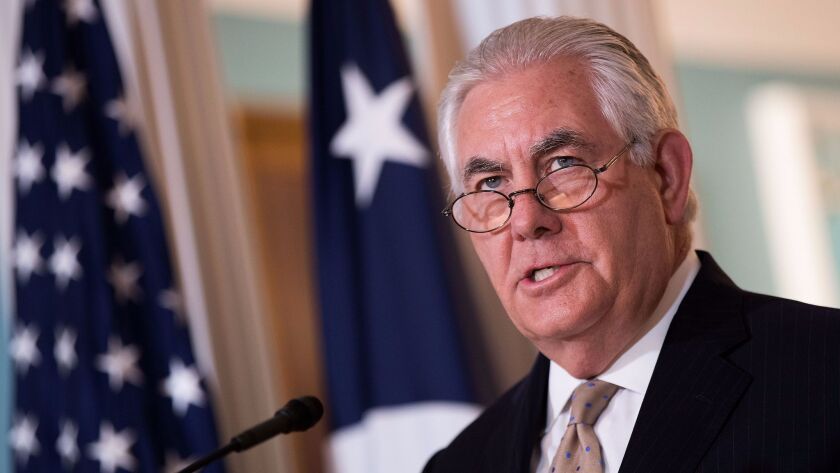 In meetings with senior officials from Saudi Arabia, Qatar, Kuwait and other nations, Tillerson urged all parties to remain "open to negotiation" but failed to push them closer.
At the core of the issue is a 13-point list of demands that Saudi Arabia and its three partners have slapped on Qatar. Monday was to be the deadline for Qatar's response. At Kuwait's request, the deadline was moved to Wednesday, but Qatari officials issued a defiant response nevertheless.
Qatari Foreign Minister Sheik Mohammed bin Abdulrahman al Thani was dispatched to deliver the letter from the emir, Sheik Tamim bin Hamad al Thani, to the Kuwaiti ruler, Sheik Sabah al Ahmed al Jabbar al Sabah, according to Qatar's official news agency.
Mohammed said earlier that the demands were extreme and "made to be rejected."
"Everyone is aware that these demands are meant to infringe [on] the sovereignty of the state of Qatar, shut the freedom of speech and impose [an] auditing and probation mechanism for Qatar," the foreign minister said.
Even State Department officials say privately that the demands are over the top, including the closing down of the Arab world's prime television news channel, the Qatari-based Al Jazeera, which is often critical of the region's potentates.
It would be like Trump demanding closure of the BBC.
More broadly, however, the diplomatic showdown involves fighting terrorism and countering Shiite Muslim-led Iran. The Sunni Muslim governments of the gulf, led by Saudi Arabia, accuse Qatar of being too cozy with Tehran and supporting militant groups.
Trump lent enthusiastic support to Saudi Arabia, backing its move, made along with the United Arab Emirates, Bahrain and Egypt, to cut off Qatari airspace, seal its land and sea borders and suspend diplomatic ties. (Kuwait did not join the blockade and is attempting to mediate.)
Trump's decision to turn on Qatar — just days after boasting that he had brought Arab nations together in "historic" unity to fight terrorism — has stunned diplomats here and abroad.
Qatar, like Saudi Arabia, is a long-standing ally of the United States. Unlike Saudi Arabia, Qatar is also home to the largest U.S. military base in the region, with about 11,000 troops near the capital, Doha. It has been the launch point for numerous U.S. Air Force bombing missions against Islamic State militants. The tiny emirate has an independent streak, tends to follow its own foreign policy line and is more liberal than its neighbors — all of which angers its much larger neighbor, powerhouse Saudi Arabia.
Unlike the more authoritarian gulf states, Qatar praised the so-called Arab Spring protests against entrenched rulers and has even welcomed Israelis to Doha, while most of the rest of the Arab world officially shuns Israel.
Trump took an exceedingly positive view toward Saudi King Salman and the newly minted crown prince, Mohammed bin Salman, and U.S. diplomats suspect the father and son were able to sway Trump into believing their criticisms of Qatar. His praise, in turn, gave the Saudis a green light to act harshly, and Trump's May visit to the Saudi capital, Riyadh, was used to announce millions of dollars in U.S. weapons sales to the desert kingdom.
The confusion within the administration was no more evident than on June 9. Tillerson made conciliatory public comments and called on Qatar's neighbors to ease their crackdown. Less than an hour later, Trump marched into the Rose Garden, sang the Saudis' praise again and called Qatar a "funder of terrorism at a very high level."
Tillerson and Defense Secretary James N. Mattis have been trying to repair the damage since.
Qatar acknowledges that it has given haven to groups such as the Muslim Brotherhood, a pro-Islamist organization banned in Egypt, and other militants. But Qatari officials say that is their democracy.
In Doha "we have an Israeli trade office, and we have a Hamas representative office," Mohammed, the foreign minister, told a group of reporters and academics in Washington last week. Hamas is a militant group that rules the Gaza Strip. "We have an open-door policy."
Another of the Saudi-led quartet's 13 demands is that Qatar cut off or reduce diplomatic relations with Iran. The foreign minister said that was an impossible demand, in part because the two countries share a massive offshore gas field. "We have to have a relationship," he said.
The foreign minister said his country was shocked when Trump and the Saudi group turned on it, on the heels of the Riyadh meeting.
"One day we are united to fight and defeat terrorism," he said. "Suddenly two days after this, we see a diversion from one target to another target: Qatar."
He said he felt Trump was listening too closely to "the blockading nations" and should consult his own nation's intelligence services to get the full picture of Qatar's dealings with militants.
Trump on Sunday spoke to the leaders of Saudi Arabia, Abu Dhabi and Qatar, but tweeted only about the conversation with the Saudi king, Salman:
A White House statement continued Trump's hard line on Qatar, saying he "underscored that unity in the region is critical" but believes that "the overriding objective of his initiative [from the Riyadh meeting] is the cessation of funding for terrorism," a clear swipe at Qatar.
Qatar is warning that the crisis could undermine the stability of the Gulf Cooperation Council, arguably one of the most effective and important regional bodies in the Middle East.
Saudi Foreign Minister Adel Jubeir said last week that the 13 demands are "not negotiable." The Saudi-led bloc will convene its foreign ministers in Cairo on Wednesday to examine Qatar's response to the list.
The economic and political sanctions are having dire consequences in Qatar, something that Tillerson pointed out in public statements.
Qatar's neighbors have restricted its access to air and sea ports, while its only land border — with Saudi Arabia — has been shut in a de-facto land blockade of the country. As much as 40% of Qatar's food comes from Saudi Arabia.
The economic isolation spurred fear of shortages among the country's approximately 2.6 million people, of which a scant 11% are Qataris. During the last month, Turkey and Iran have dispatched planeloads of foodstuffs to cover the shortfall.
The fracas has kicked up a wide-scale media war, with Saudi, Emirati and Bahraini outlets launching daily broadsides on Qatar. One Emirati daily, Roya, put a Blackbeard-like pirate on its front page to represent Doha, with the words "Qatar Terrorism Mafia."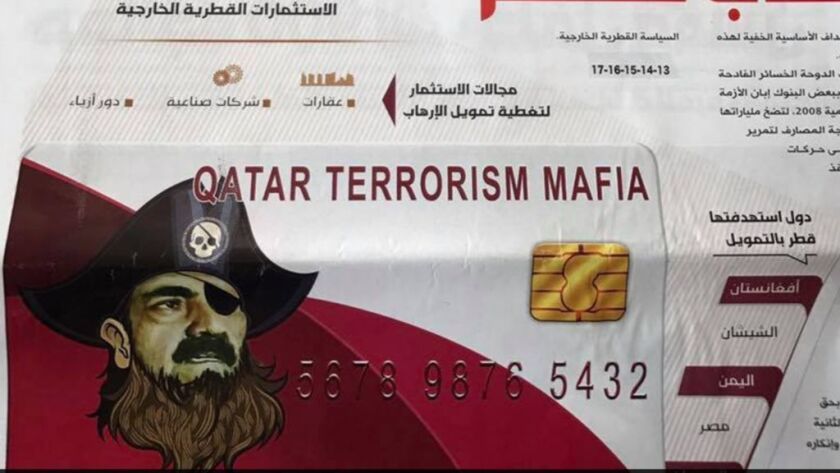 Saudi commentators have even touted their country's superior dairy products, claiming food brought in from Iran and Turkey has caused food poisoning among Qataris.
The crisis has also raised the specter of a military invasion of the country, which is home to Al Udeid air base, the forward headquarters of U.S. Central Command, where more than 11,000 U.S.-led coalition forces are stationed.
Turkey, whose support for the Muslim Brotherhood and Syrian rebels has led to cooperation with Doha, deployed troops and ratified plans to establish a base on Qatari soil so as to "boost military cooperation," according to the Turkish state news agency Anadolu.
The Saudi-led bloc has demanded that all Turkish soldiers leave the country.
On Sunday, Qatari Defense Minister Khalid bin Mohammed al Attiyah said in an interview on the Sky News channel that although he hoped matters would not escalate to the point at which "a military intervention [was] made," Doha was ready to put up a vigorous defense.
"Qatar is not an easy country to be swallowed by anyone. We are ready," he said.
"We stand ready to defend our country."
ALSO
'The closer we get, the more complex it gets.' White House struggles on strategy as Islamic State nears defeat in Iraq and Syria
Bedouins in the West Bank hold fast to their land — as pressure builds for them to leave
For years, African women scarred by female genital mutilation had no hope. A California doctor is changing that
Times staff writer Wilkinson reported from Washington and special correspondent Bulos from Beirut.
For more on international affairs, follow @TracyKWilkinson on Twitter
---
The Latinx experience chronicled
Get the Latinx Files newsletter for stories that capture the multitudes within our communities.
You may occasionally receive promotional content from the Los Angeles Times.