U.S. criticizes Turkey over military offensive in Kurdish-held northern Syria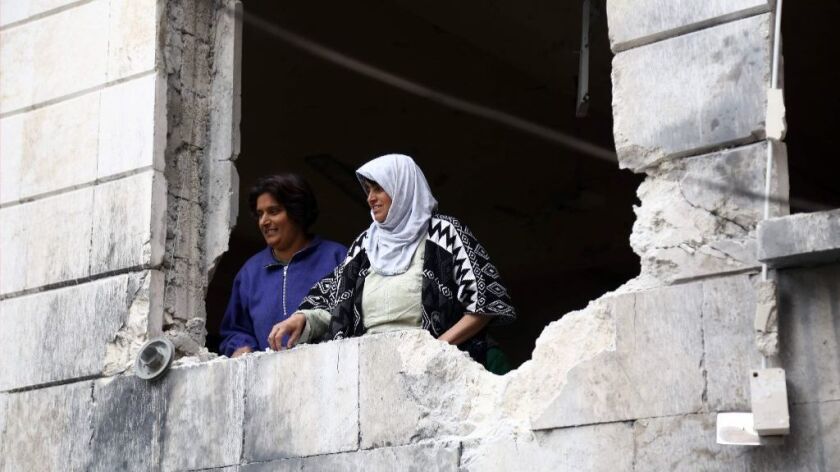 Reporting from Washington —
The Trump administration on Friday branded as "destabilizing" a Turkish military offensive against a Kurdish-held region in neighboring Syria, threatening to further inflame tensions between the U.S. and a NATO ally.
But U.S. officials also scrambled to backtrack from a U.S. military plan to recruit and train a 30,000-member local security force on Syria's northern border with Turkey.
Turkish officials were furious at the U.S. proposal, in part because Kurdish soldiers would make up most of the force, and warned it would cause irreparable damage to U.S.-Turkish ties.
While American forces battling Islamic State have long valued Kurds as a fighting force, Turkey regards most Kurdish militias to be a terrorist threat.
"It's unfortunate that the entire situation has been misportrayed, misdescribed, some people misspoke," Secretary of State Rex Tillerson told reporters after unveiling the administration's new Syria policy in a speech Wednesday at Stanford University. "We are not creating a border security force at all."
In his speech, Tillerson said the Trump administration would maintain a U.S. military presence — now said to be about 2,000 U.S. personnel — in Syria to keep pressure on Islamic State, to help counter Iranian influence, and to help create conditions for a political solution to the country's civil war.
President Trump said in November that the U.S. would stop arming the Kurds in Syria. Disclosure of the plan to build a sizable Kurdish force on the border appeared to reverse that pledge.
Turkey's offensive against the Kurdish-held Afrin region of northwestern Syria has further complicated the thorny relationship between Ankara and Washington. U.S. officials worry the attack could interfere with Pentagon-led efforts to eliminate Islamic State pockets in the area.
Turkish President Recep Tayyip Erdogan is also angry at what he perceives to be U.S. support for dissidents and his political enemies, who unsuccessfully tried to oust him in a coup in 2016.
"We … have been quite consistent in our messaging to the highest levels of the Turkish government," a senior State Department official, briefing reporters on condition of anonymity, said Friday. "We support them in their concerns about a safe and secure Turkish-Syrian border. We support them in their concerns regarding [Kurdish] terror in Turkey, no question."
Turkey's military operations around Afrin, he said, do not advance those goals.
"We do not believe that a military operation serves the cause of regional stability, Syrian stability or indeed Turkish concerns about the security of their border," the official added.
Turkish army units have shelled Afrin sporadically for months as its soldiers secured territory around the Kurdish enclave. But the cross-border barrage increased last week and in Ankara, Turkish Defense Minister Nurettin Canikli said the "de facto" military operation had begun.
Russian Foreign Minister Sergei Lavrov denied reports that Russian military units had withdrawn from the Afrin area, which would be another sign of an impending offensive.
Russian President Vladimir Putin's military helped prop up Syrian President Bashar Assad when the country's civil war seemed close to forcing his ouster. Ankara and Washington both opposed Assad, but Moscow has also grown closer to Erdogan.
Special correspondent Nabih Bulos contributed from Beirut.
For more on international affairs, follow @TracyKWilkinson on Twitter
---
Must-read stories from the L.A. Times
Get all the day's most vital news with our Today's Headlines newsletter, sent every weekday morning.
You may occasionally receive promotional content from the Los Angeles Times.