Obama's health advisors reject 'right of conscience' challenge to California's required abortion coverage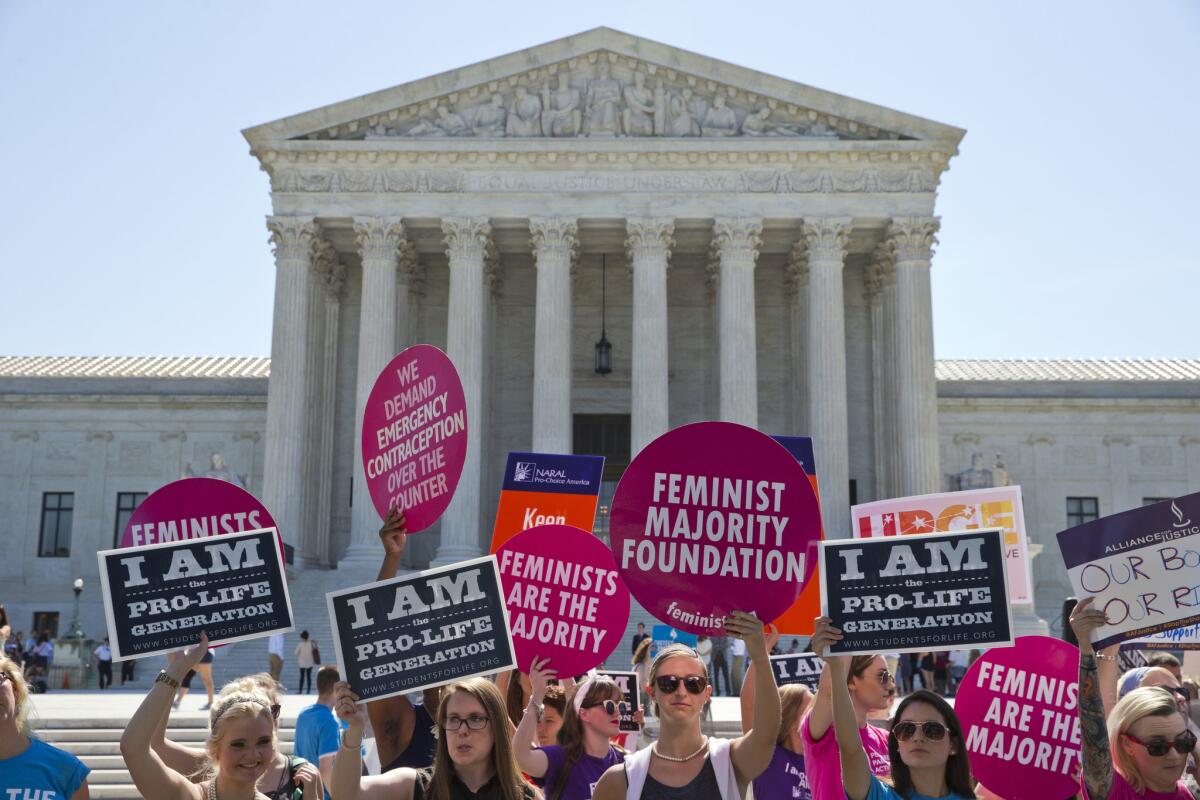 Reporting from Washington —
The Obama administration on Tuesday rejected a "right of conscience" complaint from anti-abortion groups in California who objected to the state's requirement that health insurance plans include coverage for elective abortions.
The civil rights office at the Department of Health and Human Services said it had completed an investigation and dismissed several complaints after concluding California's policy did not violate a decade-old rule adopted by Congress, known as the Weldon Amendment.
The office said the provision, which protects doctors, nurses, hospitals and other healthcare providers who object to performing abortions, does not extend to health insurance firms that have no moral objection to providing abortion coverage and instead are acting on the request of religious-minded customers.
The decision upholds a move by the California Department of Managed Care, which notified seven insurance providers in 2014 that state law does not allow them to offer coverage that limits or excludes abortions for some employers. The issue arose when faculty members at Loyola Marymount University in Los Angeles and Santa Clara University objected to this limitation in their insurance plans.
The insurers and the universities agreed to comply with the state's requirement, but several anti-abortion advocates filed a complaint with the federal agency. They cited the Weldon Amendment, which says no federal funds may go to a state that discriminates against a "health care entity that does not provide, pay for, provide coverage of, or refer for abortions." Sponsors of the measure said it was intended to protect the "right to conscience" for those who have moral objections to abortion.
But after considering the complaints for nearly two years, the civil rights office decided this provision did not apply to the California health insurance providers in question because they were willing to provide abortion coverage to their other customers.
See more of our top stories on Facebook »
"There is no healthcare entity protected under the [right of conscience] statute that has asserted religious or moral objections to abortion and therefore there is no covered entity that has been subject to discrimination within the meaning of the Weldon Amendment," Jocelyn Samuels, director of the Office for Civil Rights at the Department of Health and Human Services said in a letter to the California complainants.
State officials and women's health advocates welcomed the decision.
"We are pleased to see HHS has upheld the law. The Weldon Amendment is very clear to whom it applies and to whom it does not apply," said Susan Berke Fogel, director for reproductive health in Los Angeles for the National Health Law Program. "California's managed care law regulates health plans, and none of them have a problem covering abortion." She noted that the state law did not extend to employers who self-fund their coverage.
Lawyers for the Alliance Defending Freedom, which filed one of the complaints, denounced the HHS decision.
"The Obama administration is once again making a mockery of the law," said Casey Mattox, senior legal counsel for the alliance. "The state of California has ordered every insurer, even those insuring churches, to cover elective abortions in blatant violation of the law. We will continue to defend churches from this clear violation of the 1st Amendment and federal law and call on Congress to hold HHS accountable."
NEWSLETTER: Get the day's top headlines from Times Editor Davan Maharaj »
ALSO
Trader Joe's agrees to cut greenhouse gas emissions in court settlement
Attorney general visiting Orlando in wake of deadly attack
They dared to register blacks to vote, and the KKK killed them: A 52-year-old case is closed — unsolved
On Twitter: DavidGSavage
---
UPDATES:
3:35 p.m.: This article was updated with additional background and reaction.
This article was originally publised at 1:46 p.m.
Sign up for Essential California for the L.A. Times biggest news, features and recommendations in your inbox six days a week.
You may occasionally receive promotional content from the Los Angeles Times.