Dr. Anita Figueredo dies at 93; first female surgeon in San Diego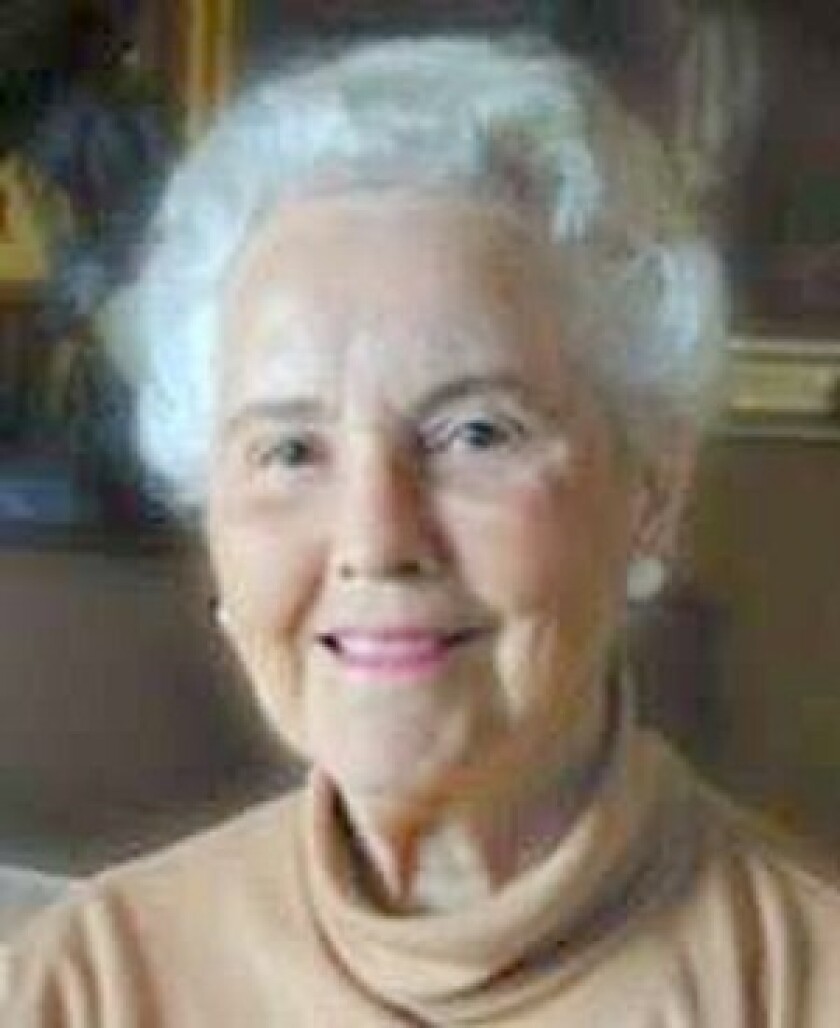 Dr. Anita Figueredo, the first female surgeon in San Diego and a well-known philanthropist who was close friends with Mother Teresa for four decades, died Feb. 19 at her home in La Jolla. She was 93 and had suffered a cerebral hemorrhage two weeks earlier.
---
FOR THE RECORD:
Anita Figueredo obituary: A news obituary on Dr. Anita Figueredo, a pioneering surgeon in San Diego County, in Monday's LATExtra section said her memorial service March 19 would be on the UC San Diego campus. The service will be held at the Immaculata on the University of San Diego campus. —

---
One of the first women to practice surgical oncology, Figueredo established the Friends of the Poor charity to feed, clothe and provide medical care for people in Baja California. The charity operates on three continents.
Figueredo was born in 1916 in Costa Rica where her father, Roberto Figueredo, was a noted soccer player who abandoned the family. Family lore said she proclaimed a desire to be a doctor at age 5. Since there were no female doctors -- and, indeed, no medical school -- in Costa Rica, her mother moved with her to New York, settling in a Spanish Harlem tenement where she worked two jobs as a seamstress to support her daughter's ambitions.
At 15, Anita was offered a full scholarship to study pre-med at Barnard, but she rejected it when the admissions officer made a disparaging remark about her high school, which Figueredo thought had been very generous to her. She instead accepted a scholarship to Manhattanville College, which created a pre-med program exclusively for her.
At 19, she enrolled at Long Island Medical College, one of only four women in a class of 94. Medical authorities were reluctant to educate women as doctors because they feared the money spent on training would be lost when the women married. Many also thought women lacked the drive and ability to win confidence required of a physician. She graduated with honors.
World War II gave her career a boost. By the end of 1942, about 35,000 of the nation's 160,000 male physicians had been called into the service, and many institutions that would have once flatly rejected women now saw them as an acceptable alternative. She became one of the first two female residents in surgery at Memorial Hospital for Cancer and Allied Diseases, now Memorial Sloan-Kettering Cancer Center in New York.
While in medical school, Figueredo met a lanky fellow student named William Doyle. A devout Catholic, she later said that God spoke to her in the hallway when she first saw Doyle, saying "That's the one." They married in 1942 and had a brief honeymoon during a three-day leave the military granted to Doyle and were together for 57 years before he died.
The couple later settled in La Jolla, where she maintained a demanding practice in oncologic surgery at Scripps Memorial Hospital while raising nine children. Her son-in-law, Dr. Brent Eastman of Scripps Health, recalled that she once walked from the operating room to the maternity ward to give birth. She made rounds on her patients the next day.
Only 4 feet 11, Figueredo often had to stand on a stool during surgery. Nonetheless, "technically, Anita was an exceptional surgeon," Eastman said. "I know because I was once fortunate enough to share a practice with her."
Eager to return the benefits she had received, Figueredo was a founding member of the board of the San Diego College for Women, now the University of San Diego, and served in that position for four decades.
In the late 1950s, she read an article about Mother Teresa and sent her a letter and donation. To her surprise, the nun wrote back and they began exchanging letters. They met in San Diego in 1960 and later worked on several charitable projects together.
Two of her sons died in accidents and a third from brain cancer. She is survived by three daughters, Sarita Eastman of Rancho Santa Fe, Calif., and Anita and Teresa Doyle, both of La Jolla; three sons, William of Santa Rosa, Calif., John of San Diego and Charles of La Jolla; 11 grandchildren; and five great-grandchildren.
A memorial service will be held March 19 at the Immaculata on the UC San Diego campus.
thomas.maugh
@latimes.com
---
Must-read stories from the L.A. Times
Get all the day's most vital news with our Today's Headlines newsletter, sent every weekday morning.
You may occasionally receive promotional content from the Los Angeles Times.