Dr. Joel D. Weisman dies at 66; among the first doctors to detect AIDS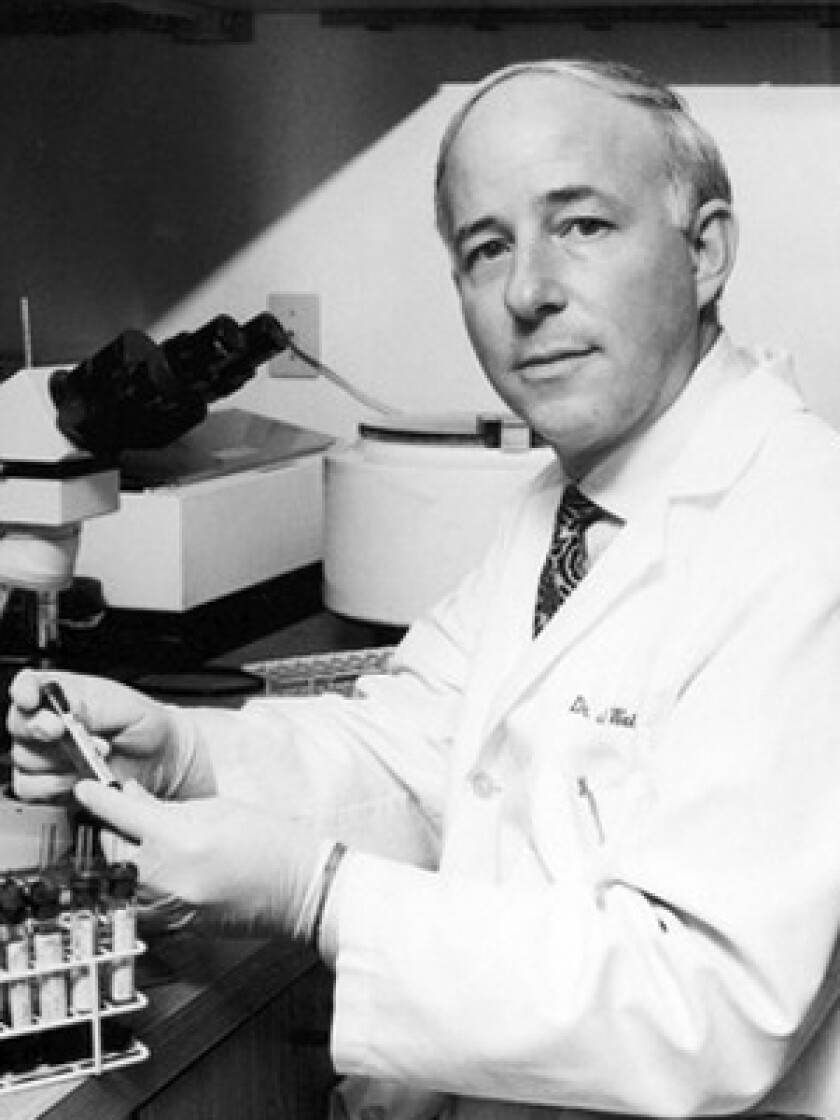 Dr. Joel D. Weisman, who was one of the first physicians to detect the AIDS epidemic and who became a national advocate for AIDS research, treatment and prevention, died Saturday at his Westwood home. He was 66.
---
FOR THE RECORD: An obituary about Dr. Joel Weisman that ran in Thursday's Section A had the first name of AIDS-research pioneer Dr. Michael S. Gottlieb incorrect as Martin. An earlier version of the online caption also contained that error.

---
He had heart disease and had been ill for several months, said Bill Hutton, his domestic partner of 17 years.
Weisman was a general practitioner in Sherman Oaks in 1980 when he noticed a troubling pattern: He had three seriously ill patients with the same constellation of symptoms, including mysterious fevers, rashes, drastic weight loss and swollen lymph nodes. All were gay men whose problems seemed to stem from defects in their immune systems.
The physician wound up referring two of the patients to UCLA immunologist Martin S. Gottlieb, who had a gay male patient with a similarly strange array of afflictions. Recognizing that these were not isolated cases, Weisman and Gottlieb wrote a report that appeared in the June 5, 1981, issue of the Centers for Disease Control's Morbidity and Mortality Weekly Report. That report signaled the official start of the epidemic that the federal agency later named acquired immunodeficiency syndrome.
"Joel was a very astute physician," Gottlieb said in an interview Wednesday. "In his practice he was alert to unusual symptoms in his patients. He had a sense that something out of the ordinary was happening."
Gottlieb, who later treated perhaps the world's most famous AIDS patient, Rock Hudson, received most of the credit for identifying the disease.
But Weisman "contributed his open eyes. He felt right away he was observing something that was never seen before," said Mathilde Krim, a research scientist who, with Gottlieb, founded the New York-based nonprofit amfAR, the Foundation for AIDS Research.
Born on Feb. 20, 1943, in Newark, N.J., Weisman graduated in 1970 from the Kansas City College of Osteopathy and practiced in New Jersey for a few years.
In 1975, he acknowledged his homosexuality and ended a three-year marriage to start a new life in Los Angeles.
He joined a medical group in North Hollywood, where in 1978 he was presented with some puzzling cases: a gay Anglo man in his 30s who had Kaposi's sarcoma, a cancer usually seen in old Mediterranean men, and several men with shingles, another affliction normally seen in much older patients. Weisman also had a number of patients with swollen lymph glands, often an indication of lymphoma, a type of cancer that originates in the immune system. But in these cases, no lymphoma was detected.
In 1980, he opened his own practice in Sherman Oaks with Dr. Eugene Rogolsky. Weisman's sense of foreboding deepened with the arrival of two patients who had a panoply of confounding problems: persistent diarrhea, eczema, fungal infections, low white blood cell counts.
"On top of these two cases," Randy Shilts wrote in his definitive AIDS chronicle, "And the Band Played On" (1987), "another 20 men had appeared at Weisman's office that year with strange abnormalities of their lymph nodes," the very condition that had triggered the spiral of ailments besetting Weisman and Rogolsky's other two, very sick patients.
"It was dreadful. We didn't know what we were dealing with," Rogolsky recalled Wednesday.
In early 1981, a colleague put Weisman in touch with Gottlieb. Two decades later, Weisman recalled that he "had a feeling going into the meeting that what this represented was the tip of the iceberg. My sense was that these people were sick," he told the Washington Post in 2001, "and we had a lot of people that were potentially right behind them."
He sent his patients to UCLA Medical Center, where Gottlieb found they had pneumocystis pneumonia. Gottlieb had earlier found the same pneumonia in his own patient. He later diagnosed it in two gay men referred by other doctors.
A few months after their initial meeting, Weisman and Gottlieb wrote in the CDC bulletin that "5 young men, all active homosexuals, were treated for biopsy-confirmed Pneumocystis carinii pneumonia at 3 different hospitals in Los Angeles, California. Two of the patients died." Eventually, the other three patients died too.
The report sounded an alarm heard around the world. AIDS deaths in the U.S. rose exponentially, from 618 in 1982 to almost 90,000 by the end of the decade. By 2002 the death toll surpassed 500,000 and was still climbing.
Weisman began to press for services for people with HIV and AIDS as founding chairman of AIDS Project Los Angeles in 1983. He also helped organize the first dedicated AIDS unit in Southern California at what is now Sherman Oaks Hospital and Health Center. He advocated for research dollars as an original board member of amfAR, which was formed in 1985, and served as chairman from 1988 to 1992.
Described by Shilts as "the dean of Southern California gay doctors," Weisman continued to see patients, building his partnership with Rogolsky into the Pacific Oaks Medical Group, which became one of the largest private practices focused on the treatment of AIDS and HIV.
As soon as he became convinced that AIDS was sexually transmitted, Weisman began to warn patients that they needed to change their sexual behavior. But during the early years of the crisis, his warnings too often were ignored. "I couldn't even make some of my friends listen, and they're dead now and that's disconcerting," he told The Times in 1988.
Among the casualties was his partner of 10 years, Timothy Bogue, who died of AIDS in 1991.
Battling the epidemic on the front lines "made me look at issues of death and dying in a very different way," Weisman said in 1988. "What makes somebody a good physician in this situation? Is it just winning? Keeping people alive? If I looked at every death as a defeat, I would not be able to continue."
In 1997, he stepped away from the battle, ironically just as new drug cocktails were extending the lives of AIDS patients. In 2000, he moved to New York, where he ran a bed-and-breakfast with Hutton, but he returned to Southern California about five years ago. He was an active ambassador for AIDS Project Los Angeles until illness overtook him this year.
In addition to Hutton, Weisman is survived by a brother, Mark; a daughter, Stacey Weisman-Bogue Foster; a granddaughter; and two nieces. Memorial donations may be sent to amfAR, AIDS Project Los Angeles or the Kansas City University of Medicine and Biosciences College of Osteopathic Medicine.
Plans for a memorial service will be announced later.
---
Must-read stories from the L.A. Times
Get all the day's most vital news with our Today's Headlines newsletter, sent every weekday morning.
You may occasionally receive promotional content from the Los Angeles Times.