Sikhs opened their temple doors to Oroville Dam evacuees — and strangers came pouring in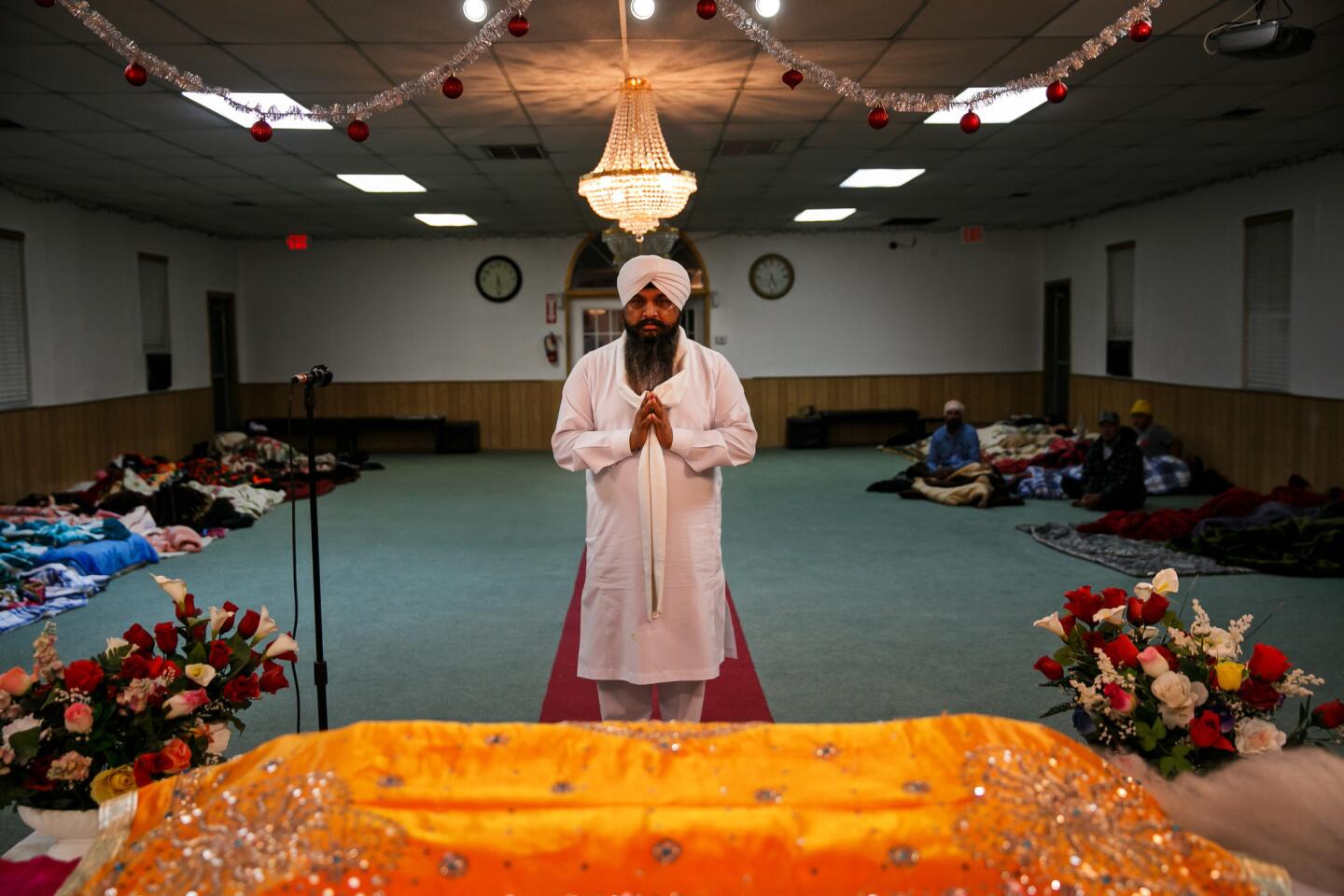 Nirmal Singh, a Sikh priest, conducts a morning prayer ritual as evacuees sleep in the background at Shri Guru Ravidass, a Sikh temple in Rio Linda, Calif., that opened its doors amid the Oroville Dam crisis.
(Marcus Yam / Los Angeles Times)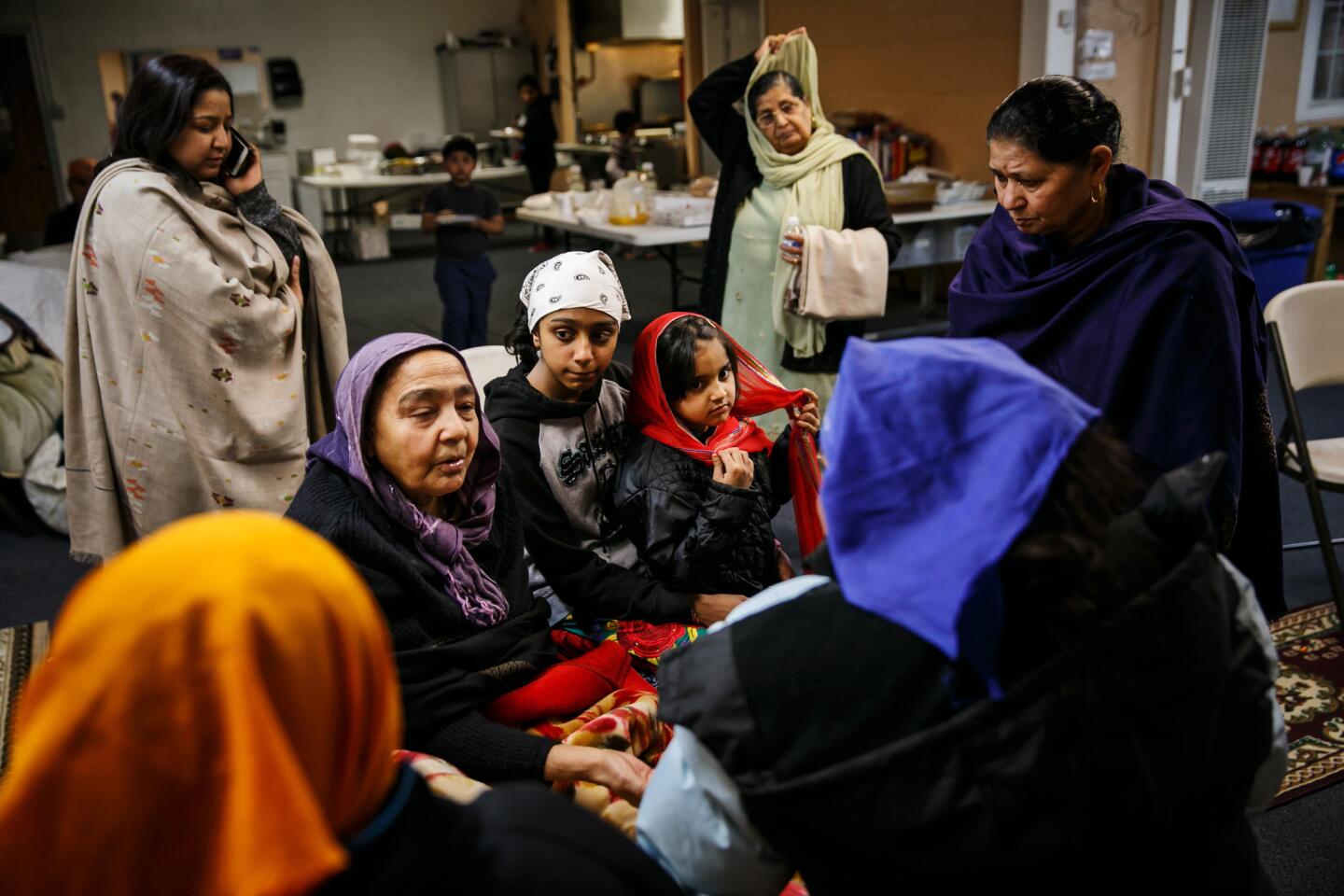 Kamlesh Nahar, from center left, Sunsagam Preet Kaur, 11 1/2, and Muskan Kaur, 5, listen to stories told by fellow evacuees as they settle in for the night at Shri Guru Ravidass.
(Marcus Yam / Los Angeles Times)
The Cervantes family from Olivehurst -- Guadalupe, from left along the wall, Jacqueline, Eibeth, Getsemani, Adrina and Juan -- tries to settle in for the night at Shri Guru Ravidass.
(Marcus Yam / Los Angeles Times)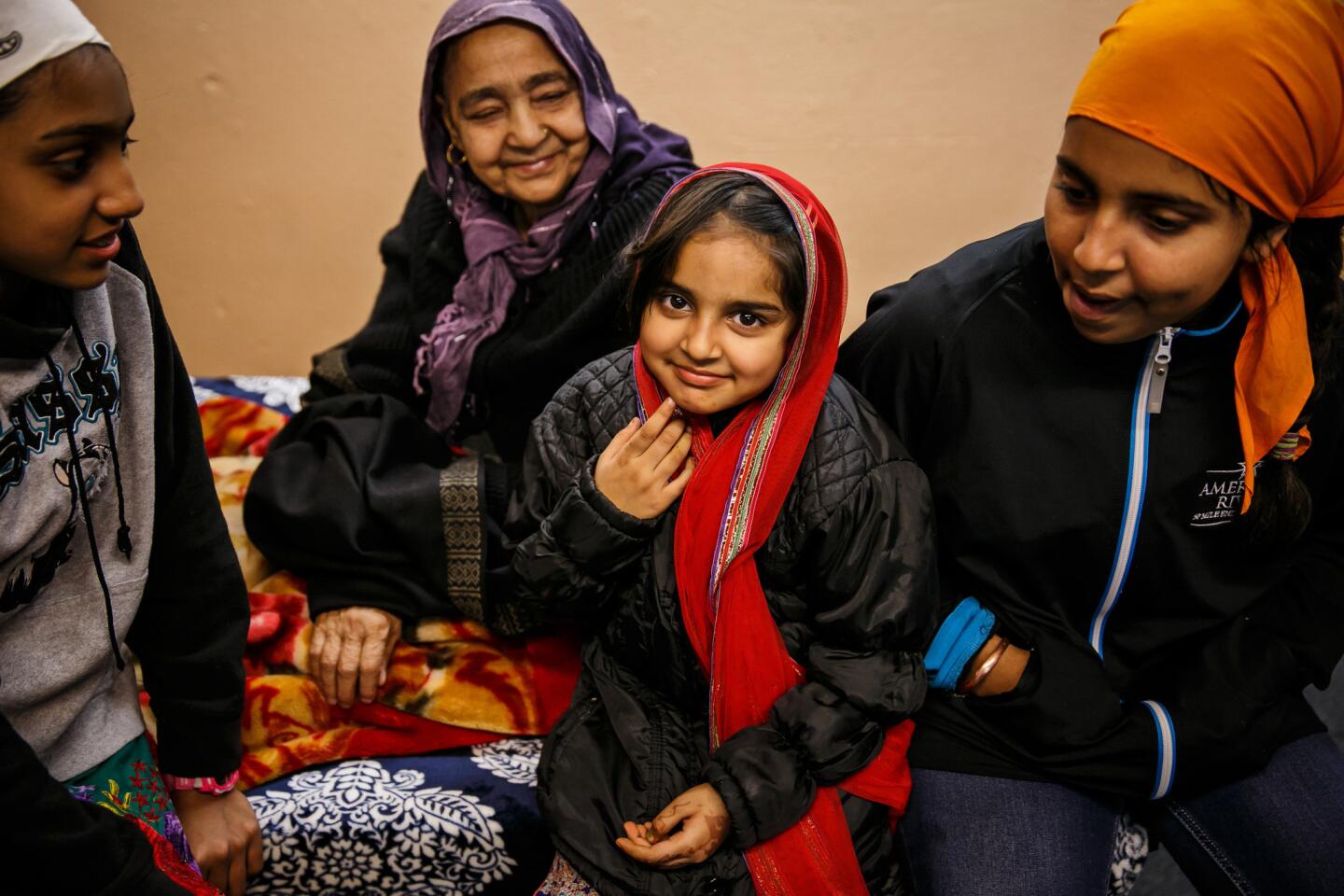 Sunsagam Preet Kaur, 11 1/2, from left, Kamlesh Nahar, Muskan Kaur, 5, and Kaveen Kaur, 12 1/2, listen to stories told by evacuees.
(Marcus Yam / Los Angeles Times)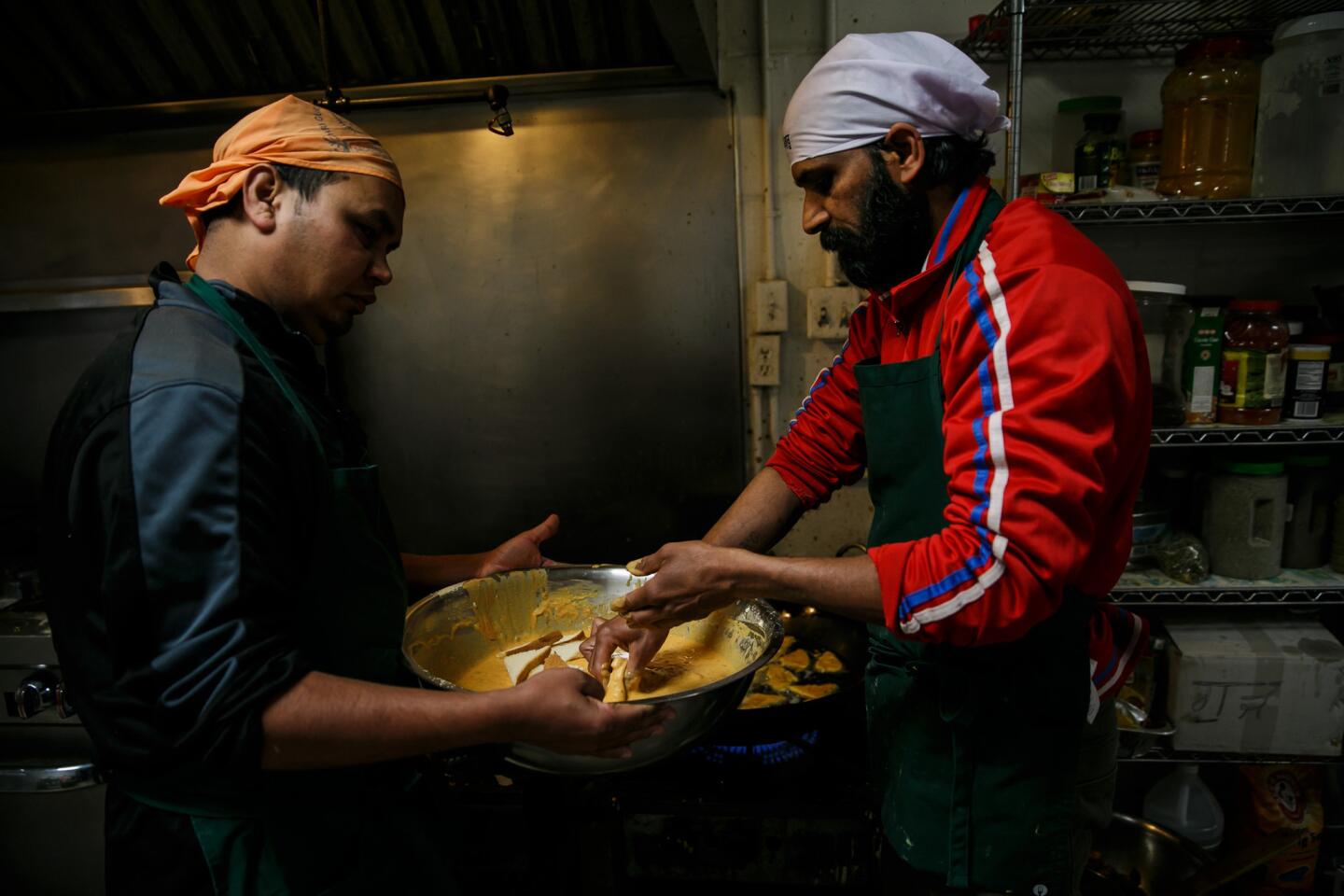 Ashok Kumar, left and Raj Kumar prepare breakfast at Shri Guru Ravidass.
(Marcus Yam / Los Angeles Times)
Juan Pablo Cervantes, 4, center right, slowly wakes up as the Sikh priests conduct their morning prayers at 6 a.m. at Shri Guru Ravidass.
(Marcus Yam / Los Angeles Times)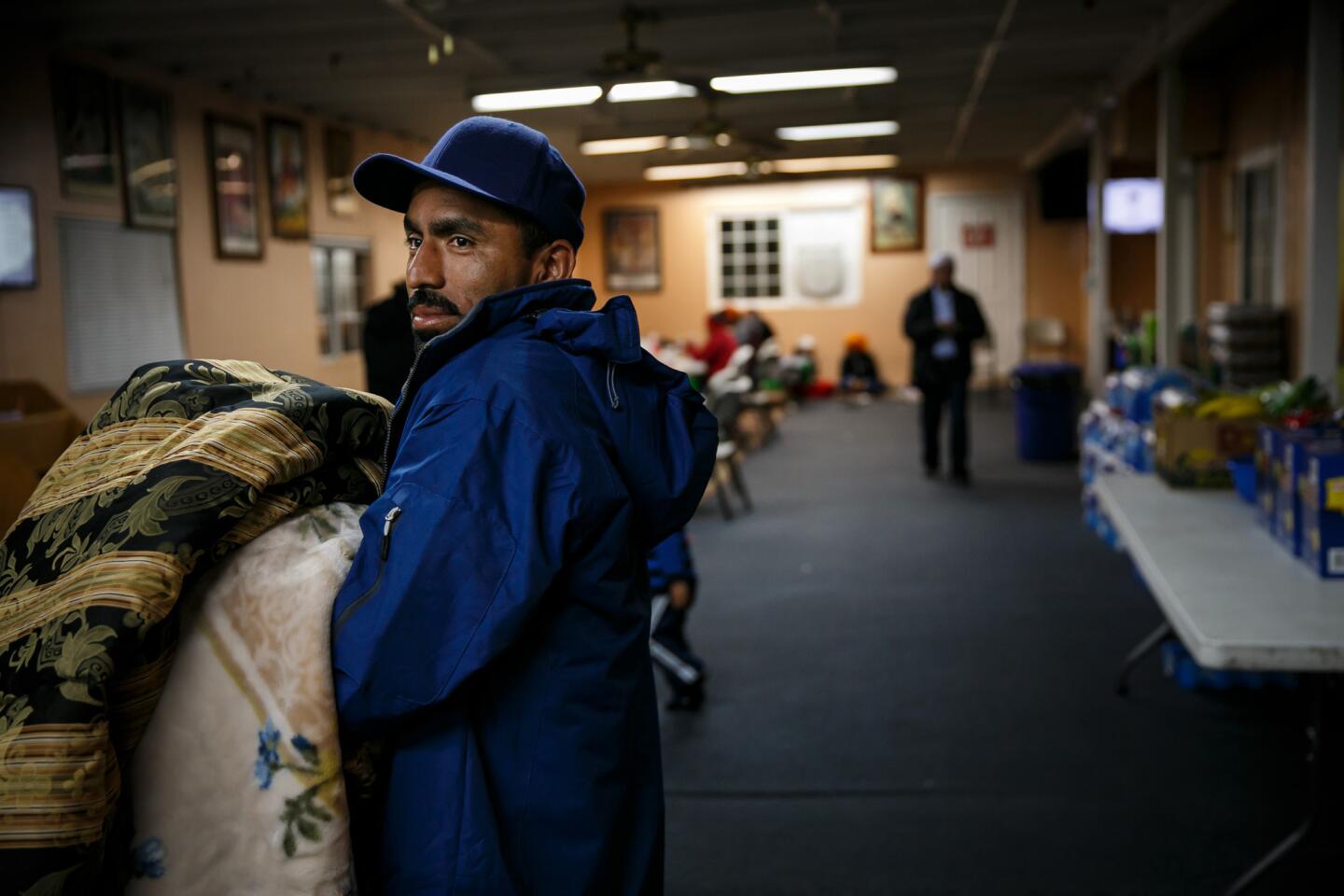 Juan Cervantes of Olivehurst leads his family into the prayer room at Shri Guru Ravidass.
(Marcus Yam / Los Angeles Times)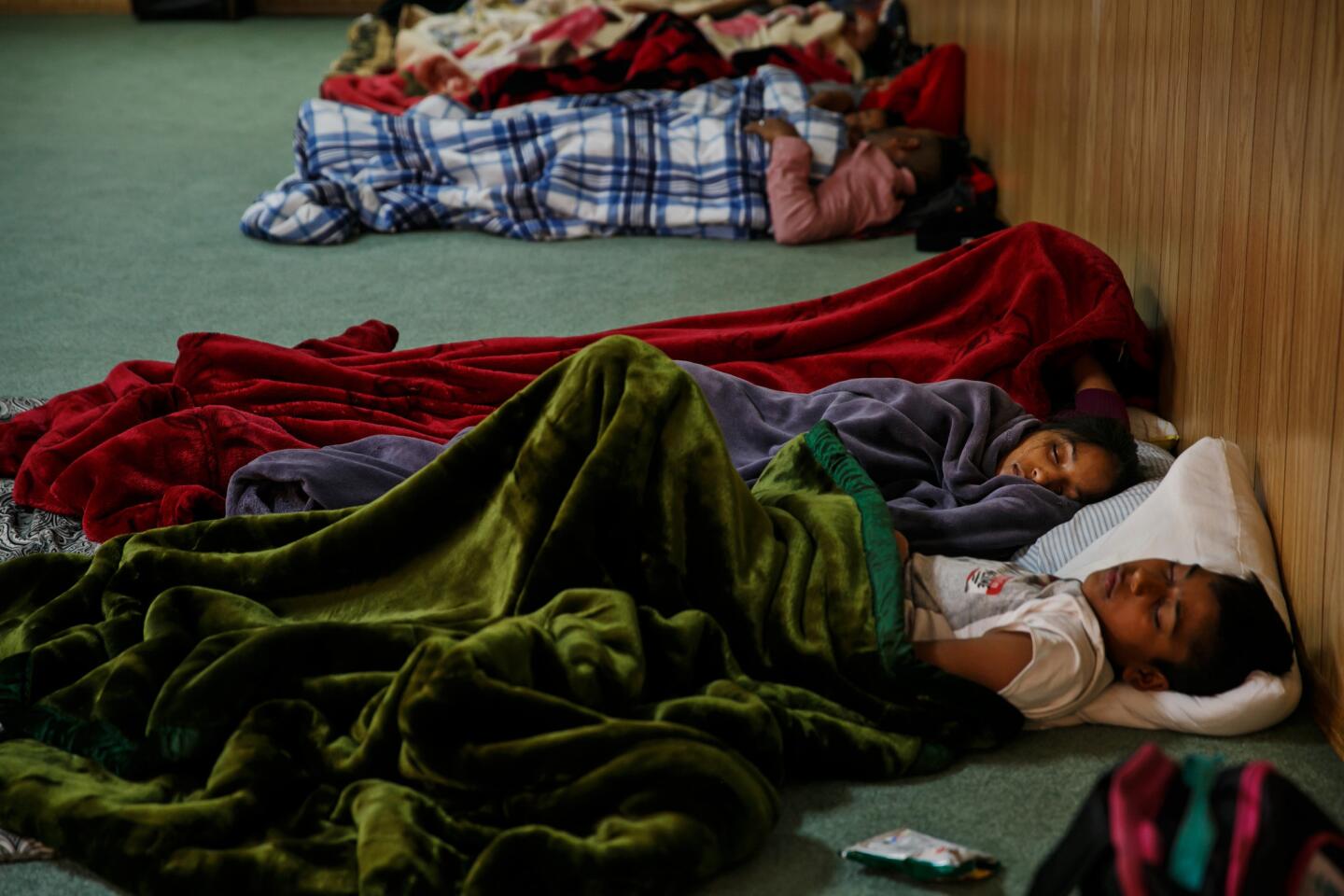 Evacuees remain asleep as the Sikh priests conduct their morning prayers.
(Marcus Yam / Los Angeles Times)
RIO LINDA, Calif. —
Each morning before the break of dawn, Nirmal Singh makes his way to a small stage at the Shri Guru Ravidass Temple adorned with roses and silk. There, the priest sits and reads prayers from a centuries-old Indian text to open the day.
It's usually a quiet affair, with words spoken in Punjabi to an empty hall the size of a large backyard — a solemn start at the small Sikh temple that sees few people outside of weekend services.
But this week, Singh had company. Bodies shuffled under blankets in front of him. On Tuesday a Mexican couple and their kids woke up to his right, revealing the head scarves they wore in respect of Sikh traditions. In a nearby room, an African American man was also was getting up to the sounds of prayer.
As tens of thousands fled low-lying regions on the Feather River this week amid warnings of flooding from the rapidly filling Lake Oroville, Sikh temples across in the Sacramento area opened their doors to evacuees.
"This is their home," said Singh of this week's visitors. "Our faith teaches us to help everyone. The poor, the hungry, it doesn't matter who you are."
The danger of flooding has brought together hundreds of evacuees with a population that, although common in this part of the state, remains a mystery to many here and has sometimes borne the brunt of bigotry.
Sikhs in Sacramento, home to 10 temples and about 11,000 Sikh families, began putting out calls for supplies and volunteers on Sunday evening after 180,000 people living in communities downstream of Lake Oroville were given short notice for mandatory evacuations.
The crowds didn't start arriving at Shri Guru Ravidass until the mayor of Sacramento posted a list late that night of temples that were set up as shelters. It was retweeted 2,500 times.
It was around then that Juan Cervantes was driving from Olivehurst, an evacuated area across the river from Yuba City. He spotted the tweet and came with his wife, two brothers, their wives and seven kids among them.
They arrived Sunday at the 24-year-old Shri Guru Ravidass Temple, a yellow stucco building with green trim on the eaves located north of Sacramento in Rio Linda. In this rural area, it's not uncommon to see horses grazing in front of barnyards.
Cervantes had encountered Sikhs before; Yuba City is home to one of the most concentrated communities in the country and hosts more than 100,000 at its annual Sikh parade. But he had never stepped foot in a temple.
It's been a learning process.
Cervantes almost forgot to take his shoes off when entering the prayer hall where the families slept. He dozed off each night with a blue baseball cap on his head, not just for warmth but to keep his hair covered while in sight of the Sikh holy book at the front of the room. He's had to remember to always point his soles away from the stage where the book is kept. And he's avoided eating meat on the grounds, trying to attune himself to the vegetarianism many Sikhs follow.
For the 38-year-old who picks fruit in the Central Valley's farms, it's also been a moment of humility — and connection he didn't expect.
"These people are just like me," said Cervantes, who shares a two-bedroom apartment with his wife and three kids back home. "I'm Catholic, but we have the same God. We have the same heart. The same hands."
Kathy Flores evacuated late Sunday from the Yuba City area with her son and neighbor and found shelter in a small house next to the temple usually reserved for board meetings. There, she slept on blankets with 23-year-old Rafael and 30-year-old neighbor Samantha Simpson.
Because Flores came with a cat and a dog, she stepped in the temple only for food and to thank her hosts. In Indian culture, the closest most people come to having pets is keeping guard dogs.
"We were stuck in traffic for three hours and heard on talk radio that temples were open. This is the first one we hit," said Flores, 66, who left nearly all her belongings behind at her apartment, save a few changes of clothes. "They've fed us. They've gone looking for dog food. I've even had some of their spicy curry."
For the Sikhs of Rio Linda, where holy day festivals can bring more than 700 attendees but weekday prayers attract a handful at most, the acts of kindness are a religious calling. They've also hosted faces familiar to their own, with Sikhs fleeing flood-prone areas seeking refuge.
"Our temples — all temples — always have a rule of having an open-door policy to house and feed anybody. That's one of the most important teachings of our guru," said Raj Kumar Sood, a truck driver who is the temple's board secretary. "But we've never seen a crowd like this."
So on top of the usual industrial-size batches of rice, lentils, cauliflower and spinach volunteers cook for the prayerful each week, community members have chipped into add some American flair to their offers. A Sikh who runs a pizza shop closed it on Monday, directing his staff to make vegetarian pies, spaghetti and macaroni and cheese to donate to the temple. Variety packs of chips sat alongside stacks of bottled water in a dining hall. Cans of Dr Pepper were plentiful.
Sood hoped that, in an age when Sikhs are often maligned and attacked, non-Sikhs would look at "the good that we try to do and change their impression."
Sikh communities in Yuba City and nearby Sacramento date back more than a century, when Punjabi communities who had settled in England began immigrating to California. Some of the first Sikhs in Yuba City helped build Southern Pacific Railroad, and the Yuba City-Marysville area has about 40,000 Sikhs today.
About half of the country's 500,000 Sikhs are estimated to live in California, with the majority of those in the northern part of the state, including the Bay Area.
Members of the faith have been targets of abuse and violence since the Sept. 11, 2001, attacks, apparently mistaken for Muslims. Sikhs in Sacramento still recall Sept. 15, 2001, when a Sikh gas station manager in Meza, Ariz., was shot after a man said he wanted to "go out and shoot some towel heads" to get revenge against Osama bin Laden.
The community came together in mourning in 2012 when a white supremacist killed six Sikhs during a shooting rampage in Oak Creek, Wis. Two elderly Sikh men were killed in a drive-by shooting six years ago in nearby Elk Grove. The crime remains unsolved.
They've also faced challenges of a different sort.
The Rio Linda temple has been attempting for years to forge ahead with plans to replace its prayer hall with a new, 12,000-square foot building with golden domes, but has run into repeated complaints from neighbors who've shown up at community planning board meetings to oppose the project. Neighbors have said they're concerned about parking and drainage, but temple members have wondered whether they're more concerned about religion.
But in the Sikh faith, "you can't expect people to do good to you only because you do good to them. It is not a trade," Sood said. "But there is a balance that will naturally happen."
On Tuesday, officials lifted mandatory evacuation orders for area south of the Oroville Dam, though residents were warned they could be forced to evacuate again.
A few hours after finding out he could go home to Olivehurst, Guillermo Cervantes said he would take his time in returning. He was hoping to avoid traffic, so he stayed back with his wife and kids after his older brother, Juan, left.
Inside the temple, with few evacuees remaining, Cervantes grabbed a box of Little Caesars pizza and breadsticks for the road, and took a last glance at his temporary and unexpected home, where posters of bearded Sikh gurus in bright turbans lined the walls. He and his wife had driven to the temple separately Sunday to pack as many belongings as they could in case of a flood, and decided they would leave one car behind in its parking lot as they went south to visit family in Fresno.
They would come back in a few days with a gift for their new friends in Rio Linda, Cervantes said.
"And we will have another chance to say 'thank you.'"
Jaweed Kaleem is The Times' national race and justice correspondent. Follow him on Twitter, Facebook and Instagram.
ALSO
A 35-year-old phone call to one witness may play a key role in Durst murder case; next, a secret witness will testify
Alanis Morissette's Brentwood home is burglarized; thieves take safe containing $2 million in jewelry
Residents return, but Oroville Dam dangers remain as new storm approaches
Sign up for Essential California for the L.A. Times biggest news, features and recommendations in your inbox six days a week.
You may occasionally receive promotional content from the Los Angeles Times.