Money is on the unofficial agenda at the Republican National Convention
This undated photo provided by the Ryan family shows a young Paul Ryan.
(Ryan family / AP Photo)
Paul Ryan as seen in his 1988 high school yearbook.
(Alana Semuels / Los Angeles Times)
Paul Ryan as seen in his 1988 high school yearbook.
(Alana Semuels / Los Angeles Times)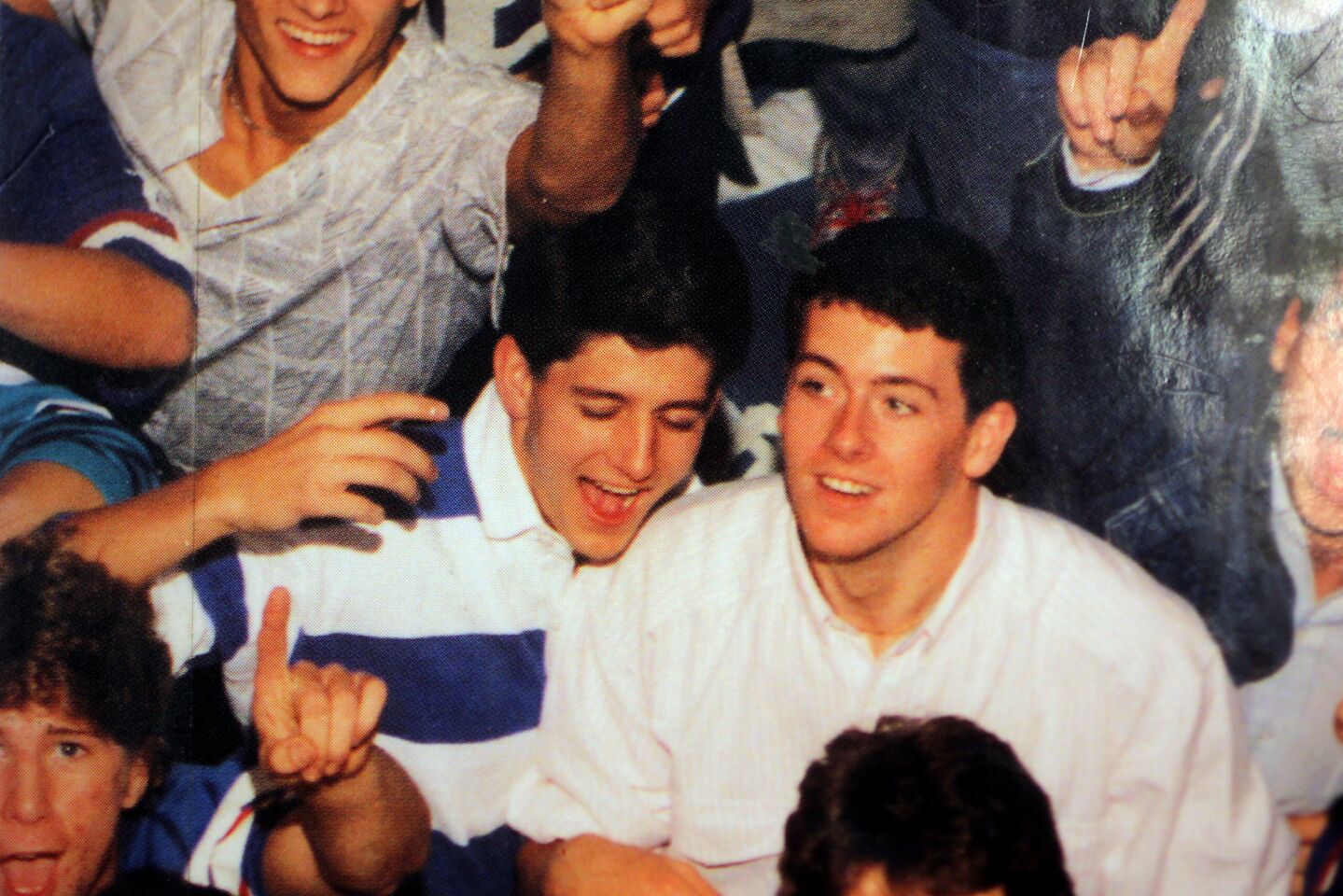 Paul Ryan, center left, is pictured on the cover of the 1988 Joseph A. Craig High School yearbook in Janesville, Wis.
(Keri Wiginton / Chicago Tribune)
This undated photo provided by the Ryan family shows Paul Ryan after a hunt.
(Ryan family / AP Photo)
Paul Ryan, who is an avid fan of hunting, seen during one of his excursions, via his Facebook page.
(Facebook / Los Angeles Times)
This undated photo provided by the Ryan family shows Paul Ryan and Janna Ryan on the day of their wedding. During his first term in Congress, Ryan met and married Janna Little, a lawyer and lobbyist from an affluent Oklahoma family, who was working in the Washington area.
(Ryan Family / AP Photo)
This 1998 photo provided by the Ryan family shows Paul Ryan, right, and his older brother Tobin Ryan, left, with Republican politician and former collegiate and professional football player Jack Kemp.
(Ryan family / AP Photo)
In this file photo, Rep. Paul Ryan, (R-Wis.), speaks at the Republican National Convention in New York.
(Joe Cavaretta / AP File Photo)
Paul Ryan's house in Janesville, Wisc., on the day Mitt Romney announced that the Wisconsin native would be his running mate.
(Alana Semuels / Los Angeles Times)
A makeshift campaign sign made by a neighbor of Rep. Paul Ryan, the newly chosen Republican vice presidential candidate.
(Kathleen Hennessey / Los Angeles Times)
President Obama talks with Rep. Paul Ryan, (R-Wisc.), during the nationally televised bipartisan meeting on health insurance reform at Blair House in Washington, D.C.
(White House / Los Angeles Times)
Republican presidential candidate Mitt Romney with Wisconsin Rep. Paul Ryan at an April rally in Milwaukee.
(Scott Olson / Getty Images)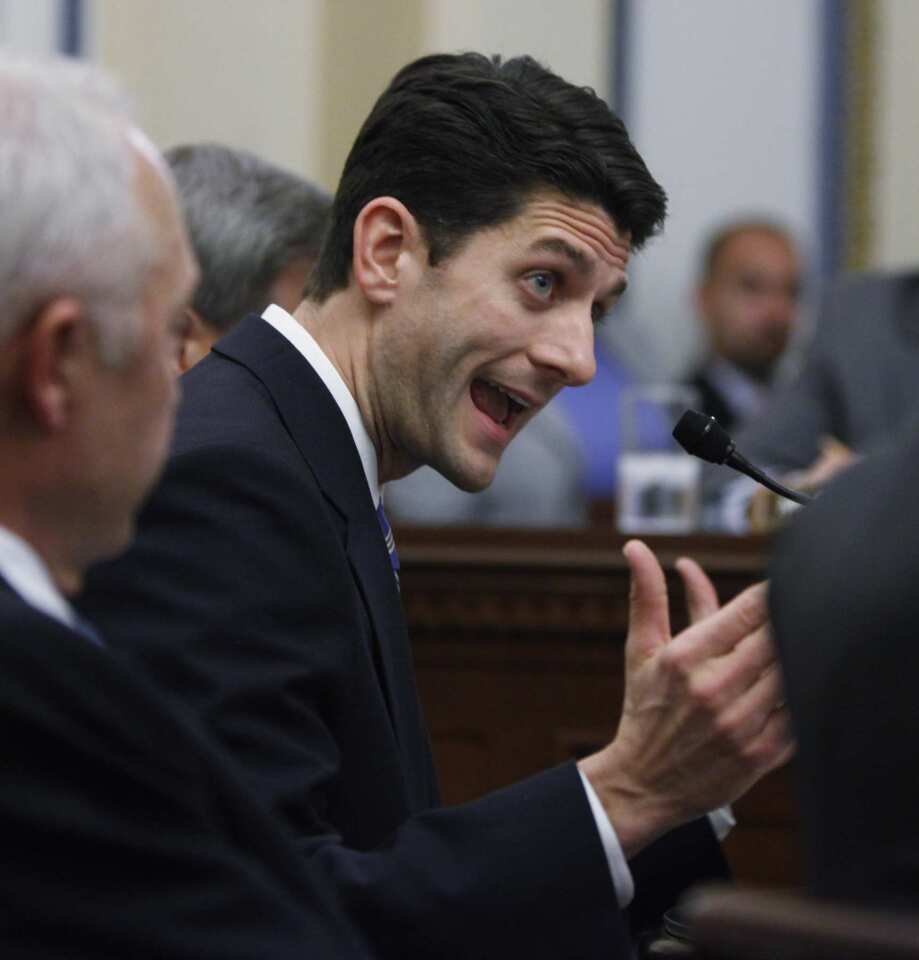 Rep. Paul Ryan, R-Wisc., gives his opening statement during the House Committee on Rules meeting to decide on the rules for the debate of the Health Care Reconciliation Bill on Capitol in Washington.
(Manuel Balce Ceneta / Associated Press)
President Obama, right, shakes hands with Rep. John Kline (R-Minn.) at the Blair House in Washington prior to the start of the healthcare summit. From left are Kline, Rep. Paul Ryan (R-Wisc.), Rep. Marsha Blackburn (R-Tenn.) and the president.
(Pablo Martinez Monsivais / Associated Press)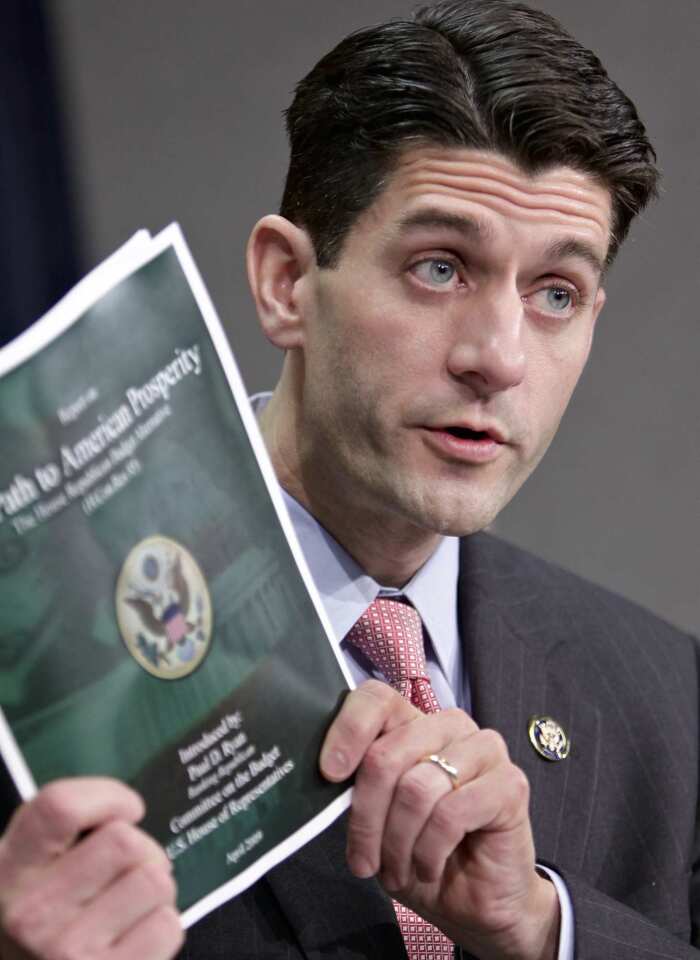 Republican Rep. Paul Ryan of Wisconsin confronts President Obama's budget with an alternative GOP budget plan that he is pushing in the House. Ryan, the top Republican on the House Budget Committee, said in his party's radio address April 4, 2009, that the U.S. is in an economic crisis and the president's plan "will make the crisis much, much worse. Rather than getting spending under control, it sends spending out of control."
(J. Scott Applewhite / Associated Press)
Sen. John McCain, R-Ariz., left, campaigns at a town hall meeting with Rep. Paul Ryan, R-Wisc., at Greendale Martin Luther High School in Greendale, Wisc.
(Jeff Chiu / Associated Press)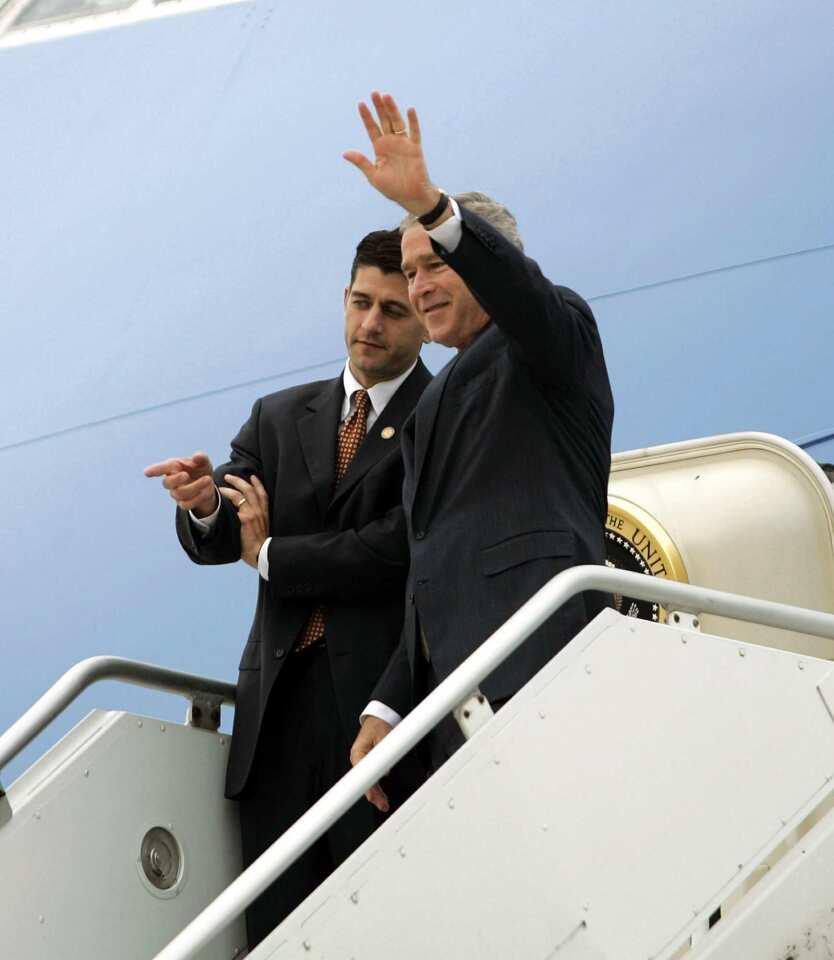 President Bush waves as he steps off Air Force One with Rep. Paul Ryan, left, R-Wisc., in Milwaukee.
( Pablo Martinez Monsivais / Associated Press)
TAMPA, Fla. — A little more than a year ago, Frank VanderSloot contributed $1million to a "super PAC" supporting Mitt Romney. Now, the Idaho-based health products executive is a sought-after donor at the Republican National Convention as he makes the rounds of independent groups backing the GOP ticket.
On Monday, VanderSloot and his wife met privately for an hour and a half with Karl Rove, the former top advisor to President George W. Bush and the strategist for the GOP heavyweight group American Crossroads. The donor has meetings with two other outside groups scheduled this week.
"We're looking at where our next donation should go," said VanderSloot, who declined to specify how much he plans to give. "It's one of the reasons we're here."
VanderSloot's meetings are just one example of how operatives of top-tier conservative groups are capitalizing on the convention revelry to quietly lay the groundwork for the final months of the campaign.
Barred from coordination with political campaigns, super PACs and GOP-aligned nonprofit groups have no official role in the proceedings. But through huddles with donors, discreet meetings with fellow operatives and the occasional public event, the groups have maintained a subtle but pervasive presence in Tampa.
On Tuesday, strategists from Crossroads, the U.S. Chamber of Commerce and Americans for Prosperity — three groups that have employed their abundant war chests to become the center of gravity in this election — gathered at a hotel blocks from the convention site to share political intelligence.
Throughout the week, Crossroads, the pro-Romney Restore Our Future and other outfits have hosted briefings with Republican stars, including Florida Sen. Marco Rubio and former Florida Gov. Jeb Bush.
The conventions are a natural site for such a working vacation, with the party's biggest brains and wallets in close proximity. Super PACs will also have a presence at next week's Democratic convention in Charlotte, N.C., with a coalition of outside groups hosting a "Super-O-Rama" roster of cocktails, brunch and a late-night bash, according to Politico.
So far in this election, though, right-leaning outside groups have far outpaced their liberal counterparts in fundraising. In part, that's because GOP donors have embraced the new landscape ushered in by the Supreme Court in which groups that collect unlimited checks have flourished. Romney and other Republican candidates have benefited from the support of super PACs, which must disclose their donors, and nonprofit groups, which keep their donors anonymous.
Among the mega-donors in Tampa are Las Vegas casino magnate Sheldon Adelson and energy executive David Koch. Together, they have committed hundreds of millions to Republican causes this election season.
Adelson participated in the Tuesday confab between Crossroads, the Chamber and Americans for Prosperity, according to a source with knowledge of the meeting. The discussion, first reported by the Huffington Post, consisted of sharing polling data and focus group results.
Together, American Crossroads and its nonprofit arm, Crossroads GPS, are expected to spend about $300 million, and the Koch-backed Americans for Prosperity has a $151-million budget. The U.S. Chamber of Commerce plans to pump at least $50 million into congressional races — which means those four groups alone could account for half a billion dollars of spending in this election.
On Wednesday, Adelson dropped by a reception hosted by the Republican Jewish Coalition, a nonprofit group whose board members include some of the party's most prolific donors, Adelson among them. The event, which was open to the media, hosted 450 guests, who grazed on kosher appetizers while listening to high-profile elected officials, including House Majority Leader Eric Cantor of Virginia and onetime presidential candidate Rep. Michele Bachmann of Minnesota.
The nonprofit Americans for Prosperity is sponsoring a public event Thursday to honor Koch, who has backed the group along with his brother Charles. The group plans to use the Republican convention as a launchpad for a three-bus grass-roots tour around the country aimed at highlighting the sluggish economic recovery under President Obama.
But public festivities are the exception for these mega-groups.
"I haven't seen a single piece of paper that shows what they're doing," said Keenan Steiner, who has been tracking convention fetes for the Sunlight Foundation, a nonpartisan organization advocating transparency in government. "There's not enough information out there about these groups."
The organizations are flush with cash thanks to donors like VanderSloot, who has long been a player in Idaho politics and as a finance co-chairman for both of Romney's presidential runs. He is chief executive of Melaleuca Inc., which sells cleaning supplies and personal-care products. Last year, the company's revenue surpassed $1 billion.
VanderSloot has the resources to give big and believes it's his patriotic duty to do so.
"There's a tremendous amount of sacrifice for the freedoms we enjoy," said VanderSloot, who does not publicly disclose his net worth. "I just think that it's each of our responsibility to pay that back and to try to preserve that. I feel I need to do everything I can."
VanderSloot gave a combined $1 million to Restore Our Future last August, writing checks from the treasuries of four subsidiaries of his company. He gave an additional $100,000 to the group last spring. On top of that, he has helped raise more than $500,000 for the official Romney campaign.
He said he was approaching his meetings with a critical eye.
"Right now, I'm analyzing messaging," he said. "I don't like the attacks. I sure don't like unfair attacks. I don't think the ominous tones of some of these ads are effective."
VanderSloot said Rove did not ask him for money in their Monday chat. But the face time had its effect. "I'm really impressed with American Crossroads," he said. "I'm certainly going to give some funds."
Staff Writer Matea Gold in Washington contributed to this report.
---
Must-read stories from the L.A. Times
Get the day's top news with our Today's Headlines newsletter, sent every weekday morning.
You may occasionally receive promotional content from the Los Angeles Times.