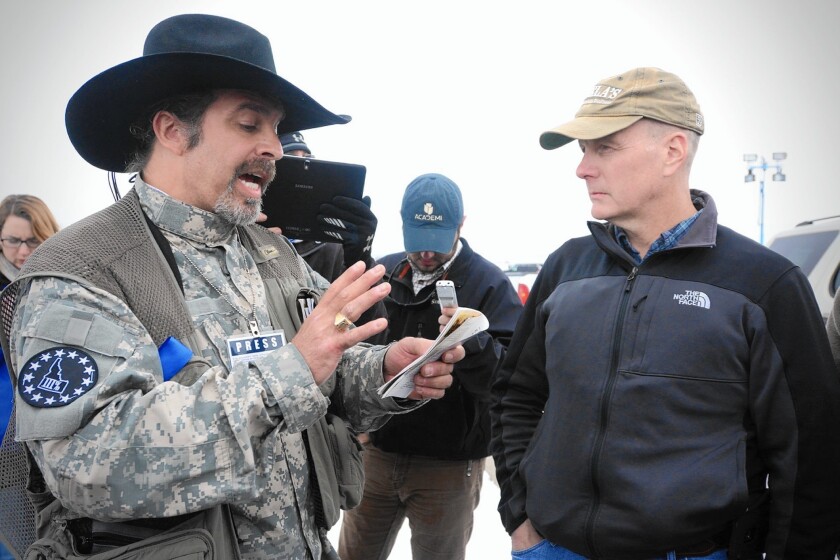 When a group of armed men took over a wildlife refuge in Oregon on Jan. 2, the story was broken by a right-wing YouTube talk show host named Peter Santilli.
With two dogs in his back seat, Santilli, 50, had driven from Cincinnati to Burns, Ore., to support and cover a protest against the conviction of two local ranchers for burning federal land.
But that day, the normally loquacious Santilli, who had broadcast a call for fellow "patriots" to join the protest in Oregon, seemed jittery on his live-stream show. He muttered "jeez" to himself before delivering word of what was about to become one of the biggest stories in the country.
"There's a group of individuals right now at the Malheur [National] Wildlife Refuge. OK, there is a federal building that a group of individuals are going to take over," said Santilli, publicly marking the start of a weeks-long occupation that would end with one protester dead, many arrests and a final dramatic standoff with the FBI.
This is 1,000% an injustice. If this can happen to me, it can happen to any member of the media.
Peter Santilli, YouTube talk show host, in a jailhouse phone call
Then, Santilli said, "If I had known about this, I would have tried to talk those people out of doing it."
Santilli had suddenly found himself tangled in the divergent roles of supporter, journalist and dissenter — so tangled that three weeks later the federal government arrested him. He stood accused of being responsible for the same standoff Santilli says he was trying to stop and trying to cover as a journalist protected by the 1st Amendment.
Santilli's case in Oregon has drawn a similarly tangled response from the Oregon chapter of the American Civil Liberties Union, which was concerned about the free-speech implications of his case but also openly wary of the armed protest Santilli nonetheless appeared to continue supporting.
"There is no doubt that when Pete Santilli gets in front of the camera he is politically polarizing and, to many, downright offensive. He challenges government authority through brazen, political statements," ACLU of Oregon legal director Mat dos Santos wrote in a note. "But does he pose a real threat?"
The stakes grew higher Wednesday when Santilli, a former longtime Hesperia, Calif., resident, was also indicted in Nevada, where he covered — and allegedly participated in and urged on — an armed standoff outside Las Vegas in 2014.
In both cases, the government accuses Santilli of going beyond the boundaries of traditional journalism to criminally defy the government and put federal agents' lives at risk with the help of his tens of thousands of YouTube subscribers.
Both indictments show Santilli calling for more protesters to come to the scene, at times getting cozy with the key players involved, who are now also under arrest, or getting confrontational with federal officials.
Santilli and his supporters say that he was not armed and that the government is retaliating against him for constitutionally protected viewpoints.
"This is 1,000% an injustice," Santilli said in a jailhouse phone call uploaded to YouTube. "If this can happen to me, it can happen to any member of the media, especially you independent media journalists, you alternative media journalists."
Santilli is a part of a new wave of activist-journalists who, empowered by social media, have taken up the tools of journalism but not the traditional restrictions of journalism, and who have courted danger as a result.
In Ferguson, Mo., in 2014, protesters streamed live front-line video of their standoffs with riot police that was watched around the world, but which also put them at risk of arrest by defying the officials ordering them to clear the scene.
In Texas, antiabortion activists made undercover videos about Planned Parenthood that they called investigative journalism, but which opponents called misleading and which led a grand jury to indict them on charges of using fake identification and violating organ-trafficking laws.
The antigovernment protests out West have come with their own array of advocate-journalists like Santilli, including one activist, Gavin Seim, who, by phone, broadcast exclusive audio of the final surrender of the Oregon occupiers last week.
See more of our top stories on Facebook >>
"It's a whole culture — these guys bring a whole bunch of breaking news; they help out mainstream media," said Santilli's broadcast partner and "partner in life," Deb Jordan, who traveled with him to Burns. "If they get shut down, it would really be detrimental to everyone concerned, all of media."
Santilli grew up in Latham, N.Y., and lived in Hesperia for 20 years before moving to Ohio last February, according to court filings.
He has spent several years doing crowd-funded news and talk shows.
In what Jordan said was Santilli's first role as a field reporter, Santilli broadcast from the 2014 standoff between Nevada rancher Cliven Bundy and officials who had come to seize his cattle from federal lands.
An indictment said Santilli suggested "we stand and fight to the absolute death" to get the federal government out of Nevada, telling listeners on April 8, 2014, "If you're in Nevada and can legally carry, get weapons out there, OK?"
The next day, the indictment says, Santilli traveled to Nevada and threatened an FBI agent while trying to claim self-defense, telling the official, "I don't believe in firing a single bullet unless in absolute defense and it's legal and constitutional."
Santilli later told the official, "If you make the decision to go face-to-face and someone gets hurt we are going to hold you responsible," the indictment says. "I came here to allow you to prevent a scenario where someone gets hurt."
The indictment accuses Santilli of being part of a group that intercepted a Bureau of Land Management convoy and threatened law enforcement officers at the scene, later boasting on-air, "We were serious about stopping the convoy.... We want BLM to always retreat because we will always outnumber them."
BLM officials ultimately backed down from the armed standoff with Bundy's hundreds of supporters, but they arrested Bundy for the standoff this month when he flew to Oregon to support two of his sons, who had been arrested for the wildlife refuge standoff.
Although Santilli had been staying at a hotel in Burns, he was among those arrested Jan. 26 as federal officials captured the protest's leaders — but not before breaking the news of the arrests on YouTube.
At the time he was detained, he was trying to reach the refuge to clear out the remaining occupiers.
Federal officials once again zeroed in on Santilli's ambiguous role, noting that he had continued to broadcast calls for protesters to come to Oregon and had spoken out against the mainstream media at a news conference with the occupation's leaders.
"I think right now they're throwing a bunch of stuff against the wall to see what sticks, so I guess we'll have to see how this plays out," Jordan said Thursday. But most important, Jordan said, "his role as a reporter is being challenged here in both cases."
Twitter: @MattDPearce

ALSO
Latinos seek answers from Sanders and Clinton in Las Vegas
Manny Pacquiao posts Bible verse that states gay people should be killed
Change in bullet train construction plans will delay rail line's arrival in Southern California
---