Change in bullet train construction plans will delay rail line's arrival in Southern California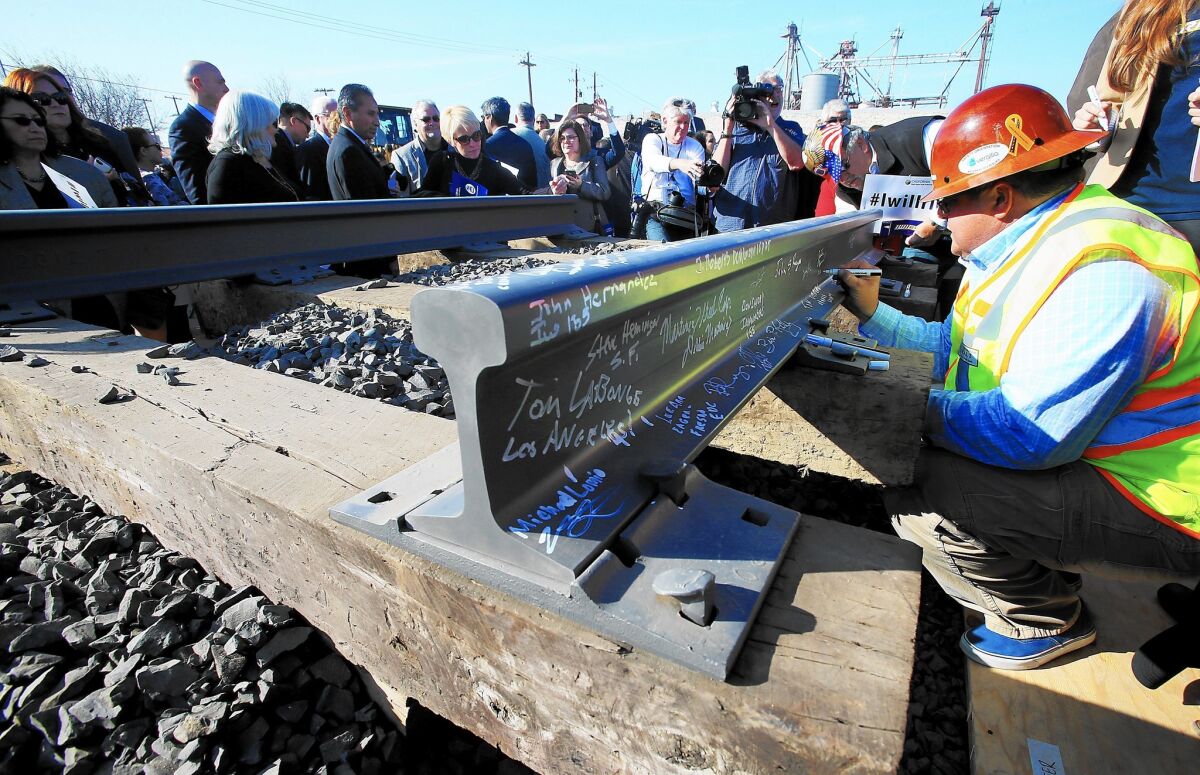 Facing high construction costs and political opposition in Southern California, the state has decided to build the first 250-mile section of the California bullet train from the Kern County line to San Jose instead of Fresno to Burbank.
The reversal by the California High-Speed Rail Authority would delay the arrival of high-speed rail for Southern California, which was originally planned as the end point for the project's initial operating segment.
Southern California officials have said building the segment to Burbank could be a major economic benefit for the region, provide commuters 15-minute rides to the Antelope Valley and create a convenient link to both the Central Valley and future high-speed trains to Las Vegas.
The shift to the Bay Area will help the California High-Speed Rail Authority hold down costs and expedite construction of the system, which is already two years behind schedule, according to details of the new plan released Thursday.
The change would also avoid expensive tunneling and viaduct construction through the geologically complex Tehachapi and San Gabriel Mountains, where several potential routes have been proposed through the Angeles National Forest. Those options have generated political opposition in communities that border the forest.
The high-speed rail authority said shifting to the Bay Area will allow it to have the initial segment operating by 2025, earlier than planned, which will make the project attractive to private investors that would help fill holes in funding.
Rail officials also say the latest cost estimate for the entire 500-mile project has been reduced from $68 billion to $64 billion, well below the $98-billion projection from several years ago, but still far above initial estimates of less than $40 billion.
Though high-speed rail would arrive later in Southern California, project officials said about $4 billion will be invested in the rail corridor between Burbank and Anaheim to improve conventional train lines and prepare the area for bullet train service.
In addition, the authority announced it would seek an additional $2.9 billion in federal funding to continue work on the route to Bakersfield and to San Francisco.
Interested in the stories shaping California? Sign up for the free Essential California newsletter >>
The plan represents "a transition from planning and initial construction to being able to stand up and say we have federal funding, bond money, cap and trade revenue, and that those funds are sufficient for us to build, open and operate the first real high-speed rail leg in California," said Dan Richard, chair of the high-speed authority board of directors.
Despite the route shift, Hasan Ikhrata, executive director of the Southern California Assn. of Governments, said the high-speed rail project is still committed to investing in Southern California, including billions to improve conventional rail systems.
"We have said all along that whatever happens or how it happens doesn't matter as long as high-speed rail invests in Southern California," Ikhrata said. "This does not mean that investment here is going to stop. High-speed rail will still get down here in some fashion."
Others agreed but still had mixed feelings about the new plan, which did not spell out exactly when the system will reach the L.A. area.
"It's disappointing," said Don Sepulveda, executive officer for regional rail for the Los Angeles County Metropolitan Transportation Authority.
Still, the California bullet train has accumulated so many financial, legal and political challenges over the last two years that the new business plan will need some miracle cures.
Join the conversation on Facebook >>
The effort will have to find billions of dollars in construction funding that doesn't exist, find a way to fulfill or untangle difficult political promises made to keep the project alive and discover fixes to legal requirements that are strangling the progress.
"This project is nonexistent," said Quentin Kopp, a former Superior Court judge, state legislator and a past chair of the high-speed rail authority board. "There is no private investment. So what they are doing is just whistling Dixie and somehow hoping the public can be fooled. It is over except for the waste of taxpayer money."
Kopp said the project is a far different proposal today from what was called for in a successful 2008 ballot measure that provided more than $9 billion in bond funding for the project.
"What they have done in effect is destroy my intentions and those of the voters of California," he said.
The pressure on the agency has grown significantly in recent weeks, after it disclosed that the initial construction work in the Central Valley is $260 million over budget and after news that the state's agriculture industry is sponsoring a proposition to transfer $9 billion of rail bond money to water projects.
"The project is at an important juncture," said Martin Wachs, an emeritus UCLA professor and one of the nation's leading transportation experts. "It is a time when critics are vigorous in their opposition and there remains important policy decisions that must be addressed. The largest challenge is the gap in financing, and this is the time when it has to be addressed in a serious way by the state."
The rail authority must find answers to myriad other challenges as well, say lawmakers, transportation experts and watchdog groups.
The new business plan will have to address an earlier decision to reduce speeds and capacity in the Bay Area by sharing tracks with freight trains and commuter rail cars.
It will also have to address the issue of bringing service all the way to Anaheim, which is mandated by state law but has been lingering in uncertainty for years. Finally, it will have to prove that if the Los Angeles-to-San Francisco system is built, it can serve millions of passengers without an operating subsidy, as required by state law.
Democrat Jim Frazer, chairman of the Assembly transportation committee, said he wants the business plan to show that the entire project is on solid ground and that when it is completed it can operate without a subsidy.
"I would have to see what has been spent and where they are at," he said. "I need to see the business plan to make sure the project is on track."
Rod Diridon, a former rail authority chairman, said the project needs to persuade private investors to jump in with financing.
The business plan, he noted, is "a sketch that private investors are going to fill in. In the short term, there is no question that the high-speed rail authority is ready."
Twitter: @LADeadline16
Twitter: @RVartabedian
ALSO
College student killed by train may have been distracted by his cellphone
State officially declares Porter Ranch-area gas leak capped, but uncertainty remains
L.A. files $20-million lawsuit against Da Vinci Apartments developer over huge downtown fire
The stories shaping California
Get up to speed with our Essential California newsletter, sent six days a week.
You may occasionally receive promotional content from the Los Angeles Times.