Portland's bike-share program was called exclusive. Here's what the city is doing about it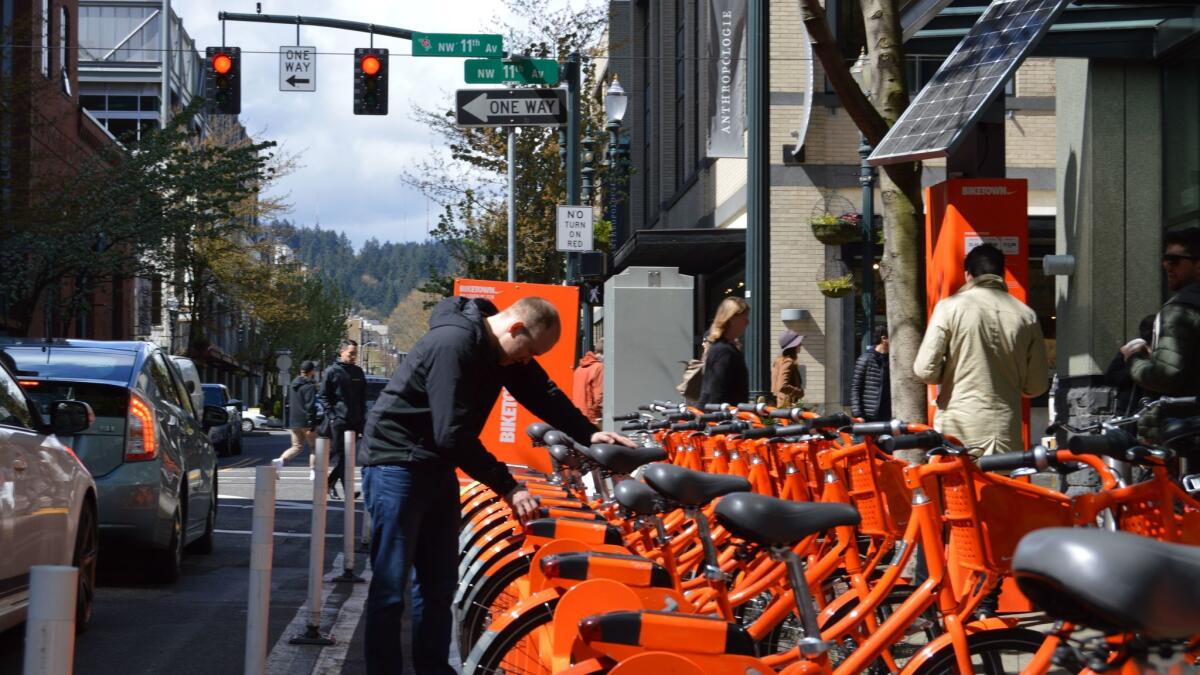 Reporting from Portland, Ore. —
Cities know the protocol for taking a stand for sustainability on the West Coast: Calculate your carbon footprint, set a bold goal for reducing emissions, ramp up public transit and maybe even pass a resolution banning the export of fossil fuels.
Few places have pursued these ideas with more passion or success than this earnest urban stage in the Pacific Northwest. Yet last year, when Portland elevated its environmental game once again – starting a new bike-sharing program as part of its climate action plan – it also stumbled into a delicate and vexing question: Can everyone participate?
In a city where cycling is celebrated nearly as much as inclusiveness and acceptance, the deployment of 1,000 bright orange bicycles was alluring – but their uniformity was viewed as exclusive.
"It's exciting to finally be getting a bike share program, but I was disappointed to find out that the program excludes people with mobility challenges," Chloe Eudaly, a Portland city commissioner who has a child with disabilities, wrote on her electoral campaign's Facebook page in May. "How is a 1,000 bike program without a single adapted bike equitable or inclusive?"
Jeremy Robbins, a well-known member of the Portland cycling community who rides a hand cycle because he is quadriplegic, said he and others were "disgusted and upset that there was zero provision at all" to help people with disabilities participate.
"This is the way that a lot of these kinds of programs go," Robbins said. "But I would have thought that the city of Portland would have a greater vision of inclusivity and equality." Now the city is trying to expand that vision.
How is a 1,000 bike program without a single adapted bike equitable or inclusive?
— Chloe Eudaly, Portland city commissioner
On Tuesday, the Portland Bureau of Transportation will host an open house to promote its new "adaptive bicycle rental pilot project."
Scheduled to start in June, the program will look very different from the existing self-serve BIKETOWN system, which was started with a $10-million grant from Nike and features the company's signature swoosh at the 100 stations scattered across the city.
It instead will include as many as a dozen adaptive bikes of varying styles -- hand cycles, recumbent tandems, specialized trikes — and there are plans to hire a contractor to help riders who may need assistance finding the right one and getting on and off of it.
While BIKETOWN is intended largely for commuters and people making short trips, the adaptive program will be limited at first to just a few locations where cyclists can ride on relatively smooth trails, away from traffic, largely for exercise and recreation.
Leah Treat, the director of the city's transportation department whose online bio promised that BIKETOWN would be "the smartest and greenest in the country at its launch in July 2016," acknowledged that she and the city had plenty to learn once they turned their attention to adaptive cycling.
"It's kind of 'duh,' but you just don't think about it unless you have a mobility challenge," Treat said.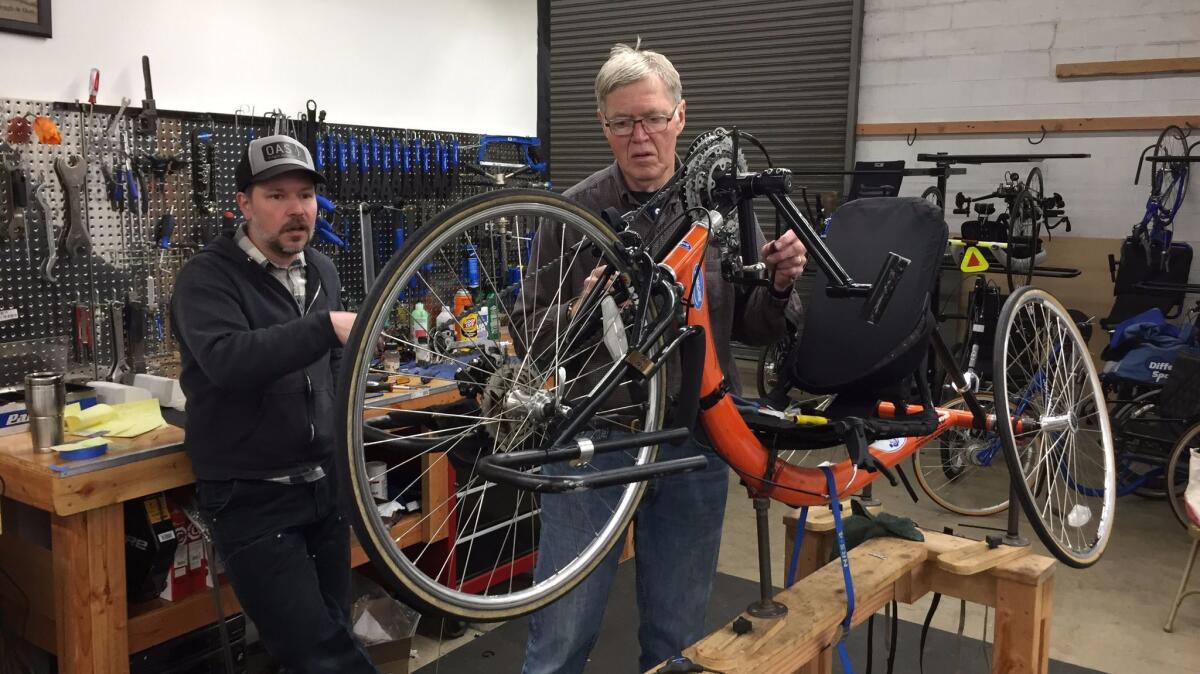 The department created an advisory committee that includes disabled cyclists, people who hope to start riding, advocates for the disabled and others, with Treat telling colleagues "to think about what the customer wants."
The early moments revealed the divide.
"The first time they wanted to speak to us, they were like, 'Give us a list of disabilities, and give us a list of the bikes that work for them,' and that's just not the way it works in the world of disability, because there's just so much diversity," said Jennifer Wilde, a committee member who works for Incight, a nonprofit that assists people with disabilities.
But the city's commitment proved genuine, Wilde said.
"We are definitely learning the nuances of what a program like this will accomplish," she said. "It certainly won't include everyone, but the fact that they're doing it, with the goal of getting more people on bikes, more people active, is ultimately positive."
Portland is not the first city to add adaptive bikes to its bike-share program. But its effort is notable because it falls under the city's ambitious effort to increase the percentage of trips people make by bike as a way to reduce carbon emissions.
Even if the earliest adaptive riders are not commuters or shoppers, city officials and cycling advocates say the effort could convince some renters to expand how they use the system, and it could improve public health and social cohesion.
Robbins, a member of the advisory committee, was quick to praise how the city came around on the issue, calling it "radically receptive."
The initial tensions here reflect concerns far broader than cycling, said Victor Santiago Pineda, the founder of WorldEnabled, another nonprofit that advocates for people with disabilities, including in urban design.
"What you're really talking about is how do you make all aspects of the built environment responsive to all people, yet at the same time support values of sustainability," said Pineda.
"If environmental policies have a target to change behavior and improve people's lives, are those targets responsive to and inclusive of different kinds of people – people that might have difficulty seeing, difficulty moving around, difficulty hearing?"
One challenge for Portland's new program may be overcoming the sense among some disabled people that certain public programs are not intended for them.
Jerry Pattee, a board member of the United Cerebral Palsy Assn. of Oregon and Southwest Washington, sat in his motorized wheelchair at the back of a recent meeting of the Portland Commission on Disability.
Pattee said he mostly uses crutches to get around at home and in office settings, but he marveled at how the wheelchair, which he got fairly recently, has opened up the city to him.
Asked if he would be interested in adaptive cycling as a means of getting around, he first said he would not be capable of propelling himself by pedaling. When the prospect of a hand cycle was mentioned, however, he paused.
"I hadn't thought about it," Pattee said, "but, yeah, I guess I would be."
Sign up for Essential California for news, features and recommendations from the L.A. Times and beyond in your inbox six days a week.
You may occasionally receive promotional content from the Los Angeles Times.