McCain aide suspended for publicizing anti-Obama video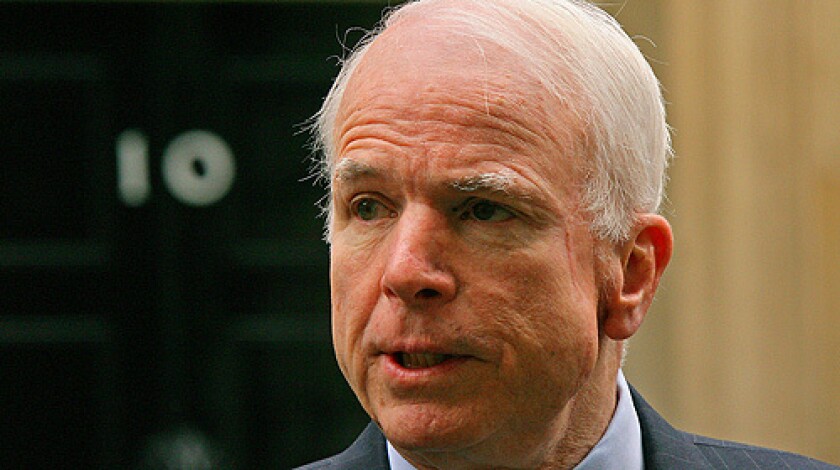 Los Angeles Times Staff Writer
A low-level political staffer for the John McCain presidential campaign has been suspended indefinitely for sending out an electronic link to a YouTube video connecting Sen. Barack Obama to the comments of his pastor, the Rev. Jeremiah Wright.
The staffer, Soren Dayton, was suspended for sending out a message from a personal Twitter account informing recipients of a video called "Is Obama Wright?" In effect, Dayton used the alert from Twitter, an electronic messaging service, to stoke the dispute involving Wright's comments, which have hurt Obama's presidential campaign.
"We have been very clear on the type of campaign we intend to run and this staffer acted in violation of our policy," campaign spokesman Brian Rogers said in a telephone interview. "He has been reprimanded by campaign leadership and suspended from the campaign."
The campaign quickly moved to distance itself from Dayton's action, noting it was not an authorized communication. It was also the latest effort by the campaign to set a higher tone.
Last month, McCain denounced the comments of a radio talk show host who, while introducing the presumptive Republican presidential nominee, repeatedly referred to Obama by his middle name of Hussein.
Politico, a Washington-based website, reported that the two-minute video was the work of Lee Habeeb, a former producer of Laura Ingraham's radio talk show. In the video, Wright's most incendiary remarks are mixed with snippets from Obama speeches and interviews, which are edited to make the senator seem to be sputtering and unpatriotic.
---
The Latinx experience chronicled
Get the Latinx Files newsletter for stories that capture the multitudes within our communities.
You may occasionally receive promotional content from the Los Angeles Times.