She bet on the future of print news and bought Alaska's largest daily paper. Now she's lost it in a bankruptcy fire sale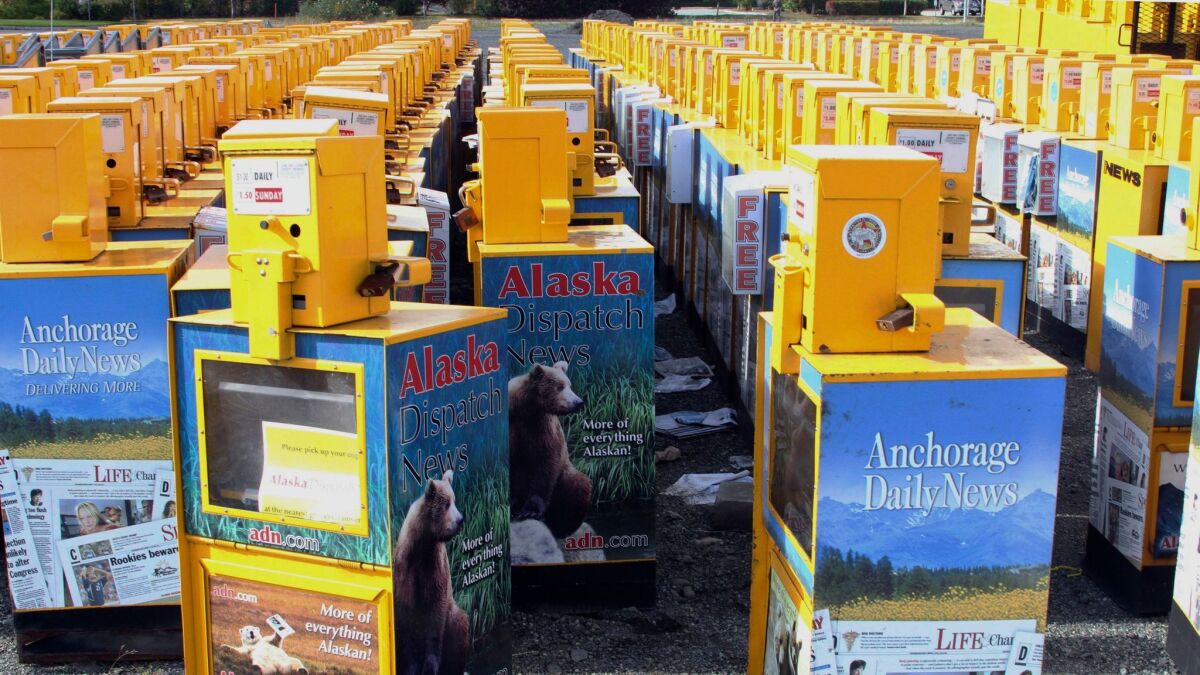 Reporting from Seattle —
One of Alice Rogoff's first moves as the new owner and publisher of Alaska's largest newspaper was to demonstrate her faith in paper and ink. After paying $34 million for the Anchorage Daily News in 2014 and changing its name to the Alaska Dispatch News, she went out and bought a new printing press.
"I don't see an end to print," said Rogoff, a former publishing executive in Washington, D.C., who maintained a long-distance marriage with her billionaire husband after she fell in love with Alaska. "If I could see it, I'd be preparing for it. We're not."
That was evident this week. The paper, founded in 1946, was on the verge of shutting down when a federal bankruptcy judge approved a deal in which a pioneering Alaska family purchased it for $1 million.
The paper was losing an average of $125,000 a week, even after dropping its Saturday edition, according to court filings. It owed more than $2.5 million to vendors.
Rogoff personally lost millions. She had taken out a $13 million personal bank loan to help purchase the paper from McClatchy Newspapers and still owes the bank $10 million, the records show.
Her security to back that loan is money she receives from a marital agreement with her husband, David Rubenstein, co-founder of the Carlyle Group and whose personal net worth, according to Forbes, is $2.5 billion.
Though she spoke with half a dozen would-be buyers, she received only one bid for the paper, Rogoff told the judge during a Monday bankruptcy hearing.
That left the court with just one other option: Reject the sale and liquidate the paper. That's hardly a rare outcome in an industry in which more than 125 newspapers folded between 2004 and 2014, according to Pew Research Center. In two decades, the number of newspaper employees dropped by 20,000, or 39%.
But Judge Gary Spraker said saving the Dispatch News — with Alaska's most-visited news website and a print circulation of 41,684 during the week and 47,028 on Sundays — was in the best interests of the community.
"There is no more money. There is no more time. There's also no more buyers," he said. "I purposely bit my tongue and did not inquire why the buyer believes this is going to succeed going forward."
The buyers, the Binkley family of Fairbanks, which gained its wealth from hauling tourists and freight on the Yukon River for more than 100 years and five generations, stepped forward with the offer in August when the paper filed for Chapter 11 bankruptcy.
Rogoff, who'd been trying to sell the paper, stepped aside and allowed Ryan Binkley, one of four siblings forming the buyers' group, and a fifth investor, Jason Evans of Alaska Media LLC, owner of three rural papers, to take over as co-publishers. The change is expected to shift the paper's liberal editorial views as voiced by Rogoff to a more conservative approach by the Republican-leaning Binkleys.
A front-page news story Tuesday detailed the sale, noting that some of the papers's 210 employees would be laid off and discussing the possibility the paper's name may change again, perhaps back to the Anchorage Daily News. It also quoted Ryan Binkley as saying, "It's vastly important for the community that the print paper continue to be put out and we're committed to that."
The paper is being sued by telecommunications company GCI over a rental dispute involving the former Anchorage Daily News building where the paper is printed. GCI sought to evict the newspaper's press operations, but the two sides are now negotiating.
Also on Tuesday, Binkley and Evans published a letter to readers, stating: "The sale paves the way for a new era at the ADN as we chart our own course. The ADN is not going away. As owners we vow to do whatever it takes to set Alaska's paper of record onto a strong foundation that will last for generations."
The paper reported that Rogoff slipped out of the courthouse Monday almost unnoticed and disappeared down the street without further comment.
Her attorney, Bill Bittner, stayed behind to speak for her.
"Through a series of missteps in business in terms of the press locations, it's led to this, which has made her very sad for the people at ADN," Bittner said. "She's glad it is handed off to a prominent group of Alaskans that will hopefully continue the great traditions of the ADN."
Bittner said Rogoff would probably continue to live in Alaska. He didn't know her plans beyond that.
Rogoff, a former chief financial officer for U.S. News and World Report and one of the architects of the Washington Post's former weekly national edition, was a senior assistant at the Office of Management and Budget in the Carter administration.
She was smitten by wild and snowy Alaska during a 2001 vacation there and gave up Washington power parties to hunt moose, explore the Arctic and fly her own plane. She often ferried her reporters and photographers to cover news in the state's remote corners.
"I love my life," she told the Los Angeles Times in an interview last year. That new press she bought would enable her to publish an Alaska newspaper "for years, and perhaps decades to come," she added.
The press, according to bankruptcy filings, is still sitting unused in an old Anchorage building.
Anderson is a special correspondent
---
Must-read stories from the L.A. Times
Get the day's top news with our Today's Headlines newsletter, sent every weekday morning.
You may occasionally receive promotional content from the Los Angeles Times.