FBI rules out gunfire as cause of windshield damage in Amtrak derailment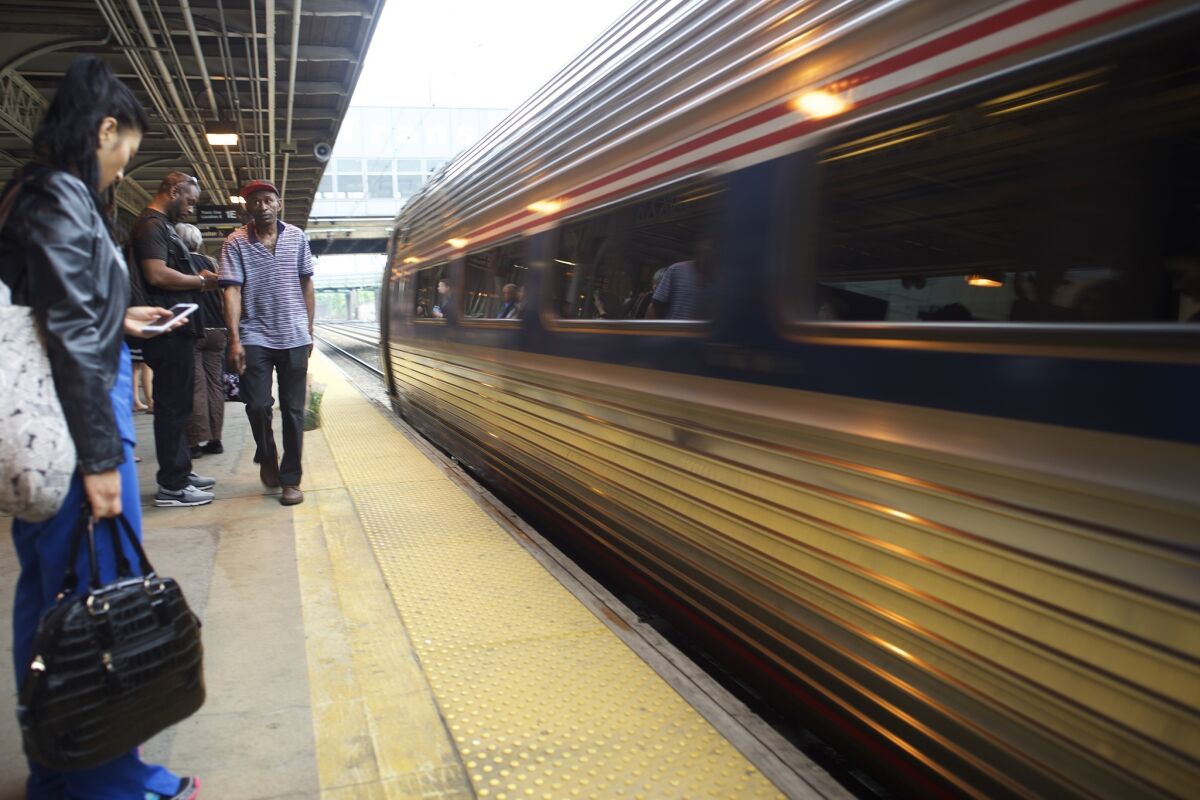 Reporting from New York —
The FBI found no evidence that gunfire caused damage to an Amtrak train that derailed at high speed, killing eight passengers, but investigators said Monday they had not ruled out the possibility that something hit the windshield of the engineer's compartment.
One of the questions facing officials investigating Tuesday night's crash is whether something distracted the engineer, Brandon Bostian, leading him to enter a curve at more than 100 mph. The crash closed Amtrak's busy Northeast corridor, which returned to full service Monday.
Also Monday, funerals for three of the victims were held in their home states of Michigan, New Jersey and New York.
The National Transportation Safety Board said it could take a year to conclude its investigation into the derailment of Amtrak Train 188 and determine the probable cause, but attention has focused on Bostian's actions and on what could have led to the excessive speeding on a curve zoned for 50 mph.
Safety board member Robert Sumwalt described Bostian, 32, as cooperative during an interview with investigators on Friday. Sumwalt also said the NTSB had interviewed two conductors who were on the ill-fated train. One of them, a woman who was not identified, said she "believed she heard her engineer say something about his train being struck by something," Sumwalt said.
Bostian, though, has said he cannot recall anything about the crash and did not mention being hit by a projectile when he met with the safety board, Sumwalt said.
The lower left windshield of the locomotive, in which Bostian was riding, appeared to have been hit by something, and the FBI was asked to examine the damage. In a brief update posted on Twitter, the NTSB said the FBI "found no evidence of damage to #Amtrak 188 windshield that could have been caused by a firearm."
"NTSB has not ruled out possibility that another object may have struck the #Amtrak locomotive windshield," the agency added.
Hundreds of people packed chapels and churches to remember Rachel Jacobs, Robert Gildersleeve and Laura Finamore, three of the passengers killed.
"She paved the way for me. She was my role model, my confidante," Jacobs' sister, Jessica Steinhart, said as she eulogized her sibling during a service in Michigan, where they grew up.
In New Jersey, Gildersleeve's son, Marc, 13, and daughter, Ryan, 16, read aloud letters they had written to their father, an executive who lived in Maryland and who was traveling to New York on business when he was killed.
"Riding ATVs with you was some of the most fun I've ever had in my life," Marc read to mourners in the church. "Also, thank you for teaching me how to mow the lawn. ... I promise I'll keep it looking good."
Finamore's funeral was held in the New York City borough of Queens, where she grew up with three brothers. "Laura's smile could light up a room and her infectious laughter will be remembered by many for years to come," her family said of Finamore, a real estate executive. "She was always there when you needed her — with a hug, encouraging words or a pat on the back."
The first trains to make the journey between New York and Washington early Monday carried far fewer passengers than usual, and there were some delays. Amtrak spokeswoman Kimberly Woods said that was to be expected after the sudden break in service.
"We expect some minor delays as we restart the service," Woods said. "We anticipate trains will be running on schedule as the day progresses." She said passenger loads were expected to grow throughout the week as people adjusted their travel plans.
The first train that arrived at New York's Penn Station carried about 50 people, including several members of the media covering the ride. Normally, trains on that route carry more than 200 passengers. The train that crashed last week had 238 passengers and five crew members.
None of the people on board Amtrak's Train 110, which had left Washington at 4 a.m., expressed concerns about safety on the rails since the derailment.
"Things happen," said Patrick Isokpunwu, a regular rider on the route. "When I see things like this accident, it doesn't worry me."
tina.susman@latimes.com
Twitter: @tinasusman
---
Must-read stories from the L.A. Times
Get the day's top news with our Today's Headlines newsletter, sent every weekday morning.
You may occasionally receive promotional content from the Los Angeles Times.