Magnitude 7.0 earthquake rattles Anchorage, unleashes powerful aftershocks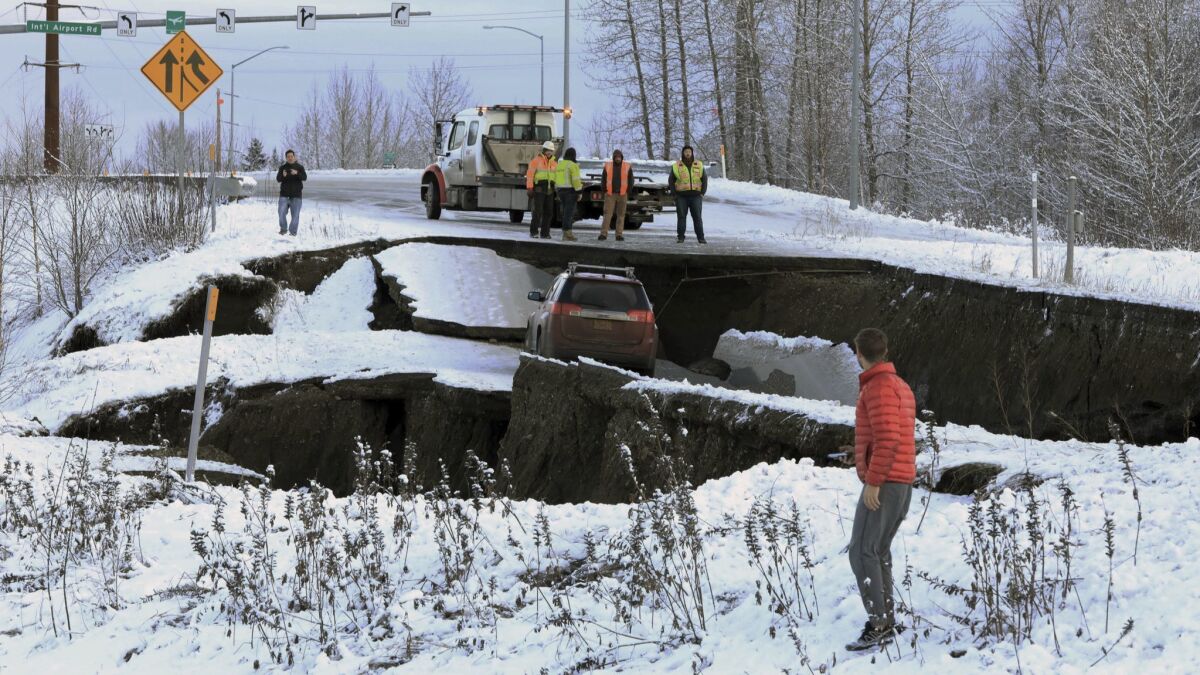 A powerful 7.0 earthquake followed by a swarm of strong aftershocks rocked southern Alaska on Friday morning, cracking or collapsing several roads in the Anchorage area, flinging items off shelves and sending students and professionals for cover beneath their desks.
Alaska Gov. Bill Walker declared a disaster, and a tsunami warning sent coastal residents fleeing for higher ground, though no tsunami materialized.
The area may have suffered hundreds of millions of dollars of damage, according to a preliminary estimate by the U.S. Geological Survey. The Anchorage Police Department reported "major infrastructure damage" across the city, with cracks appearing in walls and water mains knocked out.
"Many homes and buildings are damaged. Many roads and bridges are closed," the department said on Facebook.
Alaska Regional Hospital reported an influx of patients with broken bones and injuries from fallen glass. No deaths have been reported, according to the governor, who called it a "scary day for Alaskans."
"We have been through earthquakes in the past. This one was different," he said in a video posted on Twitter that also noted he had been in touch with the White House. "This one was very, very scary, [with] damage we don't fully understand."
The quake in many ways resembled the magnitude 6.7 Northridge earthquake that struck the San Fernando Valley in 1994, said Lucy Jones, a former advisor for the U.S. Geological Survey and an earthquake expert who founded the Dr. Lucy Jones Center for Science and Society.
"They were both sort of suburban hits, hitting just outside the major parts of the city," Jones said.
The big difference was that 60 people were killed in the quake in densely populated Southern California. Anchorage has a population of just under 300,000, and Jones said tough building codes there probably helped limit the damage.
Anchorage sits in a seismologically active region where the Pacific tectonic plate slides beneath the North American tectonic plate, a subduction zone capable of creating earthquakes like the magnitude 9.2 temblor in the state's Prince William Sound in 1964 — the most powerful earthquake recorded in U.S. history.
The Pacific plate has been sliding downward beneath Alaska, a process that builds stress released in the form of earthquakes, Jones said.
It was still dark at 8:29 a.m. when the series of quakes began with the magnitude 7.0 temblor centered seven miles north of Anchorage and about 25 miles deep.
Cameron Jimmo, a 29-year-old attorney who lives in Anchorage, was walking his border collie-cattle dog mix, JoJo, when he noticed flocks of birds heading toward Cook Inlet. Then he felt the shaking and saw green flashes of light to the north — probably exploding power transformers.
"I thought it was some sort of bomb, irrationally, for a second," Jimmo said.
Then he realized it was an earthquake. The dog tried to run, then cowered as the birds continued swarming toward the inlet. One was a bald eagle.
The main quake was followed six minutes later by a 5.7 temblor. In the ensuing hours there were at least 60 aftershocks, including six with magnitudes of 4.5 or greater.
At the Nesbett Courthouse in Anchorage, attorneys ducked under courtroom tables and clung to the legs as lights flickered and tiles fell from the ceiling. Students in classrooms did the same. Books toppled from the shelves of libraries, and dishes flew out of their cabinets in homes.
The KTVA-TV newsroom was heavily damaged as ceiling tiles were shaken loose and cameras toppled. The station and other local broadcasters were temporarily knocked off the air just as officials were trying to warn the public of a possible tsunami.
In some places, the soil effectively liquefied into quicksand, snapped asphalt like crackers and folded roads into the earth. One off-ramp collapsed near Ted Stevens Anchorage International Airport while a sport-utility vehicle was driving on it, and afterward the vehicle sat trapped on an island of asphalt. Cracks appeared in the thick ice of nearby lakes.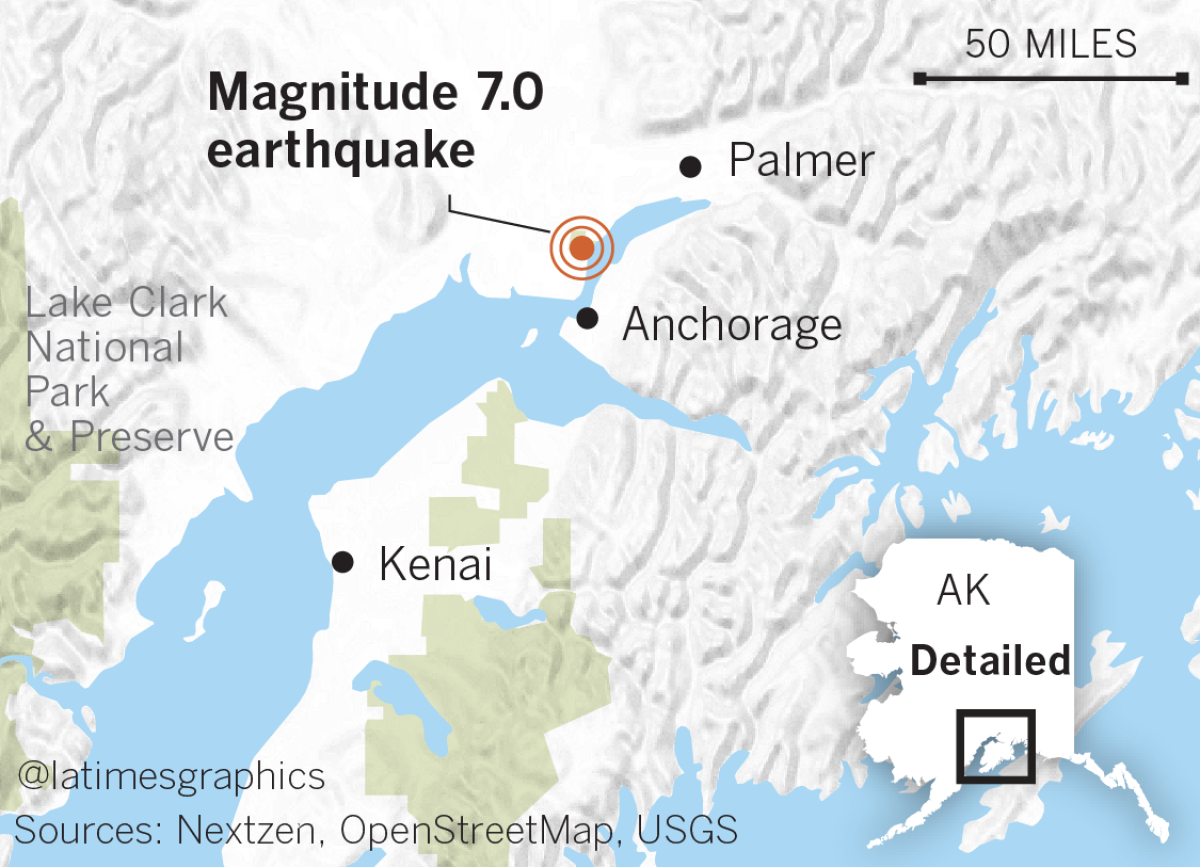 "To the great people of Alaska. You have been hit hard by a 'big one,' " President Trump said on Twitter. "Please follow the directions of the highly trained professionals who are there to help you. Your Federal Government will spare no expense. God Bless you ALL!"
Tens of thousands of customers lost power in the Anchorage area. The airport was relatively undamaged, and some flights were still able to depart. But the Federal Aviation Administration halted inbound flights.
Roads were clogged with traffic after the quakes knocked out power to some streetlights in Anchorage and disabled Glenn Highway, a major artery connecting Anchorage with bedroom communities to the north, effectively trapping commuters in the city.
In Wasilla, about 40 miles northeast of Anchorage, long lines for fuel formed at the gas stations that remained open. Two miles west, the quake shattered a segment of Vine Road, rendering it impassible. But to the relief of residents, the Port of Anchorage, a major source of supplies for the state, appeared undamaged.
Brian Berube, 32, an environmental scientist who lives in eastern Anchorage, said his typical 20-minute drive to get from downtown took an hour. But residents did not appear to be panicking.
"I was kind of shocked with how orderly it all was," Berube said. "I was pretty impressed with how courteous people seemed to be."
When he got home, he noticed cracks in his driveway. "Looking at my neighbor's house, they've got a big horizontal crack across theirs," Berube said.
Inside his home, "everything" had fallen out of cabinets and a section of the kitchen counter had separated from the wall. He helped a neighbor shut off his water after a pipe burst.
But overall, "we're cool, our house is all good," Berube said.
He did notice one thing that was a little odd. His house seemed to have sunk a couple inches into the earth.
Special correspondent Zachariah Hughes reported from Anchorage.
---
UPDATES:
4:45 p.m.: This article has been updated with geological information and eyewitness accounts of the earthquake and aftershocks.
2 p.m.: This article was updated with details about road damage.
1:30 p.m.: This article was updated with staff reporting.
11:10 a.m.: This article was updated with cancellation of the tsunami warning and with additional reporting from Alaska.
10:25 a.m.: This article was updated to include a tsunami warning being issued and U.S. Geological Survey upgrading the earthquake to magnitude 7.0.
10 a.m.: This article was updated after an aftershock occurred and the earthquake was downgraded from magnitude 6.7 to a magnitude 6.6.
This article was originally published at 9:40 a.m.
---
Must-read stories from the L.A. Times
Get the day's top news with our Today's Headlines newsletter, sent every weekday morning.
You may occasionally receive promotional content from the Los Angeles Times.