Anti-Semitic assaults tripled in 2018, says a new Anti-Defamation League report
Twice in the last six months, men bent on destroying Jews have entered synagogues and fired their guns. At the Tree of Life congregation in Pittsburgh in October, 11 people died in the worst anti-Semitic attack in U.S. history. At Chabad of Poway on Saturday, one person was killed and three were injured.
A report released Tuesday from the Anti-Defamation League suggests that those killings are part of a wider increase in physical violence against Jewish people.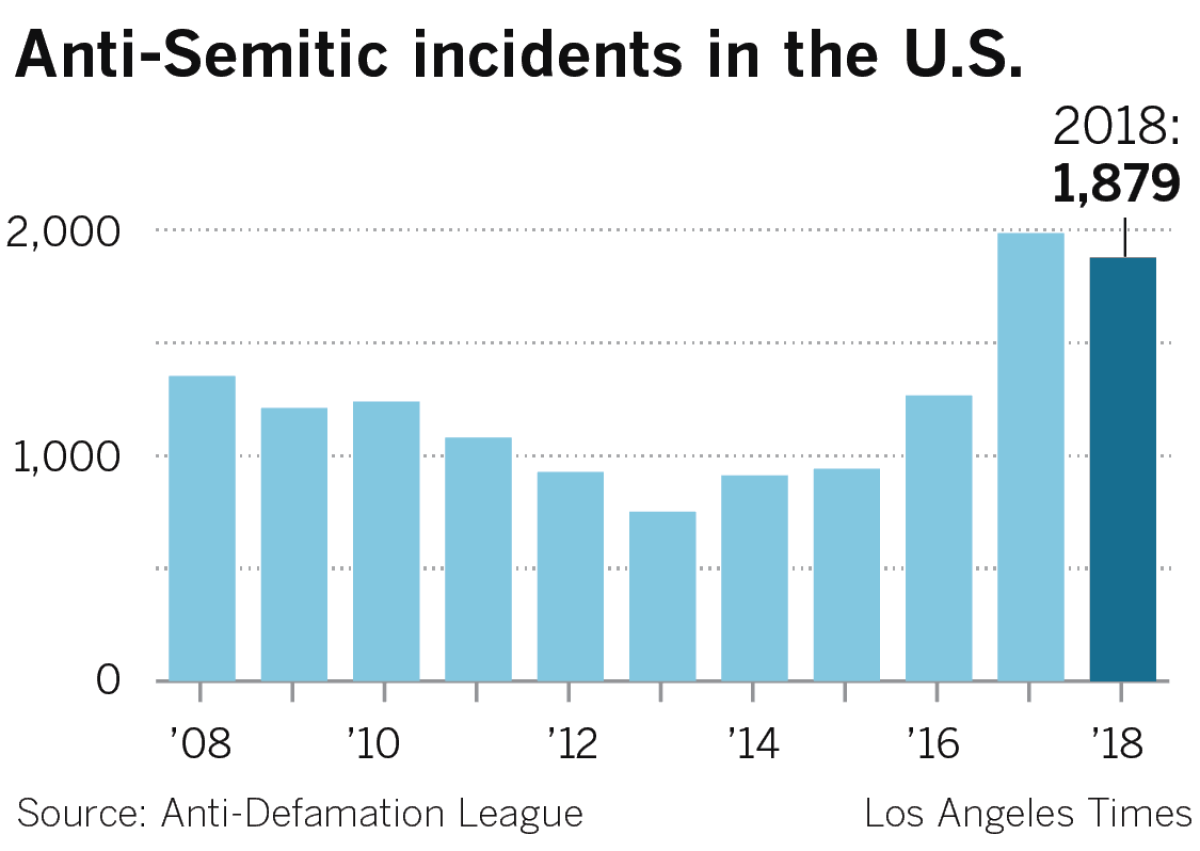 "The shooter this weekend had wild, conspiratorial ideas about Jews but these are not isolated incidents or ideas," said Jonathan Greenblatt, the group's chief executive. "The trend is going in the wrong direction."
The report — the organization's latest accounting of anti-Semitism — found that 59 Jews were physically assaulted in 39 separate incidents last year, including the 13 people who were killed or wounded in the Pittsburgh shooting massacre. Those totals were up from 21 assault victims in 19 incidents in 2017.
The assaults were among the 1,879 anti-Semitic incidents last year that the ADL identified by combing through reports from police, victims and news publications. That total was the third-highest since the annual accounting began four decades ago.
The worst year was 1994, with 2,066 incidents. The second worst year was 2017, with 1,986 — a massive jump over the previous year's total of 1,266.
Nearly 98% of the incidents in 2018 were harassment or vandalism.
"Beyond the data, we're also seeing high levels of white supremacy and brazen displays of hatred," Greenblatt said.
A total of 249 anti-Semitic incidents last year were connected to extremist groups or ideology — a 13% increase over previous years and the most since 2004.
More than half of those incidents involved fliers or banners put up around U.S. cities and college campuses. Most were distributed by white supremacist groups. An additional 103 extremist incidents were connected to Patrick Little, a far-right figure from Albany, Calif., who ran and lost as a Republican candidate last year for Sen. Dianne Feinstein's seat.
Little, who attended the "Unite the Right" rally in Charlottesville, Va., in 2017 that featured neo-Nazis and white supremacists, was behind a series of anti-Semitic robocalls during the campaign, according to the ADL.
The report documented incidents in every state. Not surprisingly, those with the largest Jewish populations had the bulk of them. California had the most with 341, followed by New York with 340, New Jersey with 200 and Massachusetts with 144.
The ADL included hate crimes as well as verbal assaults and other acts that are offensive but not illegal. Still, the general trend over years of growing anti-Semitic incidents roughly matches trends documented by the Federal Bureau of Investigation, which released its latest annual report on hate crimes in November.
The FBI found that attacks against religious and racial minorities fueled a 17% rise in hate crimes in 2017. The total of 7,175 included a 37% increase in anti-Jewish crimes, a 24% increase in attacks on Latinos and a 16% rise in crimes against African Americans.
Must-read stories from the L.A. Times
Get the day's top news with our Today's Headlines newsletter, sent every weekday morning.
You may occasionally receive promotional content from the Los Angeles Times.