Rabbi recalls friend in synagogue shooting: 'Lori took the bullet for all of us'
Reporting from Poway, Calif. —
The rabbi froze in the lobby of his synagogue, startled by the stranger in sunglasses pointing a rifle at him. As the shots zoomed toward him, he raised his hands in defense before scrambling to gather the young children nearby and move them somewhere safe.
"Miraculously, the gun jammed," said Rabbi Yisroel Goldstein, speaking with bandaged hands at an emotionally charged news conference outside Chabad of Poway on Sunday, a day after the shooting.
A congregant, an Army veteran, chased after the shooter, but he managed to get away, Goldstein said. An off-duty Border Patrol agent, who was also in the synagogue and was armed, fired at the gunman's car as he drove away.
Goldstein said not long after he was shot, he saw his longtime friend Lori Gilbert-Kaye lying unconscious on the lobby floor. Her husband lay next to her, having fainted after trying to resuscitate her.
"Lori took the bullet for all of us," said Goldstein, adding that the shooting could have been deadlier. He lost his right index finger in the attack.
"[It] will forever scar me, but it's going to remind me how vulnerable we are and how heroic each one of us can be," he said. "No matter what happened, we are going to keep our freedom. We are going to grow from it."
Gilbert-Kaye, 60, died of at least one gunshot wound. Goldstein said he did not see her get shot and did not know whether she jumped in front of him to save him, as some witnesses have claimed.
The brutal act on the last day of Passover came exactly six months after a gunman killed 11 people and wounded seven others during services at the Tree of Life synagogue in Pittsburgh. Anti-Semitic incidents around the nation have been increasing since 2013, with the biggest all-time annual jump coming in 2017, when the tally climbed 57% to 1,986, according to the Anti-Defamation League.
Rancho Peñasquitos resident John T. Earnest, 19, was arrested in the Poway shooting Saturday on suspicion of one count of murder and three counts of attempted murder. Police said Earnest, who is white, had written a nine-page manifesto citing his "disgust" for Jews.
Noya Dahan, 8, and her uncle, Almog Peretz, 34, were injured by shrapnel and were recovering after being released from the hospital, said Israel Dahan, the girl's father.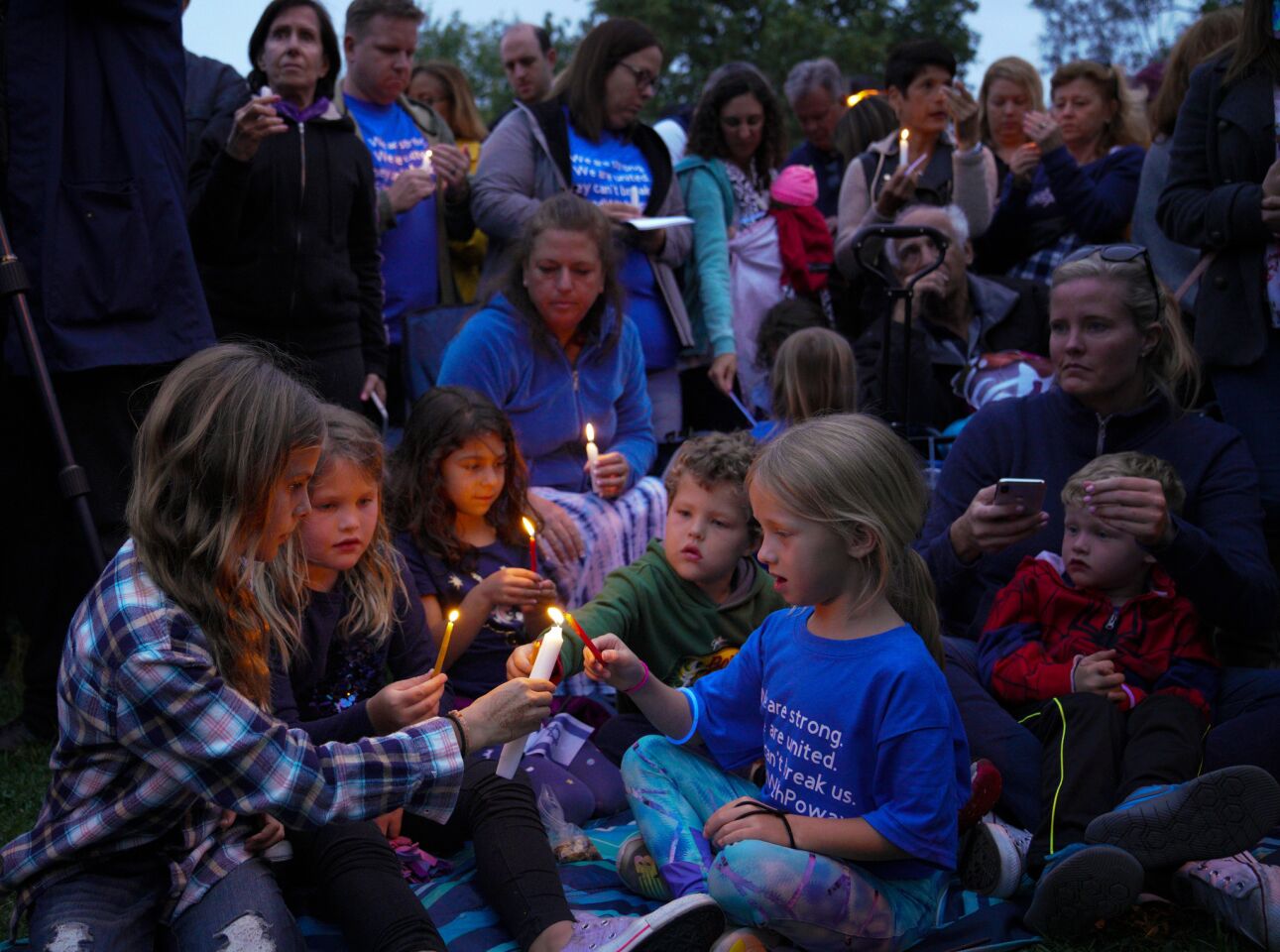 Children light candles during the vigil to remember the death of Poway resident Lori Gilbert-Kaye.
(Nelvin C. Cepeda / The San Diego Union-Tribune)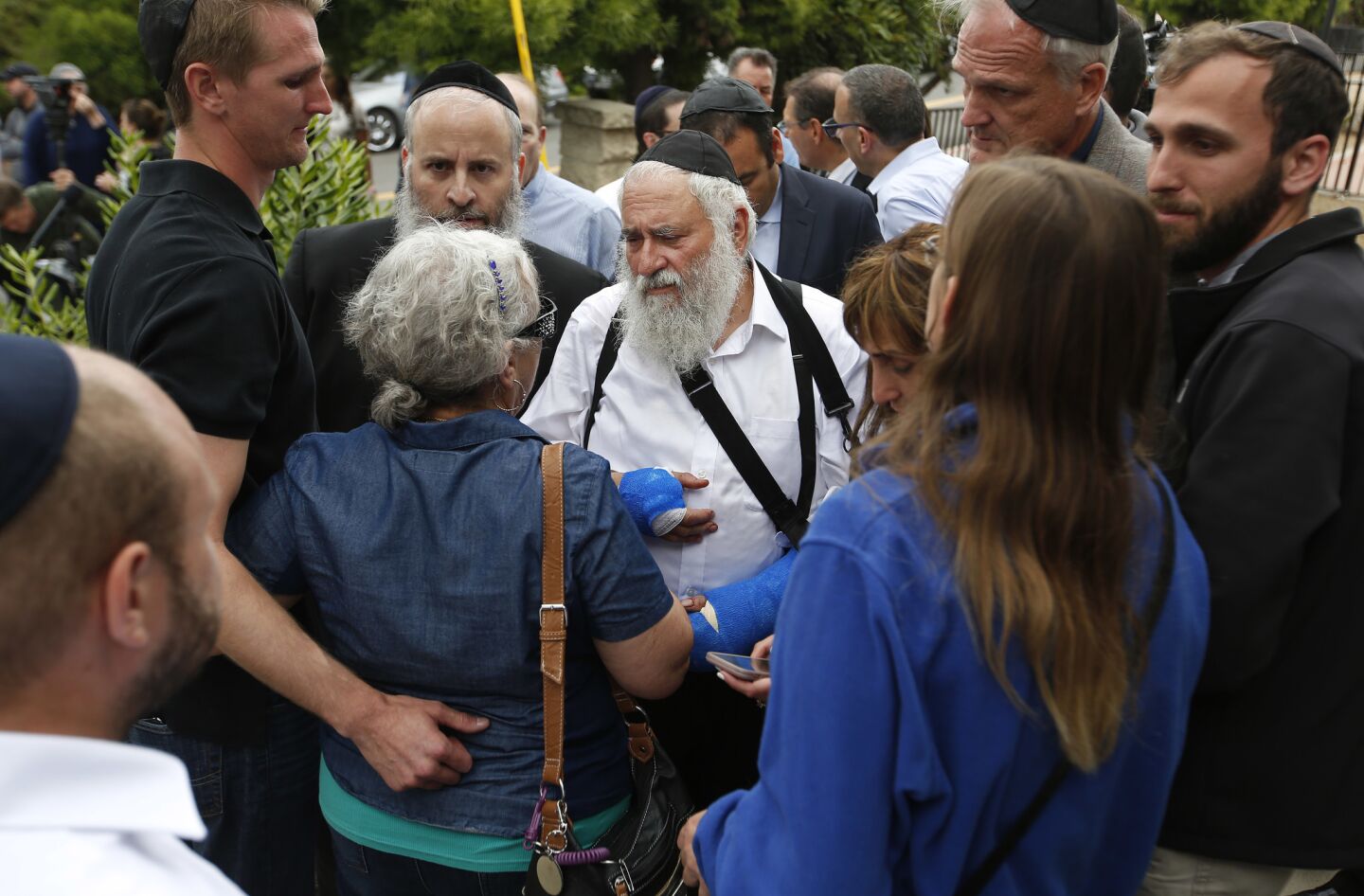 Rabbi Yisroel Goldstein, center, meets with members of the congregation of Chabad of Poway the day after a deadly shooting at the synagogue. Goldstein was shot and lost a finger on his right hand.
(K.C. Alfred / The San Diego Union-Tribune)
A woman leaves flowers at small memorial near Chabad of Poway.
(Hayne Palmour IV / TNS)
Mourners attend a vigil at Rancho Bernardo Community Presbyterian Church in Poway.
(Sandy Huffaker / AFP/Getty Images)
People mourn at a vigil at Rancho Bernardo Community Presbyterian Church in Poway.
(David McNew / Getty Images)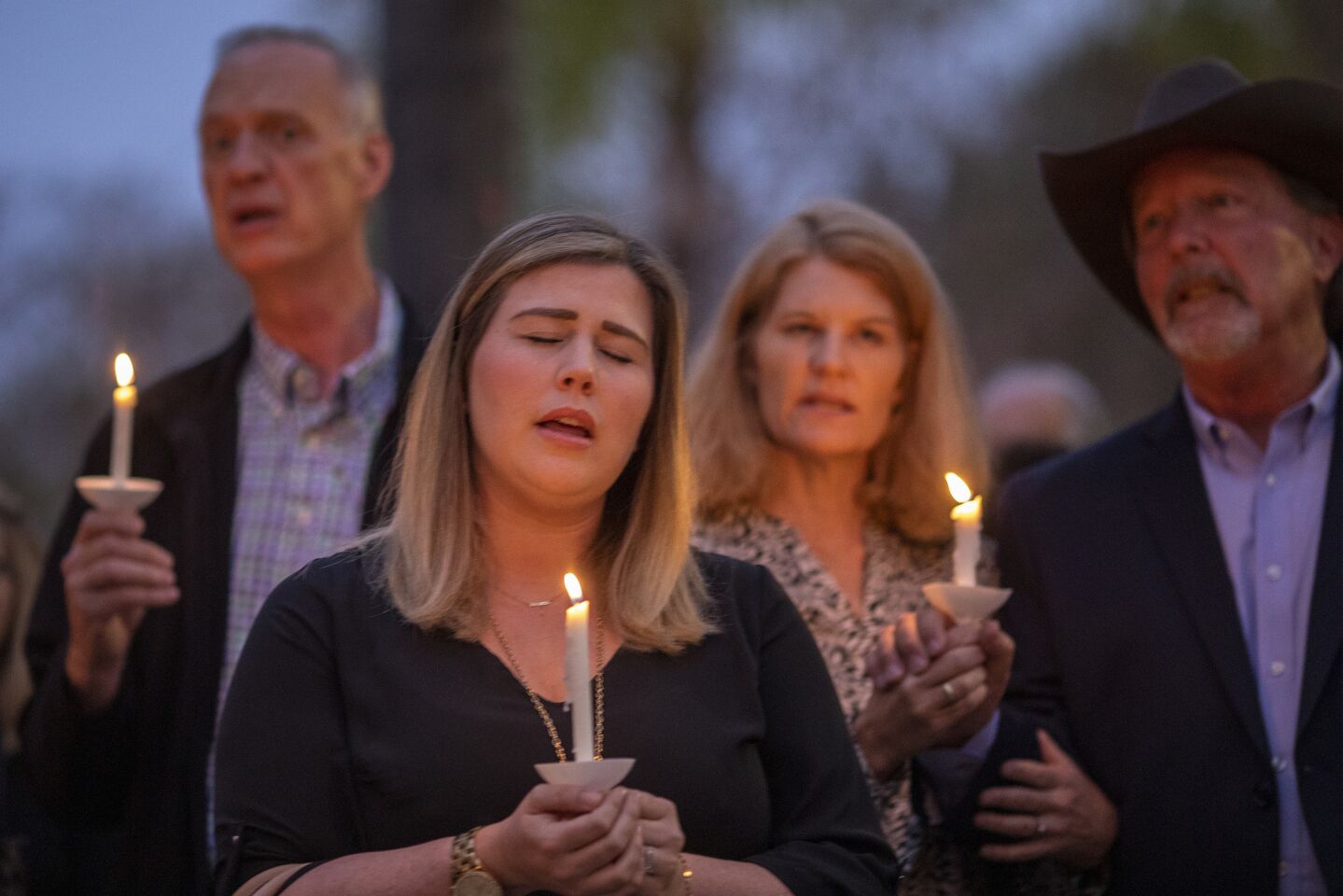 People attend a vigil at Rancho Bernardo Community Presbyterian Church in Poway.
(David McNew / Getty Images)
Police evacuate a cul de sac in San Diego's community of Rancho Peñasquitos and surround a house related to the investigation of the synagogue shooting in Poway.
(John Gibbins / San Diego Union-Tribune)
Chabad of Poway members gather outside their synagogue after a man shot multiple people on Saturday, killing one.
(Hayne Palmour IV / San Diego Union-Tribune)
Police surround a house related to the investigation of the synagogue shooting in Poway.
(John Gibbins / San Diego Union-Tribune)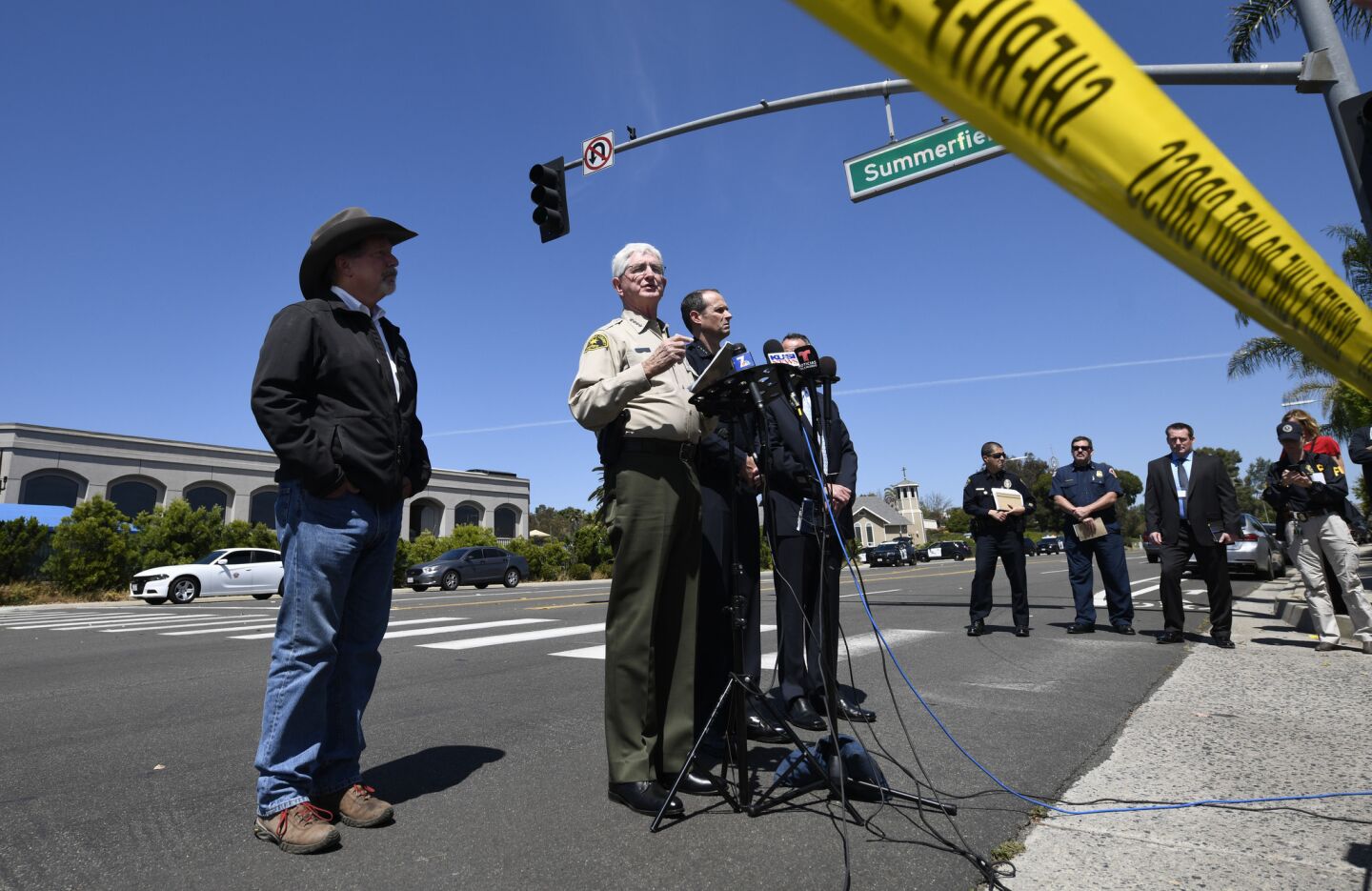 San Diego County Sheriff Bill Gore, center, discusses Saturday's synagogue shooting.
(Denis Poroy / Associated Press)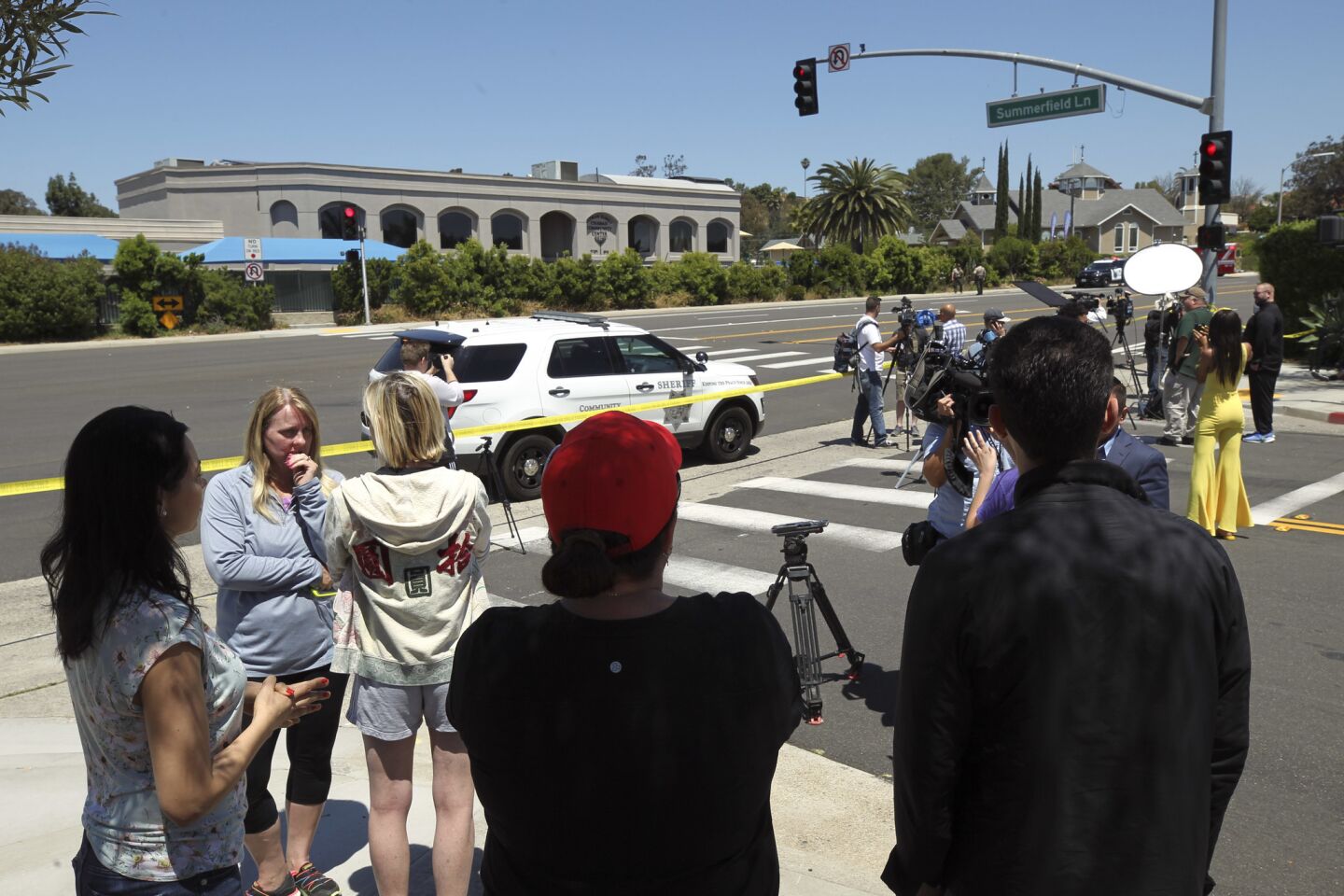 Members of the media and the surrounding community gather near the Altman Family Chabad Community Center in Poway after Saturday's shooting at Chabad of Poway synagogue.
(Hayne Palmour IV / The San Diego Union-Tribune)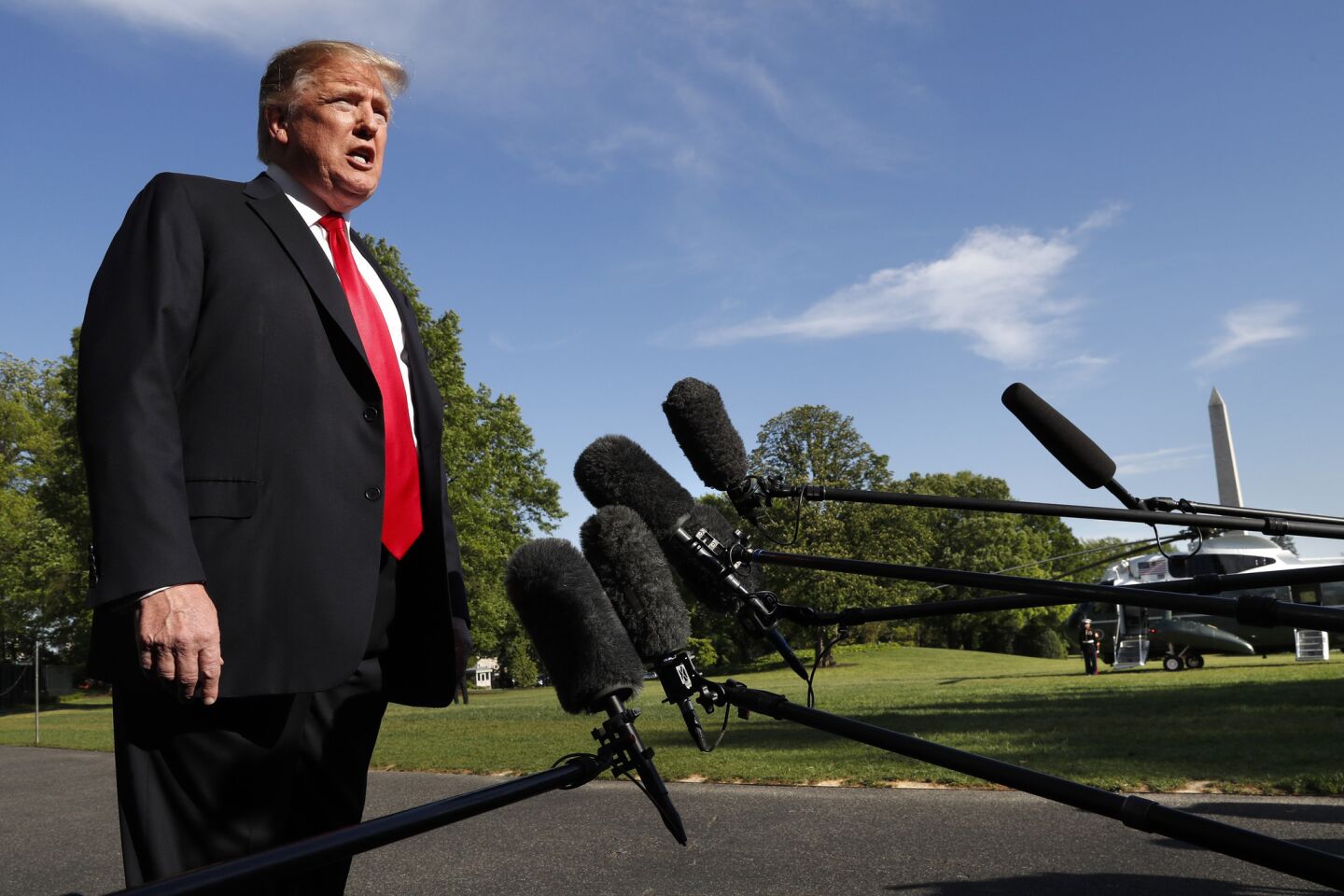 President Trump speaks to the media about Saturday's deadly shooting in the San Diego area.
(Jacquelyn Martin / Associated Press)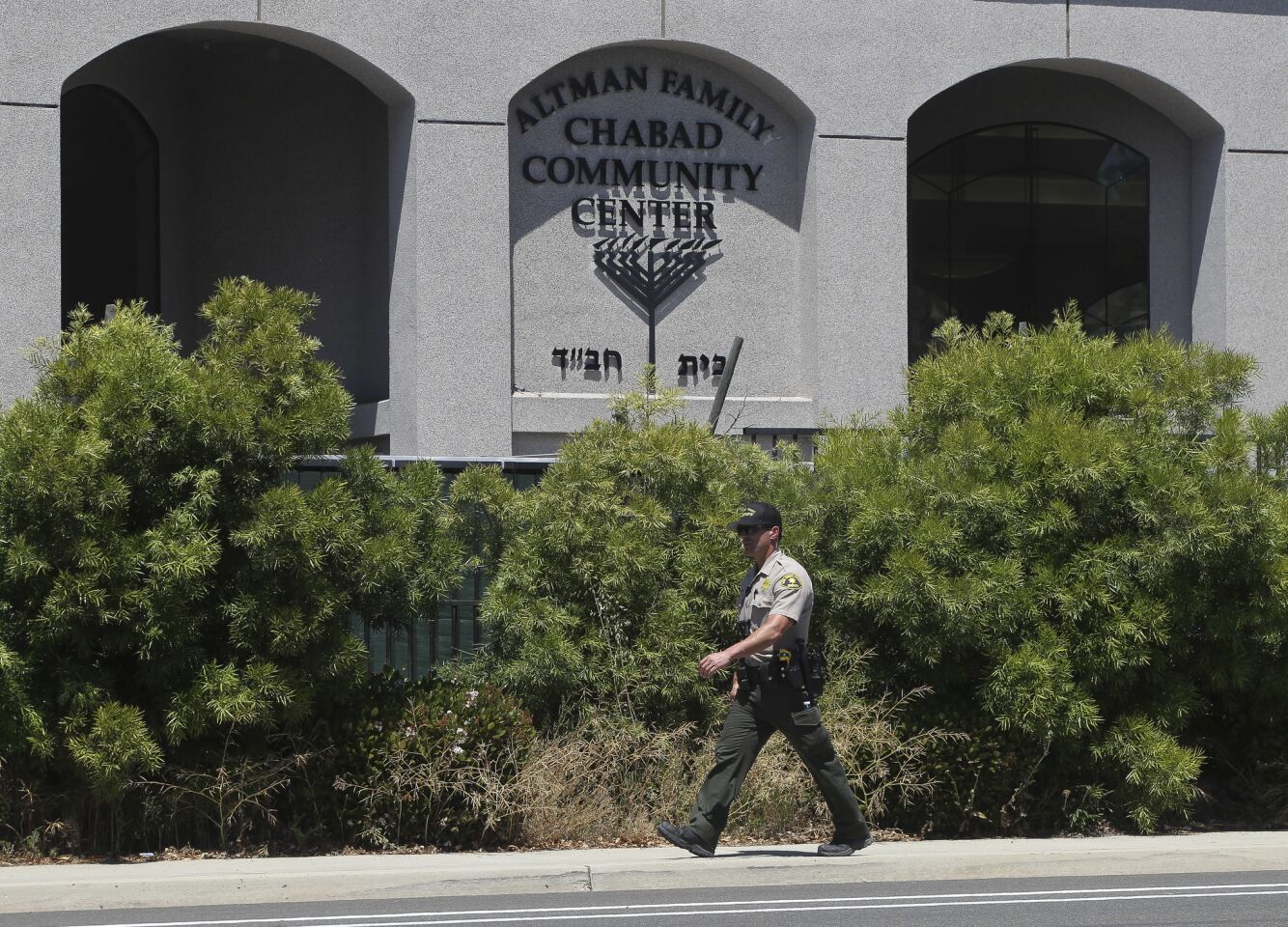 A sheriff's deputy walks in front of the Altman Family Chabad Community Center in Poway.
(Hayne Palmour IV / The San Diego Union-Tribune)
An FBI agent gives information to the media outside Chabad of Poway on Saturday.
(Denis Poroy / Associated Press)
Jessica Parks, right, hugs Tina White outside Chabad of Poway synagogue.
(Denis Poroy / Associated Press)
He added that Peretz, his brother-in-law, was hurt while trying to save the girl and other children in the synagogue's playground. Peretz, who works in construction in Israel, is visiting the family for a couple of months.
The girl suffered pieces of a bullet in her eye and leg, while Peretz was wounded by a bullet that lodged in a bone in his leg and cannot be removed, Israel Dahan said.
He said he and his family moved from Israel to San Diego in 2011. On the first night of Passover four years later, Dahan said someone sprayed swastikas on his truck and garage. No one has ever been arrested.
He said part of what he loved about Chabad of Poway, where he's been a member for three years, was Goldstein's message of inclusion.
"He's welcoming to everybody, no matter if you're Christian, or Muslim," Dahan said. "The door is always open, the shul is always open. He would never say no to a person."
ESSENTIAL CALIFORNIA: From violent acts to conversational asides, ugly bursts of anti-Semitism are increasingly a part of American public life. »
A native of Crown Heights, Brooklyn, Goldstein opened Chabad of Poway in 1984 at the request of a fellow rabbi, who said there was a need for a synagogue in that area. The congregation now counts 100 families as members, he said.
Goldstein said Gilbert-Kaye was practically a part of his family, having known her for more than two decades. She recently attended his daughter Baila's wedding in New York. Years ago, when Gilbert-Kaye worked at Wells Fargo Bank, she helped secure a loan for the building housing the synagogue, Goldstein said.
"She had unconditional love for all," he said.
Friends of Gilbert-Kaye described her as an uncommonly generous person and a ferocious advocate for those in need, attending to those in mourning or bringing flowers or other gifts for times of celebration.
Michelle Silverman, who had known Gilbert-Kaye since they were 7-year-olds at Congregation Beth Israel in San Diego, said her friend saved her life during college.
During their senior year at UCLA in 1980, Silverman became sick with viral and bacterial meningitis and phoned Gilbert-Kaye, who immediately rushed her to the hospital. Emergency room staff tried turning the young women away because they were only admitting those with more obvious injuries, like active bleeding.
"Lori started screaming at the doctors until they agreed to see me. They later said that if I had come in 30 minutes later, I would have died," said Silverman, 60.
Gilbert-Kaye grew up in the San Carlos neighborhood of San Diego and graduated from Patrick Henry High School. She worked as a senior account manager at Pro Specialties Group, a company that prints custom logos on promotional items such as mugs, keychains and apparel, according to her Facebook page.
She was also a news junkie, an expert at baking challah, and a charitable giver with a soft spot for hearts and the color pink, friends said. If someone she knew fell ill, or got married, or graduated college, Gilbert-Kaye would always show up, bearing gifts or chicken soup depending on the occasion.
"She was full of life, full of energy, an ants-in-your-pants type person. She couldn't stand still. She was always going to visit this person and that person. She collected people. She was proud to know people all over the world," said her best friend, 55-year-old Roneet Lev.
"She died in a sanctified way, in a synagogue, on the Sabbath, on Passover," Lev said. "She, for us, is a holy person."
Lev said she once discovered Easter baskets intended as gifts in Gilbert-Kaye's car, even though her friend didn't celebrate the Christian holiday.
"When she buys coffee, she gets a second cup of coffee and a bagel or muffin and finds a homeless person around the corner to give it to," said Lev's 75-year-old mother, Amilia Lev.
But though she was present for so many people in her vast network, Gilbert-Kaye's true devotion was to her family, according to friends. She is survived by her husband, Howard, and their daughter, Hannah, a student at UCLA.
Funeral services are set for 2 p.m. Monday at Chabad of Poway, followed by a burial at El Camino Memorial Park at 4 p.m.
"We will salute Lori and her life and keep her legacy alive," Goldstein said. "A legacy of goodness and kindness."
Of his own injuries, the rabbi said, "I'm on a new journey living without a limb. I'll be reminded every day of the vulnerability of life and the heroism we all need. The heroism is standing up to evil, standing up to darkness.
"It's necessary in life. We can't just be a bystander. We need to be an activist and get out there and be a hero. Light pushes away darkness."
Smith reported from Poway and Lau and Newberry from Los Angeles.
---
Life is stressful. Our weekly mental wellness newsletter can help.
You may occasionally receive promotional content from the Los Angeles Times.