Arkansas prepares to execute 8 men in 11 days: Justice, or an 'assembly line of death'?
Critics are calling the executions, which the state has struggled to find volunteers to witness, an "assembly line of death." (Sign up for our free video newsletter here http://bit.ly/2n6VKPR)
GOULD, Ark. —
Patricia Washington sees a simple calculus: If you take someone's life, you better be prepared to lose your own.
The death penalty is just, she believes — an unsurprising view in this rural town a short drive from the state prison that houses death row. Executions have come up a lot lately in conversations at Washington's work, a tiny eatery tucked into an Exxon service station off Highway 65.
As she carried trays brimming with chicken tenders, fried okra and corn nuggets one recent morning, she reflected on some of her regulars — the prison guards.
"There's a lot on their mind. You can see it in their eyes," Washington said.
Starting the day after Easter, the state is scheduled to execute eight men in 11 days, and people in Gould and across Arkansas are wondering how so many executions will affect prison staffers and color perceptions of this Bible Belt state. Two men will die each day on April 17, 20, 24 and 27.
No state has executed this many people in such a short span since the Supreme Court reinstated capital punishment in 1976. The closest was Texas, which executed eight men in both May and June of 1997, according to the nonprofit Death Penalty Information Center, which opposes capital punishment.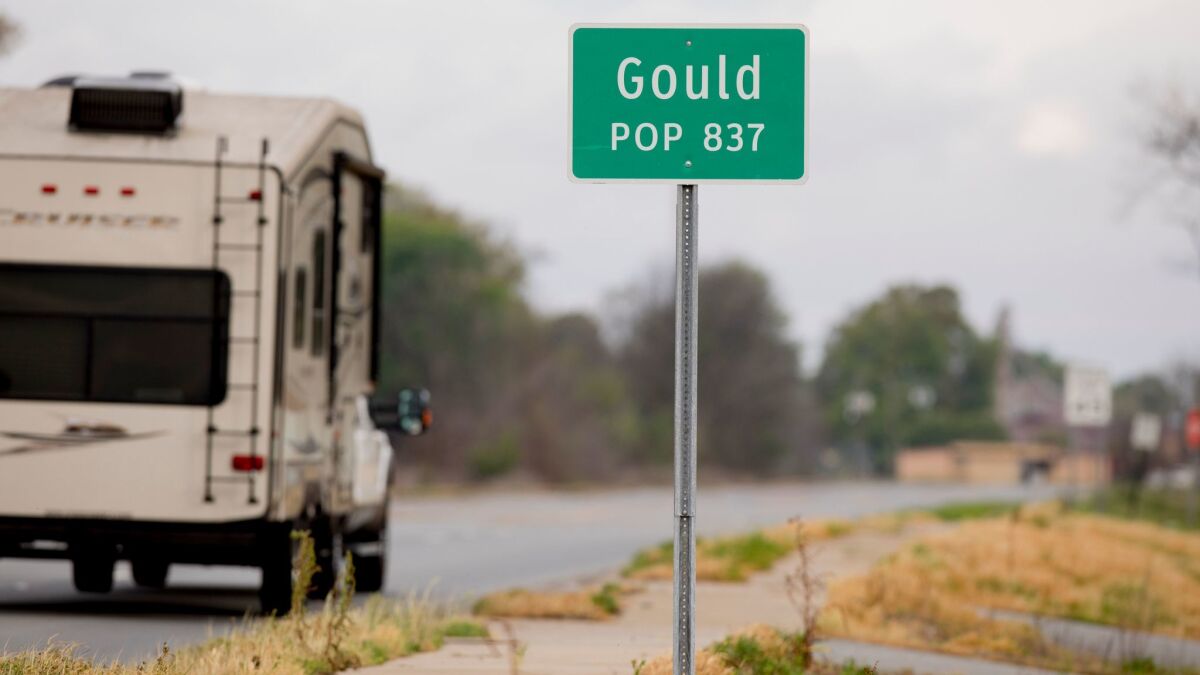 Arkansas hasn't put anyone to death since 2005. That year, Eric Nance, 45, having offered no final words, was pronounced dead on Nov. 28 at 9:24 p.m. at the Cummins Unit just outside Gould. Since then, court challenges and difficulties in obtaining lethal injection drugs have stopped the killings.
But now the state's Republican governor, Asa Hutchinson, says the state must act before its supply of midazolam, an anesthetic used in the lethal injection cocktail, expires at the end of the month.
Hutchinson set the execution dates in February after state Atty. Gen. Leslie Rutledge informed him that the condemned — four black, four white, and all convicted of murders between 1989 and 1999 — had exhausted their legal challenges. In all, they killed 11 people, some by the gun, some by strangulation.
"This action is necessary to fulfill the requirement of the law," Hutchinson said in an email. "It is also important to bring closure to the victims' families."
Walk around Gould, a predominantly black town of 837, and it's easy to find someone who has an opinion on the looming executions. The presence of two prisons, the Cummins Unit and Varner Unit, is inescapable even if the main features north of town are towering grain silos and freshly tilled rice and cotton fields, with soil so dark it appears as if they've been covered with miles of coffee grounds.
But off in the distance, one can see the glistening barbed wire of Cummins and Varner, which together can house nearly 3,500 inmates. At Cummins, guards on horseback patrol green gullies bordering the prison grounds as lower-level inmates, dressed in all white, guide lawn mowers and weed whackers along the impeccably manicured slopes.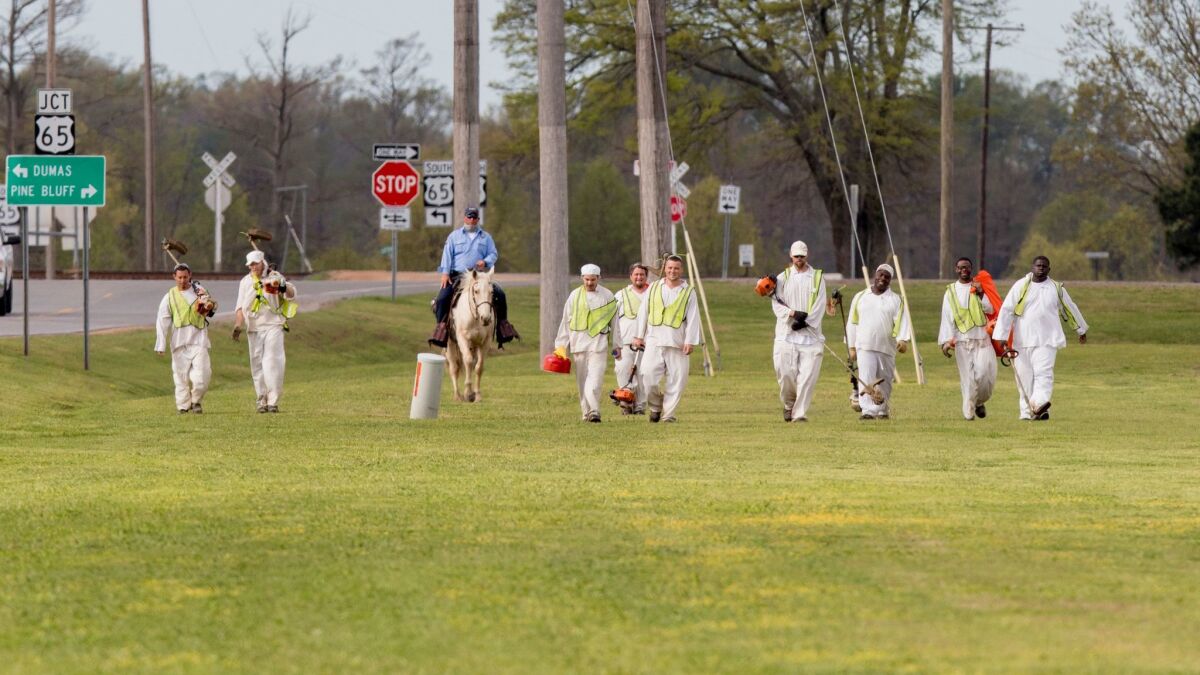 On a recent muggy afternoon, Mayor Essie Mae Cableton sat behind her desk at City Hall, a tiny single-level structure with barred windows and peeling paint that also includes the Police Department, the fire station, a courtroom and a place for people to pay their water bill.
Cableton, 75, worked as a guard for the Department of Correction for nearly two decades — 10 of those years at Cummins, which houses the execution chamber. She recalled walking the prison grounds on the days of past executions. It felt, in some ways, like business as usual.
But this time feels different.
"It's too many at one time," Cableton said. "Now, I'm not saying that they're not some bad individuals. But it's just too many at one time."
This is just a ghastly assembly line of death.
— Rita Sklar, executive director of the ACLU of Arkansas
Death penalty opponents say conducting so many executions in 11 days increases the likelihood of mistakes that could cause needless suffering. They also object to the use of midazolam, which they say has contributed to some botched executions in which inmates took a long time to die. Some states bar the use of midazolam for executions.
Hutchinson and Wendy Kelley, the director of the Arkansas Department of Correction, have not expressed any concerns about possible mishaps during the executions.
That's little comfort to critics.
"This is just a ghastly assembly line of death," said Rita Sklar, executive director of the American Civil Liberties Union of Arkansas. "It does not comport with human decency."
Sklar, along with members from the nonprofit Arkansas Coalition to Abolish the Death Penalty, have held vigils outside the governor's mansion, calling on him to halt the executions.
Last month, nearly two dozen former corrections officers from around the country sent a letter to Hutchinson, urging him to consider the "strain and stress" eight executions will place on corrections staff.
"For those of us who have participated in or overseen executions, we have directly experienced the psychological challenges of the experience and its aftermath," they wrote. "Others of us have witnessed this same strain in our colleagues."
Arkansas law requires that at least six citizens who don't know the victim or the condemned witness each execution, but the state has had trouble finding as many as 48 volunteers.
Last month, Kelley attended a Rotary Club lunch meeting in Little Rock, about 80 miles north of here, and asked a question: Would anyone like to sit in on the executions? No one volunteered. A corrections spokesman said Kelley's efforts to find witnesses are continuing.
Back at the Exxon station, Washington's co-worker, Betty Petty, thought about how she'd answer such a question from Kelley.
"I'd consider it," said Petty, who lived in California for decades but recently returned to Gould to care for her ill mother. "Justice is justice. I think this is justice."
Washington, a lifelong Gould resident whom customers affectionately call "Miss Trish," wondered whether she was serious.
"Would you, for real?" she asked.
"I would consider it," Petty said with a nod. "I would."
Washington, with no response, turned and walked back into the kitchen.
Nationwide, support for the death penalty has steadily declined in recent years from its peak of about 80% support in 1994. A Pew Research Center poll last September found that 49% of Americans favored the death penalty for convicted murderers, while 42% opposed it. (Blacks tend to oppose the death penalty at higher rates than do whites.)
By comparison, a University of Arkansas survey of voters in 2015 found that 71% of Arkansans supported the death penalty, while 19% opposed it.
In Gould, the issue splits some households.
When asked about executions, David Day — a 78-year-old retired serviceman who grew up working on a cotton farm where the Arkansas and Mississippi rivers meet — cited the Old Testament.
"Eye for eye, tooth for tooth," he said. "They can't live in society anymore."
But his wife, Deborah, 63, disagreed: "I could never take a life or want to see someone lose their life. I'm a Christian woman."
The men scheduled to die — a portion of the 34 on death row in Arkansas — are Don Davis, Stacey Johnson, Jack Jones, Ledell Lee, Jason McGehee, Bruce Ward, Kenneth Williams and Marcel Williams.
The story of Kenneth Williams resonates strongly here in Lincoln County in the southeastern part of the state. Shortly after getting sentenced to life inside Cummins Unit for killing a college cheerleader in 1998, Williams managed to escape.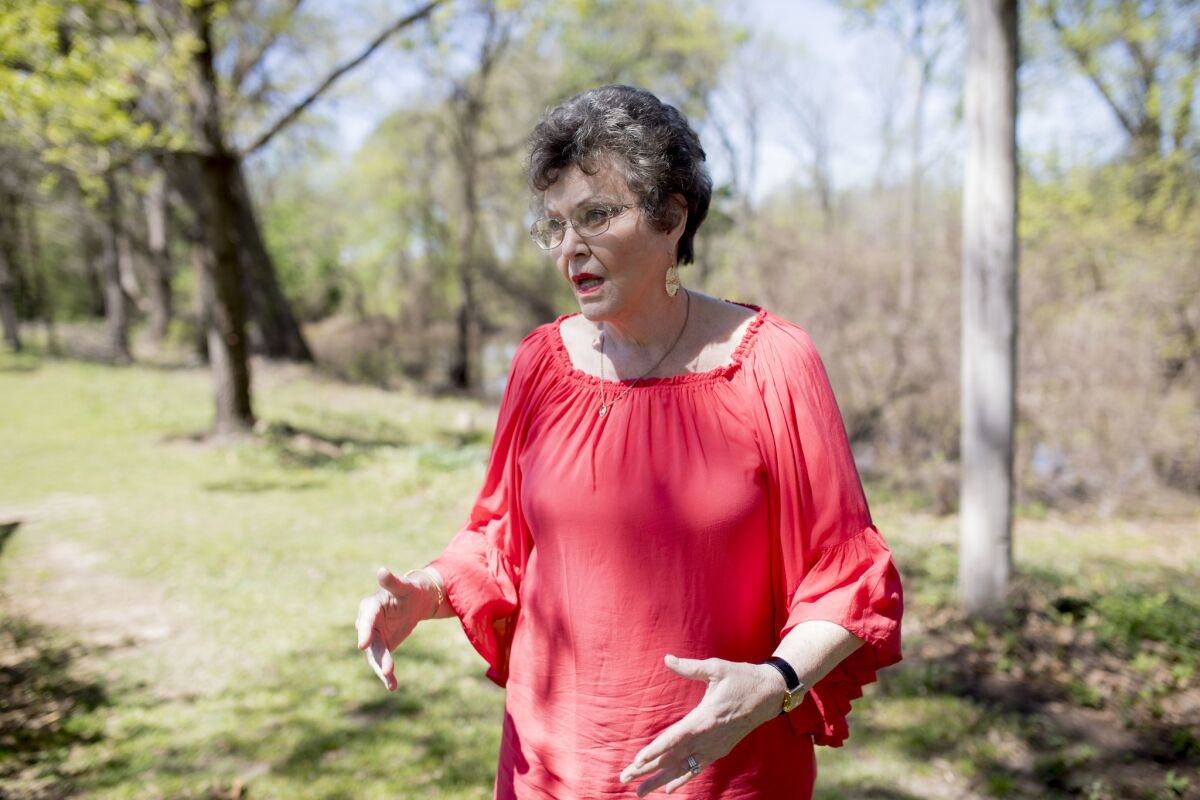 It was a Sunday morning and Cecil Boren was tending his yard on a farm about two miles from Cummins where he and his wife, Genie, lived. She wasn't home when Williams broke in, stole Cecil's guns and shot him to death before driving off down a gravel road in his truck.
Genie, 73, still lives on the farm. On a recent afternoon, she stood in the yard, near the flowering camellia bush where her husband collapsed in a pool of blood nearly 18 years ago. Since then, one of her husband's sisters has died, and now another is in hospice care.
"We've been ready a long time," Genie said. "If this doesn't happen now, who knows, I may be dead without seeing justice."
She plans to attend Williams' execution on April 27.
Twitter: @kurtisalee
ALSO
Border wall painted by Mexican kids will be replaced, but the artist who started it will get to keep a piece
A building boom and climate change create an even hotter, drier Phoenix
Decades-old war over Yucca Mountain nuclear dump resumes under Trump budget plan

Must-read stories from the L.A. Times
Get the day's top news with our Today's Headlines newsletter, sent every weekday morning.
You may occasionally receive promotional content from the Los Angeles Times.