Democrats may lose Hope in Arkansas despite Clinton legacy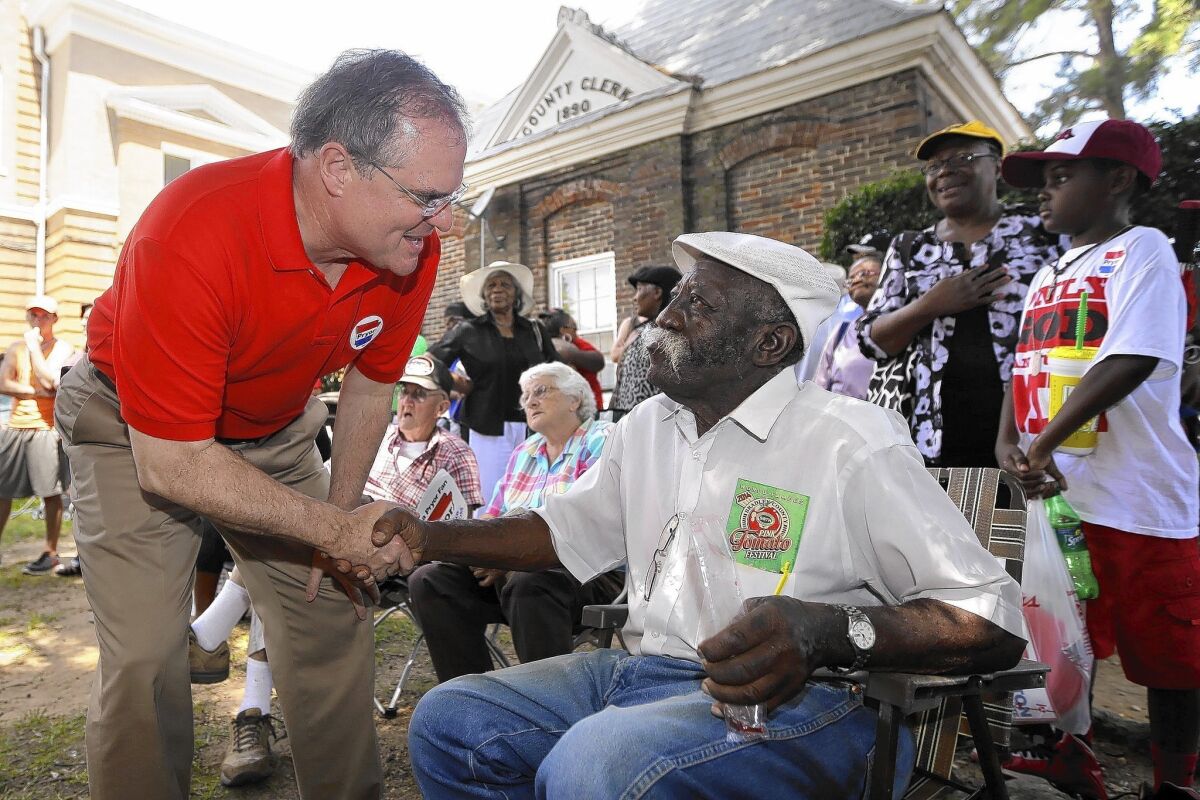 Reporting from HOPE, Ark. —
Much has changed since Bill Clinton grew up in this sleepy Arkansas town.
The former Clinton home is now a well-appointed museum. The old two-lane road in front grew into a bustling artery leading to a Wal-Mart. Across the street sits a taco truck, whose owner, immigrant Elvia Bello, sells her famous tamales to the small but growing Latino population in the once-segregated community.
But perhaps the biggest change of all in a state that once had reliably elected Democrats is the sandwich-board sign on a corner with hand-painted letters announcing: "Tea Party Meeting 4th Thursday 7 p.m."
This busy intersection near the old Clinton homestead reflects a state at a crossroads. Far from the one that gave the nation its 42nd president, Arkansas has caught up with the political shift of its Southern neighbors. Now, even a place called Hope is no longer a Democratic stronghold, but an increasingly Republican one.
A fiery Republican populism is taking hold in many parts of this state, a transformation that by the end of this year could help determine which party controls the U.S. Senate.
The road to a Republican Senate majority cuts directly through Arkansas and other Southern states where Democratic incumbents are struggling to hold on to their seats. Sen. Mary L. Landrieu in Louisiana and Sen. Kay Hagan in North Carolina are facing stiff challenges from Republicans, who need a net gain of six Senate seats to flip the chamber in November.
The Arkansas target is Sen. Mark Pryor, one of a handful of remaining Southern Democrats, remnants of a once-thriving breed of plain-speaking moderates whose ranks began shrinking during the party's embrace of the civil rights movement in the 1960s and have accelerated into near-extinction after six years under President Obama.
The swiftness of the change in Arkansas is demonstrated by Pryor's career. The affable heir to a political dynasty — his father is a popular former governor and senator — was so thoroughly embraced by his state six years ago that he glided to a second term unopposed by the GOP, winning 80% of the vote.
Since then, Republicans have claimed the statehouse, the House delegation and the second Senate seat and are seizing on this year's race as a high-profile display of their ascendancy.
"Everybody on both sides recognizes this is a huge cycle that locks in a new normal," said Jay Barth, a politics professor at Hendrix College.
"Is that new normal ongoing, competitive two-party competition?" he said. "Or is the new normal a state that looks more like a Mississippi, an Alabama or a Tennessee that's gone so emphatically Republican? It's one of those elections where a path is going to be taken. It's just unclear what path it is."
Pryor is struggling to fend off tea party freshman Rep. Tom Cotton, who represents the southwestern corner of the state, including Hope.
"We're going to fight hard and fight for every vote," said Pryor on a recent Saturday afternoon after tossing candy from the back of a pickup in the picturesque Magnolia Blossom Festival Parade, just outside Hope. "All I can do is run a good race, remind people what I've done for the state. It's up to them. It depends on what kind of senator they want."
The choice for Arkansans could not be more stark. Cotton, a generation younger than Pryor, appeals to the rightward shift with a military background, conservative views on social issues and an opposition to most new spending — even spurning a farm bill that has provided essential government assistance to rural communities in Arkansas.
Here in Hope, the slogans voters hear the most in television and radio ads are negative, with each candidate vilifying the other. Campaigns and outside groups have spent more than $15 million on the race.
John Caldwell, whose Tailgater Burger Co. restaurant seems to be single-handedly trying to revive a forgotten downtown, is part of the swing to the right, having voted for Pryor in 2008 but is undecided whether he will do the same in November.
"My dad always preached to me, 'You go with the Democrats, you can't go wrong.' I don't know if he'd preach that anymore," said Caldwell, a Hope native who says he has grown weary of government intervention and "too much giveaway."
Other Southern states began turning away from Democrats during the civil rights era and then helped fuel the rise of President Reagan, but Arkansas voters were more reluctant to abandon the party and often wavered from race to race.
Not surprising, the Clinton legacy weighs heavily here — from the Bill and Hillary Clinton National Airport that greets arrivals in Little Rock to the run-down mini-mall almost two hours away whose sign declares its location "in a little place called Hope," an echo of a favorite Bill Clinton line in his 1992 race.
Hazel Simpson, the 72-year-old president of the county's Democratic Women group, can still remember the rush of the Clinton years, registering people to vote for their native son for president.
"People were excited," said Simpson, who grew up when the city was segregated. "African Americans and middle-class whites, everyone was ready for a change."
By the time Pryor sought his second term in 2008, the shift was well underway. But Pryor's family name and conservative streak — he bucked his party and voted last year against expanding background checks for gun purchases — let him sail to office.
That year, Obama failed to carry the state, losing by a larger margin than John F. Kerry, the 2004 Democratic nominee.
Then Republicans took off. In 2010, voters ousted Democratic Sen. Blanche Lincoln by a whopping margin after opponents attacked her support for the president's Affordable Care Act. Two years later, voters elected only Republicans in the four-member House delegation. And for the first time since Reconstruction, the statehouse flipped from Democratic control to a GOP majority.
"If Republicans win in Arkansas in 2014, which I believe we will, it will cripple the Democratic Party here for more than a generation," said David Ray, campaign spokesman for Cotton.
Strategists, academics and voters largely agree on the tipping point: Obama.
"The vehement, really pretty deep dislike and distrust of the president among white Arkansans, especially white rural Arkansans, it's fair to say, is pretty intense," professor Barth said. "There's the sense, here's this guy, urbane, in a state that's pretty rural. They're very conscious of race. Then you add the questions about his religious tradition, in a state where religion is front and center, and the sense that he's just not one of us."
Though Obama is Christian, he has long battled opponents who incorrectly claim he is Muslim.
Republican strategist Bill Vickery calls Obama, alternately, "Darth Vader" and the "bubonic plague of the Democratic Party in Arkansas."
"There is a serious anti-Obama sentiment, and he is far and away the engine that is destroying the Democratic Party in Arkansas," said Vickery, a radio talk show host. "My lefty friends all like to point to race as an issue, and I'm not going to deny that. There is a percentage of it that is race."
Polls show the election remains a tossup, giving Democrats hope that Pryor will hang on. And a presidential run by Hillary Rodham Clinton could put Arkansas back into play for Democrats.
The path to Democratic victory in Arkansas, as in so many Southern states, lies in holding on to white voters with an appeal to pocketbook concerns while broadening enthusiasm among African Americans and Latino voters. That explains why Pryor is warning seniors about Cotton's votes to change Medicare and Social Security and is supporting a ballot measure in Arkansas to increase the minimum wage.
Where Obama is concerned, Pryor has maintained some distance while trying to win over Obama's supporters in the state's small but fast-growing minority communities. Pryor was quick to criticize the administration for its proposed regulations on greenhouse gas emissions, but recently stood alongside Obama as the president promised disaster aid after this spring's devastating tornadoes.
"This is a sort of make or break year for Democrats in Arkansas," said Lizzy Price, a spokeswoman for the state party. "We're putting everything into it."
Must-read stories from the L.A. Times
Get the day's top news with our Today's Headlines newsletter, sent every weekday morning.
You may occasionally receive promotional content from the Los Angeles Times.