In Arkansas, a furor over the 'Babe Bracket' rating female TV journalists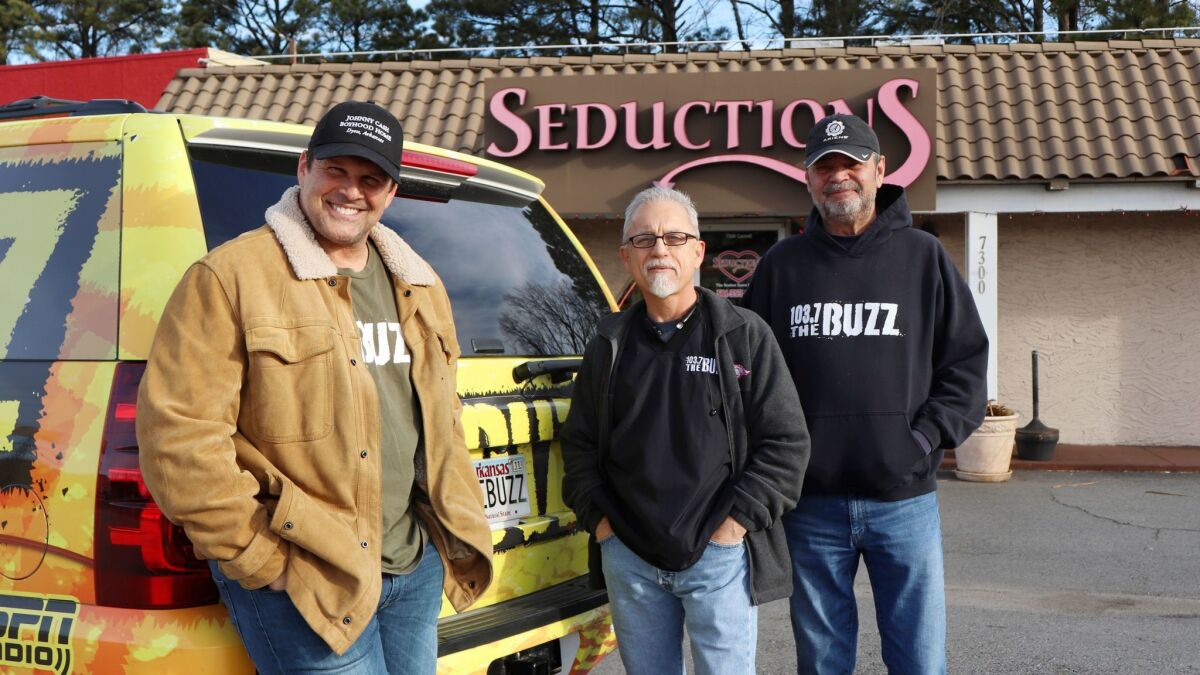 In hindsight, Austin Kellerman wished he'd thought more about going on a sports talk radio show to promote a journalist at his Arkansas station.
For the past 12 years, a Little Rock sports talk radio station, 103.7 The Buzz, has promoted its "Babe Bracket," a March Madness-style tournament to rank local female television journalists. Kellerman agreed to go on "The Show With No Name," which hosts the bracket, two years ago to tout the accomplishments of one of his reporters.
But afterward, he felt gross.
Kellerman, news director at NBC affiliate KARK and at Fox 16, respected the journalist's work, but felt that a Babe Bracket was, at best, a disingenuous way to show that. The bracket's creators say it's not a contest about good looks but rather a forum for female journalists to highlight their accomplishments, the stories they're working on and charities they support.
But last Thursday, Kellerman published a piece on his blog with the headline, "Opinion: It's time to end the Babe Bracket."
And then, the internet — at least in Little Rock — exploded. The Babe Bracket was such a discussion point that the Little Rock Zoo even created its own "Babe Bracket," this time with baby animals. (Currently, it's a showdown between Melvin, a zebra foal, and Shelly, a penguin chick.)
Around town and online, Kellerman was peppered with opinions. He went on "The Show With No Name" to defend his position. Thus far, the Buzz appears to be standing by its decision to host the Babe Bracket — which is sponsored this year by Seductions Lingerie, a lingerie and adult toy store that dubs itself "the sexiest store in town" — but the station's management is discussing how it could update the contest to address some of the concerns of female journalists.
"The Show With No Name" started its Babe Bracket in 2005. The country was more than a decade away from the #MeToo movement or Time's Up, a recent campaign to address systemic inequality and injustice in the workplace. Harvey Weinstein was still welcome in Hollywood, and Twitter wasn't a #thing.
David Bazzel, on-air co-host of "The Show With No Name," said to compare the Babe Bracket to what's happening nationally is an apples-to-oranges comparison and "completely inappropriate." Bazzel, a former University of Arkansas Razorbacks football player, said even though the Buzz is a sports talk radio station, on their show, they've discussed #MeToo and how women should be treated.
Sexual harassment is "horrible in any place," Bazzel said, "but we don't think what we're doing with this contest is anything in the same universe. The way we see these local broadcasters is not anything but positive."
For the bracket, Bazzel selects a few broadcasters from each station in the Little Rock market, and then listeners call in and vote for their favorites. The bracket features not only a lingerie sponsor but also an image of a sultry, curvy woman — which Bazzel said was the choice of the radio station's sales department, not any of the hosts.
Bazzel did not disagree that the name of the contest, namely the "babe" part, could be problematic, and that some people will assume the bracket is all about appearance.
"You could make the argument that that word is antiquated for what the contest is, but if you would dig beneath the surface one inch, you would see the contest is not that way," Bazzel said.
There is no male Babe Bracket, which Bazzel says they've tried in the past, but — for some reason — their listeners weren't interested. Hmmm.
Jenny Dial Creech, president of the Assn. for Women in Sports Media, said for many female sports journalists, they're often the only women in the room — both in the newsroom and at the stadium.
In her 13 years at the Houston Chronicle, the sports columnist has earned the respect of readers, athletes and coaches but she still receives the occasional backhanded compliment, like, "Wow, you really know a lot about basketball."
Dial Creech said she doesn't know of many sports talk radio stations that have female hosts — of the Buzz's four shows it advertises, all hosts are men — which leaves the majority to make decisions for the minority.
"I don't know anything about this station in Arkansas, but I'm going to guess they didn't have a woman in the room when they were discussing this," Dial Creech said. "And that's why you want to see the advancement of women in sports media."
The reaction from Little Rock journalists to the Babe Bracket kerfuffle has varied.
Laura Monteverdi, a morning anchor for the Little Rock CBS affiliate THV11, said in a Facebook post that the bracket didn't offend her. Last year, Monteverdi was chosen for the bracket, and she went on "The Show With No Name" to talk about why she enjoys being a journalist and morning anchor.
"I wish we had more conversation like this on topics that really matter," Monteverdi wrote. "Let us focus on what is important in this world and not on some silly contest!"
When Victoria Price, a weekend anchor for NBC affiliate KARK, saw the online discussion about the Babe Bracket, she saw a larger issue: people not respecting female broadcast journalists for their talent and hard work. Price responded to the controversy by tweeting a photo of her two regional Emmys. "Will always cherish my trophies from the @1037TheBuzz #BabeBracket.........oh, wait," Price wrote.
Price said the journalists included in the Babe Bracket have a long list of accomplishments, many of whom have been recognized with their own Emmys, she said.
"I don't think the Buzz guys should be vilified but their listeners who implied we're just a bunch of TV bimbos and not real journalists, they're who I really take offense from," Price said.
Donna Terrell, a weekday evening anchor for Fox 16, won the Babe Bracket in 2011, the year her 34-year-old daughter Queah died of colon cancer. Terrell said in hindsight, it feels a bit like a sympathy vote, and not something she'd rave to friends about.
Terrell said there's a positive side to the Babe Bracket — it allows female journalists to talk about their careers and causes they care about on a popular radio station and perhaps reach a new audience. But then there's this question of its purpose. Terrell has worked as an anchor and reporter for years, including in Detroit and Cleveland, but only Little Rock had a Babe Bracket.
"At what point does it end? In which year will it run its course?" Terrell said.
She noted that she works with Kellerman, the guy who wrote it was time for the bracket to end.
"To be completely honest with you, I think the onus is on many of us women," she said. "It was a man, my news director, who brought it up, but it's up to the women. If they want to be a part of it, then they're going to be a part of it, and I think there's fear when you speak out that they have control of the microphones. They can say whatever they want to say about you."
---
Must-read stories from the L.A. Times
Get the day's top news with our Today's Headlines newsletter, sent every weekday morning.
You may occasionally receive promotional content from the Los Angeles Times.