Must Reads: 'Freedom city'? Going beyond 'sanctuary,' Austin, Texas, vows to curtail arrests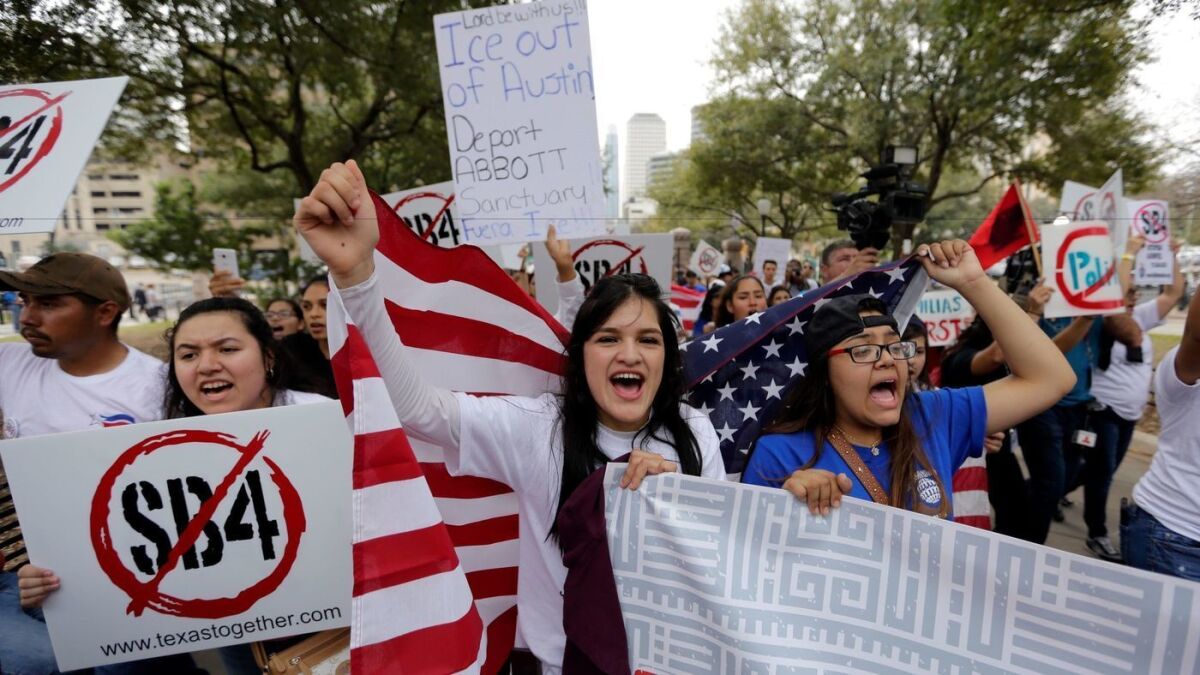 Ever since the Texas legislature last year passed one of the country's most aggressive "anti-sanctuary city" laws, some enclaves have fought officials over the extent to which police can ignore federal immigration law.
The state regulation known as Senate Bill 4 has been described by opponents as the "show your papers" law for allowing officers to ask about the immigration status of anybody arrested or detained.

For the record:
4:30 p.m. June 19, 2018An earlier version of this article said the "freedom city" movement gained support on the City Council in Houston. It should have said Dallas.
Republican Gov. Greg Abbott signed the law in May 2017, and Austin was among the first cities to challenge it in federal court. The law is currently in effect while a case against it proceeds.
The Trump administration, in the midst of legal battles against some states and cities for their sanctuary policies, has cheered Texas even as officers in cities such as Houston and Austin have rarely used the law to ask immigration questions. Some cities have indeed followed a part of the Texas law that calls for police to hold detainees believed to be in the country illegally.
The White House has said dozens of sanctuary cities and counties in the country are breaking federal law for not fully cooperating with immigration authorities and has threatened to withhold public safety grants from them. The Texas governor has shared a similar argument, and echoed Atty. Gen. Jeff Sessions in his belief that sanctuary cities promote crime.
Amid the controversy over sanctuary cities, Austin this month took its fight against strict immigration law enforcement a step further by declaring itself to be the first "freedom city" in Texas. City Council members unanimously passed two resolutions last week that will restrict police attempts to question immigrants about their status and curtail arrests for nonviolent crimes.
One of the new city resolutions requires officers who question immigrants about status to also say that their questions about immigration need not be answered. The other resolution directs police to avoid arrests for misdemeanors, including those for smoking marijuana, having drug paraphernalia, and taking part in petty theft — crimes that city data shows frequently end in arrests of black and Latino residents.
While Austin is among the country's first so-called freedom cities, it's part of a wider movement around decriminalizing low-level offenses and decreasing arrests. According to Local Progress, a national network of progressive city officials, some council members in El Paso and Dallas are also considering "freedom city" proposals.
"Poor people of color in our city are over-punished and over-incarcerated," said Greg Casar, an Austin City Councilman who pushed for the resolutions. "If people are being arrested less, we can also prevent people from being put in the deportation pipeline."
"We found that black and Latino residents comprised 75% of discretionary arrests for driving with licenses invalid in the city even though they are 45% of the population of the city," Casar said. "Black residents are seven times more likely to be arrested for low-level marijuana violations despite having comparable rates of usage of marijuana to white residents."
Casar said the new rules could prevent up to 1,000 low-level arrests each year. Austin police arrest around 30,000 people a year.
Austin's new rules passed Friday after more than 100 residents spoke about them at a City Council meeting. While support was wide, groups differed on the need for the "freedom city" title, and what effect it will have.
Ken Casady, the Austin Police Assn. president, said that although the police union supported reducing arrests, misleading data were cited to garner support for the resolutions.
"We do arrest more blacks and Hispanics but the problem we have is that people do not want to look at the reasons why," said Casady.
He said he thought marijuana usage in public was higher among among black and Latino residents. That, he believed, leads to disproportionate arrests even if overall usage by white residents was comparable.
"We will not tolerate being called racists," Casady said. He added that officers do not regularly ask for immigration information when making arrests or writing tickets. "To us, this is a symbolic move," he said of the freedom city vote.
Nelson Linder, president of the Austin chapter of the National Assn. for the Advancement of Colored People, said the new moniker largely amounted to city branding.
"We appreciate the gesture and the idea," said Linder. "This city has a history of symbolic overtures, but has been inconsistent in providing the kind of leadership that will implement its own resolutions."
"While the vote has been applauded, the Austin NAACP will continue to work toward more meaningful and substantial changes," he said.
The group has focused on combating segregation and gentrification in the city, as well as boosting education and employment for African Americans in the city and Travis County. The region is still also recovering from a series of mail bombings this year that initially seemed to target black and Latino families. In March, a suspect in the bombings blew himself up as he was being chased by police.
Many city activists celebrated the council's decision.
"These policies will protect the constitutional rights of immigrants and make sure that Austin is a safe place to live for everyone regardless of race or immigration status," José Garza, director of the local nonprofit Workers Defense Project, said in a statement.
Grassroots Leadership, an Austin nonprofit that pushed the initiative, said in a statement that the council's move was an "important first step."
"This is a long-term struggle and we are in part one of what is actually a decathlon," said Rebecca Sanchez, a representative of Grassroots Leadership. "We're committed to fighting for a city where we redefine safety for ourselves and not through badges, and where we determine how our communities thrive."
---
Must-read stories from the L.A. Times
Get the day's top news with our Today's Headlines newsletter, sent every weekday morning.
You may occasionally receive promotional content from the Los Angeles Times.