Abortion. Marijuana. Voting rights. A look at ballot measures across the country
Efforts to make voter registration easier. Marijuana legalization. Limits on abortion.
While the focus of Tuesday's midterm election centered on control of Congress, voters nationwide weighed in on an array of ballot proposals. In total, voters in 37 states faced 155 ballot questions.
Here's a look at some that passed.
Voting rights for felons
Florida voters passed Amendment 4, which automatically restores the right to vote for people who complete prison sentences for felony convictions, excluding murder and sexual offenses. As many as 1.5 million people are expected to get back their voting rights.
Florida was one of three states where people convicted of felonies permanently lose the right to vote. In most other states, felons have their voting rights restored after leaving prison or completing periods of parole and probation.
"It's major victory for Florida voters," said Wendy Weiser, a director at the Brennan Center for Justice at New York University School of Law. "There have been millions disenfranchised, and this is historic."
Transgender rights
In Massachusetts, voters passed Question 3, which keeps in place a 2016 law that prohibits discrimination based on gender identity in hotels, restaurants, stores and other public places.
Its passage was heralded as a victory by LGBTQ rights groups and came at a time when legislatures in Texas, Kentucky and several other conservative states have sought to limit the rights of transgender people.
"Winning this popular vote is irrefutable proof that public support for transgender people is growing, and tonight's outcome will provide the necessary momentum to change the landscape on transgender rights everywhere," said Kasey Suffredini, president of strategy at Freedom for All Americans, a group that works to pass laws nationwide that help transgender people.
Jury verdicts
Louisianans voted to amend the state constitution to require juries to return unanimous verdicts for convictions in felony cases. A Jim Crow-era rule that allowed split verdicts was passed in 1880. It was formally entered into the Louisiana Constitution at the state's 1898 constitutional convention, where lawmakers declared a mission to "perpetuate the supremacy of the Anglo-Saxon race in Louisiana."
Abortion
In Alabama, voters passed an amendment to the state constitution recognizing the rights of the unborn. The state must now "recognize and support the sanctity of unborn life and the rights of unborn children, including the right to life." Amendment 2 also mandates that no provisions of the constitution provide a right to an abortion or require funding of abortions.
The amendment is expected to be challenged in court.
Meanwhile, in West Virginia, voters passed a measure that prohibits Medicaid from funding abortions. It also adds a line to the state constitution that says, "Nothing in this constitution secures or protects a right to abortion or requires the funding of abortion."
Department of Health and Human Services data show that Medicaid paid for about 1,500 abortions in 2017 at a cost of $326,000. That was up from 2008, when Medicaid paid for 657 abortions at a cost of $222,000.
Voter registration
As concerns about voter suppression dominated some midterm races, Michigan passed a ballot measure that creates an automatic voter registration system. The measure automatically registers people eligible to vote when they get a driver's license or state ID card, or conduct other business with the state — unless they opt out. A similar measure was on the ballot in Nevada, but its outcome remained unclear late Tuesday.
A total of 13 states and the District of Columbia have automatic voter registration.
In Oregon, which in 2015 became the first state to adopt such a system , a study released last year by the left-leaning Center for American Progress found that law added about 116,000 people to the voting rolls who probably wouldn't have signed up otherwise — and that about 40,000 of those "previously disengaged people" voted in the 2016 election.
Voter ID
North Carolina and Arkansas passed measures that require people to present a photo ID to vote.
Supporters say the measure is an effort to secure elections and limit voter fraud. Opponents argue that ID requirements are aimed at disenfranchising minority voters.
Two years ago, a federal court struck down a 2013 North Carolina law passed by the Republican-controlled Legislature that included voter identification requirements. It's likely the laws passed on Tuesday in North Carolina and Arkansas will face legal challenges.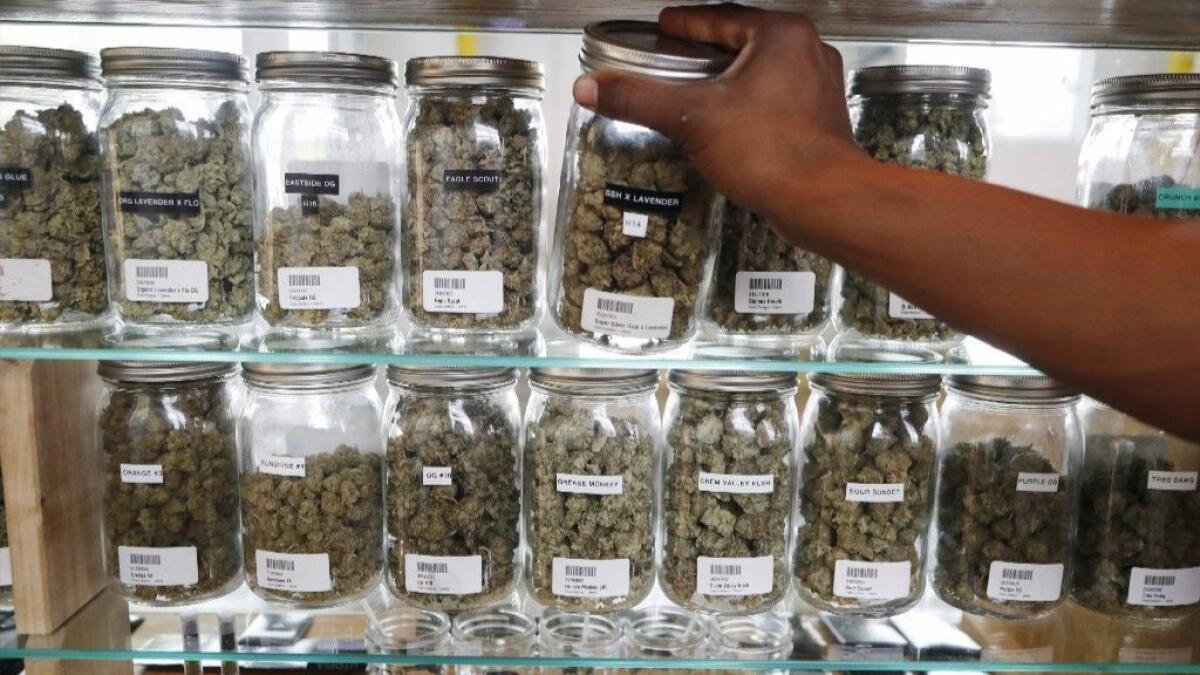 Marijuana
The movement to legalize pot for recreation use began in 2012 and continues to sweep the nation. In Michigan, voters were heavily favoring a measure to legalize the possession and sale of up to an ounce of marijuana for anyone older than 21. The measure also lowers certain past criminal convictions for marijuana to civil infractions.
Currently nine states have passed measures that allow recreational marijuana.
In addition, Utah voters appeared poised to pass a measure that allows the sale of medical marijuana. Proposition 2 faced strong opposition from the Church of Jesus Christ of Latter-day Saints.
Redistricting
Colorado and Michigan passed measures that create so-called independent commissions to oversee redistricting maps. The aim is to create a nonpartisan process when redrawing congressional maps. In most states, lawmakers do it.
The vote on a similar measure in Utah was too close to call late Tuesday.
Gun control
Just one state — Washington — took on gun control. In the wake of numerous mass shootings this year, voters in Washington approved Initiative 1639, which boosts the legal age to buy a semiautomatic rifle from 18 to 21 and requires firearms owners to keep their guns secured at home or face misdemeanor or felony charges.
The National Rifle Assn., along with a handful of other gun-rights groups, spent nearly $1 million to oppose the measure.
---
UPDATES:
11:45 p.m.: This article was updated with a gun control initiative being approved in Washington state.
10:28 p.m.: This article was updated with results on redistricting measures.
This article was originally published at 9:50 p.m.
Sign up for Essential California for the L.A. Times biggest news, features and recommendations in your inbox six days a week.
You may occasionally receive promotional content from the Los Angeles Times.