The latest tale of woe at Wyoming's Cowboy Bar: It's for sale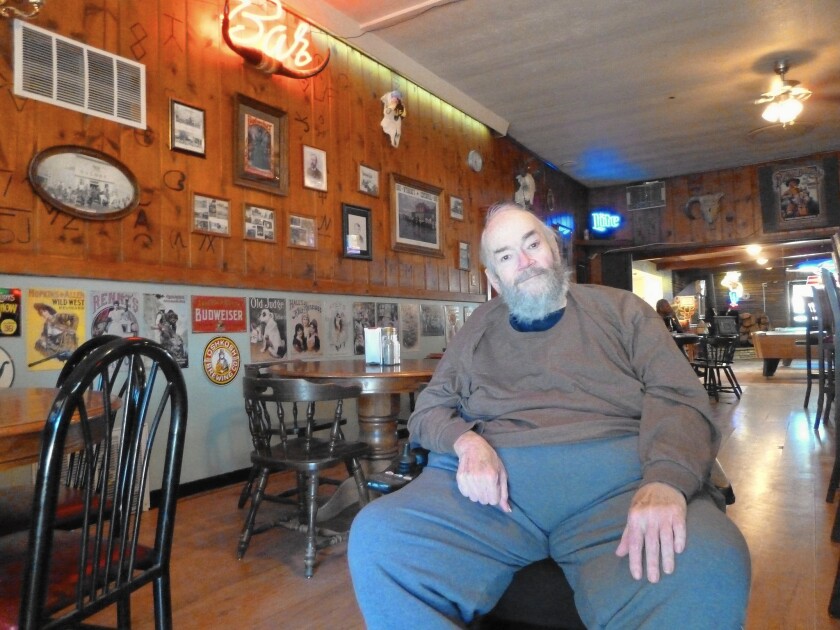 Reporting from MEETEETSE, Wyo —
Perched in his wheelchair, "Big Jim" Blake confidently rolls the wooden floors of his old shoot-'em-up saloon, founded here in 1893. The history of the Cowboy Bar is populated with drifters, outlaws and outliers, and its present proprietor brims with wild yarns and tall tales.
Big Jim truly is a big, big man who once weighed 550 pounds. Still, his large frame is always on the move. Wheeling along the ornate wooden bar shipped here in 1893 from the Chicago World's Fair, he proudly patrols this watering hole where a young Butch Cassidy once downed shots of whiskey before his arrest here for horse rustling.
Big Jim tells the story as he offers a visitor a "drizzle" of Kentucky bourbon.
Like a long line of settlers who hammered out lives in this High Plains outpost, Big Jim fends for himself. For years, he toted a personal arsenal that included a .45-caliber handgun on one side of his wheelchair, a sawed-off shotgun on the other, with a knife and handcuffs stuffed in behind him.
They're precautions the 67-year-old learned as a bodyguard for country singer Marty Robbins and later for Nevada brothel owner Joe Conforte. Patrolling the Mustang Ranch can make a man leery.
"This is big country," Big Jim says of the rolling hills outside his bar. "If the sheriff's upriver, it'll take him two hours to get here."
But lately, Big Jim's tales are tinged with sadness.
Last month, he returned to his beloved bar after a massive heart attack that left him bedridden for more than a year.
During his surgery, he says, doctors found a slug he'd carried in his gut since 1967, when he stepped in front of a bullet intended for Robbins inside a Spokane honky-tonk.
In all, Big Jim says, he's been shot twice, stabbed three times and lost the use of his left eye when hit with a shovel while protecting Robbins in another honky-tonk fracas. Since his heart attack, he's hung up his guns, but he still tells the old stories again and again to waitresses and teetering barflies.
The heart attack moved the Covina, Calif., native to take charge of his failing health. He lost half his weight, dropping to 274 pounds.
Even though he's feeling better, Big Jim and his Cowboy Bar still face a passel of problems.
His surgery racked up mammoth medical bills. Outside the bar, along with a life-size wooden cigar-store cowboy, and a painted ad touting "whiskey and ribs," now hangs a large for-sale sign.
Big Jim worries he'll soon roll outside for the last time as Cowboy Bar owner.
"Hell, no," he says when asked if he wants to sell. "This place is my life."
But his wife, Sharron, is weary of working seven days a week in the kitchen. She wants to sell so the couple can pay their debt and start a new life.
Several possible buyers have contacted Sharron and the couple's daughter-in-law, whose names are now on the deed. "If somebody walks in here with cold hard cash, those two ladies are going to take it," Big Jim frowns. "If I don't agree, I'm going to be very unpopular with the woman I love."
Still, he knows he's not the first character to suffer heartache in this former frontier town of 327 hardy residents in northwest Wyoming.
In its heyday, Meeteetse, named from combined Crow and Shoshone phrases, had seven saloons, 11 brothels, three newspapers and three banks — a stopover point for adventurers headed to the Montana gold fields. Native Americans pronounced it "Meh-teh-say," but locals said "Meh-TEET-see" because they thought it sounded Italian and might attract settlers from the East.
At least that's how Big Jim tells it.
The Cowboy Bar long attracted a rowdy clientele of law-dodgers, varmints and vagabonds. Big Jim passed through here in the late 1960s while on tour with Robbins and his band. In 1992, he landed here again. Bored with L.A., he had hit the road, revisiting his old haunts with Robbins, and ended up standing outside the Cowboy Bar.
Spying a for-sale sign out front, he offered to buy the place — without even knowing the asking price of $80,000. Next door, he later opened the Outlaw Parlor Cafe at the site of an old livery stable.
Even today, his bar attracts a colorful crowd, their cowboy hats pulled low over their eyes. Like the brothers called Cotton and Cactus, the latter who named his three children Skeeter, Skye and Scobie. One night, a drinker jokes that she wants to file a complaint about the bar.
"The forms are in the second door to the right," he says. "Rolls of little white paper on the wall."
In 2010, Tracy Province, an escaped killer from an Arizona prison, walked in and took a seat among Big Jim and his boys.
"I have a tendency of being a windbag. If you sit at a table with me, I do most of the talking," Big Jim says. "He was all over the news. I looked at the TV and looked at him, but I never put the two together."
For two days, before Province was recognized while mowing the lawn at the Baptist church, the fugitive asked Big Jim for stories about old-time outlaws and once inquired whether Cowboy Bar customers were armed. "This is Wyoming — of course they're armed," Jim responded. "They probably got two guns, not just one."
On a recent day, another runaway killer was arrested just a few miles from here. Big Jim raises his big hands into the air in bewilderment: Meeteetse just attracts that breed of men.
Big Jim is also a writer and has chronicled the region in 28 books. He opens one of his books and reads his fictional account of real Meeteetse resident, Grasshopper Bill Stark: The old man takes a melancholy draw of whiskey, shoots out the streetlight with his .45 and sits dreaming of an old flame, still smelling her hair, before passing away in the darkness of his hotel room.
It's a fitting tale of a man who went out on his own terms. When he's done reading, Big Jim's voice is choked and his eyes are wet.
Twitter: @jglionna
---
Must-read stories from the L.A. Times
Get the day's top news with our Today's Headlines newsletter, sent every weekday morning.
You may occasionally receive promotional content from the Los Angeles Times.