'I wanted to hit him': Model Janice Dickinson tells jury Cosby raped her in 1982
Reporting from Norristown, Pa. —
Model Janice Dickinson told a jury Thursday that Bill Cosby raped her in 1982 after giving her a pill he claimed would ease her menstrual cramps but instead left her immobilized and unable to stop an assault she called "gross."
Dickinson, the fourth accuser to take the witness stand at Cosby's sex assault retrial, told jurors she was "rendered motionless" by the pill as Cosby got on top of her in his Lake Tahoe hotel room. She said he smelled of cigars and espresso.
"I didn't consent to this. Here was 'America's Dad,' on top of me. A married man, father of five kids, on top of me," Dickinson said. "I was thinking how wrong it was. How very wrong it was."
Dickinson, 27 at the time, testified she felt vaginal pain and, after waking up the next morning, noticed semen between her legs. She said Cosby looked at her "like I was crazy" when she confronted him about what had happened.
"I wanted to hit him. I wanted to punch him in the face," she said.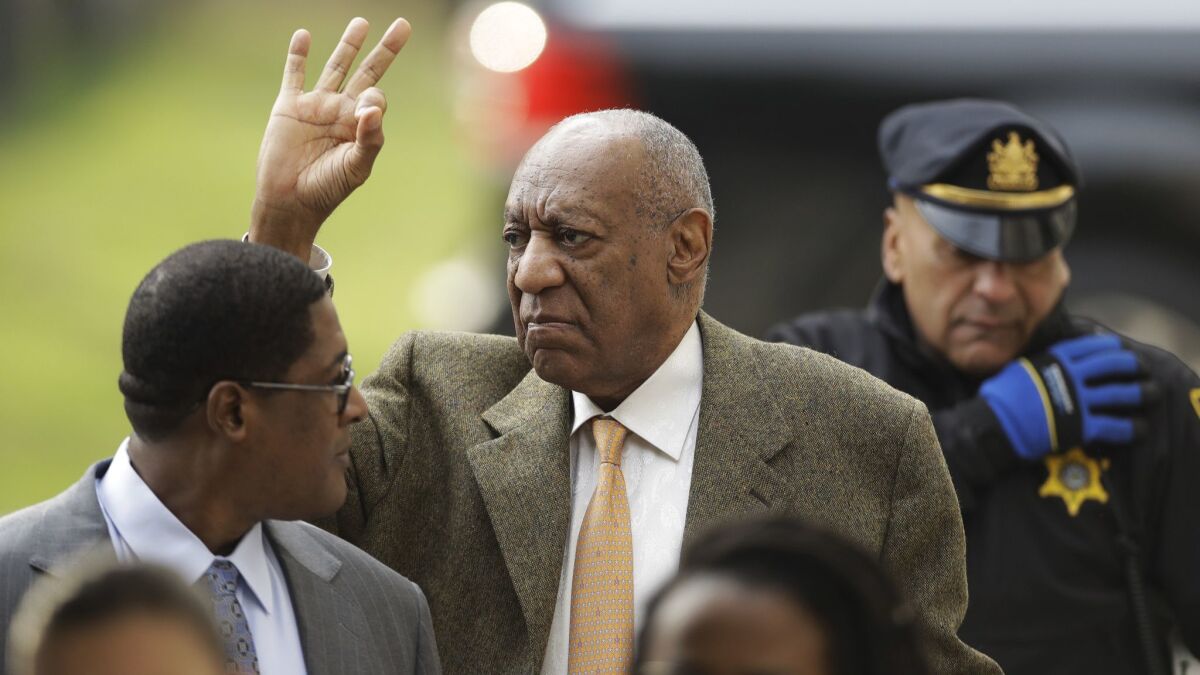 Dickinson, the former model and TV personality who has called herself the "world's first supermodel," became one of the first women to go public with her allegations against Cosby when she told her story on "Entertainment Tonight" in 2014.
During cross-examination, a defense attorney seized on discrepancies between Dickinson's testimony and what she wrote about their encounter in her 2002 autobiography.
She told jurors she wanted to include details about the assault in the book, but Cosby and his lawyers pressured her to tell a highly sanitized version in which there was no sex at all, let alone a rape.
Dickinson said she went along because she needed the money — and feared Cosby would ruin her career.
"It's all a fabrication there. It was written by ghostwriters. I wanted a paycheck," she said.
Dickinson is one of five additional accusers whom prosecutors are calling to the stand to show Cosby had a history of drugging and assaulting women long before he was charged with sexually molesting Andrea Constand at his suburban Philadelphia home in 2004.
The 80-year-old comedian says his encounter with Constand was consensual. His first trial ended in a hung jury.
The defense has dismissed the other women's testimony as "prosecution by distraction."
"These women proved that they were here to back up their sister — they got their sister's back," Cosby spokesman Andrew Wyatt said outside court Thursday.
On the stand, Dickinson said she got to know Cosby after he called her agent and said he wanted to meet and possibly mentor her as she looked to expand her career into singing and acting. The first accuser to testify, Heidi Thomas, said she met Cosby the same way.
Dickinson said Cosby invited her to Lake Tahoe after an initial meeting at his New York City townhouse, where he had given her an acting manual. Cosby tracked her down to Bali, where she was modeling for an oil company calendar, and asked her to Lake Tahoe "to further talk about my career."
In Tahoe, she tested out her vocal range with Cosby's musical director, watched Cosby perform and then joined the two men for dinner at the hotel. She said that's where she started to get cramps, and that's when Cosby produced a little blue pill. She took it and soon became woozy and "slightly out of it."
Cosby's musical director left, Dickinson said, and Cosby told her: "We'll continue this conversation upstairs."
Dickinson had a Polaroid camera with her, she said, and snapped photos of Cosby in the room wearing a colorful robe and talking on the telephone.
"Shortly after I took the pictures and he finished the conversation, he got on top of me," Dickinson said. "His robe opened up .... I couldn't move.
"I didn't fly to Tahoe to have sex with Mr. Cosby," she said.
Before her testimony, Cosby's lawyers sought to raise doubts about the allegations of another accuser who testified that the comedian knocked her out with pills and raped her during a 1982 encounter in Nevada — the same year of the alleged assault on Dickinson.
Janice Baker-Kinney returned to the witness stand Thursday after punctuating the first two hours of her testimony with a firm declaration: "I was raped." She was a 24-year-old casino bartender in Reno when she says Cosby gave her pills she suspected to be quaaludes and had sex with her.
During cross-examination, Cosby lawyer Tom Mesereau suggested that Baker-Kinney was motivated to distort the facts of a fun evening when she heard about a possible $100-million windfall from Cosby. She came forward in April 2015, a few months after lawyer Gloria Allred proposed that Cosby set aside a chunk of his fortune to compensate accusers. Cosby refused.
Baker-Kinney told the jury she was motivated to testify by a desire to help other accusers, and that she has relied on Allred only as a media advisor and point of contact "to make sure I didn't get tripped up." She said she's never paid Allred, hasn't been paid by the lawyer and hasn't been involved in litigation against Cosby.
Dickinson, Baker-Kinney and the other two accusers who have testified so far told jurors they wound up unconscious from pills or alcohol Cosby gave them.
Prosecutors hope their testimony will help bolster Constand, the former women's basketball administrator at Cosby's alma mater, Temple University in Philadelphia. Constand, who will take the stand later in the trial, alleges Cosby gave her pills and molested her. The defense says she set him up to score a big payday. Cosby settled her civil suit for $3.4 million.
The Associated Press and the Los Angeles Times do not typically identify people who say they are victims of sexual assault unless they grant permission, which Constand and the other women have done.
---
UPDATES:
2:10 p.m.: This article was updated with testimony from Janice Dickinson.
This article was originally published at 9:45 p.m.
---
Must-read stories from the L.A. Times
Get the day's top news with our Today's Headlines newsletter, sent every weekday morning.
You may occasionally receive promotional content from the Los Angeles Times.