Why the term 'Black Lives Matter' can be so confusing
When activists with the group Black Lives Matter disrupted a community meeting with Los Angeles Mayor Eric Garcetti in South L.A. on Monday night, it was a reminder that the movement for racial equality that emerged across the nation last year has not died down.
But a lot of people have had trouble figuring out what "Black Lives Matter" actually is — one of the problems with a Twitter hashtag turning into a national phenomenon:
What is Black Lives Matter?
Black Lives Matter is a slogan, it's an organization, it's a movement. But those three don't always overlap.
Protesters who chant "Black lives matter!" might not necessarily be members of the Black Lives Matter Network, a formal activist group with chapters in many U.S. cities.
Further confusing things, many news organizations and commentators often use the term "Black Lives Matter" as the label for the largely leaderless and decentralized protest movement that has erupted across the country over the last two years.
The new movement — or simply "the movement," as many activists call it — has mostly focused on the deaths of black people after encounters with the police, pushing the issue of race and policing into the national debate.
So when you hear the term "Black Lives Matter," the words could be serving as a political rallying cry or referring to the activist organization. Or it could be the fuzzily applied label used to describe a wide range of protests and conversations focused on racial inequality.
How did Black Lives Matter start?
Bay Area activist Alicia Garza and Los Angeles activist Patrisse Cullors originally coined the term in 2013.
After a Florida jury acquitted George Zimmerman of criminal charges for shooting and killing Trayvon Martin, a black, unarmed 17-year-old, Garza posted "a love letter to black folks" on Facebook that ended, "Black people. I love you. I love us. Our lives matter."
Cullors, inspired, turned it into a hashtag, #BlackLivesMatter, and the two women joined with another activist, Opal Tometi, to set up #BlackLivesMatter Twitter and Tumblr accounts, according to California Sunday's profile of the three women.
The phrase "Black Lives Matter" became widely popular after protests erupted in Ferguson, Mo., in August 2014 when a white police officer shot Michael Brown, an unarmed, black 18-year-old. More nationwide protests followed when a grand jury declined to indict a New York police officer accused of placing Eric Garner in an illegal chokehold in Staten Island; Garner, who was unarmed, died after being subdued.
Why did Black Lives Matter go viral?
"It's culturally resonant," said Meredith Clark, an assistant professor at the Mayborn School of Journalism at the University of North Texas who is studying the #BlackLivesMatter hashtag.
"Very quickly you come to understand what it signifies — and that is, black lives have been discounted, they have been overlooked, and it is calling attention to all those problems," Clark told the Los Angeles Times. "As a catchphrase, it's caught on like wildfire."
Social media drives the current movement. There is no single leader, or even a few leaders. Some activists prefer to call the movement "leaderful."
Several activists have accumulated tens of thousands of followers on Twitter — which earns them invitations for media interviews as well as the power to drive attention to local controversies and turn them into national stories.
Some prominent activists not formally tied to a specific organization, like DeRay Mckesson, known on Twitter as @deray, have used their influence on social media to secure meetings with 2016 presidential candidates.
What is the Black Lives Matter Network?
The Black Lives Matter Network is the organization started by Garza, Cullors and Tometi, and it claims chapters in 27 North American cities including Los Angeles, New York, Chicago and Toronto.
"Black Lives Matter is an ideological and political intervention in a world where Black lives are systematically and intentionally targeted for demise," the group says at blacklivesmatter.com. "It is an affirmation of Black folks' contributions to this society, our humanity, and our resilience in the face of deadly oppression."
Although the group says its chapters can limit who participates, it is not exclusive about who can use the term "Black Lives Matter."
"At the Black Lives Matter Network, we aren't concerned with policing who is and who isn't part of the movement," Garza said in a September interview with In These Times. "If someone says they are part of the BLM movement, that's true — if they're working to make sure that Black lives do matter. But we don't control the movement."
What's controversial about "Black Lives Matter"?
According to Clark, one of the unique features of today's movement is its rejection of "respectability politics" — when a minority group presents its members as respectable to win acceptance or concessions from the majority. (Think Civil Rights Movement activists wearing suits and ties in the 1960s.)
As a result, some black Americans have taken exception to the confrontational tactics or harsh tones used by some of the movement's protesters.
When about 50 protesters broke up Los Angeles Mayor Eric Garcetti's community meeting in South L.A. on Monday night, an event organizer, Rev. Kelvin Sauls said he was "very, very disturbed and disappointed in Black Lives Matter for violating the trust and confidence" of the meeting's organizers.
"We certainly understand the rage because of the challenges in South L.A., but amidst that, we do not want to violate our own integrity," Sauls said.
So what about #AllLivesMatter?
As with many hashtag movements, such as #JeSuisCharlie, #BlackLivesMatter can both be a rallying banner and a political fracture point.
Police supporters, for instance, who accuse #BlackLivesMatter of being radical or hateful, sometimes use hashtags like #AllLivesMatter or #BlueLivesMatter.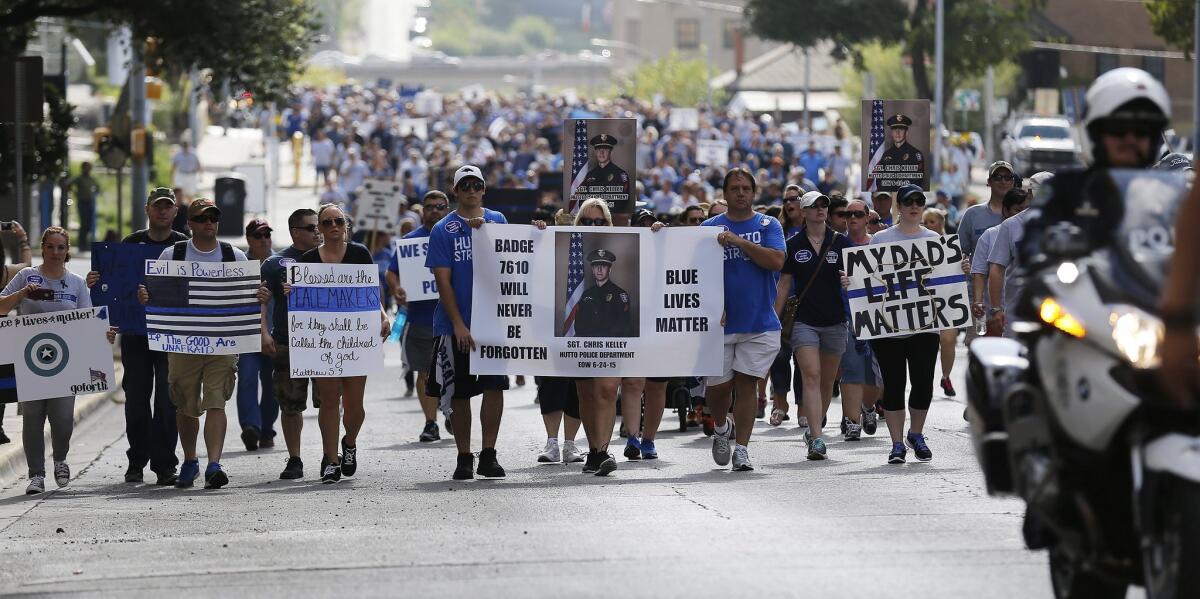 The question "Do black lives matter or do all lives matter?" has even become a litmus test for whether a politician is aligned with today's protesters.
When CNN moderators posed the question to Democratic presidential candidates at a recent debate, Bernie Sanders said, "Black lives matter," as did Martin O'Malley. Hillary Rodham Clinton didn't use the phrase, and Jim Webb, who is dropping out to run as an independent, responded, "Every life in this country matters."
Garcetti showed his awareness of the litmus test during the community meeting Monday night.
"I hate this back-and-forth we hear nationally, where people say black lives matter and politicians say all lives matter," Garcetti told a protester. "Black lives matter in a unique way, and you and I see eye to eye on this. ... If you just try to say all lives matter, you write people out of history. You write slavery out of history. You write oppression and violence out of history. You write racism and lynching out of history. So I get why it is important."
Peter Jamison and Kate Mather contributed to this report.
Follow @MattDPearce for national news
Sign up for Essential California for news, features and recommendations from the L.A. Times and beyond in your inbox six days a week.
You may occasionally receive promotional content from the Los Angeles Times.