Black power in Baltimore: When African American leaders confront racial unrest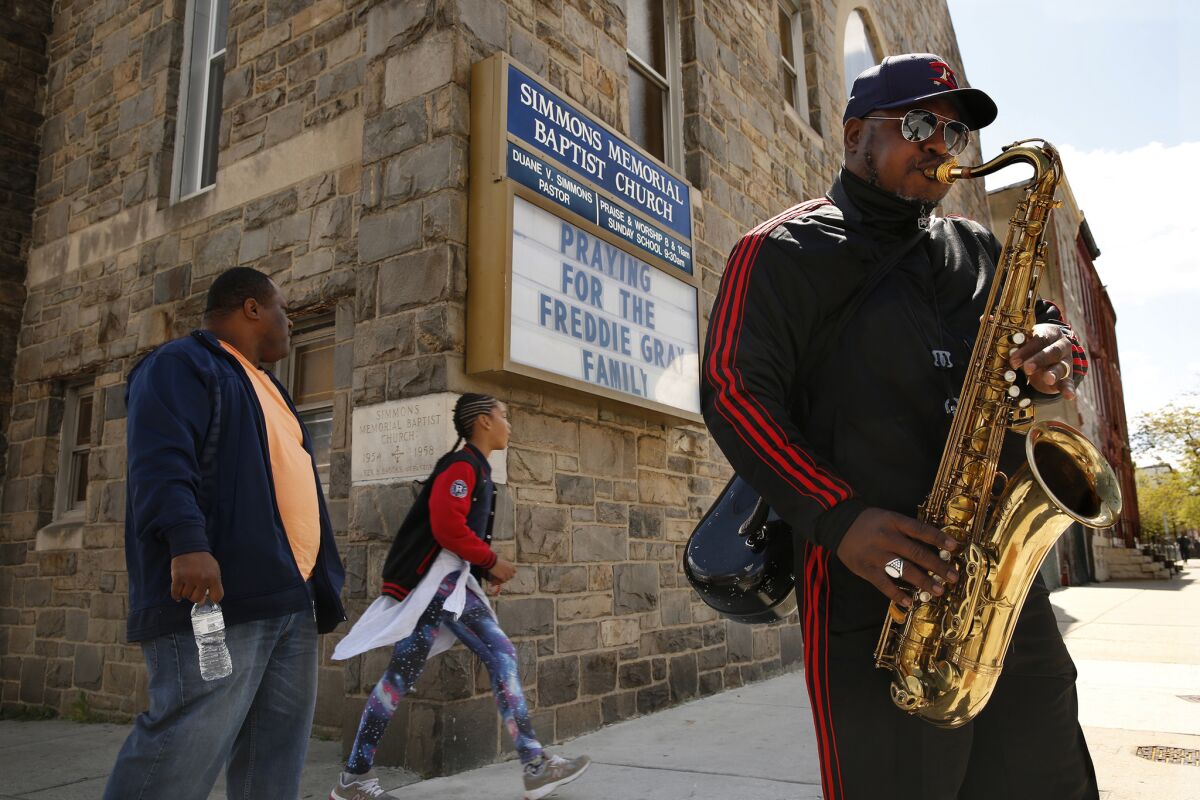 Reporting from Baltimore —
The mayor is black. The council is almost two-thirds black. The school superintendent is black. The police chief is black, and a majority of his officers are black.
Race riots inevitably end in contention over what social woes led to the trigger point, with one overarching element: a white power structure ruling a black populace.
Baltimore left behind that vestige of segregation long ago, yet the city nonetheless has been perched on the edge of chaos for much of this week, as African American protesters took to the streets to express grievances over police abuse and urban neglect.
"We ain't talking about color," said John Baptist Watkins III, 53, sitting on the steps of a boarded-up brick row house on North Avenue, as men nearby peddled drugs — one of the few ways to earn money in this part of town.
Even the city's African American elected officials, Watkins said, "have no clue what is going on in the city."
Five days of protests, at least one of them racked by violence and looting, have created a historic moment in which the black leaders of a large American city convened to put down an eruption of racial unrest.
As police and National Guard troops were lining up to maintain order, Rep. Elijah E. Cummings was walking among the protesters trying calm their anger. "Please go home to your families," the Baltimore Democrat entreated them through a bullhorn. "I'm not asking you. I'm begging you."
Stephanie Rawlings-Blake, a former deputy public defender who has been mayor since 2010, kept a toned-down approach during the early hours of the unrest but came out with a scathing rebuke of the demonstrators who had looted shops, set buildings afire and clashed with police.
"It is idiotic to think that by destroying your city, you're going to make life better for anybody," Rawlings-Blake said at a news conference during the skirmishing Monday night. "Too many people have spent generations building up this city for it to be destroyed by thugs who, in a very senseless way, are trying to tear down what so many have fought for."
President Obama, in the White House, 43 miles down the road, praised the police for showing "extraordinary restraint."
Speaking to radio host Steve Harvey in Los Angeles, he said the city's underlying afflictions would require a sustained effort to alleviate.
"The communities in Baltimore that are having these problems now are no different than the communities in Chicago where I first started working when I moved there as a community organizer," the president said. "So I've seen this movie too many times before."
It was the death earlier this month of Freddie Gray, 25, whose spine was partially severed while in police custody, that triggered the latest unrest against police.
But the poverty and alienation of West Baltimore had already pushed many people to the breaking point.
Parts of Baltimore never recovered from the devastating riots of 1968 that followed the assassination of the Rev. Martin Luther King Jr. Black leaders coming to power in the 1970s and 1980s inherited wasted neighborhoods with low employment, poor education, rampant drug use and high incarceration. City leaders have made little progress in turning around large, impoverished sections of a city in which African Americans make up 64% of the population.
That nicer parts of the city have rebounded — the touristy Inner Harbor — has only heightened a sense among many residents that the civic establishment has abandoned neighborhoods like those around North Avenue.
"Race has nothing to do with it," said Aziza Minor, a 37-year-old black cosmetologist on North Avenue.
She said the violence came "from people who feel they haven't been heard" by leaders of any color.
Rawlings-Blake, a rising figure in the Democratic Party, was initially derided for her response to rising tensions leading up to Gray's funeral over the weekend, when she said Sunday that officials "gave those who wished to destroy space to do that."
Angry crowds overwhelmed police the next day, throwing rocks and bricks and injuring 20 police officers.
The mayor, an attorney with degrees from Oberlin College and the University of Maryland, said later that the statement was not meant as a license to riot.
"There are always going to be armchair quarterbacks that have never sat in my seat that see things different," Rawlings-Blake said. "But this isn't the first emergency that I've had to deal with, and I know you have to put in the work and manage the crisis on the ground."
Rawlings-Blake has tried to ease tensions between police and the black community before. In 2013, she split with white Democratic Gov. Martin O'Malley, her longtime ally, over his calls for a high-arrest, zero-tolerance policy to drive down crime in Baltimore. She said she would not go back to "kids feeling under siege."
But on Tuesday she faced criticism for not addressing the demands coming from those same constituents.
"I think she should have showed her face here today," said Brandon LaPrade, 25, a University of Baltimore student, at Tuesday's protest on North Avenue. "She's called us thugs, but we're not ignorant. We just want what's right for Baltimore. She could have at least come and heard us."
A disembodied female voice came from a loudspeaker. Many assumed it was the mayor's, but she never identified herself.
By Tuesday night, police and National Guard members lined the streets, with military vehicles backing them up, but they avoided physically engaging with the protesters.
They were aided by members of the community, several of whom stood in front of the police and shouted at people to go home to protect themselves and their community. One woman held up a bright yellow sign reading, "Fight another day!" A young man approached Cummings at one point, yelling about police brutality. "I hear you," Cummings said, urging him to nonetheless go home for the night.
Tuesday night's demonstrations were peaceful, and a 10 p.m. curfew was enforced with little confrontation. Whether Baltimore leaders had the rapport with their communities to tamp down their anger, or whether cities are simply learning how to deal more effectively with what have become frequent protests against police, the response in Baltimore was a study in contrasts to the initial police crackdown on rioting in Ferguson, Mo.
There, where a national uproar was unleashed over the shooting death of 18-year-old Michael Brown, the city's white-dominated municipal government and police force drew criticism from civil rights organizations and others for mounting a military-like siege response to the unrest — at least initially.
Baltimore Police Commissioner Anthony Batts, an African American, has generally had a reputation for measured policing in response to potential racial flashpoints.
Before coming to Baltimore, he had served as police chief in Oakland and Long Beach in California, and was praised for reaching out to black residents in both cities. In Oakland, he was credited for the way he handled unrest that stemmed from the shooting death of an unarmed black man, Oscar Grant, by a transit officer.
"I think that we really saw the value of black leadership last night," said Michael Millemann, a University of Maryland law professor, on Wednesday. "To have Elijah Cummings on the streets, to have much of the African American leadership on the streets, has made a very significant difference in how this could have gone — not on Monday, but how they handled yesterday."
But the mistrust of the police in West Baltimore is as deeply rooted as the poverty.
On North Avenue, Watkins said black police officers, more than half the force, are no better than the white cops. "In fact, they're the worst ones," he said.
David Simon, the former Baltimore journalist and creator of the acclaimed TV series "The Wire," came to the same conclusion when he was doing his research on the streets of West Baltimore for his book, "The Corner: A Year in the Life of an Inner-City Neighborhood."
He told the news site the Marshall Project in an interview posted Wednesday: "The guys who would really kick your ass without thinking twice were black officers. If I had to guess and put a name on it, I'd say that at some point, the drug war was as much a function of class and social control as it was of racism. I think the two agendas are inextricably linked, and where one picks up and the other ends is hard to say."
For the law-abiding, Monday's destruction couldn't be undone by success on Tuesday, nor by peace on Wednesday.
"The entire situation could have been handled better," said Earl Johnson, 34, a sustainability commissioner. "The reinforcements should have been sent a long time ago. They allowed those kids to run wild for too long. By the time they got to them, it was too late. The damage is done."
Follow @joemozingo on Twitter
Follow @timphelpsLAT on Twitter
Mozingo reported from Los Angeles and Phelps reported from Baltimore. Staff writers Joseph Tanfani, W.J. Hennigan and Noah Bierman in Baltimore and Lee Romney in San Francisco contributed to this report.
Must-read stories from the L.A. Times
Get the day's top news with our Today's Headlines newsletter, sent every weekday morning.
You may occasionally receive promotional content from the Los Angeles Times.