How the government got BP to pay the biggest environmental penalty in history
Reporting from Washington —
The first order of business when John Cruden took over as the Justice Department's top environmental lawyer was holding BP financially accountable for the 2010 Deepwater Horizon spill that fouled the Gulf of Mexico with millions of barrels of oil.
The best way to do that, Cruden believed, was to settle the costly and contentious legal fight between his department and the oil giant. But the former Green Beret was worried about entering negotiations with a weak hand, particularly after BP had rebuffed a sizable 2013 deal.
So when a court-appointed mediator suggested reaching out to BP to reopen talks, Cruden surprised the respected magistrate judge by demurring.
"They can come to me," he said, smiling confidently.
It was a risky, audacious move -- and it worked. What followed was the largest environmental settlement in the Justice Department's history.
With the $20.8-billion deal formally approved last month by a federal judge in New Orleans, Cruden, other Justice Department officials and independent mediators are discussing for the first time how they nailed down an agreement that could become the model for future environmental disasters.
The settlement is also a professional capstone of sorts for Cruden, a career Justice Department environmental attorney who had overseen some of the division's biggest cases, including the Exxon Valdez oil spill, toxic dumping at Love Canal, N.Y., and a $1-billion interim settlement with BP to fund restoration projects in the Gulf. Cruden had retired from the department in 2011, but was coaxed by the White House to return, and in January 2015, he took over as the assistant attorney general of the environment and natural resources division.
Fortunately for Cruden, he returned just as the BP civil lawsuit was about to enter the penalty phase, after which U.S. District Judge Carl Barbier would decide how big a fine to levy on the company. The judge, based in New Orleans, had ruled mostly in the government's favor, including finding that BP had been grossly negligent in the spill.
By April, two months after the conclusion of the trial's penalty phase and three months after Cruden rejected the mediator's invitation to restart talks, the assistant attorney general received an unexpected call from former FBI Director Louis Freeh.
Freeh had been brought into the case as a "special master" to help oversee claims. He told Cruden he had been approached by BP, and they were interested in discussing a settlement.
A BP spokesman declined to comment for this article.
Cruden and his top deputy, Bruce Gelber, met May 1 with BP's chief executive, Bob Dudley, and chief financial officer, Brian Gilvary, at Freeh's law offices in Washington. During an informal session, each side sized up the other.
"It was kind of bit like when you have two young elementary school kids playing in a park and they are parallel playing, not really playing with each other," Cruden said.
Cruden told the executives that the Justice Department would not even reenter negotiations unless the starting point for total damages was a minimum of $10 billion, though he also made it clear there was no way the government would accept that amount.
What Cruden wanted was a sign of good faith that he could take back to the five federal agencies he was representing and the Gulf states suing the oil conglomerate. He knew government lawyers were wary after BP rejected their 2013 offer, which media reports pegged as close to $16 billion.
When BP agreed, negotiations began in earnest. The first session was in New Orleans on May 21, and included Cruden, Gelber, BP's chief financial officer and representatives from several federal agencies and the Gulf states. Cruden, drawing on his experience in the Army, made a point of trying to keep these early meetings small and focused.
A graduate of West Point, Cruden had served as a Green Beret in Vietnam before earning his law degree and becoming an Army attorney. Though 70 and affable, Cruden had a sturdy build that conveyed a military bearing.
"I approached this in a linear military fashion," he said.
Though Cruden said the BP negotiations were similar to others he had overseen, the amount of money at stake was unprecedented. At one point, drawing on current events in Europe, a BP executive turned to Cruden and quipped: "What you just asked me to do would retire the Greek debt."
The explosion April 20, 2010, aboard the Deepwater Horizon rig killed 11 people. The rig was about 50 miles southeast of Venice, La.
(Gerald Herbert / Associated Press)
President Obama on May 2, 2010, visits the Gulf Coast region affected by the BP Deepwater Horizon oil spill.
(Charles Dharapak / Associated Press)
Wildlife workers on Ship Island, Miss., capture a northern gannet that had been partly covered in oil and was unable to fly. More than 900 miles of shoreline were affected, Times research found.
(Rick Loomis / Los Angeles Times)
A boat makes its way along the edge of the oil spill in the Gulf of Mexico near the Chandeleur Islands on May 5, 2010. Oil reached the islands the following day, marking the first time it reached shore.
(Carolyn Cole / Los Angeles Times)
Mark Stebley, who had been fishing off the Chandeleur Islands for 25 years, said he'd never seen anything like this oil spill. "It's not too late," he said in May 2010. "If they would only do something now."
(Carolyn Cole / Los Angeles Times)
A containment device waits in May 2010 to be lowered into the water at the site of the oil rig explosion. The device was meant to cap the well but failed.
(Rick Loomis / Los Angeles Times)
BP America Chairman Lamar McKay, from left, Transocean Lt. Chief Executive Steven Newman and Halliburton's Tim Probert testify in the Senate on May 11, 2010, about the spill.
(Pablo Martinez Monsivais / Associated Press)
Cleanup workers wrestle with oil-soaked booms in May 2010.
(Carolyn Cole / Los Angeles Times)
The oil spill in the Gulf of Mexico continued to spread despite BP's efforts to cap the well. In May 2010, streams of oil float by another oil production platform as the oil heads toward the Louisiana coastline.
(Carolyn Cole / Los Angeles Times)
An oil-soaked bird washed ashore near Grand Isle, La. As of August 2010, more than 3,900 dead birds had been collected.
(Carolyn Cole / Los Angeles Times)
A gull tries to fly on a beach at Grand Isle State Park, La. The bird died overnight.
(Carolyn Cole / Los Angeles Times)
BP Chief Executive Officer Tony Hayward tours the cleanup operations at Port Fourchon beach on May 24, 2010.
(Carolyn Cole / Los Angeles Times)
Cleanup crews work through the night to pick up oil and tar as it lands on the white beaches of Pensacola, Fla., in June 2010.
(Carolyn Cole / Los Angeles Times)
In July 2010, a Coast Guard team ignites oil collected on the surface of the water about 7 miles north of the spill site. Burning was just one of several ways to try to dispose of the oil, which continued to spill into the Gulf of Mexico.
(Carolyn Cole / Los Angeles Times)
An oiled pelican on Grand Terre Island was picked up by rescue workers.
(Carolyn Cole / Los Angeles Times)
Experts recover a Kemp's Ridley sea turtle near the spill site. Times research showed that 516 dead sea turtles were collected as of August 2010.
(Carolyn Cole / Los Angeles Times)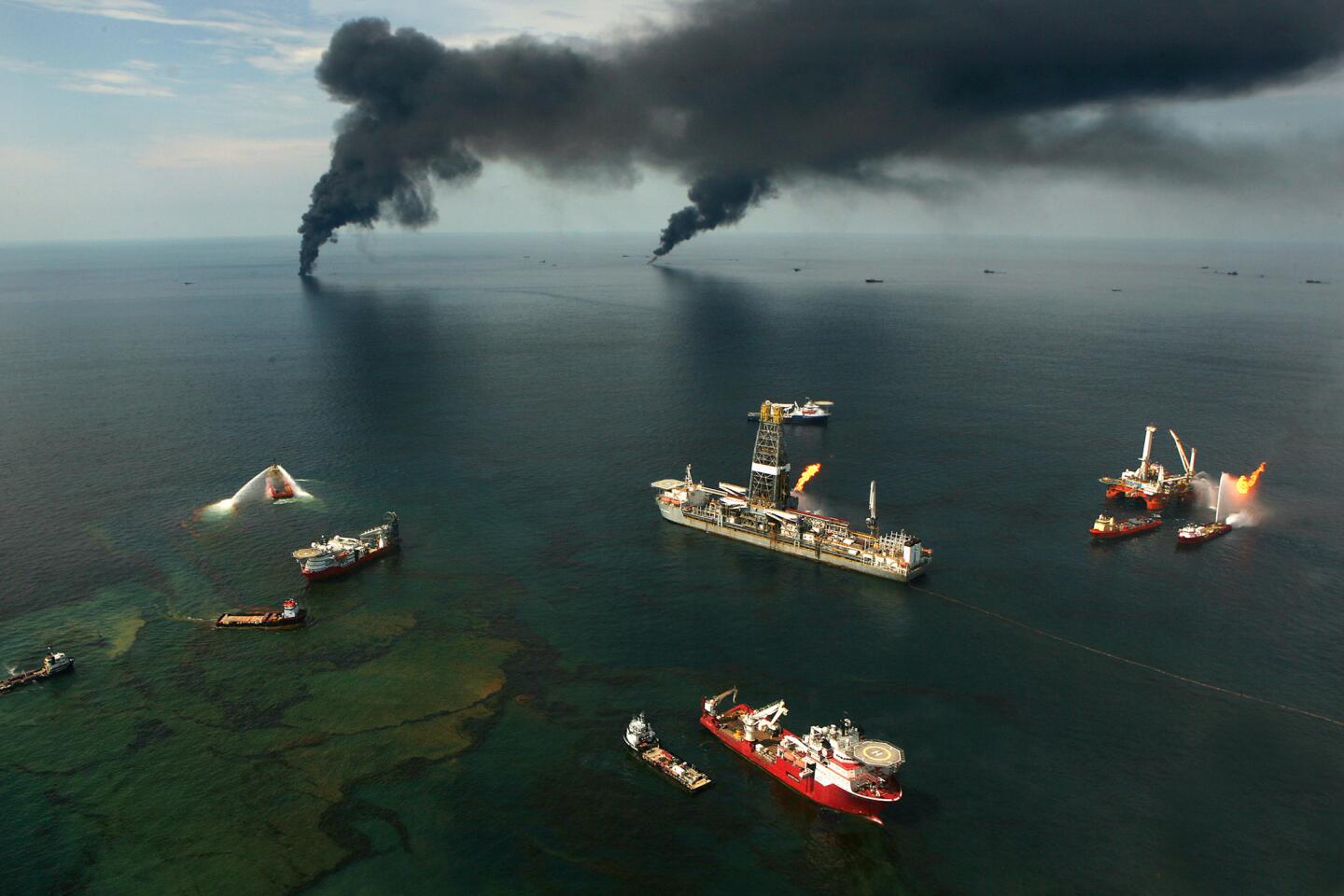 Black smoke rises from pockets of crude being burned in June 2010. Controlled burns removed 11.14 million gallons of oil, The Times found.
(Carolyn Cole / Los Angeles Times)
Boats skim oil and then ignite it on the surface north of the spill site.
(Carolyn Cole / Los Angeles Times)
A green turtle swims in the Gulf of Mexico in October 2010 after being captured months before due to the BP oil spill. Thirty-two sea turtles were returned to federal waters some 50 miles south of Grande Isle, La.
(Carolyn Cole / Los Angeles Times)
"Why is that relevant?" Cruden replied. Though the talks seemed to be progressing, Cruden remained dubious they could reach a deal. First, he said, resolving the civil penalty was only part of the process. The Justice Department and BP also had to agree to what was expected to be a large sum to settle claims resulting from natural resource damages, separate from the civil fine.
The federal government had not yet completed the necessary studies to figure out that amount. "I was pretty comfortable with the penalty figure," Cruden said. "The natural resource damages were another story. What do you ask for when you haven't put on your case?" He decided to ask for what he thought would be the maximum.
Second, BP executives said they would only settle with the Justice Department if it could also reach agreements with hundreds of states, municipalities and local government entities that claimed they had suffered economic losses resulting from the spill. To Cruden, that seemed like a Sisyphean task.
See more of our top stories on Facebook >>
Finally, negotiations were just plain difficult. "We are taking meeting after meeting, day after day, week after week, draft after draft. Nothing was given away by either side, I can assure you of that," said Sally Shushan, the magistrate judge who initially asked Cruden if he wanted to reenter negotiations. "I have the bruises and headaches to prove it."
Then in early June, Judge Barbier cancelled a status conference and said he would only reschedule it after having issued his order on the penalties. Both sides took that to be a sign the judge was getting close to issuing a ruling that would instantly negate the negotiations.
"Time was running out," said Steve O'Rourke, the Justice Department's lead attorney on the civil case.
Talks quickened, became more detailed and creative. BP executives, for example, were concerned about being held liable down the road for unexpected environmental problems. The oil company was aware that the Justice Department had taken steps in 2006 to seek additional funds from ExxonMobil for damage caused by the 1989 oil spill in Alaska's Prince William Sound.
A final compromise was reached: BP would set aside $700 million to be paid in 15 years, with interest, and the government agreed not to seek additional funds in the future.
By late June, Cruden and Gilvary shook hands on the basic outlines: BP would pay a $5.5-billion penalty and $8.1 billion to address natural resource damages. It also agreed to pay other claims, including $4.9 billion to the scores of states, municipalities and local government entities to cover economic losses. Within weeks, the $20.8-billion deal was done.
"This is clearly the biggest case I have ever done, and it's the case I have walked away from and can say, 'In my lifetime, it will make a difference,'" Cruden said.
But Cruden didn't get long to enjoy the achievement. The next week, he received a call from the EPA saying regulators had discovered that Volkswagen had installed software on cars to cheat emissions tests.
Cruden is helping lead the Justice Department's probe. The German automaker has already set aside $18 billion to cover the costs of expected fines and other claims.
Twitter: @DelWilber
MORE BUSINESS NEWS
Why a historic highway that united California's two halves may never reopen to cars

Why more widowed homeowners are struggling to prevent a foreclosure
Florida Gov. Rick Scott wants to use the minimum wage hike to steal California businesses
Sign up for Essential California for news, features and recommendations from the L.A. Times and beyond in your inbox six days a week.
You may occasionally receive promotional content from the Los Angeles Times.