Judge declares mistrial in case of Nevada rancher's standoff with federal government
From left, Ammon Bundy, Ryan Payne, Jeanette Finicum, widow of Robert "LaVoy" Finicum, Ryan Bundy, Angela Bundy, wife of Ryan Bundy and Jamie Bundy, daughter of Ryan Bundy, walk out of a federal courthouse in Las Vegas. Chief U.S. District Judge Gloria Navarro declared a mistrial in the case against Cliven Bundy, his sons Ryan and Ammon Bundy and self-styled Montana militia leader Ryan Payne.
(John Locher / Associated Press)
Ammon Bundy, left, hugs is aunt Lillie Spencer outside of a federal courthouse in Las Vegas after U.S. District Judge Gloria Navarro declared a mistrial in the case against Cliven Bundy, his sons Ryan and Ammon Bundy.
(John Locher / Associated Press)
Rancher Cliven Bundy, 67, looks over the Virgin River on some of his 150 square miles of property in Bunkerville, Nevada on August 20, 2013.
(Genaro Molina / Los Angeles Times)
The Bundy family and their supporters fly the American flag as their cattle is released by the Bureau of Land Management back onto public land outside of Bunkerville, Nev.
(Jason Bean / Associated Press)
Rancher Cliven D. Bundy, 67, is reflected in a mirror that rests on a mantle place in his home in Bunkerville, Nevada.
(Genaro Molina / Los Angeles Times)
Army Veteran Jason Bullock, left, Booda, middle, and "Socks," right, volunteer as a "personal security" guard standing at the entrance to Cliven Bundy's ranch in Bunkerville, Nevada July 30, 2014.
(Francine Orr / Los Angeles Times)
Jerry DeLemus, a 59-year-old self employed construction man from Rochester N.H., has been appointed the commander of a camp where armed supporters of rancher Cliven Bundy live and patrol his ranch and cattle in April 2014.
(John M. Glionna / Los Angeles Times)
Reporting from Las Vegas —
A federal judge declared a mistrial Wednesday in the case involving Cliven Bundy and two of his sons after she found that prosecutors "willfully" failed to turn over evidence related to an armed standoff three years ago.
U.S. District Judge Gloria Navarro pointed to several violations of the Brady rule — which requires prosecutors to disclose evidence that could be favorable to a defendant. She then called in jurors and dismissed them.
"It was not possible to go forward with the case," Navarro told the jurors.
The ruling marked yet another setback for federal prosecutors, who have struggled to obtain convictions against the Bundy family and its supporters. The cases have become a rallying point for those who believe the federal government has overstepped its authority by controlling public lands operated by the U.S. Bureau of Land Management.
A spokeswoman with the U.S. attorney's office said it had no comment on Navarro's decision.
Prosecutors have the opportunity to retry the case, and the judge told both sides to submit briefs by Dec. 29. Navarro told the packed courtroom she would also rule on whether it would be a mistrial with prejudice. That decision would effectively end the possibility of a new trial for Bundy, sons Ammon and Ryan and supporter Ryan Payne.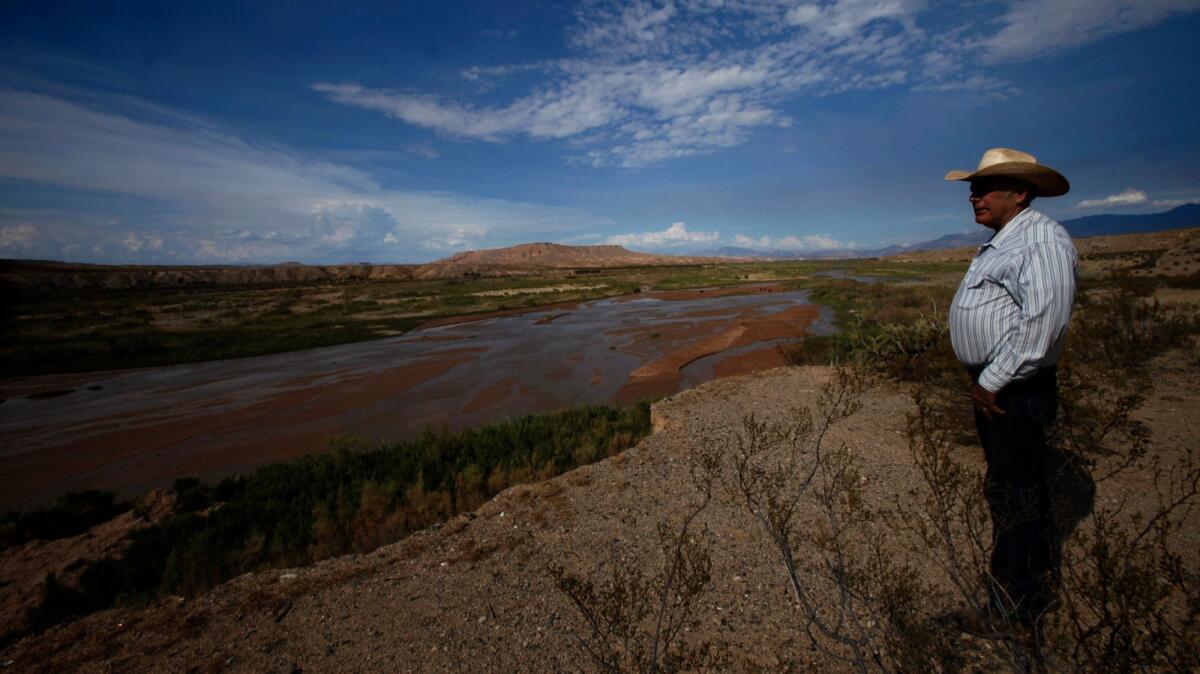 The federal government alleged that Bundy and his two sons escalated tensions after refusing court orders to remove cattle from public lands — ultimately leading to an armed standoff with federal law enforcement officials in April 2014 outside Bunkerville, Nev.
The four defendants were charged with threatening a federal officer, carrying and using a firearm and engaging in conspiracy — all felony counts that could send them to prison for decades.
The government was removing cattle after Cliven Bundy had refused to pay grazing fees to the BLM dating back to the 1990s. The standoff ended after federal authorities backed down, saying they feared for their lives. About 400 Bundy supporters, many with guns, took part in the standoff. The incident briefly forced the closure of a segment of Interstate 15 near Mesquite.
Cliven Bundy, the 71-year-old rancher, sat in the quiet courtroom as Navarro read off instances in which the federal government didn't reveal information in a timely manner that she said would've helped the defense.
Outside the courthouse, Ryan Bundy said that with each reading of a Brady violation, he felt snowballing satisfaction. But he said he doesn't believe the government will give up easily.
"They are kind of determined folks, but I don't think they have a prayer," he said. "They have gone forward and further embarrassed themselves."
Up until Wednesday's decision, the trial had been engaged in fits and starts and, in recent weeks, jurors were rarely in the courtroom as lawyers worked under seal. Jurors had been seated in early November; opening arguments weren't heard until Nov. 14. Defense lawyers claimed early on that evidence had been withheld by the prosecution; that set in motion a series of delays and sealed hearings.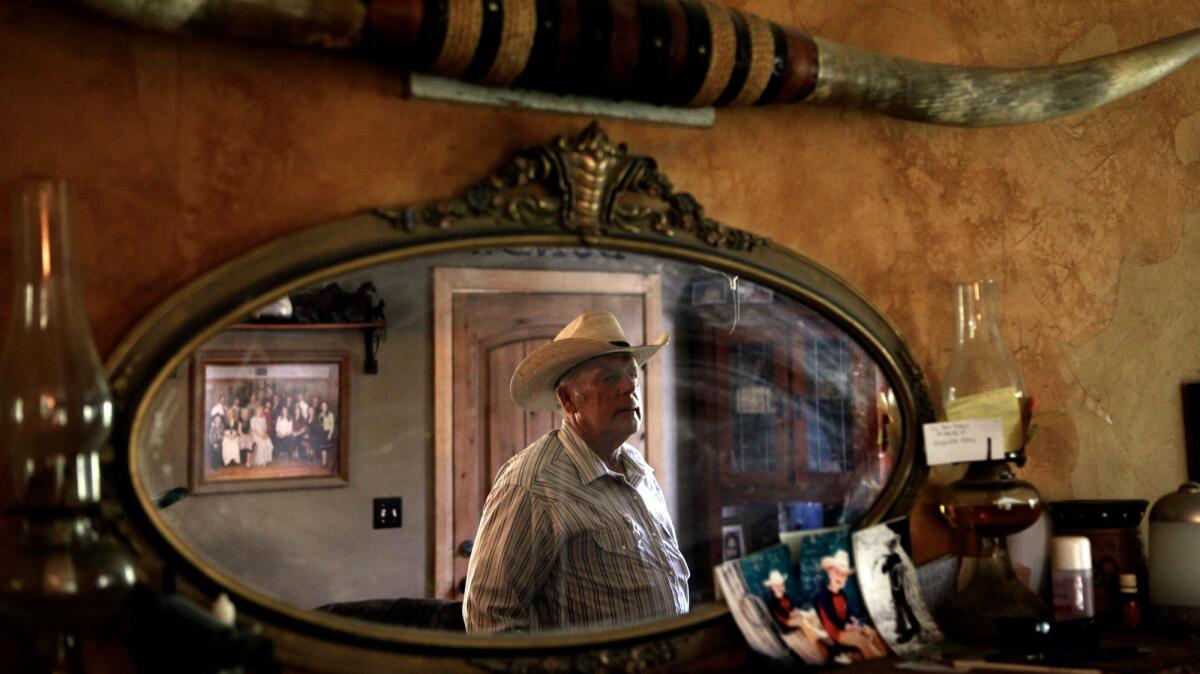 Navarro on Wednesday ticked off several things prosecutors she said were willfully withheld from defense lawyers leading up to the trial, including key documents related to possible snipers outside the Bundy ranch and the existence of a surveillance camera at the ranch.
Ian Bartrum, a constitutional law professor at the University of Nevada Las Vegas, has been following the legal fights involving the Bundys and said Navarro's use of the word "willful" makes a dismissal with prejudice a real possibility.
"I think the government has acted very strangely in this case," Bartrum said. "They could retry, but they've been trying and retrying now for awhile and at some point it becomes a matter of diminishing returns."
If there is another trial, Navarro set a date for Feb. 26.
The case twisted and turned with surprises leading up to Wednesday's mistrial. The government lost its bid to keep the defendants locked up when Navarro granted Cliven Bundy's sons and Payne pre-trial release in late November so they could better prepare their case and be at home with their families. Cliven Bundy has remained jailed at a prison in Pahrump.
After Navarro declared a mistrial, Ryan Bundy asked for his release with a promise to appear in court if a new trial is set, but Navarro told him he would have to make the request through the pretrial office. Morgan Philpot, Ammon Bundy's lawyer, said he would file a request of release with no conditions within the next day.
Bret Whipple, Cliven Bundy's lawyer, said he also would seek an emergency request to have his client released. He said, however, the release would have to be with no conditions.
"He doesn't believe he should be cutting a deal with anyone since he didn't do anything wrong," Whipple said.
The stakes have been high for the federal government, which has struggled to obtain convictions in cases involving the Bundy family and their cohorts.
Twice this year, Las Vegas juries acquitted or deadlocked on multiple felony charges against Bundy supporters.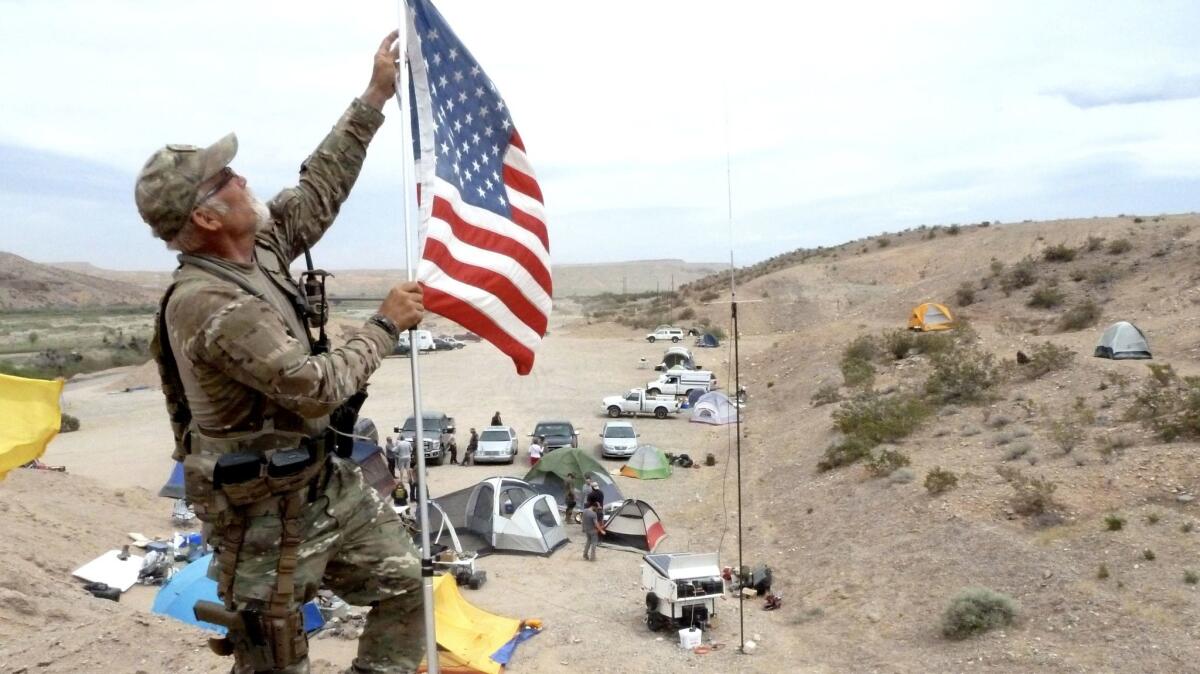 Ammon Bundy, 42, and Ryan Bundy, 44, were acquitted on similar federal felony charges related to their roles in a 41-day standoff at an Oregon wildlife preserve in 2016.
Cliven Bundy is revered among those who believe the federal government abuses its authority, and supporters gathered outside the courthouse most mornings when court was in session. "Today is a great day," one supporter yelled Wednesday.
As Ammon and Ryan Bundy and Payne emerged from the courthouse on Wednesday, supporters applauded.
Carol Bundy, Cliven's wife, said the judge "gave us hope."
Wearing his cowboy hat and surrounded by a crush of cameras and well-wishers, Ammon Bundy said even if the government decided to retry the case, he felt confident.
"I do not believe there is a jury in this country that will convict us," he said. "The truth is on our side."
Twitter: @davemontero
---
UPDATES:
3:40 p.m.: This article was updated with additional details, including the judge announcing she will also rule on whether it would be a mistrial with prejudice, which would effectively end the possibility of a new trial..
This article was originally published at 10:10 a.m.
Sign up for Essential California for news, features and recommendations from the L.A. Times and beyond in your inbox six days a week.
You may occasionally receive promotional content from the Los Angeles Times.