Bush and Clinton highlight sharp contrast in dueling policy speeches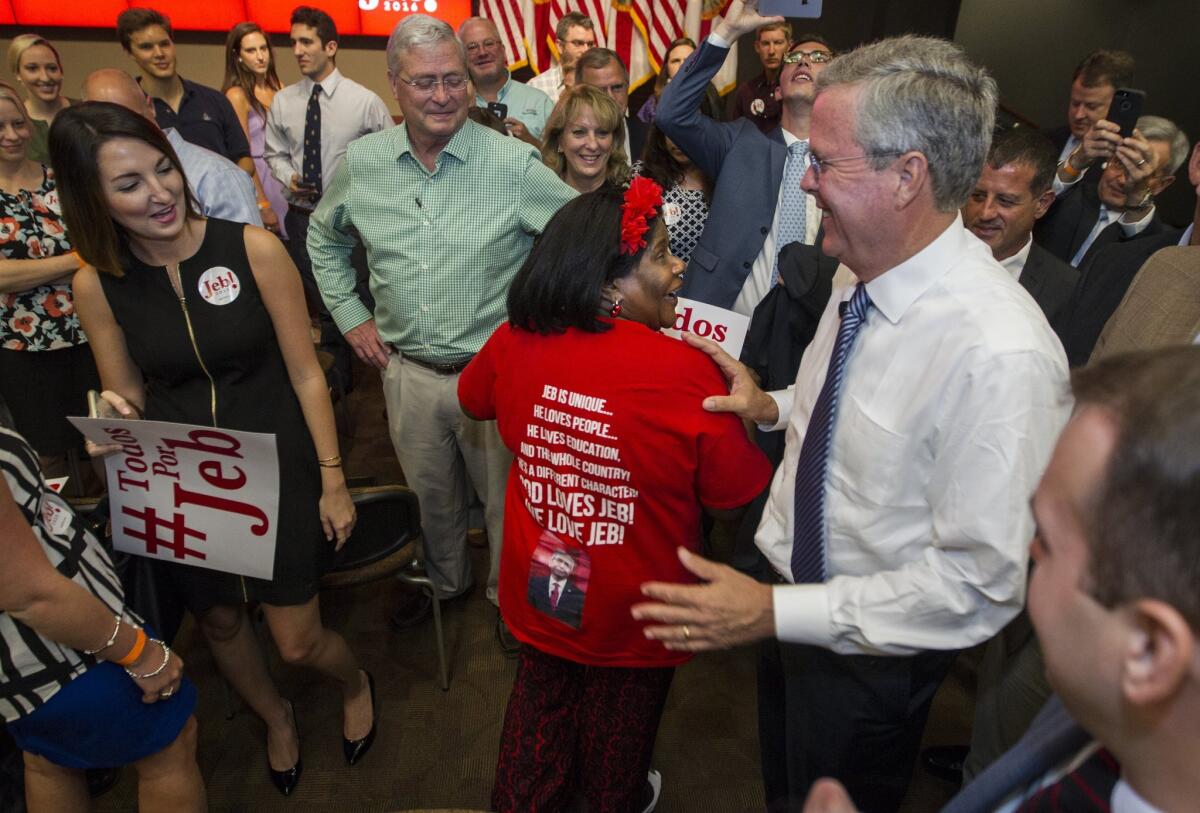 Reporting from Washington —
Jeb Bush pledged to cut government spending by reforming the "culture in our nation's capital" in a speech Monday that hit themes long popular with conservative voters, including a balanced-budget amendment to the Constitution and a freeze in pay for many government workers.
The speech drew a sharp contrast in tone and content with Hillary Rodham Clinton, the Democratic front-runner, who has begun rolling out a series of policy proposals, many of which would involve expanding government's role.
Clinton, in a speech a week ago outlining her economic ideas, called for what she termed a "growth and fairness economy," one in which she would harness the power of the federal government in an effort to "raise incomes for hardworking Americans so they can afford a middle-class life." She criticized "arbitrary growth targets untethered to people's lives and livelihoods," an implicit censure of Bush's pledge that the economy would grow at a rate of 4% under his presidency.
Bush, by contrast, made clear that he sees government as the problem and economic growth as the measure of success.
"We've learned by now that you can have a fast-expanding economy or you can have a fast-expanding government, but you can't have both," he said in his speech in Tallahassee, where he served as Florida's governor for eight years. "You have to choose.
"For anyone who wants to see a federal government even bigger, even farther removed from those it is supposed to serve, the other party will be offering that option," Bush said. "It will not be my intention to preside over the establishment, but in every way I know to disrupt that establishment and make it accountable to the people."
Bush's call to change the nature of Washington seemed designed to reassert his conservative credentials in a GOP primary race in which he faces several candidates to his right. But it also struck a potentially discordant note, given that the government he criticized for its "habitual practice of deficit spending" was headed by his brother President George W. Bush for eight years, and during that time the post President-Clinton federal budget surplus ended and deficit spending returned.
Jeb Bush's pledge to "turn off the automatic switch on discretionary spending increases" also struck an odd note. That category of spending, which covers federal spending governed by annual appropriations bills, has been shrinking as a share of the budget. Bush said that he would propose ideas later for the entitlement programs, such as Social Security and Medicare, that account for most of the long-term growth in federal spending.
Many of Bush's ideas were longtime conservative staples, including the balanced-budget amendment, a line-item veto that would allow a president to strike specific items from spending bills, a 10% reduction in the size of the federal workforce over the first five years of his presidency, and moves to freeze the pay of many government workers and make them easier to fire.
But he included a new idea likely to meet strong resistance from many Republicans and Democrats in Congress: He would push for a six-year ban on any member of Congress becoming a lobbyist.
Under Bush's plan, the definition of "lobbying" would be expanded to cover "the ambiguous class of consultants who lobby but call it something else." His plan, if Congress were to adopt it, would cut off a lucrative path that many senior members from both parties have followed into the private sector.
Bush also proposed cutting off the pay of members of Congress who don't show up for votes. The idea came with an unspoken, but unmistakable, subtext: His rivals for the nomination include four sitting senators who, as a group, have missed dozens of roll calls while out campaigning.
For more on politics and policy, follow @DavidLauter.
Sign up for Essential California for the L.A. Times biggest news, features and recommendations in your inbox six days a week.
You may occasionally receive promotional content from the Los Angeles Times.