Must Reads: There was no time to grieve at the Capital, where journalists kept reporting after their colleagues were killed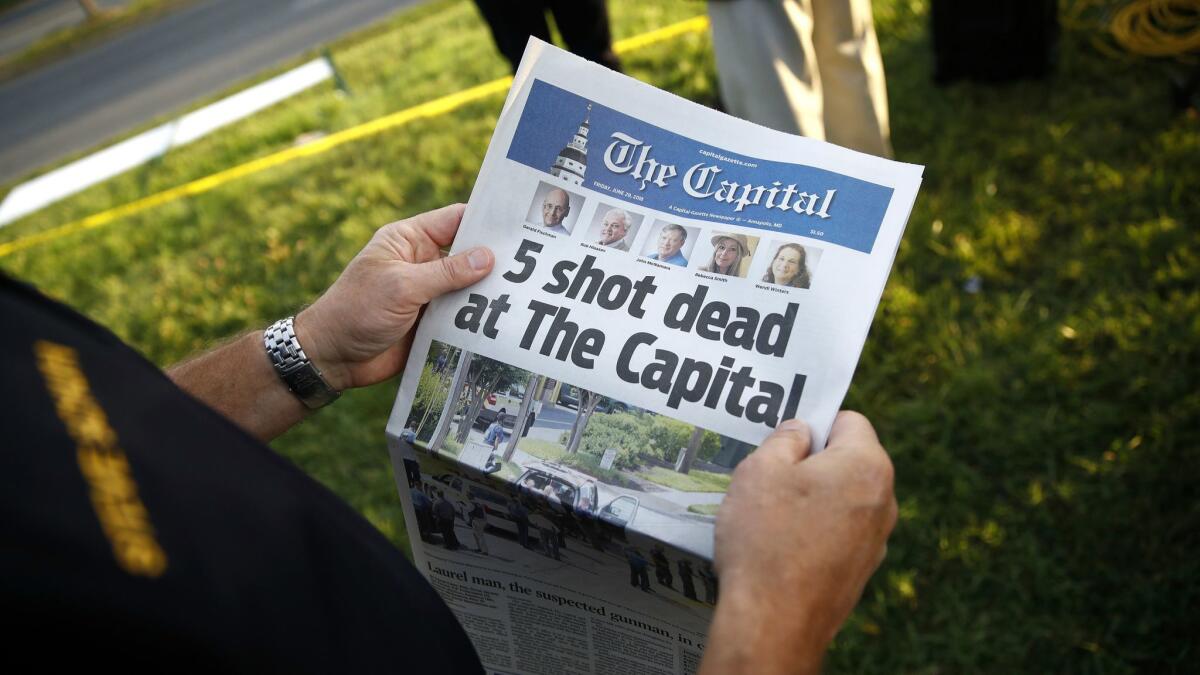 Chase Cook, who covers the Maryland Legislature for the Capital newspaper, was out of the office Thursday afternoon when the gunman arrived at the newsroom's front door and shot out the glass.
By the time Cook arrived at the scene, police and paramedics had flooded the building.
"Details I have are a suspect is in custody and five people are dead," he tweeted.
The victims were his colleagues — three editors, a reporter and a sales assistant.
But there was no time to grieve.
"I can tell you this," Cook tweeted. "We are putting out a damn paper tomorrow."
It became a rallying cry for the devastated staff of the 30,000-circulation daily that has long been the most reliable source of local news for residents of the state capital, Annapolis.
Capital Gazette victims: A prolific writer, a generous mentor and the voice of a community newspaper »
E.B. Furgurson III, who joined the newspaper in 1999 and covers environmental issues, was taking a late lunch at a mall across the street from the newsroom when his phone began to buzz with text messages and calls.
Editors from the Baltimore Sun, which is part of the same newspaper company, were on the line. That's how Furgurson learned about the attack.
"They wanted to make sure we were safe," he said in an interview Friday.
Furgurson popped the tailgate on his 2003 Toyota Tacoma and pulled out his laptop. He began feeding chunks of news to Sun reporters anchoring the story immediately after the shooting.
He tried to listen to the news conferences held by local law enforcement and elected officials, but other journalists kept trying to interview him.
"I had a job to do … put out the paper. I still have a job to do," Furgurson said later. "It's simple: report the news as best as possible."
Lynne Griffin pays her respects at a makeshift memorial near the Capital newspaper offices, where five people were shot and killed Thursday in Annapolis, Md. Griffin was a journalism student under John McNamara, who was one of the people killed at the paper.
(Mark Wilson / Getty Images)
A resident buys a copy of the Capital newspaper in Annapolis, Md., a day after five journalists were shot dead in the newsroom.
(Mandel Ngan / AFP/Getty Images)
A woman delivers flowers at a memorial to shooting victims at the Capital newspaper in Annapolis, Md.
(Rod Lamkey Jr. / EPA / Shutterstock)
Photographer Joshua McKerrow, left, and reporter Chase Cook with the Capital work on putting out the newspaper while awaiting news from their colleagues in Annapolis, Md.
(Ivan Couronne / AFP/Getty Images)
Law enforcement officers respond to the deadly shooting at the building that houses the Capital, a daily newspaper in Annapolis, Md.
(Saul Loeb / AFP/Getty Images)
Law enforcement officers respond to a shooting at the Capital, a daily newspaper in Annapolis, Md., that killed five.
(Saul Loeb / AFP/Getty Images)
Maryland state police officers patrol the area near the scene of a shooting at the Capital newspaper.
(Jose Luis Magana / Associated Press)
Maryland Gov. Larry Hogan speaks about the shooting at a news conference in Annapolis.
(Saul Loeb / AFP/Getty Images)
The scene outside the Capital newspaper building.
(Joshua McKerrow / Baltimore Sun)
Police secure the area outside the building where the shooting occurred.
(Susan Walsh / Associated Press)
Law enforcement officers converge at the site of the shooting.
(Susan Walsh / Associated Press)
Emergency personnel congregate outside the Capital newspaper building.
(Alex Wroblewski / Getty Images)
A New York police officer stands guard in front of ABC headquarters. Security was increased at media locations in Manhattan after a fatal shooting at a newspaper building in Maryland.
(Spencer Platt / Getty Images)
New York City police take precautionary measures by assigning officers to news outlets in the wake of the shooting at the Capital newspaper in Annapolis, Md. Here, officers stand in front of the New York Times building on Eighth Avenue.
(Peter Foley / EPA)
Newspapers have a long tradition of publishing despite disasters that afflict them.
When Hurricane Katrina flooded the offices of the Times-Picayune in 2005 — along with the homes of much of its staff across a large swath of New Orleans — the newspaper continued to publish online and within days started up its print edition from an out-of-town printing press.
In 1997, when the Grand Forks Herald in North Dakota burned to the ground during a major flood, the paper didn't miss a day of publishing. Neither did the Wall Street Journal after its offices were damaged in the 9/11 terror attack.
But rarely has a newspaper been so directly targeted.
On Friday, the reporters of the Capital, along with throngs of media, watched as 38-year-old Jarrod Warren Ramos, who is charged with five counts of first-degree murder, made his first court appearance.
Ramos had obsessively harassed and threatened the newspaper's journalists since 2011, when a columnist wrote a story describing how Ramos was convicted of harassing a woman who had turned down his advances.
Capital Gazette shooting suspect barricaded exit doors as part of a pre-planned attack, authorities say »
"The fellow was there to kill as many people as possible," Timothy Altomare, the Anne Arundel County police chief, said at a news conference.
Like newspapers across the country, the Capital — which is part of the Capital Gazette Communications group owned by Tronc, the former parent company of the Los Angeles Times — has been in steep decline over the last two decades as advertisers moved from print to online.
It employed 250 journalists in the 1980s but at the beginning of this week had a staff of about two dozen.
In a series of tweets Thursday afternoon, an editor described how the paper had continued to serve the community despite its financial woes.
"We keep doing more with less," Jimmy DeButts wrote. "We find ways to cover high school sports, breaking news, tax hikes, school budgets & local entertainment.
"We are there in times of tragedy. We do our best to share the stories of people, those who make our community better. Please understand, we do all this to serve our community.
"We try to expose corruption. We fight to get access to public records & bring to light the inner workings of government despite major hurdles put in our way. The reporters & editors put their all into finding the truth. That is our mission. Will always be."
Now 20% of its staff is gone.
"Our whole lives have been shattered," one of the survivors, reporter Selene San Felice, said Thursday on CNN.
She went on to describe hiding under her desk during the attack while she texted her parents that she loved them.
"I just don't know what I want right now, but I'm going to need more than a couple days of news coverage," she said.
For now at least, the staff has channeled its anger and grief into what it knows best: reporting.
"These are people deeply committed to informing the public and invested in the community," said Teri Winslow, an editor who worked at the paper for more than 20 years before she left in 2015. "Those killed — and it guts me to use that word — were just doing their jobs, trying to do good. They were kind, giving, smart, funny, wonderful people."
Iris Krasnow, a freelancer who writes the newspaper's Sunday "Talk to Iris" column, would visit the office every couple of weeks to have coffee with her editor, Rob Hiaasen.
Whenever she sent him a new column, he would send her an email.
"He would either say, 'Another heartfelt story,'" Krasnow said. Or he would say " 'needs work,' and offer suggestions."
Krasnow was in Wisconsin when she heard about the attack — and that Hiaasen was dead.
Many of the staff members turned down requests for interviews, saying they were too busy working.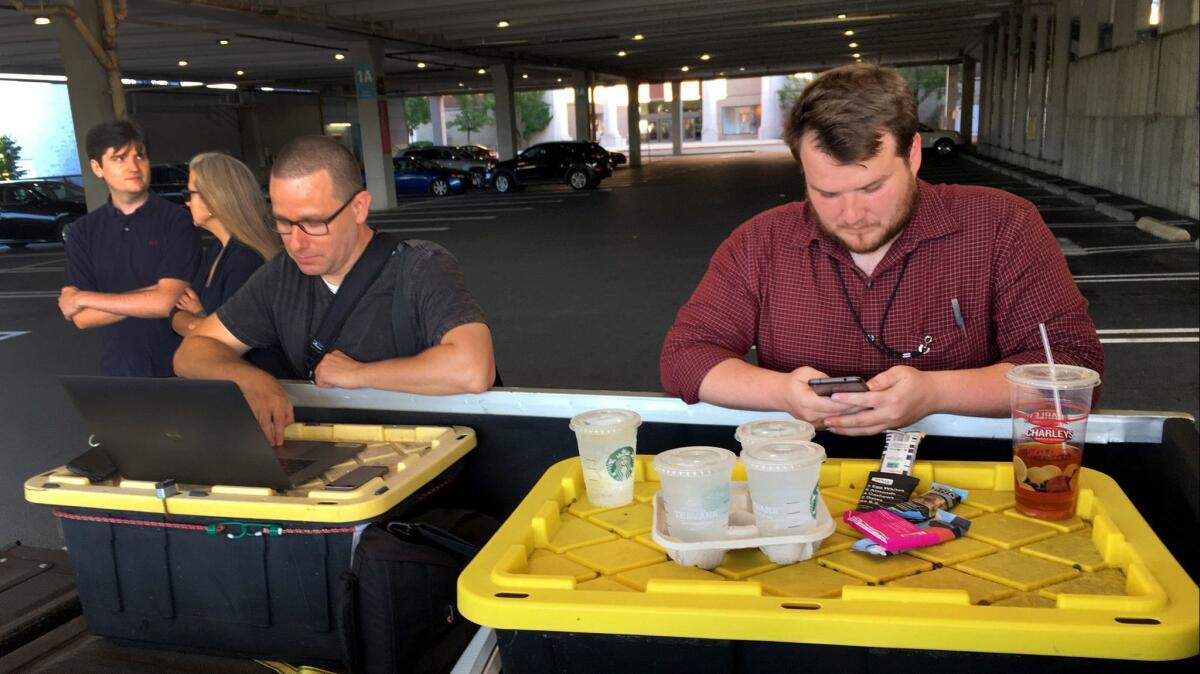 On Friday morning, residents of Annapolis walked to the ends of their driveways and picked up the June 29, 2018, edition of the Capital.
"5 shot dead at The Capital," said a double-deck headline that stretched the width of the page.
Above the headline were photographs of the five victims.
Below it was a single article with ten bylines, about half of the surviving staff.
In the bottom left corner — as usual — was the weather forecast: Mostly sunny with a high of 89 and low of 72.
The inside pages included profiles of the dead and a history of the newspaper.
The opinion section was a vast expanse of white except for a tiny block of text. "Today, we are speechless," it said.
Underneath were the names of the dead — Gerald Fischman, Rob Hiaasen, John McNamara, Rebecca Smith and Wendi Winters — and a message to readers:
"Tomorrow this page will return to its steady purpose of offering our readers informed opinion about the world around them, that they might be better citizens."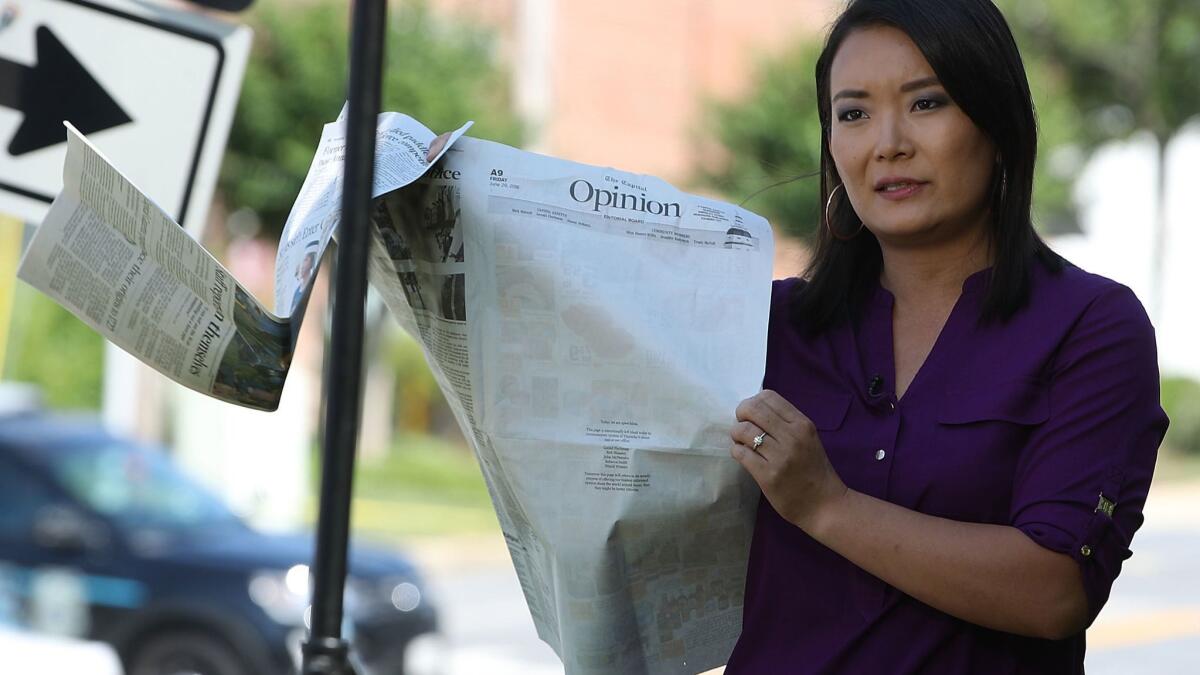 Twitter: @kurtisalee
Sign up for Essential California for the L.A. Times biggest news, features and recommendations in your inbox six days a week.
You may occasionally receive promotional content from the Los Angeles Times.