Suspect in Maryland mass shooting had long-standing grievance with the newspaper that was attacked
Video of the scene where multiple people were shot at the Capital newspaper in Maryland.
The suspected shooter in an attack that left five people dead at a newspaper's office in Annapolis, Md., on Thursday has been identified as a man who had obsessively harassed and threatened the publication's journalists for years.
Jarrod W. Ramos was captured after the shooting at the offices of Capital Gazette Communications, according to a senior law enforcement official speaking on the condition of anonymity.
Local and federal agents were searching Ramos' home Thursday evening in Laurel, Md. But as of 9 p.m., he had not been booked into the Anne Arundel County jail.
Court records and social media posts revealed that Ramos launched a lengthy and disturbing vendetta against the company after its daily newspaper, the Capital, ran a 2011 column describing how he was convicted of criminally harassing a woman who had turned down his advances.
The story, about the woman's plight, described "months of emails in which Ramos alternately asked for help, called her vulgar names and told her to kill herself. He emailed her company and tried to get her fired."
"She stopped writing back and told him to stop, but he continued," the columnist, Eric Hartley, wrote. "When she blocked him from seeing her Facebook page, he found things she wrote on other people's pages and taunted her with it, attaching screenshots of the postings to some of his emails. She called police, and for months he stopped. But then he started again, nastier than ever."
Ramos accused the Capital of defamation and sued, representing himself in court, unsuccessfully. In a hearing, a judge explained to Ramos how journalism works.
"I think people who are the subject of newspaper articles, whoever they may be, feel that there is a requirement that they be placed in the best light, or they have an opportunity to have the story reported to their satisfaction, or have the opportunity to have however much input they believe is appropriate," the judge told Ramos, according to a court transcript.
But, the judge said, the paper had nailed the story: "There is nothing in those complaints that prove that anything that was published about you is, in fact, false."
Ramos' lawsuit was worthless, but he apparently could not let the matter go. A Twitter account launched under his name, but with Hartley's face on it, showed hundreds of posts related to the case and its various appeals.
The account also included a post alluding to shootings of journalists, including the 2015 attack on the Charlie Hebdo offices in Paris and two Virginia television journalists who were killed on live television later that year.
"He waged a one-person attack on anything he could muster in court against the Capital," Tom Marquardt, the newspaper's editor and publisher until 2012, told the Los Angeles Times in a phone interview.
"I said during that time, 'This guy is crazy enough to come in and blow us all away,'" Marquardt said, adding that he and other newspaper officials had fretted over how to stop Ramos' harassment. He even kept a file on Ramos for years after leaving the paper.
Marquardt said police couldn't arrest Ramos for his behavior toward the newspaper, and the paper was reluctant to sue him. "The theory back then was, 'Let's not infuriate him more than I have to.… The more you agitate this guy, the worse it's gonna get.'"
As he spoke to The Times, Marquardt's voice grew tense as he recalled his fear of Ramos, and how he'd felt powerless to do anything to stop the harassment.
"If it's him, I'm gonna feel ... responsible for this," Marquardt said. "I pray it's not him."
Officers responded to the offices of the newspaper within a minute of receiving a report of an active shooter on Thursday afternoon, Anne Arundel County police reported.
Police said the suspect unleashed smoke grenades when he entered the building with a shotgun.
After the shooting began, a young intern at the newspaper sent out a plea on Twitter: "Active shooter 888 Bestgate please help us."
The first comprehensive details about the attack then came from Capital crime reporter Phil Davis in a series of tweets after he reached safety, while waiting to be interviewed by police.
"A single shooter shot multiple people at my office, some of whom are dead," Davis tweeted. "Gunman shot through the glass door to the office and opened fire on multiple employees. Can't say much more and don't want to declare anyone dead, but it's bad."
Davis added: "There is nothing more terrifying than hearing multiple people get shot while you're under your desk and then hear the gunman reload."
After the shooting was over, features reporter Wendi Winters, sales assistant Rebecca Smith, assistant managing editor Robert Hiaasen, editorial page editor Gerald Fischman and reporter John McNamara were dead.
Police arrested Ramos at the scene and took him in for interrogation, police said. He refused to talk to investigators or give his name, and he was not carrying any identification, the law enforcement source told The Times on the condition of anonymity.
"He's not been particularly cooperative," County Executive Steve Schuh said in an interview with CNN.
Lynne Griffin pays her respects at a makeshift memorial near the Capital newspaper offices, where five people were shot and killed Thursday in Annapolis, Md. Griffin was a journalism student under John McNamara, who was one of the people killed at the paper.
(Mark Wilson / Getty Images)
A resident buys a copy of the Capital newspaper in Annapolis, Md., a day after five journalists were shot dead in the newsroom.
(Mandel Ngan / AFP/Getty Images)
A woman delivers flowers at a memorial to shooting victims at the Capital newspaper in Annapolis, Md.
(Rod Lamkey Jr. / EPA / Shutterstock)
Photographer Joshua McKerrow, left, and reporter Chase Cook with the Capital work on putting out the newspaper while awaiting news from their colleagues in Annapolis, Md.
(Ivan Couronne / AFP/Getty Images)
Law enforcement officers respond to the deadly shooting at the building that houses the Capital, a daily newspaper in Annapolis, Md.
(Saul Loeb / AFP/Getty Images)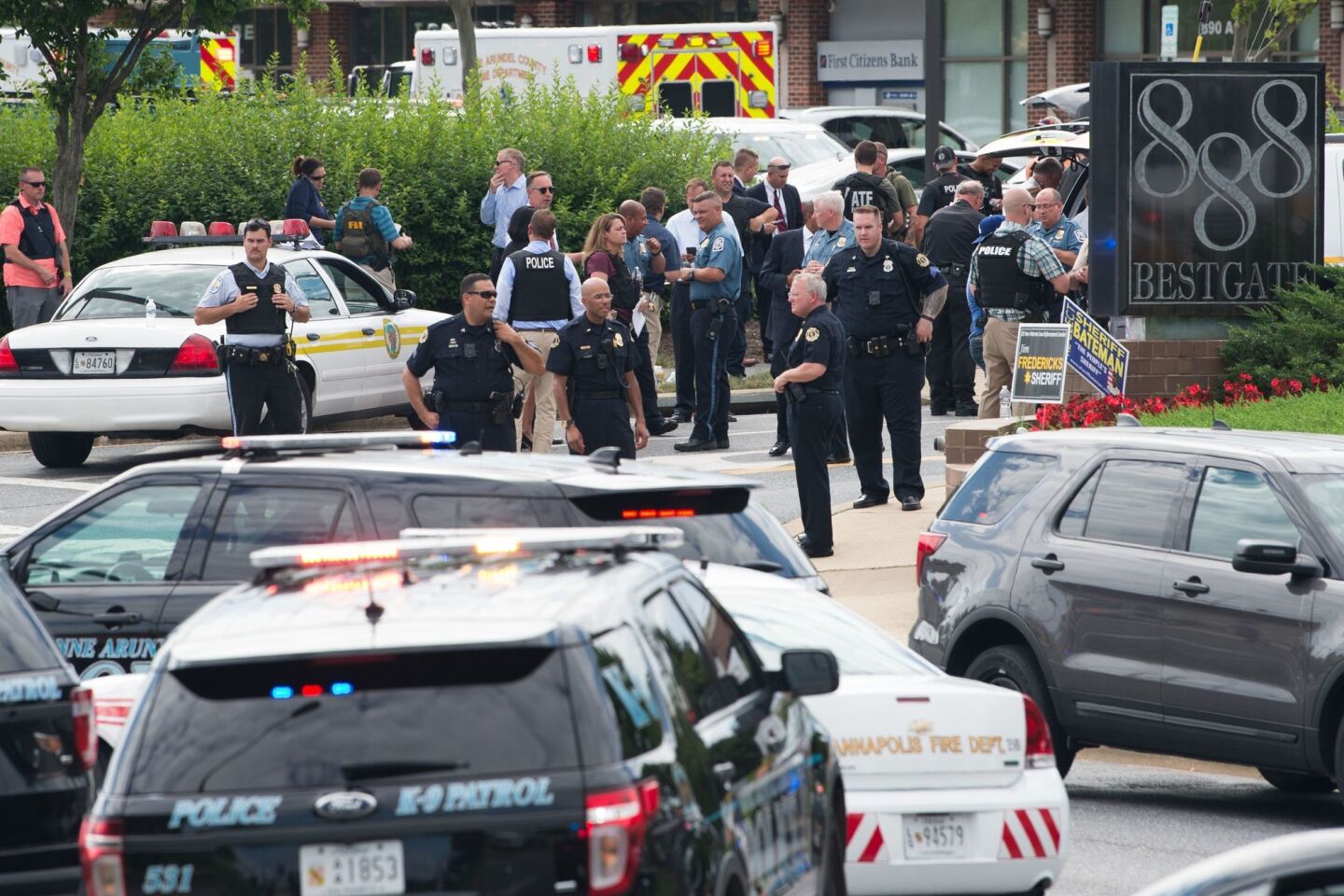 Law enforcement officers respond to a shooting at the Capital, a daily newspaper in Annapolis, Md., that killed five.
(Saul Loeb / AFP/Getty Images)
Maryland state police officers patrol the area near the scene of a shooting at the Capital newspaper.
(Jose Luis Magana / Associated Press)
Maryland Gov. Larry Hogan speaks about the shooting at a news conference in Annapolis.
(Saul Loeb / AFP/Getty Images)
The scene outside the Capital newspaper building.
(Joshua McKerrow / Baltimore Sun)
Police secure the area outside the building where the shooting occurred.
(Susan Walsh / Associated Press)
Law enforcement officers converge at the site of the shooting.
(Susan Walsh / Associated Press)
Emergency personnel congregate outside the Capital newspaper building.
(Alex Wroblewski / Getty Images)
A New York police officer stands guard in front of ABC headquarters. Security was increased at media locations in Manhattan after a fatal shooting at a newspaper building in Maryland.
(Spencer Platt / Getty Images)
New York City police take precautionary measures by assigning officers to news outlets in the wake of the shooting at the Capital newspaper in Annapolis, Md. Here, officers stand in front of the New York Times building on Eighth Avenue.
(Peter Foley / EPA)
The attack resulted in the extraordinary act of journalists reporting on a tragedy that had unfolded at their own newsroom.
A photojournalist at the newspaper, Joshua McKerrow, was apparently out of the newsroom when the attack happened, but returned and photographed the scene outside as police swarmed the area.
"Police response for shooting in my newsroom," he tweeted.
A while later, he added a single word: "Heartbroken." McKerrow tweeted that a Friday edition of the paper would be published.
Other staffers tweeted the names of journalists who were safe.
RELATED: Capital Gazette victims: A prolific writer, a generous mentor and the voice of a community newspaper »
"Thank God I was not at the office when this horrible incident occurred," sports reporter Bill Wagner tweeted. "However, many of my colleagues and friends are not okay and that is solely where my thoughts are right now. Please do not attempt to contact me via text or phone call."
Journalists were last killed inside the U.S. in 2015, when a disgruntled television journalist killed two former colleagues during a live broadcast, according to the Committee to Protect Journalists, which tracks violence against journalists.
Seven journalists have been killed inside the U.S. since 1992, according to the organization.
Capital Gazette Communications is owned by Tronc — the former parent company of the Los Angeles Times — and publishes the Capital, the newspaper of record for Annapolis, and the Maryland Gazette. The two papers publish under a joint website called the Capital Gazette. Capital Gazette also runs two weeklies — the Bowie Blade-News and Crofton-West County Gazette — out of the Annapolis office.
"No words can adequately express our sadness," Tronc Chairman and Chief Executive Justin Dearborn wrote in a message to the company identifying the dead. "We have lost dedicated and talented individuals and part of our Baltimore Sun Media Group family."
Jimmy DeButts, an editor for the website, published a tribute on Twitter about the craft of his fellow journalists, with a nod to the struggles of many local newspapers to continue working under tough economic conditions.
"There are no 40 hour weeks, no big paydays — just a passion for telling stories from our community," DeButts tweeted. "We keep doing more with less. We find ways to cover high school sports, breaking news, tax hikes, school budgets & local entertainment."
DeButts added: "We are there in times of tragedy. We do our best to share the stories of people, those who make our community better. Please understand, we do all this to serve our community."
The shooter had killed newspaper journalists, but he hadn't killed the newspaper. Within just a few hours of the shooting, the surviving members of the newsroom scrambled to get back to work.
"I can tell you this," reporter Chase Cook tweeted. "We are putting out a damn paper tomorrow."
matt.pearce@latimes.com | Twitter: @mattdpearce
richard.winton@latimes.com | Twitter: @lacrimes
---
UPDATES:
8:20 p.m.: This article has been updated with details of Ramos' lawsuit against the newspaper and the names of the victims.
6:20 p.m.: The article has been updated with the name of the suspected shooter and details of his feud with the newspaper.
3:13 p.m.: The article was updated with information on the suspected gunman and additional details.
1:47 p.m.: The article was updated with confirmation of fatalities in the shooting and additional details.
12:45 p.m.: This article was updated with confirmation from police and the Bureau of Alcohol, Tobacco, Firearms and Explosives of the shooting.
This article was originally published at 12:30 p.m.
Must-read stories from the L.A. Times
Get the day's top news with our Today's Headlines newsletter, sent every weekday morning.
You may occasionally receive promotional content from the Los Angeles Times.