Members of California white supremacist group arrested in connection with deadly Charlottesville rally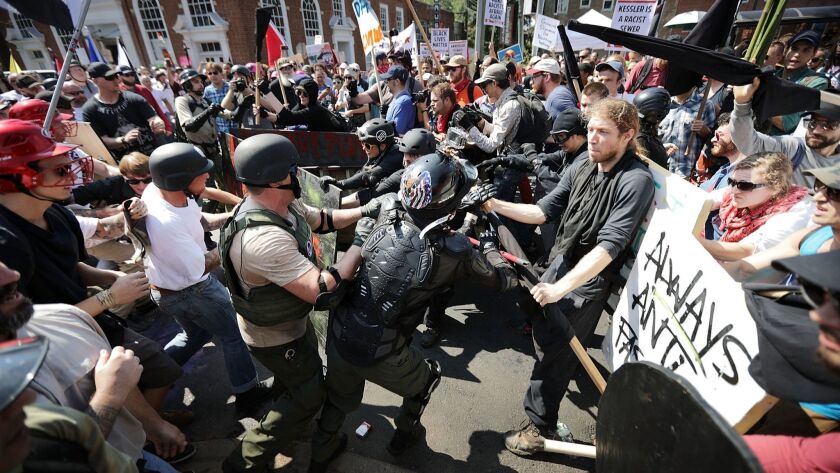 Reporting from Atlanta —
Four California men who allegedly shared white supremacist views and trained together on boxing and street-fighting techniques were arrested by federal authorities Tuesday on charges that they traveled to Virginia with the intent to incite a riot and commit violence at last year's deadly far-right rallies in Charlottesville.
Benjamin Drake Daley, 25, and Thomas Walter Gillen, 34, both of Redondo Beach, and Michael Paul Miselis, 29, of Lawndale were charged and appeared in federal court in Los Angeles, where they were ordered held without bail. Cole Evan White, 24, of Clayton, a city in the Bay Area, appeared in federal court in San Francisco. His status was not clear.
The four are all members of the so-called Rise Above Movement, a white supremacist group based in Southern California that espouses anti-Semitism, promotes "clean living" and meets regularly in public parks to train in physical fitness, including boxing and other street-fighting techniques, according to an affidavit.
Last August, the four traveled to Charlottesville, the affidavit says, to join hundreds of other white nationalists at a rally organized by Richard Spencer, the high-profile leader of a white supremacist think tank, to protest the planned removal of a statue of Confederate Gen. Robert E. Lee.
The defendants came to the rally prepared to engage in physical violence, having taped their fists "in the manner of boxers or MMA-style fighters," the affidavit says. Photographic and video evidence, the affidavit alleges, shows Daley and other white nationalists from California punching, kicking and head-butting counterprotesters, including an African American man, two women and a minister wearing a clerical collar.
"They were essentially serial rioters," said Thomas Cullen, U.S. attorney for the Western District of Virginia. "This wasn't in our view the lawful exercise of 1st Amendment rights. These guys came to Charlottesville to commit violent acts."
Each defendant has been charged with one count of conspiracy to violate the federal riots statute and one count of violating the federal riots statute. If convicted, each faces up to 10 years in prison, prosecutors said.
In court Tuesday, a federal prosecutor said that when federal agents went to arrest Miselis they found inside his home ammunition for assault-style weapons, smoke bombs, flairs and a wall hanging reading "88," the numeric code for the phrase Heil Hitler.
On Aug. 11, the four marched through the University of Virginia campus, carrying torches and chanting "Blood and soil!" and "White lives matter." The next day, more clashes erupted when hundreds of white supremacists assembled for a "Unite the Right" rally in downtown Charlottesville. Heather Heyer, a 32-year-old paralegal, was killed when a man rammed his car into a crowd of anti-racism protesters. Nineteen other protesters were injured.
The charges against the four California men are not related to Heyer's death. The suspected driver, James Alex Fields Jr., 21, of Maumee, Ohio, was charged in June with federal hate crimes, including one count of a hate-crime act that resulted in Heyer's death and 28 counts of hate crime causing bodily injury. Fields, who has pleaded not guilty, is also charged under Virginia law with murder and other crimes.
The four men had previously engaged in acts of violence at political rallies in Huntington Beach, Berkeley and San Bernardino, prosecutors said. In March 2017, RAM members engaged in violence at a Make America Great Again rally in Huntington Beach, according to the affidavit. A protester opposing Trump allegedly doused a female organizer of the event with pepper spray, sparking a brawl that led to several arrests.
Group members also engaged in violence in Berkeley last year at a "Patriots Day" rally. Fistfights broke out between pro-President Trump demonstrators and counterprotesters, and fireworks and smoke bombs were thrown into the crowd. A few demonstrators were doused with pepper spray.
A relatively small group made up of about 20 members, the Rise Above Movement is active online through mainstream social networking platforms, according to Joanna Mendelson, a senior investigative researcher with the Anti-Defamation League's Center on Extremism. The ADL began documenting the group, which presents itself on its website as the "premier MMA [mixed martial arts] club of the Alt-Right," in 2016.
"Rise Above Movement is essentially a white supremacist organization that operates like an alt-right fight club," Mendelson said. "They romanticize themselves as these foot soldiers to fend off against the elements that threaten their white existence."
Although primarily headquartered in Southern California, especially in Orange County and San Diego County, the group has roamed the state.
The ADL said it was familiar with three of the four men listed in the arrest warrant, but did not recognize White's name.
Daley, who is listed as a leader in the group and is featured prominently in the group's recruitment videos, has used social media to promote anti-Semitic cartoons and conspiracy theories about Jewish control of the banking, media and legal systems, according to the ADL.
"These arrests signify a larger law enforcement concern into the activities of these white supremacist organizations operating in Southern California," Mendelson said.
Although California is known as a liberal bastion, the state has long been a hub for white nationalism, said Brian Levin, director of the Center for the Study of Hate and Extremism at California State University, San Bernardino.
"You could have a whole treatise just on California hate," Levin said.
Historically, California was "the symbol of manifest destiny," he said. But modern-day white nationalists also bristle at California's status as a melting pot and a testing ground for liberal ideas, holding it up as "the time-travel machine of what America must avoid."
Nearly a century ago, the Ku Klux Klan was a strong political force in Anaheim, holding a majority of City Council seats before a recall effort led to their ouster. While Klan activity decreased dramatically in California and the rest of the country over the course of the 20th century, many of the alt-right groups started in recent years have California founders or connections. In 2016, the first Klan rally in years in Southern California was held in Anaheim.
"California is one of those ground-zero places … these new fragmented groups are looking to do in-your-face kind of stuff in blue places," Levin said.
At a Tuesday afternoon news conference in Virginia, Cullen singled out the work of the news organization ProPublica for doing what he called a "fantastic job" in piecing together the weekend's violence.
During the course of the investigation, he said, the FBI and the Virginia State Police waded through an "incredible" volume of digital evidence — more even than during the investigation of the Boston Marathon bombing.
"One of the reasons that this investigation took as long as it did — 13 months — is we had to sift through all of that material," he said. "We had to identify folks that were depicted in those photographs and those videos, understand who they were, who they were associated with and marshal enough evidence where we felt comfortable we could bring this particular charge."
Cullen did not rule out further arrests.
"We're not finished..." he said. "I commit as the U.S. attorney that we're going to follow every lead until we're satisfied that we've done all we can do."
At least one of the defendants has a prior criminal record. In 2014, Daley was convicted of carrying a concealed weapon. According to L.A. Superior Court Records, after pleading no contest, he was sentenced to seven days in jail. In 2015, he was convicted of driving without a license and also pleaded no contest. Charges were dismissed for not having a dog license and, separately, not having some working lights on his vehicle.
While Democrats and Republicans denounced the violence and the white supremacist views at the Charlottesville rally, Trump provoked nationwide outrage when he suggested that both sides – the white nationalists and the counter-protesters – were to blame for the violence.
"You had a group on one side that was bad," Trump said. "And you had a group on the other side that was also very violent. And nobody wants to say that, but I'll say it right now."
After the incident, anti-racism advocates accused local law enforcement of not acting swiftly enough to stem the violence or to arrest a group of white men who were videotaped beating a black counterprotester, DeAndre Harris.
Several white nationalists have since been found guilty of violently beating Harris. In August, Jacob Scott Goodwin of Arkansas was sentenced to eight years in prison and Alex Michael Ramos of Georgia was sentenced to six years in prison after being convicted of malicious wounding for their roles in the beating of Harris in a parking garage.
A third white nationalist, Daniel Patrick Gordon of Ohio, was found guilty in May of malicious wounding for his role in the attack, but he has yet to be sentenced.
In August, a judge sentenced Richard Wilson Preston, 52, a white demonstrator, to four years in prison for discharging a firearm within 1,000 feet of a school, a crime punishable by up to 10 years in jail.
Jarvie reported from Atlanta and Mejia from Los Angeles.
---
UPDATES:
8:10 p.m.: The article was updated with new details.
4 p.m.: The article was updated with additional reaction.
3:03 p.m.: The article was updated with additional details.
1:46 p.m.: The article was updated with additional details and reaction.
12:17 p.m.: The article was updated with staff reports.
11:10 a.m.: The article was updated with information from unsealed court documents.
The article was originally published at 8:15 a.m.
---
Must-read stories from the L.A. Times
Get all the day's most vital news with our Today's Headlines newsletter, sent every weekday morning.
You may occasionally receive promotional content from the Los Angeles Times.