FBI investigating hacker's claim to have broken into CIA director's AOL account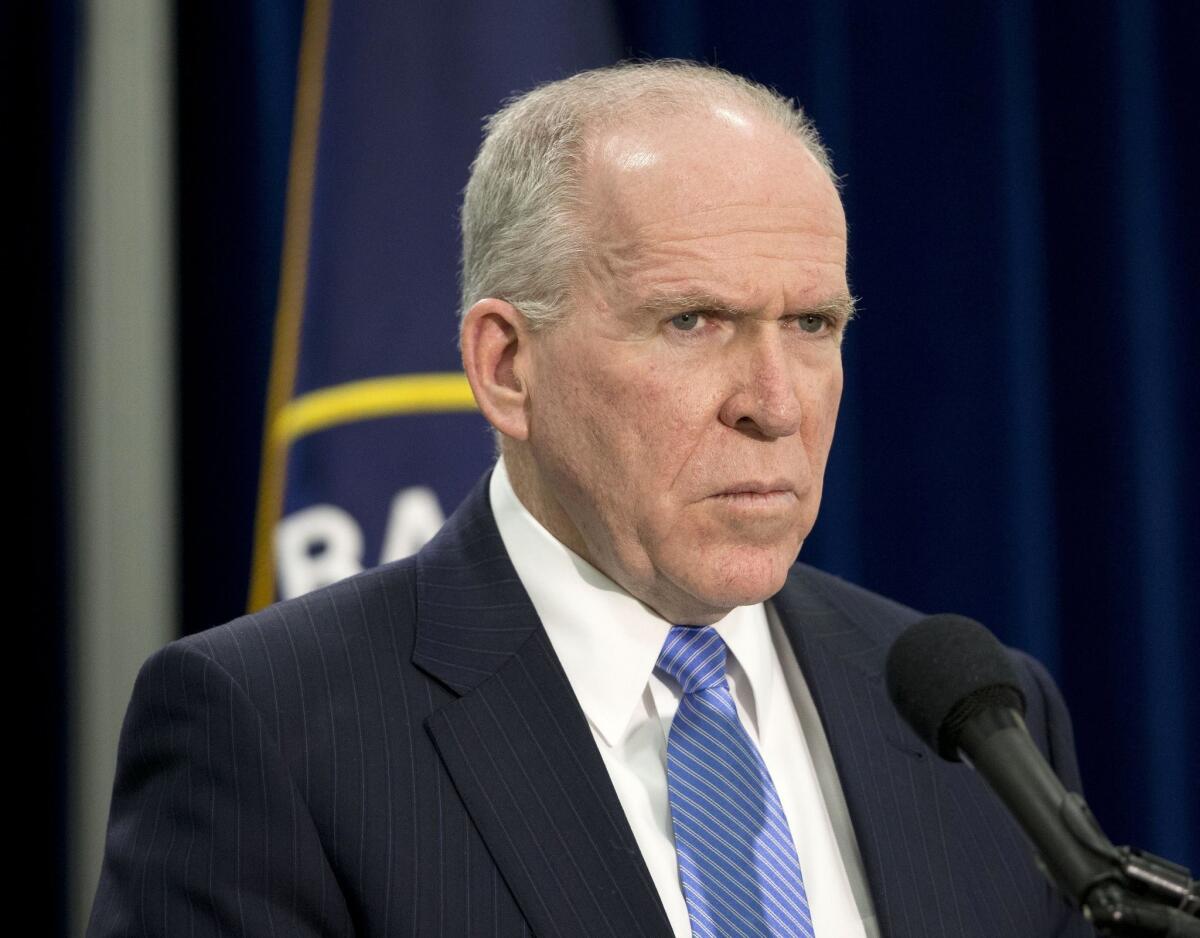 Reporting from Washington —
The FBI is investigating a hacker's claims to have breached the personal email accounts of the CIA director and the secretary of Homeland Security, according to a law enforcement official who was not authorized to speak publicly.
An anonymous hacker posted online contact lists and other documents he claims were stolen from the AOL account of CIA Director John Brennan, as well as personal information from the Comcast billing account of Homeland Security Secretary Jeh Johnson.
The hacker also claimed to have a copy of Brennan's application for a security clearance, known as an SF86, found in Brennan's AOL account. But that document has so far not appeared online. This year, hackers linked to China stole millions of security clearance files stored by the U.S. Office of Personnel Management.
The possible infiltration into his personal correspondence would be embarrassing for Brennan, who this year established a new Directorate for Digital Innovation at the CIA that was designed in part to figure out how to better hide the digital footprints of agency employees.
CIA and Home Security officials said the matter was referred to the proper authorities and would not comment further. The FBI would not comment on the claims.
The New York Post first reported the breach. The hacker, who uses the nickname "cracka," contacted the Post last week to get attention for his exploits. In an article published Sunday, the Post described him as "a stoner high school student" motivated by his support for Palestinians and his opposition to U.S. foreign policy.
At the Twitter account @phphax, the hacker posted hundreds of email addresses he claims were stripped from Brennan's contacts, as well as spreadsheets with the names of current and former national security officials that appear to include social security numbers that the hacker crossed out.
The spreadsheets may date to a period before 2009, when Brennan worked in the private sector and was an advisor to Barack Obama's presidential campaign on intelligence matters. When Obama entered the White House in 2009, Brennan, a 25-year veteran of the CIA, became his homeland security and counter-terrorism advisor. Obama named Brennan director of the CIA in 2013.
Follow me @ByBrianBennett on Twitter.
ALSO
On White House science day, Obama displays his geek-in-chief side
Planned Parenthood video fallout: Texas defunds group; court orders Louisiana to pay
New technology is keeping the air we breathe under an unprecedented level of scrutiny
Sign up for Essential California for news, features and recommendations from the L.A. Times and beyond in your inbox six days a week.
You may occasionally receive promotional content from the Los Angeles Times.