Hillary Clinton says she won't run for public office again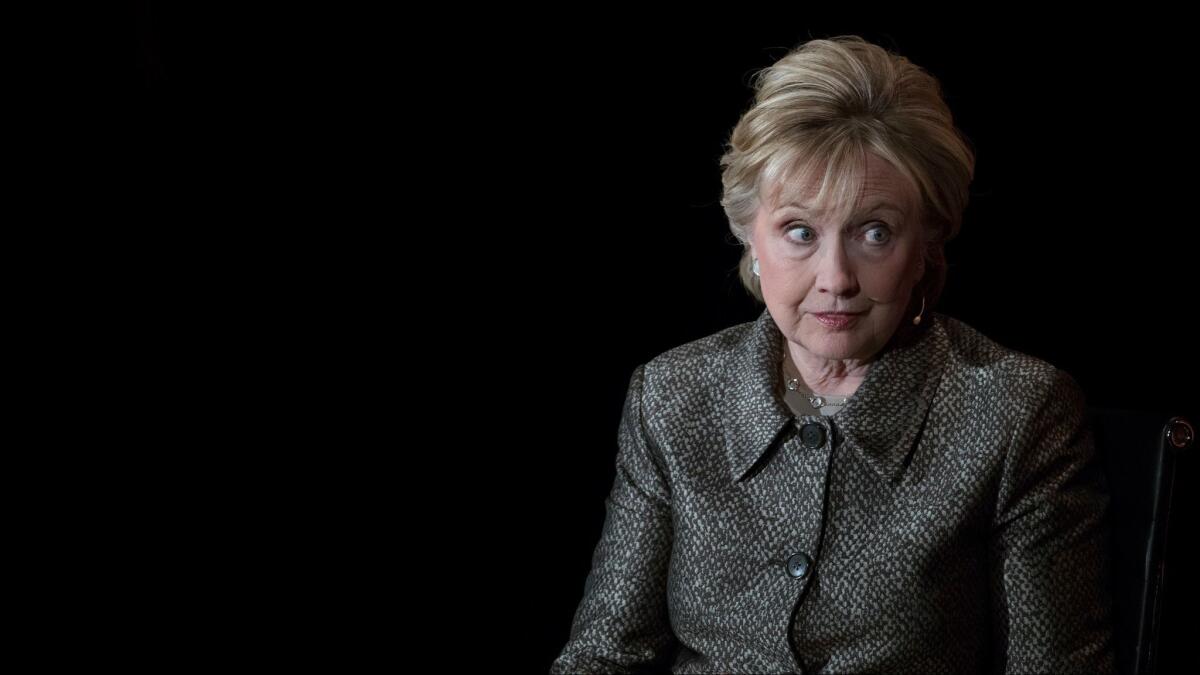 Reporting from New York —
Hillary Clinton said she doesn't intend to run for elected office again, but vowed to remain involved in public service and to help Democrats regain control of Congress in the 2018 election.
In her first postelection interview, Clinton alluded to the pain of her loss of the presidency to Donald Trump, hinting that there were times she didn't want to get out of bed.
"The aftermath of the election was so devastating," Clinton said Thursday during the Women in the World Summit hosted by Tina Brown at New York's Lincoln Center. "I had to make up my mind I was going to get out of bed, yes; I was going to take walks in the woods, yes.
"As a person, I'm OK. As an American, I'm pretty worried," said Clinton.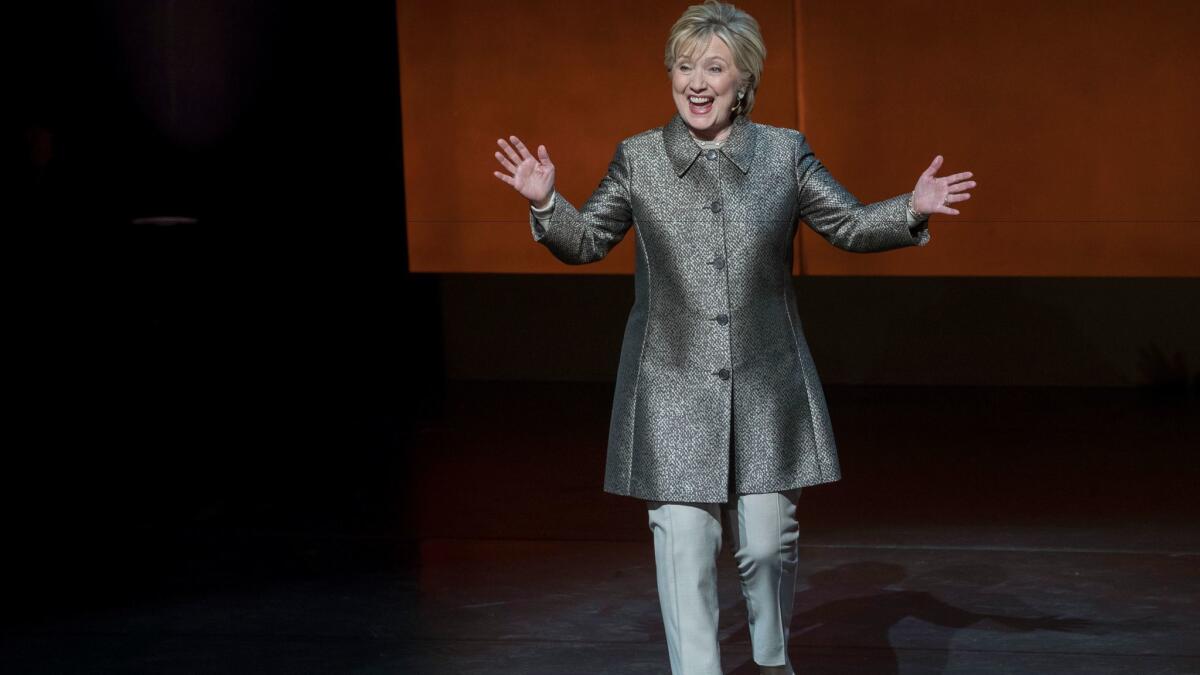 Among her worries, she cited President Trump's policies toward women and healthcare, Russian interference in the election and the downward spiral of Syria.
Clinton said she believed it was not too late for the U.S. to declare a no-fly zone and attack Syrian government airfields to deprive President Bashar Assad's air force of the ability to bomb civilians.
"That air force is the cause of most of the civilian deaths, as we have seen over the years and as we saw again in the last few days," said Clinton, referring to Tuesday's chemical weapons strike in Syria's Idlib province that killed more than 70 civilians.
"I really believe that we should have — and still should — take out his airfields and prevent him from being able to use them to bomb innocent people and drop sarin gas on them."
After months sticking close to her house in Chappaqua, N.Y., Clinton has been emerging more in recent weeks to speak in public, but Thursday's appearance was the first interview.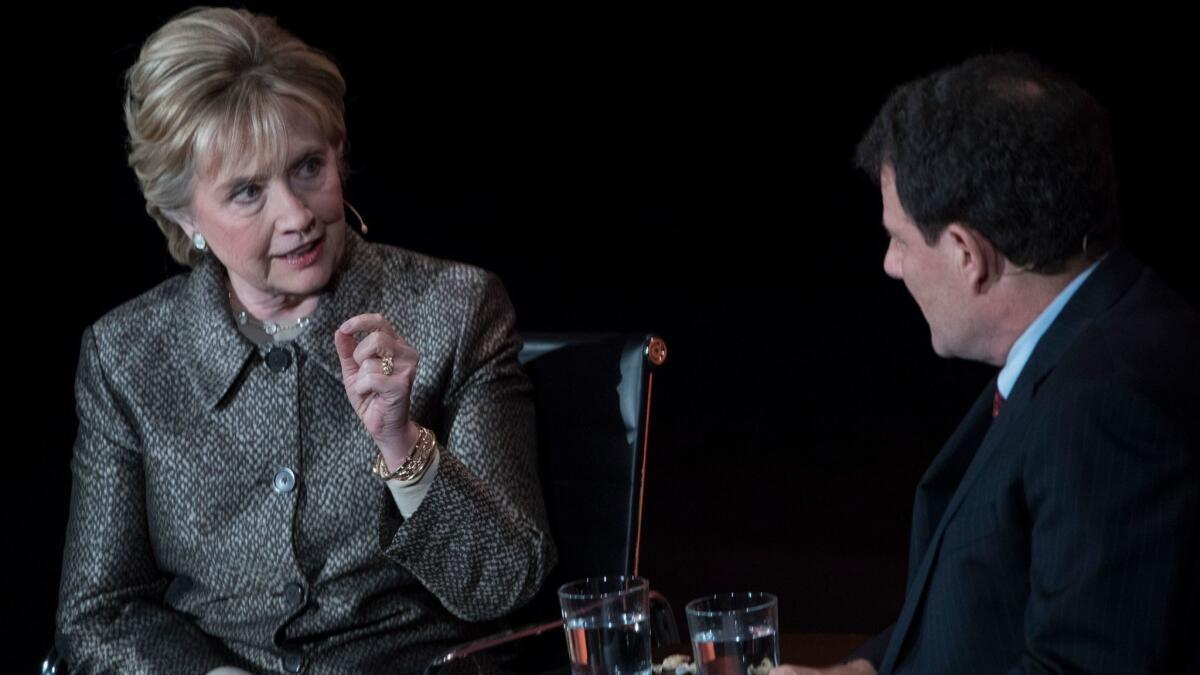 Pressed by columnist Nicholas Kristof of the New York Times, Clinton said she has struggled to explain her defeat, including the fact that 53% of white women voted for Trump. She blamed Russian interference in the election, the release of embarrassing WikiLeaks documents, FBI Director James B. Comey's statement about investigating her emails shortly before election day and misogyny as contributing factors. She warned young women contemplating a public career that they had to be prepared for more abuse than their male counterparts.
"Every woman who enters the public arena needs to grow skin as thick as a rhinoceros. Boy, do I relate to this," said Clinton, paraphrasing Eleanor Roosevelt. "By the time they were finished with me, I was Typhoid Mary."
ALSO
Back in the spotlight, Hillary Clinton refocuses on policy and politics — and a familiar foe
Clinton Foundation donor excluded from the U.S. is not entitled to a hearing, government says
If you're struggling to keep up with all things Trump, you're not alone. This is week 11
Sign up for Essential California for news, features and recommendations from the L.A. Times and beyond in your inbox six days a week.
You may occasionally receive promotional content from the Los Angeles Times.