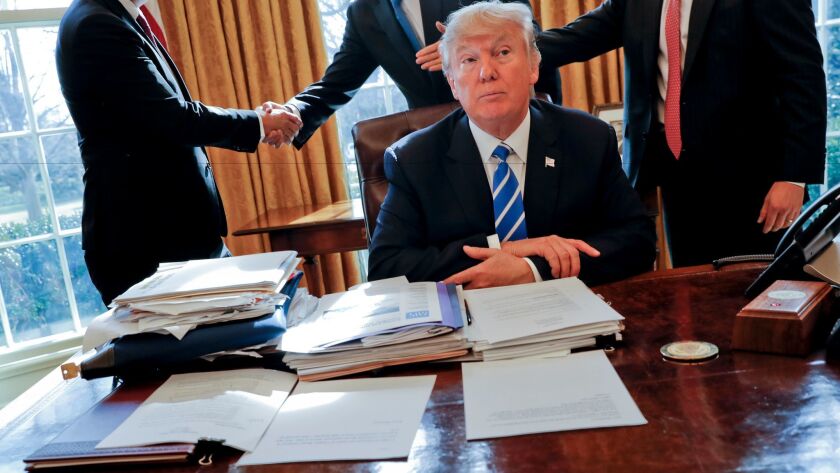 Spoiler alert: There's no end to the news. If you're struggling to keep up with it all, you're not alone. To get you caught up:
Last weekend
The GOP plan to repeal and replace Obamacare may have collapsed, but the fight over healthcare isn't done. President Trump is threatening to cut a deal with Democrats if conservatives won't back his plans.
Monday, April 3
Trump's nominee for Supreme Court, Judge Neil M. Gorsuch, was approved by a Senate panel. He's just one more vote away from taking a seat on the high court. That is, unless Democrats have anything to say about it. They officially have enough votes to filibuster, though it might not do any good if Republicans go for the "nuclear option." Here's a quick breakdown.
Egyptian President Abdel Fattah Sisi met with Trump, who had a lot of positive things to say. The meeting kicked off several visits from foreign leaders this week.
Tuesday, April 4
Wednesday, April 5
You're fired. Well, not really. Trump removed his controversial chief strategist Stephen Bannon from the National Security Council. The White House downplayed the move.
So much for a "big, beautiful wall." Homeland Security Secretary John Kelly told a Senate committee that a wall across the entire border of Mexico probably won't happen.
Trump accused Rice of committing a crime when she asked government analysts to disclose the names of Trump associates documented in intelligence reports.
The White House welcomed another world leader: King Abdullah of Jordan.
U.S. strikes back? United Nations Ambassador Nikki Haley hinted at U.S. action on the gas attack in Syria. Trump, however, didn't offer any concrete response to Syria's apparent use of chemical weapons. He just said it "crossed many, many lines" for him.
Thursday, April 6
Friday, April 7
Did Trump have authority to launch airstrikes on Syria? House Minority Leader Nancy Pelosi (D-San Francisco) wants Speaker Paul Ryan (R-Wis.) to bring the House back from recess to debate the matter. Members started leaving town Thursday for a two-week spring break, and the Senate is expected to recess later in the day.
Fourteen months after Supreme Court Justice Antonin Scalia's death, his seat has been filled. The Senate confirmed Gorsuch, which means the court is back to a 5-4 conservative majority.
Trump planned to talk to Chinese President Xi Jinping about North Korea at their summit, but the U.S. strikes on Syria overshadowed the discussion.
Can't get enough? We've got you covered for all of Trump's first 100 days. »
Grade the president
Now that you're all caught up, here's your chance to tell us what you think of Trump as we track his major moves in the first 100 days.
Grading opens every Friday and closes at the end of Monday. We'll be posting your responses, so subscribe to our newsletter to be notified when they go up.
Missing something? Email colleen.shalby@latimes.com and melissa.leu@latimes.com or tweet us @cshalby and @melissaleu.
Week 1 | Week 2 | Week 3 | Week 4 | Week 5 | Week 6 | Week 7 | Week 8 | Week 9 | Week 10
---