In some states, it's illegal to take down monuments or change street names honoring the Confederacy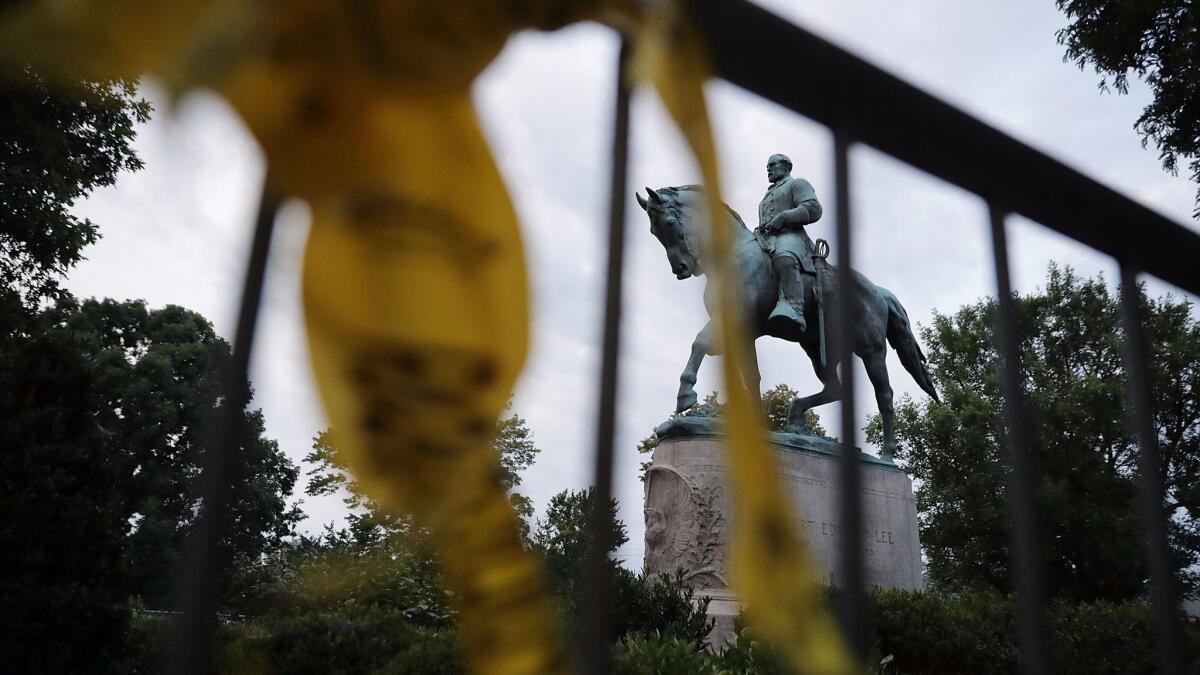 In Durham, N.C., this week, an angry crowd yelled chants against the police, the Ku Klux Klan and Nazis before turning its attention to a 93-year-old bronze statue of a Confederate soldier that stood 15 feet high outside a courthouse.
Demonstrators tied a yellow rope around the neck. It came down in seconds. Protesters took turns kicking the head. Some spat on it. Others sat on the chest and triumphantly posed for photos.
The toppling, which was captured on video and went viral on social media, was a response to deadly violence at a white supremacist rally in Charlottesville, Va., to preserve a statue of Confederate Gen. Robert E. Lee. Activists across the country celebrated the statue's removal in Durham as a victory against racism.
But there was a problem: It was illegal.
The county sheriff in Durham said he was investigating it as a crime of vandalism. Politicians, meanwhile, went on television to remind residents of a law the state General Assembly passed two years ago barring governments from removing any "object of remembrance" on public property.
In the aftermath of Charlottesville, officials in Baltimore, Houston, San Antonio, Louisville and Lexington, Ky., Jacksonville, Fla., and other cites said they would push for the review or removal of Confederate monuments.
Taking down the statues may prove harder than it would seem, however. Here's why:
Several states have laws protecting monuments
North Carolina isn't the only state where laws help keep monuments in place.
In May, Alabama Gov. Kay Ivey signed a law banning local governments from altering, renaming or removing monuments, memorial streets or memorial buildings that have been on public property for more than 40 years. That includes most, if not all, Confederate monuments in the state.
The law defined schools, buildings and streets as "memorial" if they are "erected for, or named or dedicated in honor of, an event, a person, a group, a moment, or military service."
After civil rights groups criticized the governor, her office released a statement defending the law as a way to support "all generations to learn not only from our heroes and our greatest achievements, but to also ensure that we learn from our mistakes and our darkest hours."
In Virginia, where a lawsuit is proceeding over the Charlottesville City Council's proposal to remove the Robert E. Lee statue, a state law bans cities that attempt to "disturb or interfere" with historic monuments and memorials.
The law, which Charlottesville officials have fought, previously stopped attempts in Alexandria and Loudoun County from removing Confederate statues.
A similar law in Mississippi says statues, landmarks and memorials can't be taken off public property unless they block drivers from seeing the road or are put in another approved location.
"Whether we like them or not, you have to go to the orderly process of either the Legislature, the executive, if they have the authority for that, or judiciary in removing" such memorials, the state's governor, Phil Bryant, told reporters Tuesday.
Even when statues are set for removal, it can be an arduous process
The announcements by city officials this week on monuments were not as as spontaneous as they appeared.
"We've been talking about this for two years," said Lexington Mayor Jim Gray, who said that after the violence in Charlottesville he pushed up an already planned announcement to remove two statues in front of an old downtown courthouse.
In Louisville, the city has also tried for years to rid itself of Confederate imagery. In April 2016, Mayor Greg Fischer announced that he wanted to move a 70-foot-tall Confederate monument out of city but had no place to put it.
The city faced a lawsuit from the Kentucky chapter of Sons of Confederate Veterans after the group accused it of violating state and federal preservation laws. By December, the statue was reconstructed 44 miles west in Brandenburg.
Other Confederacy-related displays remain. Fischer this week pushed city officials to review all public art to see which should stay.
"There is no question this history needs to be understood and maintained, but if it's in a place that glorifies it, that is wrong," Fischer said.
In New Orleans, which made national news in May after workers removed memorials including those dedicated to Gen. Lee, Confederate President Jefferson Davis and Confederate Gen. P.G.T. Beauregard, the process took nearly two years of debate and legal battles.
Those removals happened overnight to avoid confrontations.
Beyond monuments and memorial laws, other challenges loom
In Dallas, school board member Miguel Solis tweeted this week that it was "past time to change the name of all Confederate schools," including an elementary school named after Gen. Lee. A woman's petition to change the name of a Tulsa elementary school — Lee Elementary — also took off.
But as in other parts of the country, proponents of change are already facing opponents.
In Atlanta, Baltimore and other cities where statues were vandalized after the violence in Charlottesville, authorities could bring charges against protesters for defacing public property. In Baltimore, where city officials ordered monuments removed, crews did so quietly late Tuesday and early Wednesday.
On Tuesday, a student from North Carolina Central University was arrested on suspicion of damaging the statue in Durham. Takiyah Fatima Thompson, 22, faces charges of rioting, property damage and disorderly conduct.
Durham County Sheriff Mike Andrews addressed the incident in a news conference Tuesday.
"Let me be clear, no one is getting away with what happened.… We can all agree yesterday went too far," he said.
Gov. Roy Cooper also spoke out against the incident but suggested on Monday he may be open to monument removal.
"The racism and deadly violence in Charlottesville is unacceptable but there is a better way to remove these monuments," he tweeted.
On Tuesday, he took it a step further, blogging against the memorials.
"We cannot continue to glorify a war against the United States of America fought in the defense of slavery," he wrote. "These monuments should come down."
Jaweed Kaleem is The Times' national race and justice correspondent. Follow him on Twitter, Facebook and Instagram.
ALSO
Hollywood Forever Cemetery to remove Confederate monument after calls from activists and vandalism threats
Who was responsible for the violence in Charlottesville? Here's what witnesses say
Confederate monuments taken down in Baltimore overnight
---
UPDATES:
1:05 p.m.: This article was updated with the removal of monuments in Baltimore overnight.
This article was originally published August 15 at 7:25 p.m.
Sign up for Essential California for the L.A. Times biggest news, features and recommendations in your inbox six days a week.
You may occasionally receive promotional content from the Los Angeles Times.