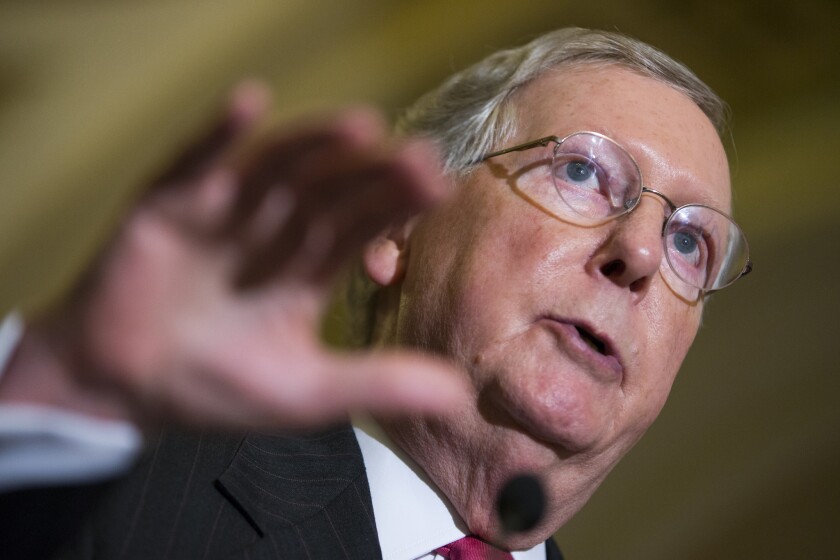 Reporting from Washington —
When Republicans took control of Congress, Senate Majority Leader Mitch McConnell vowed there would be no federal government shutdown on his watch.
Now, with barely a week to go before the Sept. 30 fiscal-year deadline, the GOP leader is in a familiar struggle to prevent that outcome.
McConnell set up a vote, expected Thursday, on a stopgap measure to keep government running through Dec. 11.
But the bill is expected to fail -- blocked by a Democratic filibuster -- because it would also cut funds to Planned Parenthood. The family-planning organization has been under fierce attack since its officials were shown on secretly-recorded videos discussing the costs involved in collecting tissue from aborted fetuses to be donated for scientific research.
Conservative leaders -- including Republican presidential hopefuls Sen. Ted Cruz (R-Texas) and Sen. Rand Paul (R-Ky.) -- have vowed to prevent Planned Parenthood from receiving federal funds, and their effort has led to a standoff with Democrats. Already, no federal funding can be used for abortions, except in cases of rape, incest or a threat to the life of the mother. But Planned Parenthood has received federal grants for other health services.
The funding fight has become a proxy for the larger national debate over abortion. President Obama has said he would veto any bill that eliminates money for the large provider of family-planning services.
Congress is on a limited schedule this week, because of the historic visit by Pope Francis, as well as the Jewish holiday Yom Kippur, but behind the scenes McConnell and his leadership team are working to keep his promise and avert next week's looming shutdown.
"We were sent here not to shut down the government, but to make the government operate to the benefit of taxpayers," said Sen. Lamar Alexander (R-Tenn.), an ally of McConnell, said Tuesday morning. "That's what we'll be doing."
SIGN UP for the free Essential Politics newsletter >>
Democrats, meanwhile, are pushing for broader budget talks beyond the stopgap measure, hoping to reverse deep spending cuts.
"We're not out to take prisoners," said Senate Minority Leader Harry Reid (D-Nev.), who is also trying to ensure funding is approved to help fight Western firefights and deal the California drought.
"There's not time for another unnecessary shutdown crisis."
Unsaid by McConnell on Tuesday, as he began taking procedural steps for a vote, was what happens next.
After Thursday's vote, the Republican leader will then likely ask the Senate to approve a straight-forward stopgap funding bill, as soon as Saturday, without the Planned Parenthood provision, sources said.
By having the Senate take the lead on a so-called "clean" spending measure, leaders would be trying to push past their conservative House GOP colleagues, who are expected to oppose such a compromise, and turn to Democrats for passage.
The Senate may work through the weekend as Congress races against the clock to next week's deadline.
"We'll try to move something shortly, after the pope's visit," said Sen. John Thune (R-N.D.), as he arrived at the Capitol on Tuesday. "We may have ball control on this."
The strategy is a familiar one, but not without its political and practical pitfalls. In the House, the Republican majority is often loath to bend to the Senate.
But House Speaker John A. Boehner (R-Ohio) does not have enough votes to pass a straightforward funding bill that does not gut the Planned Parenthood money.
Even though Boehner controls the majority, more than 30 lawmakers have said they would not agree to a compromise, depriving the speaker of needed votes -- and forcing him to rely on Democrats to make up the difference.
Boehner has reached out before to Minority Leader Nancy Pelosi (D-San Francisco) to provide the votes needed to push tough legislation over the finish line, but this year he faces a challenge over his speakership by conservatives who have tried repeatedly to remove him from power.
That has left the speaker in a no-win situation: Compromise with Pelosi and risk a challenge for his job, or stick with his weakened majority and risk a shutdown.
One Republican lawmaker said the challenge to Boehner is real. "It's a threat," said the lawmaker, who is unaligned with Boehner's opponents, and was granted anonymity to discuss the internal party conversations. "[Boehner's critics] want to push it so they can then pounce."
Republican leaders in both chambers have been trying to appease the party's conservative flank with a series of separate votes designed to halt funding for Planned Parenthood and restrict abortion services.
Even though those bills have passed the House, none are expected to become law because they cannot overcome a Democratic filibuster in the Senate, which requires 60 votes. Republicans hold 54 seats.
Moreover, the threat of a veto from the White House has left conservatives to deride the antiabortion bills as show-votes that do little to accomplish their goals of ending the practices at Planned Parenthood.
In a fresh strategy floated last week, Republican leaders were considering using an obscure budget process, called reconciliation, that would allow measures to defund Planned Parenthood to pass by a simple majority in the Senate -- a possible legislative route around the filibuster.
That process would allow Republicans to halt grant funds for Planned Parenthood and also eliminate funding the organization receives by treating low-income patients who rely on Medicaid.
It is unclear, though, if the reconciliation procedure can be used in this situation, and Republican aides said no decisions had yet been made. Also, even if such a bill passed Congress, Obama could still veto it.
In the House, Republican leaders last week approved a "same-day" procedural rule that allows expedited processing of a spending measure.
That would allow the stopgap bill to be swiftly brought to the floor for a vote. But the House is not expected to take up that option until next week -- days before the deadline for a shutdown.
For the latest from Congress and 2016 campaign follow @LisaMascaro
MORE FROM POLITICS:
Budget standoff puts Nancy Pelosi back in the driver's seat
Hillary Clinton previews plan to expand Obamacare and lower health costs
Scott Walker ends campaign for president -- the second Republican to drop out
---