Actress Cynthia Nixon confirms she'll run for governor of New York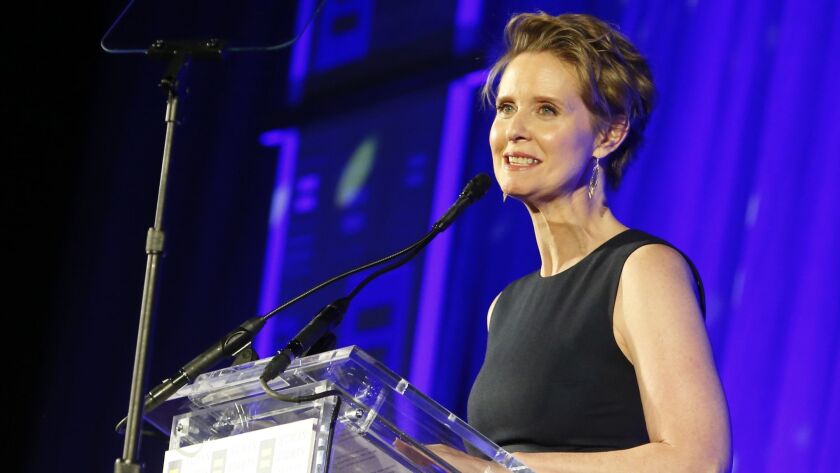 Reporting from New York —
After dropping hints for days and huddling with powerful political consultants, actress Cynthia Nixon announced Monday that she will run for governor, all but guaranteeing a spirited election season for New Yorkers.
The former "Sex and the City" star began her campaign in cinematic fashion — posting a video showing Nixon dropping her child off at school and riding the subway, all with a link to a donation page. Nixon emphasized her lifelong ties to New York and her involvement with the public school system.
"I love New York. I've never wanted to live anywhere else, but something has to change," she said. "We want our government to work again on healthcare, ending mass incarceration, fixing our broken subway. We are sick of politicians who care more about headlines and power than they do about us."
In recent days, Nixon had appeared to be seriously testing the waters of a potential run, prompting a war of words between the state's two biggest political leaders — New York Mayor Bill de Blasio and New York Gov. Andrew Cuomo — and a symbolic show of force by the governor.
She was in talks with Bill Hyers and Rebecca Katz, two veteran political consultants for De Blasio, according to local news reports. And she was spotted on the streets of Soho with a camera crew and Matt McLaughlin, a media strategist who has produced campaign ads for De Blasio.
Nixon's wife, Christine Marinoni, also resigned as senior advisor for community partnerships at the New York City Department of Education two weeks ago, a department spokesperson said.
But in taking on Cuomo, a Democrat, Nixon faces a tough primary against a two-term governor with almost universal name recognition in the state and a $30-million war chest. If elected, she would become New York's first female governor, and the first to come out as gay.
Nixon has repeatedly discussed public education as a possible motivator for a gubernatorial run, telling NBC's "Today Show" last August that it was a main reason other people wanted her to run. Nixon has long been active with the Alliance for Quality Education, a union-backed group that advocates for high-quality public education regardless of ZIP Code.
In the campaign video released Monday, she said she is a "proud public school graduate and a prouder public school parent," but that the state's leaders have let its residents down, allowing it to become "the most unequal state in the entire country."
Nixon has also been a longtime friend of De Blasio, for whom she campaigned in 2013 and at whose inauguration she spoke. De Blasio and Cuomo have a long-running feud, including over mayoral control of public schools, a "millionaire's tax" to pay for universal pre-kindergarten and blame for the city's transit mess.
Asked on a conference call with reporters about a possible challenge by Nixon earlier this month, Cuomo chuckled and said it was "probably either the mayor of New York or Vladimir Putin" who was behind it.
De Blasio told reporters he wouldn't go into "private conversations with a friend," but said that "whatever she does, it's her own choice." He added that he has "real political differences" with the governor.
Nixon will likely challenge Cuomo from the left, observers said.
While Cuomo has presided over significant progressive victories, including the legalization of same-sex marriage, gun restrictions, a $15 minimum wage and a ban on fracking, he has been criticized by the progressive Working Families Party over his cooperation with a group of independent Democrats in the New York Legislature and the Republicans with whom they caucus.
The Working Families Party has not announced who it will endorse in the governor's race.
In recent days, Cuomo appears to have been shoring up his support on the left.
The governor secured the endorsement of Elton John and his husband and the National Organization for Women, adding to the endorsement he's already received from 1199 SEIU, one of the state's most powerful unions. And he assumed a symbolic position at a protest against gun violence, lying down next to Randi Weingarten, president of the American Federation of Teachers.
"He's clearly out there in combat mode," longtime political communications consultant George Arzt said. "I think you can expect … a really brass-knuckles campaign."
Ken Sunshine, a public relations consultant and a friend of Cuomo's, said he didn't see how Nixon could credibly challenge Cuomo from the left.
"With his unparalleled success as a progressive governor who has set the standard on gay marriage, guns, fracking and the minimum wage, I'm not sure what the issues are that would distinguish anybody running against him in a primary," Sunshine said.
A poll released Monday morning by Siena College found that, if the primary were to be held today, Cuomo would trounce Nixon among registered Democratic voters, 66% to 19%.
Steven Greenberg, who led the poll, said in an interview before Nixon's announcement that he didn't find that result surprising.
"You have somebody who's been the governor of New York for eight years and is universally known versus someone who is an actress and is unknown to the majority of the electorate," Greenberg said.
He added that while Cuomo has sparred with some of the progressive leadership in New York, he still polls high among self-identified liberal voters.
All that being said, the primary is still six months away, Greenberg cautioned. Nixon could raise a considerable amount of money and run a strong campaign. Cuomo could be dogged by negative campaign ads linking him to his former top aide, Joseph Percoco, who was recently convicted of corruption and bribery charges.
"A poll is nothing more than a snapshot in time. This is a snapshot in mid-March for a race … in September," Greenberg said. "That's many political lifetimes away."
Twitter: @AgrawalNina
---
Must-read stories from the L.A. Times
Get the day's top news with our Today's Headlines newsletter, sent every weekday morning.
You may occasionally receive promotional content from the Los Angeles Times.