Fearing deportation, a mother in the U.S. illegally seeks refuge in a Denver church
Jeanette Vizguerra knew she had an appointment with immigration officers, as she had many times in the past. But this time, she didn't show up.
She'd heard about the Phoenix woman who was taken into custody days earlier by federal immigration officers. Like her, the woman was in the country illegally. Vizguerra also got word of the 23-year-old "Dreamer" who was arrested near Seattle; like her oldest daughter, he had been protected under the Deferred Action for Childhood Arrivals program.
Instead of appearing for her check-in, Vizguerra sought refuge inside a Denver church, where she plans to stay indefinitely to avoid being separated from her family and her home of two decades.
"In my heart, I knew that today was different than in the past," she told reporters Wednesday in Spanish. "They've made it clear that check-ins are not a place that you can count on to be safe and to negotiate."
Vizguerra's decision highlights growing fears among immigrant communities across the country that the Trump administration may target hundreds of thousands of immigrants in the country illegally who were previously subject to deportation but deemed low priorities.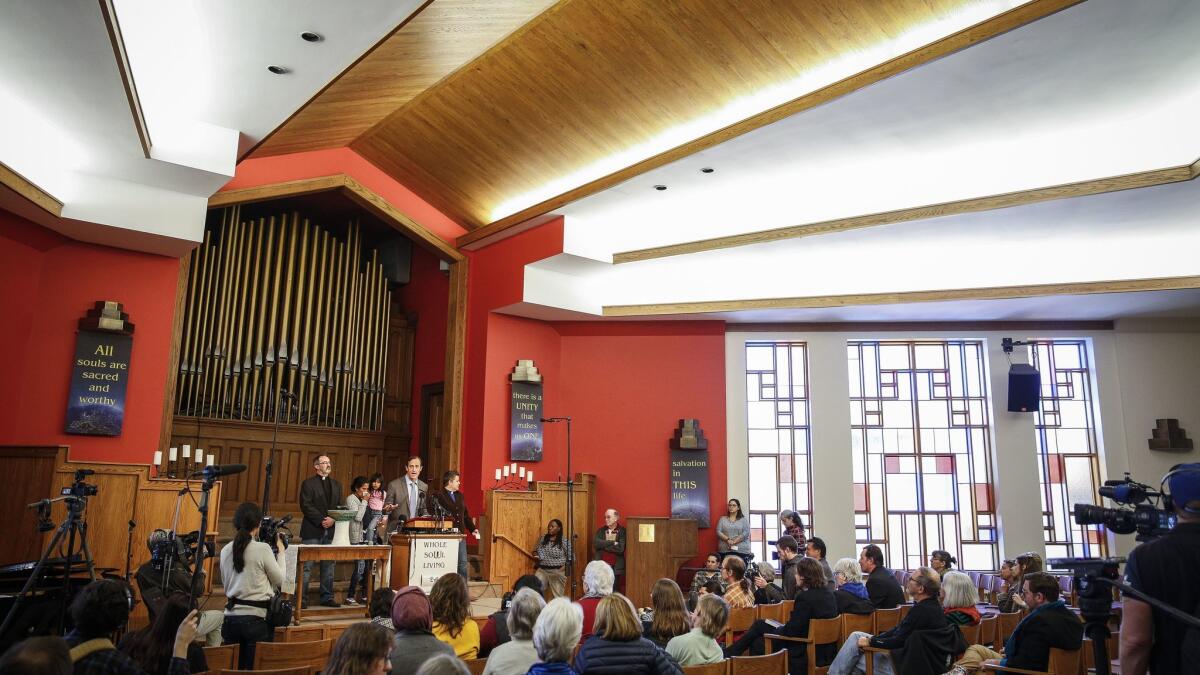 "She has a very realistic fear of forced detention," said Rep. Jared Polis (D-Colo.), who has supported Vizguerra's path to legal resident status for nearly four years. "My priority as a representative is to help keep this family united so she could be a good mother and support her three American children."
Vizguerra had faced deportation under the Obama administration — which expelled more immigrants than under any other presidency — after she was caught with fake documents. But like many people with relatively minor violations, she was allowed to stay.
Trump has vowed to take a more aggressive enforcement approach.
Last week, federal immigration agents detained an undocumented immigrant in a Texas courthouse, where she'd just received a protective order alleging she was a victim of domestic violence, the El Paso Times reported. The prosecutor said ICE agents may have been tipped off by the woman's alleged abuser.
Vizguerra left Mexico City on Christmas Day 1997. She settled in Colorado, where she had three children — Luna, 12; Roberto, 10; and Zury, 6 — and became a staunch advocate for immigrant rights.
As a founder of the Metro Denver Sanctuary Coalition, Vizguerra helped Arturo Hernandez, an immigrant who was in the country illegally, resist deportation by living in the same church where she's now found a home. He stayed there for nine months.
"I never thought that I would be the one who would need it," Vizguerra said.
A growing number of religious leaders nationwide are opening their doors to immigrants who fear deportation. Since the November election, the number of worship centers participating in the sanctuary movement has doubled to 800, according to Jennifer Piper, interfaith organizer for the American Friends Service Committee.
"It's not comfortable," Piper said. "But it's better than being separated from your family by a whole country and a wall."
Vizguerra caught the attention of Immigration and Customs Enforcement in February 2009, when she was pulled over for having expired registration tags, said Julie Gonzales, a representative of Vizguerra's legal team. She was arrested for presenting fake documents, and after spending 23 days in jail, she pleaded guilty to a misdemeanor count of possessing a forged instrument, Gonzales said.
Vizguerra has been in deportation proceedings since then.
A judge ordered her deportation in November 2011. According to ICE, she's been granted six stays of removal, which are typically issued to allow immigrants to prepare their departures.
In 2012, she left Colorado to visit her ailing mother in Mexico. Her mother died before she arrived. When Vizguerra returned to Denver several months later, she was arrested for entering the country illegally, Gonzales said.
She was detained until she pleaded guilty to the charge and was let go with one year of unsupervised probation, Gonzales said.
ICE spokesman Shawn Neudauer said Wednesday that Vizguerra is considered a "priority" because of her two misdemeanor convictions.
Vizguerra, who was a victim of a violent crime, also applied for a U-visa, which offers relief to undocumented immigrants who are victims of or witnesses to a crime and cooperate with police.
That request has been pending for a year.
On Wednesday, Vizguerra's attorney, Hans Meyer, with her pastor by his side, marched into an ICE field office seeking an answer to a request, filed Dec. 6, for another stay of deportation.
It was denied.
The agency had to follow enforcement priorities set in Washington, Meyer said he was told.
Meyer stepped outside and called Vizguerra to deliver the news. She broke into tears.
"Today, they showed that the trust has been broken," she told reporters in Spanish, as someone held a bullhorn next to the phone.
Shortly thereafter, she settled into her new home: the basement of the First Unitarian Society of Denver.
Federal policy states that immigration officers should avoid enforcement actions at "sensitive" locations, which include schools, churches and hospitals, unless they have prior approval or identify "exigent" circumstances.
Thousands of activists — including the congressman — have rallied behind Vizguerra. An online petition asking that she be protected from deportation has collected more than 4,000 signatures.
Late last month, Polis introduced a private bill requesting permanent resident status for Vizguerra. While largely ceremonial, he said the move lets ICE know that Vizguerra's case is on his radar.
"It's a waste of taxpayer money to forcibly deport her," Polis said. "It deprives three American kids of their mom, and it would make our country less secure and less prosperous if she were forcibly removed."
alene.tchekmedyian@latimes.com
Follow me on Twitter @AleneTchek
ALSO
An heiress wanted her Palm Beach villa to become a winter White House. With President Trump, her wish for Mar-a-Lago comes true
Why tens of thousands of kids from El Salvador continue to flee to the United States
They said he might never walk. Now he can't stop running
---
UPDATES:
3:05 p.m.: This article was updated with additional details on Vizguerra and the sanctuary movement.
This article was originally published at 11:15 a.m.
Sign up for Essential California for news, features and recommendations from the L.A. Times and beyond in your inbox six days a week.
You may occasionally receive promotional content from the Los Angeles Times.