A marijuana edible and a cup of coffee? That soon could happen in Denver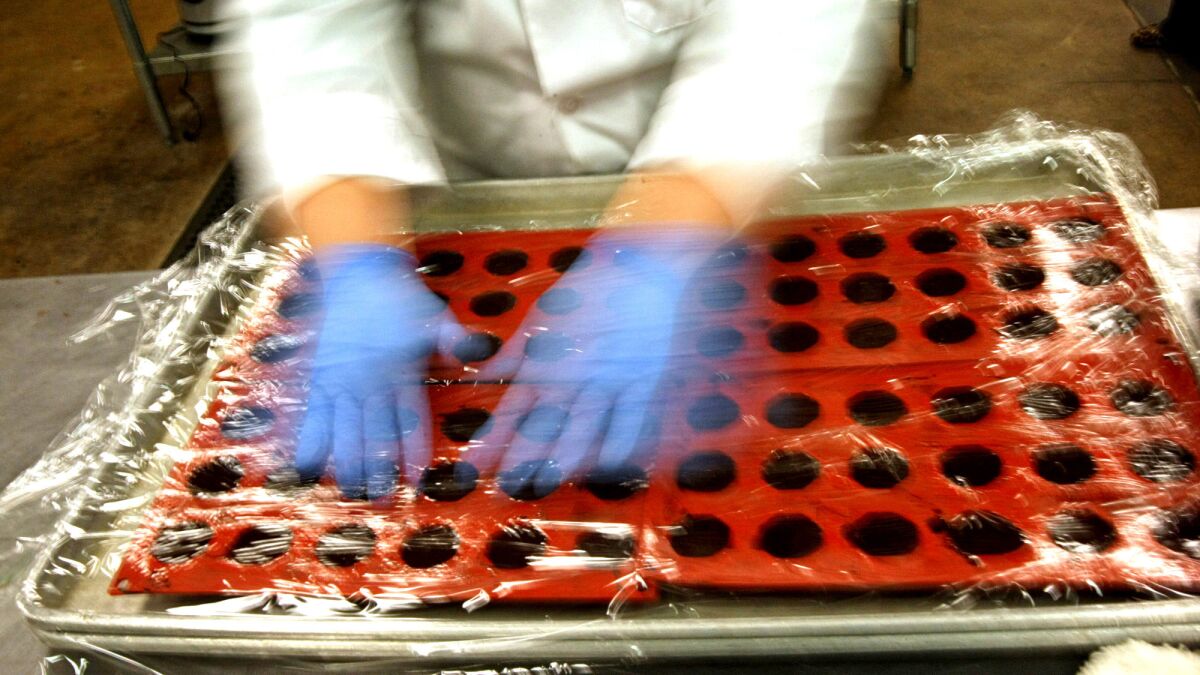 Reporting from Denver —
It's a common conundrum for cannabis customers in Colorado: Where to light up?
Because state law bans public consumption of any kind — no puffing a joint in the park or bringing your own pot-infused granola bar to a restaurant for dessert — locals are restricted to their homes. And tourists, who also are barred from using marijuana in rental cars or hotel rooms, face a buy-it-don't-use-it paradox.
But that soon could change. Denver officials last month accepted an application from a coffee shop that plans to allow social marijuana use — the first of its kind in the country.
Nationwide, cities in the eight states that have legalized pot are debating whether customers should be allowed to toke up outside of private residences or clubs.
In Massachusetts, the state's Cannabis Control Commission approved a policy in December allowing for pot cafes — establishments where people can buy and use marijuana in public. But legal sales don't take effect there until July. In Nevada, where legal sales began last summer, Las Vegas officials are considering an ordinance that would pave the way for the creation of marijuana-friendly lounges. And several cities in California, including West Hollywood and Oakland, have expressed interest in allowing cannabis social spaces.
The battle in Denver dates back to late 2016, when voters here overwhelmingly passed an ordinance allowing cafes and restaurants to ask for permits to let customers use pot on site. Under the measure, Initiative 300, once a permit is issued, patrons can enjoy weed indoors, as long as they don't smoke it. (Outside smoking areas, however, are OK.) In addition, businesses cannot sell alcohol and, among other things, are not allowed to be within 1,000 feet of schools, drug treatment centers or child-care facilities.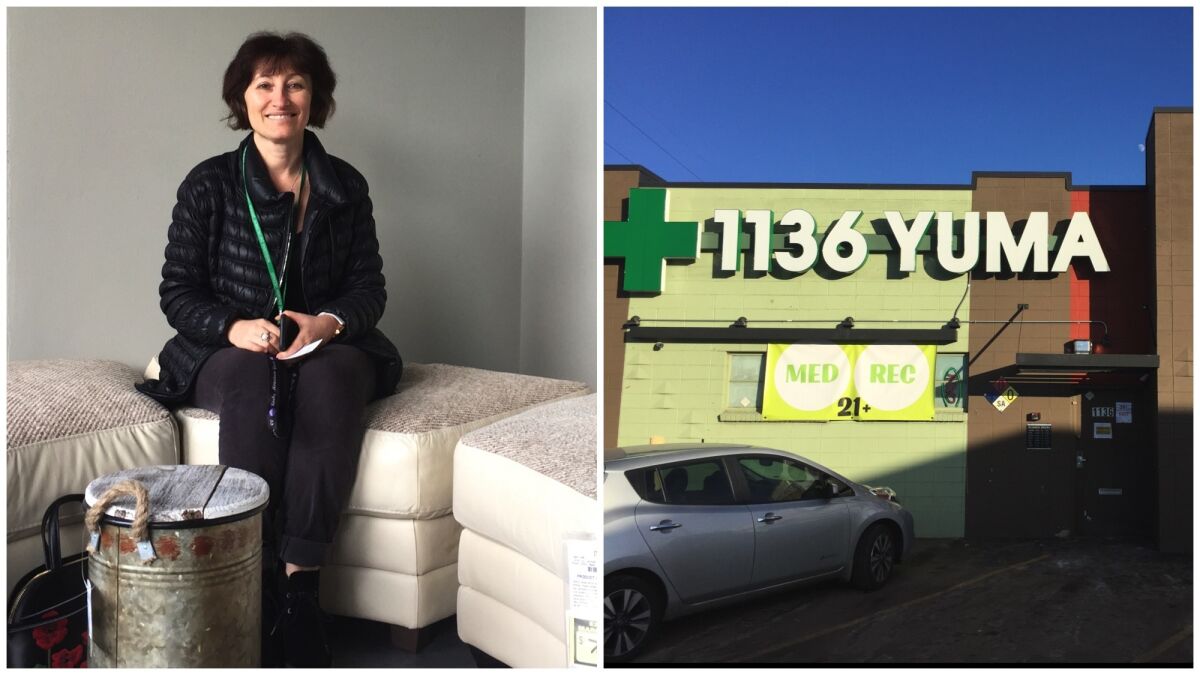 Because of these tough restrictions, more than a year after the measure passed, no applications had been submitted. But that changed last month, when Rita Tsalyuk applied — the first business owner and, so far, the only to apply for a public-use license. Denver officials expect more applications in the coming months.
On a recent gelid afternoon, Tsalyuk sat at a high-top wooden table inside the Coffee Joint, her soon-to-open shop that will allow patrons to consume pot edibles and use marijuana vape pens. Next door is her recreational dispensary, 1136 Yuma, tucked in an industrial neighborhood lined with lumber and scrap metal yards.
"I think this is a natural step in the legalization movement," Tsalyuk said, adding that she has the support of the local neighborhood association. "People want to use pot and have a nice social experience. … I want to provide that."
Tsalyuk, who also works in real estate, jumped into the legal marijuana industry last year after seeing its success across much of the state. In 2016, Colorado pot sales and fees produced nearly $200 million in tax revenue. In Denver, the city raked in about $24 million, which, among other things, was used to build a recreation center near downtown.
"Clearly this state and city are on the front lines of the movement," said Tsalyuk, undeterred by the Trump administration's recent announcement it would scrap an Obama-era policy offering legal shelter for state-sanctioned marijuana sales. "This shop will be a part of the movement."
But not everyone is onboard.
To Rachel O'Bryan, who led the campaign against Initiative 300, allowing pot in public places puts people at risk. She said she'd like to see more studies of how people respond to marijuana before it is allowed in public.
"We really don't know how people are going to react to marijuana use … but now we're going to allow it in public?" O'Bryan said. "It just seems like this could lead to situations where issues could occur."
While Tsalyuk's shop isn't near any homes — a plus — O'Bryan said she worries that the city will get other applications in more residential areas. She also has concerns about people driving while high.
The state, however, has embarked on a multimillion-dollar advertising campaign to inform residents about the risks of driving while stoned.
City regulators will hold a public hearing about Tsalyuk's application in the weeks ahead, and if approved, she said she hopes to open her shop in the spring.
Outside her dispensary on a recent afternoon, Homer Santos, 21, showed off his recent purchase — a half-ounce of Grape Ape indica. Santos, a waiter who lives a short drive from the dispensary, said he likes to use marijuana with friends and said he'd visit the Coffee Joint when it opens.
"This way, if my friends and I want to eat a brownie and chill out with a cup of coffee, we can do that," Santos said. "Sounds like a nice afternoon."
The more he thought about the idea, he began to grin, adding: "I'd be a regular."
Twitter: @kurtisalee
ALSO
This Colorado city declined to allow recreational pot sales. Now it's having second thoughts
Las Vegas adds a new lure to its repertoire as Nevada legalizes pot. Here come the tourists
Must-read stories from the L.A. Times
Get the day's top news with our Today's Headlines newsletter, sent every weekday morning.
You may occasionally receive promotional content from the Los Angeles Times.