U.S. will 'stem the tide' of illegal immigration, official says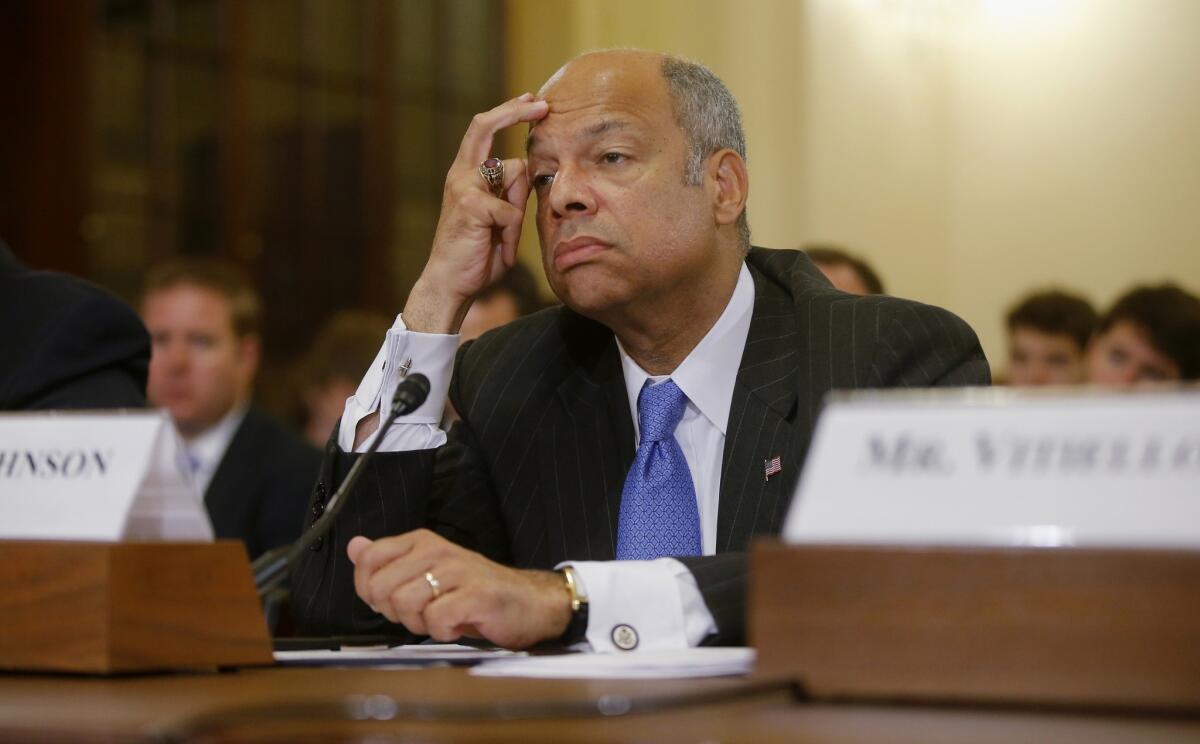 Reporting from WASHINGTON —
The nation's Homeland Security chief vowed Sunday that the Obama administration would "stem the tide" of unaccompanied minors from Central America who have illegally crossed the Southwest border in record numbers in recent months.
Immigration officials have cut the turnaround time for processing deportation of adult immigrant detainees from about 33 days to four, and are working to add detention capacity for children and teens who arrive on their own, Homeland Security Secretary Jeh Johnson said.
Although U.S. officials need to "do right by the children" who are in custody, "at the end of the day … our border is not open to illegal migration, and we will stem the tide," Johnson said on NBC's "Meet the Press."
More than 40,000 unaccompanied minors from El Salvador, Honduras and Guatemala have surrendered or been apprehended by Border Patrol officers since October. Another 12,000 unaccompanied Mexican minors have crossed the border since last fall, but most have been bused back, as the law allows.
Administration officials say a 2008 law signed by then-President George W. Bush has made it nearly impossible to deport unaccompanied minors to Central America unless they first appear before an immigration judge. A growing backlog in the immigration courts has meant that most are sent to live with family members in the U.S. while their cases move through the system.
Johnson would not say Sunday whether most of the Central American minors would end up staying in the U.S. or be deported.
The Obama administration has faced sharp criticism for the growing influx of young migrants, which has overwhelmed immigration officials and some border communities. It also led to angry protests last week in Murrieta, Calif., where about 140 immigrants apprehended in Texas were being bused for processing.
"With all due respect to the administration, they're one step behind," Rep. Henry Cuellar (D-Texas) said on CNN's "State of the Union." "They should have seen this coming a long time ago."
Texas Gov. Rick Perry, a Republican, said he warned the Obama administration in 2012 that a problem was brewing with unaccompanied minors. But Perry told ABC's "This Week" that he didn't believe President Obama "particularly cares whether or not the border of the United States is secure."
"The president has sent powerful messages time after time by his policies, by nuances, that it is OK to come to the United States and you can come across and you'll be accepted in open arms," said Perry, a potential GOP presidential candidate. "That is the real issue."
The Los Angeles Times reported Sunday that the number of immigrants under age 18 who were deported or turned away at ports of entry has fallen dramatically, from 8,143 in 2008 to 1,669 last year, according to Immigration and Customs Enforcement data.
Republicans say lenient Obama administration policies, including a 2012 program that permits those who came to the U.S. as children before June 2007 to apply for deportation deferrals, have encouraged the recent surge in unaccompanied minors.
"The thing this administration needs to do is immediately deport these families, these children," said Rep. Raul R. Labrador (R-Idaho). By not deporting them, he said, the administration is encouraging more migrants from Central America.
The crisis flared last week in Murrieta, where between 100 and 150 protesters surrounded three buses carrying about 140 immigrant detainees to a Border Patrol facility there. The buses were forced to turn around and go to a San Diego-area facility.
"It is unfortunate to see that type of hostility directed at women and children on a bus," Johnson said on "State of the Union."
Murrieta Mayor Alan Long said his town was "a caring, compassionate community," and most of the protesters were from out of town. Last Monday, however — the day before the protests — Long urged residents to protest the federal government's decision to move the recent immigrants — the first of what he said was to be a series of arrivals — to the facility in his city.
"Murrieta expects our government to enforce our laws, including the deportation of illegal immigrants caught crossing our borders, not disperse them into our local communities," Long said then. The city had defeated two previous attempts to send migrants to the Murrieta facility, he said.
Long said Sunday that the immigration system was broken and facilities like the one in his community were overwhelmed.
U.S. officials should find a way to deal with the detainees at the border rather than sending them "halfway across the country," Long said.
Sign up for Essential California for news, features and recommendations from the L.A. Times and beyond in your inbox six days a week.
You may occasionally receive promotional content from the Los Angeles Times.