Suspect in the killing of two Iowa officers has a history of racist incidents and clashes with police
Authorities apprehended Scott Michael Greene, the suspect in the early morning killings of two Des Moines-area police officers on Nov. 2.
Reporting from Des Moines —
An Iowa man with a history of confrontations with the law is suspected of ambushing and killing two Des Moines-area police officers in separate shootings early Wednesday morning.
Officials have not given a possible motive for the attacks, but the suspect had recently complained about police ejecting him from a local high school football game for waving a Confederate flag at black attendees during the national anthem.

For the record:
7:02 p.m. Aug. 22, 2019
An earlier version of this article identified the suspect as Sean Michael Greene. His name is Scott Michael Greene.
Scott Michael Greene, 46, was detained without incident on a rural road after flagging down a state Department of Natural Resources employee and asking the employee to call 911, said Des Moines Police Sgt. Paul Parizek.
Greene was taken to an unidentified hospital after complaining of a health problem and has not been formally arrested or even interviewed, Parizek said at a televised news conference late Wednesday morning.
The shooting prompted presidential candidate Hillary Clinton to cancel a rally in Des Moines scheduled Wednesday, and President Obama called the attacks "shameful" and hailed the officers' service.
Des Moines Police Sgt. Anthony "Tony" Beminio and Urbandale Police Officer Justin Martin "represented our best, most decent instincts as human beings – to serve our neighbors, to put ourselves in harm's way for someone else," Obama said in a statement. "They knew the dangers of their job. They knew the risks. Yet they chose to dedicate themselves to those values anyway."
Investigators are still reconstructing how Martin and Beminio were shot as they sat in their squad cars while on patrol about two miles apart, near the western outskirts of Des Moines.
Officers found the Urbandale officer at 1:06 a.m., and then found the Des Moines officer about 20 minutes later, with both men still sitting in their cars. Officials suspect the officers were caught by surprise and probably hadn't interacted with the gunman before they were shot.
Greene, who was apparently on foot, is suspected of firing at least 15 rounds from a .223-caliber rifle into the side of Martin's stopped vehicle as Martin, a rookie in his early 20s, waited at an intersection, said Urbandale Police Chief Ross McCarty.
"I don't think he ever may have been aware there was a gunman next to him," said McCarty.
Urbandale resident Russell Cheatem told the Des Moines Register that he saw the gunman walk away and get into a truck after shooting Martin on the street outside Urbandale High School. When Cheatem walked over to Martin's cruiser, "I pulled the door open and realized there was nothing I could do for him."
Cheatem said he heard a few more shots a few minutes later, presumably of Beminio getting shot. "It was the exact same — pow, pow, pow, pow, pow — rapid fire," Cheatem told the newspaper.
Martin probably didn't know Greene, but other Urbandale officers did, McCarty said.
Greene, who is white, had a history of racist incidents that brought police scrutiny, most recently an Oct. 14 episode in which Urbandale police ejected him from an Urbandale High School football game after he allegedly waved a Confederate flag during the national anthem. Officials said his daughter attends the school.
In videos uploaded to YouTube last month on an account under Greene's name, Greene, wearing camouflage, can be seen carrying a Confederate flag and an American flag in front of several black women and later arguing with police officers who told him to leave.
In a comment under his video, the owner of the account wrote: "I was offended by the blacks sitting through our anthem. Thousands more whites fought and died for their freedom. However this is not about the Armed forces, they are cop haters."
Q&A: What we know about ambush cop killings »
Greene complained that officers were violating his constitutional rights.
"I did not want to cause any disruption. I was peacefully protesting," Greene told the officers in the video, complaining that a black person had smacked him in the head from behind and that someone had snatched a flag out of his hands.
The officers were initially hesitant to take an assault report from Greene, telling him that he was causing a disturbance and that he had to get off school property, as his flag violated school policy, according to the video.
"You have to understand, in the current social climate that we're in, when you fly a Confederate flag, standing in front of several African American people, that's going to cause a disturbance, OK, whether you intended to or not," an officer told Greene.
Greene pleaded guilty to a misdemeanor in a 2014 incident in which he resisted Urbandale police trying to pat him down for a weapon, according to the Des Moines Register.
Days later, he was accused of accosting a black man in a parking lot, flashing a flashlight into his eyes, calling him the N-word, and threatening to kill him, according to the Register. Greene was charged with first-degree harassment, pleaded guilty to a lesser charge and was sentenced to a year of probation, the newspaper reported.
Greene also had a scheduled court appearance Tuesday stemming from a conflict with his mother, according to McCarty.
Police officers gather evidence at the scene of a shooting on Wednesday in Urbandale, Iowa. Two Des Moines-area police officers were shot to death early Wednesday in ambush-style attacks while they were sitting in their patrol cars, authorities said.
(Charlie Neibergall / Associated Press)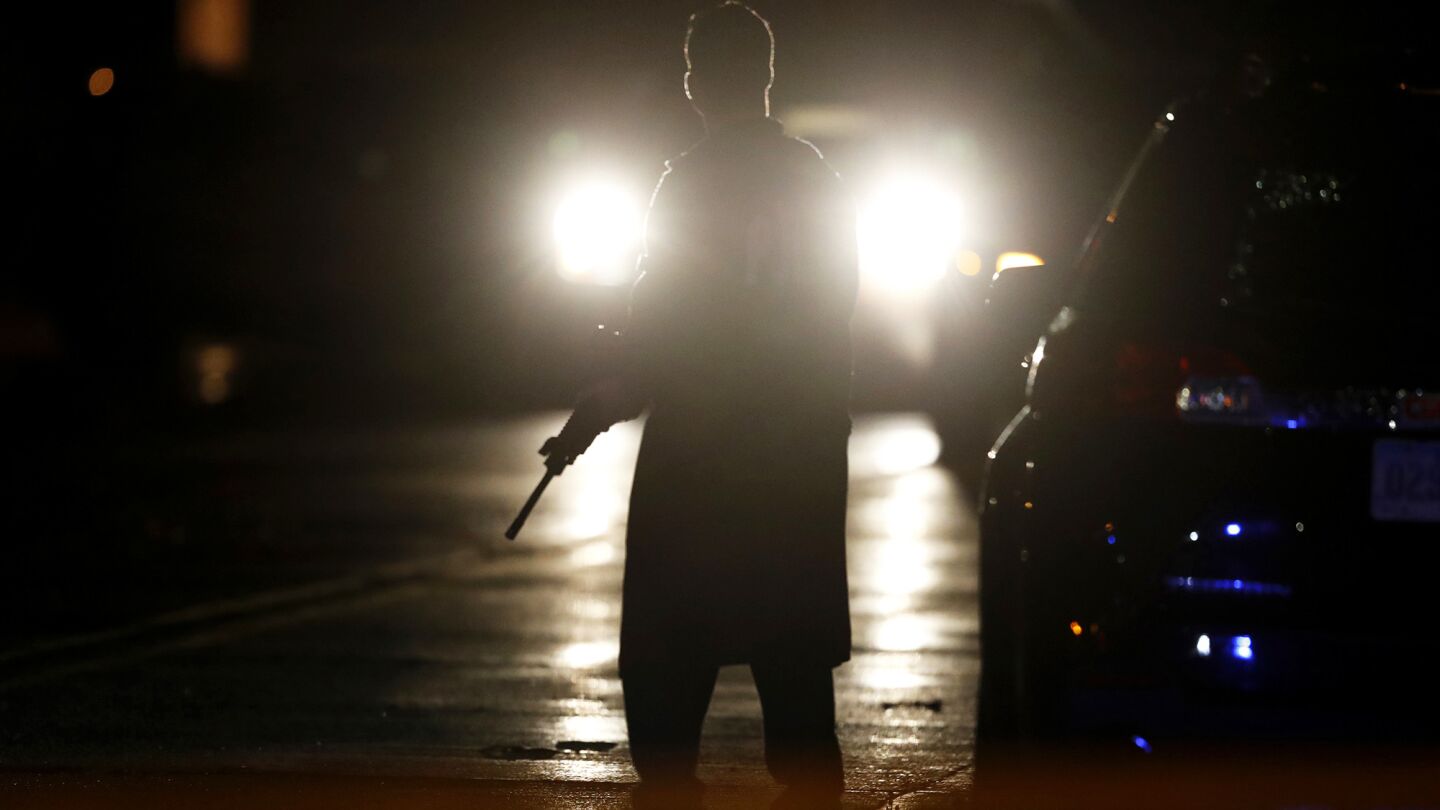 A police officer stands guard at one of the shooting scenes. Two Des Moines-area police officers were shot to death early Wednesday in ambush-style attacks.
(Charlie Neibergall / Associated Press)
Bullet holes mark a Des Moines Police Department squad car. One of the officers killed was from that department, the other was with Urbandale police.
(Charlie Neibergall / Associated Press)
Law enforcement officers gather in front of a home Wednesday near the scene of a shooting in Urbandale, Iowa.
(Charlie Neibergall / Associated Press)
Law enforcement officials investigate at a home near the site where an Urbandale police officer was shot to death early Wednesday.
(Charlie Neibergall / Associated Press)
Greene lived at home with his mother and one of his three children, a daughter who is a student and cheerleader at the high school, according to his neighbors, the Nace family.
Last month, about the same time as the flag incident, Greene had an argument with his mother over a pit bull he'd brought home, and he filed a restraining order against his mother to try to get her thrown out of her own house, said Phyllis Nace, 67, who said she often spoke with Greene's mother.
"She said that she was filing a restraining order [of her own] to have him get out of her house," Nace said. "He wore out his welcome, big time."
Several officers had come by the house during and after the incident, and about a week ago, Nace recalled Greene telling her he "didn't trust" police.
But Nace and her husband, Richard "Doc" Nace, 73, were shocked by the shooting. They said they didn't recall seeing Greene doing anything unusual around the home, though they said he seemed troubled.
"It seemed to me that maybe his lights weren't as bright as they could be -- a belt didn't go through all the loops," said Richard Nace.
The two officers' deaths touched off mourning in the community.
People stopped by throughout the day on Wednesday to pray in front of the Urbandale Police Department, where dozens of bouquets rested against a police cruiser in front of the station along with American flags and a teddy bear.
"Our thoughts and prayers are with you, the murdered police officers + their families. Thank you for all that you do. Stay safe!!!" read a poster at the site.
Several churches hosted vigils in the evening, including one attended by dozens of local residents at Timberline Church in Urbandale, near the shooting sites.
"We're here because there is hope in the power of God to heal our community," said Jake Conner, 39, a church member who attended the impromptu service with his five children. "Nobody should be killed while protecting their neighbors."
Parizek, the Des Moines police spokesman, got choked up at points during his news briefings Wednesday morning.
"It doesn't look like there was any interaction between these officers and whoever the coward is who shot them while they sat in their cars," Parizek said in an early briefing, bowing his head in emotion as another official patted him on the back. He added later: "These guys were gunned down in their cars, doing nothing wrong."
The veteran Des Moines officer, Beminio, was a "very popular" officer in the department and "a fantastic family man" who joined the department in 2005, Parizek said. Beminio had previously served as a school resource officer, a tactical officer and in the department's robbery-homicide section. Beminio graduated with a criminal justice degree in 2001 from Simpson College, where he also played football.
The rookie Urbandale officer, Martin, was a "very good young man" who was an Eagle Scout in his hometown of Rockwell City, Iowa, and joined the department in 2015.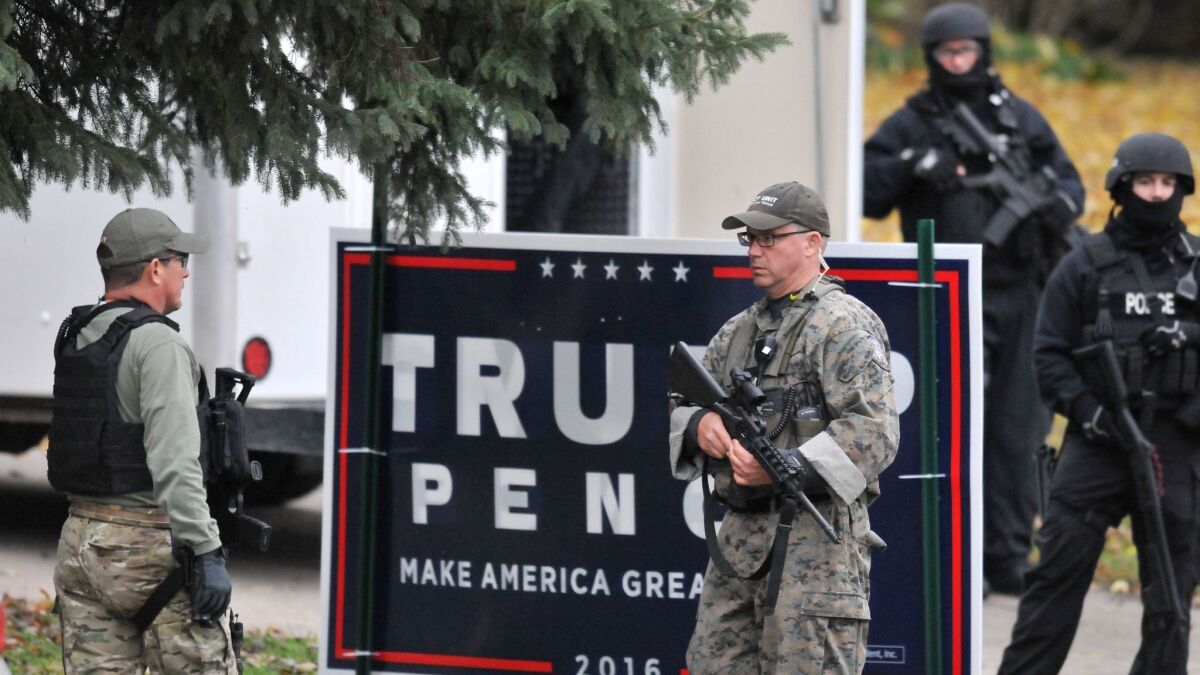 "We had high expectations of his future," McCarty said, adding later, "I was hoping to finish my career without having to go through this."
Martin also attended Simpson College and obtained a criminal justice degree in 2015.
"He was a kind, gentle, compassionate man who was always concerned with serving the public," Martin's faculty advisor, Fred Jones, said in a statement released through the college. "That's why he went into police work. He was smart and had great social skills. He just had it all."
With the two officers' deaths, 52 police officers have been shot and killed in the line of duty so far in 2016, according to the National Law Enforcement Officers Memorial Fund.
That's a significant increase since last year -- when 33 officers had been killed over the same time period -- though the annual number has fluctuated widely over the last decade without a clear trend.
Pearce reported from Los Angeles and Kaleem from Des Moines.
Follow @mattdpearce and @jaweedkaleem on Twitter
ALSO
The saga of the Chinese spies and the stolen corn seeds: Will it discourage economic espionage?
Deep in the heart of Texas, Trump has Republicans worried about losing a congressional seat
Clinton's immigration plan could help economy more than Trump's, most economists say
---
UPDATES:
6:05 p.m.: This article has been updated with reporting on community reaction to the slayings.
2:44 p.m.: This article has been updated with information on the slain officers and additional details on the suspected gunman.
10:20 a.m.: This article was updated with staff reporting, including the names of the slain officers, comments from Urbandale Police Chief Ross McCarty and details of the shootings and Greene's apprehension.
8:10 a.m.: This article was updated with information about Greene's police record.
7:45 a.m.: This article was updated with police reporting the capture of the suspect.
6:30 a.m.: This article was updated with information about a suspect in the shootings.
5:32 a.m.: This article was updated with details from the Urbandale Police Department.
4:55 a.m.: This article was updated with details on where the officers were found and a statement from the Iowa governor's office.
3:30 a.m.: This article was updated with information about the officers being shot in their patrol cars.
This article was originally posted at 2:40 a.m.
---
Must-read stories from the L.A. Times
Get the day's top news with our Today's Headlines newsletter, sent every weekday morning.
You may occasionally receive promotional content from the Los Angeles Times.