Q&A: The NRA says Florida's law raising the age limit on buying guns is unconstitutional. But is it?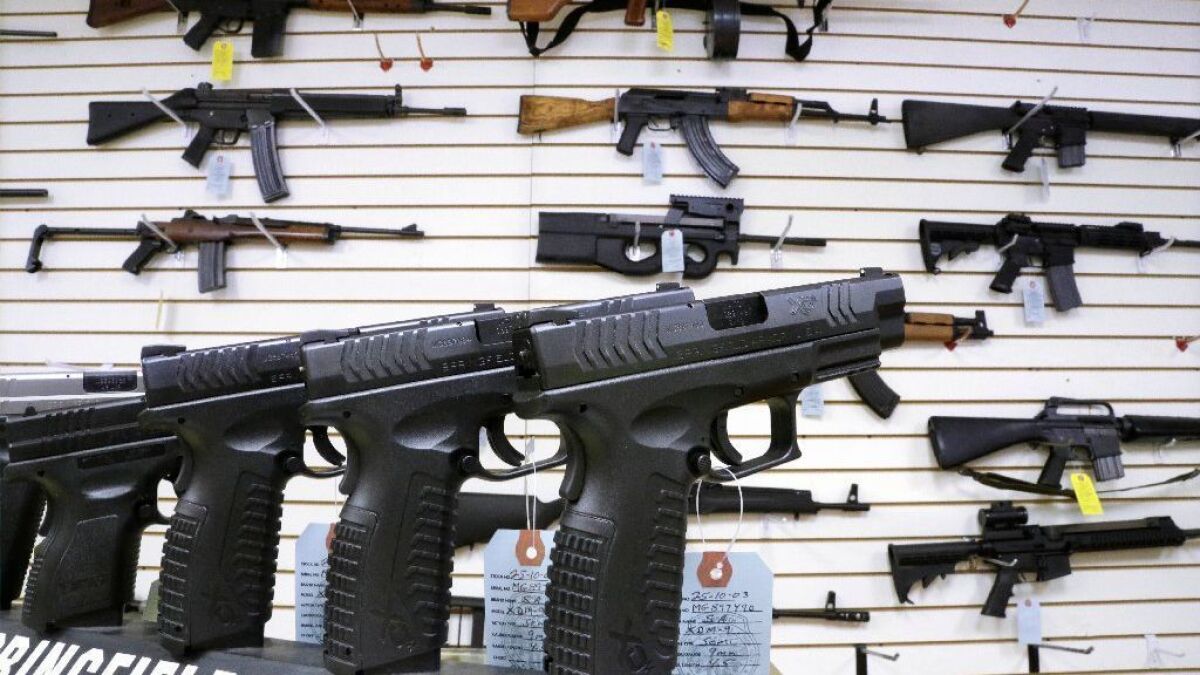 It's bipartisan gun legislation centered on maturity and safety. But to some gun rights groups, most notably the National Rifle Assn., it can be defined by a single word: unconstitutional.
Hours after Florida Gov. Rick Scott on Friday signed a measure that, among other things, raises the minimum age to purchase a gun from 18 to 21, the NRA filed a lawsuit challenging the constitutionality of banning people under the age of 21 from buying firearms.
The lawsuit comes as several states are exploring similar legislation in the wake of the Feb. 14 shooting at Marjory Stoneman Douglas High School in Parkland, Fla., where a 19-year-old alleged gunman used an AR-15-style rifle to kill 17 people. Polls have shown overwhelming public support for such legislation, even as some have raised questions of whether it's constitutional.
On Monday, President Trump, in announcing his priorities for gun control, said he's "watching court cases" before he takes a position on the issue.
Here are some questions and answers about the legal debate over age limits and guns.
First, what is the NRA saying in its suit against the Florida law?
At its core, the NRA argues that the law violates the 2nd and 14th Amendment rights of those between the ages of 18 and 21 who want to purchase a gun in the state.
"At 18 years of age, law-abiding citizens in this country are considered adults for almost all purposes and certainly for the purposes of the exercise of fundamental constitutional rights. At 18, citizens are eligible to serve in the military — to fight and die by arms for the country," according to the lawsuit filed in U.S. District Court for the Northern District of Florida. "This blanket ban violates the fundamental rights of thousands of responsible, law-abiding Florida citizens."
In addition, the complaint argues that the law also disproportionately violates the rights of young women.
"Females between the ages of 18 and 21 … pose a relatively slight risk of perpetrating a school shooting such as the one that occurred at Marjory Stoneman Douglas High School, or, for that matter, a violent crime of any kind," the lawsuit says.
Are there federal laws that address age limits and guns?
Under federal law — the Gun Control Act of 1968 — a licensed dealer cannot sell a handgun to anyone under the age of 21. When it comes to long guns, the age limit is 18. For unlicensed dealers, which could be a neighbor or someone at gun show, the age limit drops to 18 for handguns.
In addition, several states have passed laws that implement age restrictions. California, for example, requires that a person be 21 to buy a handgun and 18 to buy a rifle.
Have these laws faced challenges?
Absolutely — primarily from the NRA.
In the case of NRA vs. Bureau of Alcohol, Tobacco, Firearms, and Explosives, the U.S. 5th Circuit Court of Appeals in 2013 upheld the federal law that prohibits federally licensed firearm dealers from selling handguns to people under age 21.
Similar to its lawsuit in Florida, the NRA argued the federal law violated the 2nd Amendment rights of citizens. The NRA then appealed to the Supreme Court, which declined to hear the case.
So is this settled law?
Adam Winkler, a professor of constitutional law at UCLA, who has studied the 2nd Amendment extensively, said the NRA's lawsuit in response to Florida measure is largely symbolic.
"Federal courts have consistently upheld age-based restrictions on gun sales," Winkler said. "The NRA is really just saving face with its members to say, 'Hey, we're going to challenge gun control laws no matter what.'"
However, others believe it's more complicated.
Jonathan Turley, a professor of law at George Washington University, said the issue should not be dismissed so easily.
"The state must show a rational basis for distinguishing between an 18-year and a 21-year-old. Driving is not an express right. Drinking is not an express right. Gun ownership is," Turley said. "This is going to be a paradigm shift in 2nd Amendment litigation. While the focus has been on the limits on types of weapons, this will focus on the limits on those who can exercise the right."
Are other states exploring similar laws?
As Florida joins Hawaii and Illinois in banning gun sales to people under the age of 21, other states are weighing similar legislation.
In California, where people have to be at least 21 to buy a handgun, lawmakers are considering legislation to raise the minimum age to legally purchase rifles and shotguns to 21.
In Vermont, lawmakers recently advanced legislation that would raise the minimum age to buy a gun to 21. Republican Gov. Phil Scott has indicated he would sign the legislation if it makes it to his desk.
Meanwhile, Tennesse Gov. Bill Haslam, a Republican, has said he supports raising the age limit to purchase firearms, although legislation in his state has not been introduced.
"It's just crazy to me that you can't buy a beer at 19, but you can buy an AR-15," Haslam said during an event at the Pew Charitable Trusts in Washington last month following the shooting in South Florida.
Where does the public stand?
Mostly in support of age limits on gun sales.
In a CNN/ SSRS poll conducted in late February, 71% said they supported raising the age limit to 21 to buy any sort of gun. Both Democrats and Republicans alike support regulations.
Eighty-six percent of Democrats supported raising the age limit to 21, while 61% of Republicans were in favor. About 67% of independents expressed support.
Other polls have shown similar views on the issue.
Since the shooting at Marjory Stoneman Douglas, several retailers, including Dick's Sporting Goods and Walmart, among the nation's biggest gun sellers, have announced they will no longer sell firearms to anyone younger than 21.
Where have politicians been on the issue?
Several Republicans, such Florida Gov. Scott, have joined Democrats and pushed back against the NRA and supported age limits on gun sales.
"I'm an NRA member, a supporter of the 2nd Amendment, and the 1st Amendment, and the entire Bill of Rights for that matter. I'm also a father, and a grandfather, and a governor," Scott said last month in announcing his support for raising the age limit. "We all have a difficult task in front of us balancing our individual rights with our obvious need for public safety."
Others, like Trump, have gone back and forth on the issue.
"It doesn't seem to make sense that you have to wait until you are 21 years old to get a pistol, but to get a gun like this maniac used in the school, you get that at 18," he told Fox News in an interview that aired Feb. 24. "That doesn't make sense."
On Monday, he had changed his tone.
"....On 18 to 21 Age Limits, watching court cases and rulings before acting. States are making this decision. Things are moving rapidly on this, but not much political support (to put it mildly)" he tweeted.
---
Must-read stories from the L.A. Times
Get the day's top news with our Today's Headlines newsletter, sent every weekday morning.
You may occasionally receive promotional content from the Los Angeles Times.